Current Affairs 1st December 2018: Daily GK Update
Dear Aspirants,




The General Awareness Section of Banking Exams covers numerous sections in it like Banking Awareness, Static GK, and Current Affairs. But the most important thing that you might have noticed is that both the

Banking Awareness and Static Awareness questions asked in the General Awareness Section are based on Current Affairs only.

The questions on Static and Banking Awareness are related to the countries, events or anything that has been in news for a while.

Here is the Daily GK Update to get you acquainted with the top events that made the headlines today!!
1: Australia Become 1st Country To Recognise 'Orphanage Trafficking' As Slavery
i. Australia has become the first country in the world to recognise 'orphanage trafficking' as a form of modern slavery. Children from smaller countries are recruited in orphanages in the West for the purpose of profit through foreign aid.
ii. According to the US State Department, "many orphanages use the children to raise funds by forcing them to perform shows for or interact and play with potential donors to encourage more donations". As per estimates, 80% of children living in the world's orphanages have at least one living parent.
Static/Current Takeaways Important For Canara Bank PO:
Australia Capital: Canberra, Currency: Australian Dollar.
2: 13th Edition Of CII Agro Tech India - 2018 Inaugurated in Chandigarh
i. The President of India, Shri Ram Nath Kovind, inaugurated the 13th edition of CII Agro Tech India-2018 in Chandigarh.
ii. Speaking on the occasion, the President stated that Indian agriculture needs a renewal of its marriage with contemporary technology; protection against climate change, price fluctuations and demand shocks; and sustained investment by and partnership with business.
3: Government Holds Workshop On Developing 'Ganga Museum'
i. The National Mission for Clean Ganga organised a two-day international workshop on 'Developing a Ganga Museum Concept: Exchanging Experiences and Ideas between India and Europe' in Delhi.
ii. Experts from India and the European Union met and discussed various aspects of the proposed museum. Director General of NMGC, RR Mishra stated that the museum will be part of Namami Gange Programme.
Static/Current Takeaways Important For Canara Bank PO:
Minister for Water Resources, RD & GR: Shri Nitin Gadkari.
4: US, Mexico And Canada Sign USMCA To Replace NAFTA
i. US President Donald Trump, Mexican President Enrique Peña Nieto, and Canadian PM Justin Trudeau signed the new US-Mexico-Canada Agreement (USMCA) which will replace the North American Free Trade Agreement (NAFTA).
ii. USMCA will govern over a trillion dollars worth of trade between the three countries. They signed an authorization for the deal in Buenos Aires on the sidelines of the Group of 20 summit. The deal requires ratification by all three countries' legislatures before taking effect.
5: Myanmar Leader Suu Kyi To Be Stripped Of Freedom Of Paris Award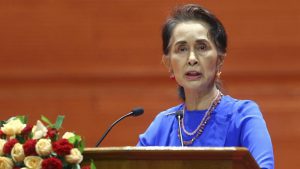 i. The city of Paris will strip Myanmar leader Aung San Suu Kyi of her honorary freedom of the Paris award over her failure to speak out against a crackdown on Rohingya Muslims. She has already been stripped of her honorary Canadian citizenship and her Amnesty International's "Ambassador of Conscience Award".
ii. She would be the first person to lose the freedom of Paris award. More than 700,000 Rohingya fled violence in the Buddhist-majority country last year, mostly to neighboring Bangladesh.
Static/Current Takeaways Important For Canara Bank PO:
Myanmar (Burma) Capital: Naypyidaw, Currency: Burmese kyat.
6: Abhinav Bindra Conferred With Shooting's Highest Honour By ISSF
i. India's Olympic and world champion shooter Abhinav Bindra has been conferred the sport's highest honour for his outstanding services as the chairman of the International Shooting Sport Federation's Athletes Committee. He was a member of the ISSF Athletes Committee from 2010 to 2014 and chairman from 2014 to 2018.
ii. The 36-year-old Bindra, who remains India's lone individual Olympic gold medallist, has been bestowed with the Blue Cross, the ISSF's highest award. Bindra was succeeded in the post by the legendary American shooter Kimberly Rhode.
Ranks & Reports
7: Indian-Origin Women In Forbes US Top 50 Females In Tech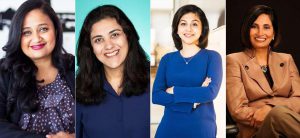 i. Four Indian-origin technology executives have made it to the Forbes' list of America's 50 women in technology space in 2018.
ii. The list includes Neha Narkhede, chief technology officer and co-founder of streaming platform Confluent; Kamakshi Sivaramakrishnan, CEO, and founder of identity-management company Drawbridge; Padmasree Warrior, former chief technology officer (CTO) of Cisco, and Komal Mangtani, senior director at Uber.


8: HM Rajnath Singh Inaugurated 19th Hornbill Festival In Nagaland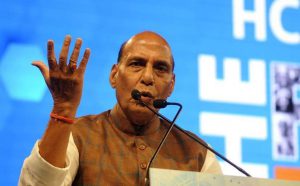 i. Home Minister Rajnath Singh inaugurated 19th Hornbill Festival in Nagaland on 55th Nagaland Statehood Day. In 1963, Nagaland attains its statehood and was declared as the 16th state of the Indian Union, by Dr. Sarvapelli Radhakrishnana, the then President of India.
ii. The fest aims to display the rich traditions and the vibrant culture of Nagaland through colourful performances, crafts, sports, food fairs, games, and ceremonies. US Ambassador to India Kenneth I Juster was invited as the guest of honour.
Static/Current Takeaways Important For Canara Bank PO:
Nagaland CM: Neiphiu Rio, Governor: PB Acharya.
Important Days
9: World AIDS Day: 1 December
i. World AIDS Day is designated on 1 December every year since 1988. The day provides an opportunity for people worldwide to unite in the fight against HIV, to show support for people living with HIV and to commemorate those who have died from an AIDS-related illness.
ii. More than 35 million people have died of HIV or AIDS, making it one of the most destructive pandemics in history. The theme for the World AIDS Day 2018 is "Know Your Status".
10: Former US President George HW Bush Passes Away
i. The 41st President of the US, George HW Bush has passed away on at the age of 94. His son, George W Bush also served as 43rd US President. Bush, the last veteran of World War II to serve as President, was officially the longest living President in US history.
ii. He had also served as the US Vice President for eight years.