Current Affairs 21st December 2018: Daily GK Update
Dear Aspirants,
The General Awareness Section of Banking Exams covers numerous sections in it like Banking Awareness, Static GK, and Current Affairs. But the most important thing that you might have noticed is that both the
Banking Awareness and Static Awareness questions asked in the General Awareness Section are based on Current Affairs only.
The questions on Static and Banking Awareness are related to the countries, events or anything that has been in news for a while.
Here is the Daily GK Update to get you acquainted with the top events that made the headlines today!!
1. Lok Sabha Passes Consumer Protection Bill
i. The Lok Sabha passed the Consumer Protection Bill, 2018 that seeks to replace the Consumer Protection Act, 1986. The Bill enforces consumer rights and provides a mechanism for redressal of complaints regarding deficiencies in goods and services.
ii. It seeks to establish Consumer Disputes Redressal Commissions at District, State and National levels. The district Commissions are authorised to look into complaints involving claims worth one crore rupees, which was 20 lakh rupees earlier.
Static/Current Takeaways Important For IBPS Clerk Mains Exam 2018:
Minister for Consumer Affairs, Food and Public Distribution is Mr Ram Vilas Paswan.

2. India, China Hold First People-to-People Exchanges Meeting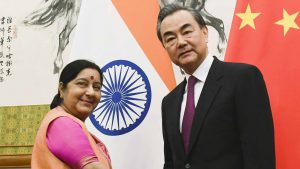 i. External Affair Minister Sushma Swaraj and her Chinese counterpart Wang Yi co-chaired the first-ever meeting of India-China High-Level Mechanism on Cultural and People-to-People Exchanges in New Delhi.
ii. India and China had decided to set up people to people mechanism during the meeting between Prime Minister Narendra Modi and Chinese President Xi Jinping on the sidelines of the Shanghai Cooperation Organization Summit in China.
3. 10 Monuments Adopted Under 'Adopt A Heritage' Project
i. The 'Adopt A Heritage: Apni Dharohar, Apni Pehchaan', scheme is a collaborative effort by Ministry of Tourism, Ministry of Culture and Archaeological Survey of India (ASI), to enhance tourism potential and cultural importance in a planned and phased manner.
ii. No fund is given by Ministry of Tourism. The list of monuments/sites identified and adopted by companies (monument-wise, company-wise and state-wise) under the adopt a heritage scheme are:
4. NFAI and FTII Sign MoU For Transfer of Land
i. National Film Archive of India (NFAI) and Film & Television Institute of India (FTII) signed Memorandum of Understanding (MoU) for transfer of three acres of land for the construction of storage facility for films and film material.
ii. The land belonging to FTII at their Kothrud campus in Pune will be transferred to NFAI for this purpose. Shri Bhupendra Kanthola, Director FTII, and Shri Prakash Magdum, Director NFAI signed the MoU.
Static/Current Takeaways Important For IBPS Clerk Mains Exam 2018:
FTII Chairman: Shri B.P. Singh.
5. IGOT And RTI Portal On Judgments Launched
i. The Union Minister of State (Independent Charge) Development of North Eastern Region (DoNER), MoS PMO, Personnel, Public Grievances & Pensions, Dr. Jitendra Singh launched the iGOT (Integrated Government Online Training Programme) developed by Department of Personnel and Training, Ministry of Personnel, Public Grievances & Pensions.
ii. The Right to Information (RTI) Portal on Judgments/Orders of Supreme Court, High Courts and CIC has been developed by the Institute of Secretariat Training and Management (ISTM), New Delhi.
6. Government Launches Asiatic Lion Conservation Project
i. The Union Ministry of Environment, Forest and Climate Change launched the "Asiatic Lion Conservation Project" to protect and conserve the population of Asiatic Lion and its associated ecosystem.
The Asiatic Lion Conservation Project is aimed at the conservation and recovery of Asiatic Lion with the help of up to date techniques, instruments, regular scientific research studies, disease management, modern surveillance and patrolling techniques. The total budget of the project for 3 years amounts to around Rs 9784 lakh.
Static/Current Takeaways Important For IBPS Clerk Mains Exam 2018:
The project will be funded under the Centrally Sponsored Scheme- Development of Wildlife Habitat (CSS-DWH) with the Central and State share of 60:40 ratio.
Dr Harsh Vardhan is the Minister of Environment, Forest and Climate Change.
7. Mobile App For Global Aviation Summit 2019 Launched
i. Union Minister of State for Civil Aviation Jayant Sinha
launched an official mobile application for
Global Aviation Summit 2019.
The Global Aviation Summit (GAS) 2019 is scheduled to be held in
January 2019
in
Mumbai
.
ii.
The application was launched in the presence of R.N. Choubey, Secretary, Ministry of Civil Aviation,
Dr. Guruprasad Mohapatra, Chairman, Airports Authority of India (AAI),
Dr. Shefali Juneja, Joint Secretary, Ministry of Civil Aviation, and other officials of AAI.
8. FAA Retains Highest Aviation Safety Ranking For India
i. The US regulator Federal Aviation Administration (FAA) has retained the highest aviation safety ranking for India. The Federal Aviation Administration carried out an audit of the Directorate General of Civil Aviation (DGCA) in July 2018.
ii. FAA formally confirmed that India's International Aviation Safety Assessment (IASA) rating remains 'Category 1'.
Static/Current Takeaways Important For IBPS Clerk Mains Exam 2018:
Category 1 means the carriers from the assessed state may initiate or continue service to the US in a normal manner and take part in reciprocal code-share arrangements with American carriers.
9. Gujarat Emerges As Best Performing State In Start-Up Ranking 2018
i. Gujarat has emerged as the best-performing state in the Startup Ranking 2018. The National Report on States' Startup Ranking was unveiled by Department of Industrial Policy and Promotion, Ministry of Commerce and Industry in New Delhi.
ii. Karnataka, Kerala, Odisha and Rajasthan, with a score of more than 85 percentile, have been adjudged the top performers.
iii. Andhra Pradesh, Bihar, Chhatisgarh, Madhya Pradesh and Telangana have been recognised as Leaders. 27 states and 3 union territories participated in the ranking process.
Static/Current Takeaways Important For IBPS Clerk Mains Exam 2018:
Mr Suresh Prabhu is the present Minister of Commerce and Industry.
10. WV Raman Appointed India Women's Cricket Team Coach
i. W V Raman
has been appointed the new
coach of the Indian women's cricket team
. Raman is a vastly-experienced coach having been in charge of Tamil Nadu and India U-19 teams in the past.
ii.
Former
India captain Kapil Dev
and Anshuman Gaekwad, along with Shanthan Rangaswamy, who are all part of the
three-member selection panel,
had suggested the two names to the apex body of Indian cricket including that of former India men's cricket team coach
Gary Kirsten.
Banking and Economy News
11. RBI Limits Total Outstanding ECBs To 6.5% of GDP
i. The Reserve Bank of India, in consultation with the government, has decided to have a rule-based dynamic limit for outstanding stock of External Commercial Borrowings (ECB) at 6.5% of GDP at current market prices.
ii. As per the statement based on the GDP figures, the soft limit works out to $160 billion for the current financial year. The outstanding stock of ECBs as on September 30, 2018, stands at $126.29 billion.
Static/Current Takeaways Important For IBPS Clerk Mains Exam 2018:
RBI 25th Governor: Shaktikanta Das, Headquarters: Mumbai, Founded: 1 April 1935, Kolkata.
12. Government Moves To Enhance Bank Recapitalisation Outlay To Rs. 1,06,000 Crore
i. The government will infuse an additional Rs 41,000 crore into cash-starved public sector banks (PSBs). The outlay will go up from Rs. 65,000 crore to Rs. 1,06,000 crore in the current financial year to propel economic growth, cementing India's position as the fastest growing economy of the world.
ii. This would enable infusion of over Rs. 83,000 crore in the coming few months in Public Sector Banks (PSBs). This is in addition to the Rs 2.11 lakh crore bailout package announced by the government in October 2017.
iii. The enhanced provision is mainly aimed at Providing capital to better-performing PCA Banks to achieve 9% Capital to Risk-weighted Asset Ratio (CRAR); 1.875% Capital Conservation Buffer and the 6% Net NPA threshold, facilitating them to come out of PCA.