Current Affairs 10th January 2019: Daily GK Update
Dear Aspirants,
The General Awareness Section of Banking Exams covers numerous sections in it like Banking Awareness, Static GK, and Current Affairs. But the most important thing that you might have noticed is that both the
Banking Awareness and Static Awareness questions asked in the General Awareness Section are based on Current Affairs only.
The questions on Static and Banking Awareness are related to the countries, events or anything that has been in news for a while.
Here is the Daily GK Update to get you acquainted with the top events that made the headlines today!!
National News
1. PM Modi Launched Various Development Projects in Solapur
i. Prime Minister Narendra Modi launched development projects worth Rs 1,100 cr at Solapur in Maharashtra. Referring to the passage of The Constitution (One Hundred And Twenty-Fourth Amendment) Bill in the Lok Sabha, PM, Modi described it as a landmark moment in the nation's history.
ii. PM Modi also laid the foundation stone for an over 1800 crore rupee housing project of 30,000 units under the Pradhan Mantri Awas Yojana. It will benefit the homeless poor like rag pickers, rickshaw pullers, textile and beedi workers.
Static/Current Takeaways Important For IBPS Clerk Mains Exam:
Maharashtra CM: Devendra Fadnavis, Governor: C Vidyasagar Rao.
2. Rajya Sabha Passes Reservation Bill Granting 10% Quota For Upper Caste EWS
i. The 124th Constitution Amendment Bill, 2019 to award 10% reservation to economically weaker sections was passed with a majority in Rajya Sabha. It was already passed in Lok Sabha.
ii. The Constitution (124rd Amendment) Bill has passed the Rajya Sabha test with 165 'Yes' and 7 'No' votes. This was brought to the Upper House after the sitting of the House was extended by a day.
3. Government Launched Web- Wonder Women Campaign
i. The government launched Web-Wonder Women Campaign to celebrate the exceptional achievements of women who have influenced and impacted society through social media.
ii. The Campaign aims to recognize the fortitude of Indian women stalwarts from across the globe who have used the power of social media to run positive campaigns to steer a change in society.
Static/Current Takeaways Important For IBPS Clerk Mains Exam:
Maneka Sanjay Gandhi is the present Minister of Women and Child Development.
4. Andaman To Be First Island To Operate Seaplanes Under UDAN-3
i.
According to the
Ministry of Civil Aviation,
islands in
Andaman
will soon be connected by
seaplanes
that can land on or take-off from the water. To facilitate the same, the government has approved flight operations on
13
water aerodrome routes under the
Ude Desh ka Aam Nagrik (UDAN)
scheme.
ii.
The government had opened bidding under the third phase of its
regional connectivity scheme,
UDAN-3,
in
November
, and had received a total of 111 proposals by 15 airlines.
Static/Current Takeaways Important For IBPS Clerk Mains Exam:
Minister of Civil Aviation: Suresh Prabhu.
5. Polavaram Project Enters Guinness Book of World Record For Concrete Pouring
i.
The
Polavaram project
of
Andhra Pradesh
entered the
Guinness Book of World
by pouring
32,100 cubic meters of concrete
in a matter of 24 hours. While the staff of Navayuga Engineering company performed the task, project, and state government officials remained at the site until the goal was completed.
ii.
The entire event was witnessed by the representatives of Guinness Book of World Record with the help of
drone cameras.
Static/Current Takeaways Important For IBPS Clerk Mains Exam 2018:
Andhra Pradesh Chief Minister: N. Chandrababu Naidu, Governor: E. S. L. Narasimhan, Capital: Amaravati.
6. UGC To Set Up CARE To Strengthen Research Publication
i.
The
University Grants Commission (UGC)
has approved a list of journals, in that the UGC has decided to establish a
Consortium for Academic and Research Ethics (CARE).
ii.
The good quality Research Journals in disciplines under Social Sciences, Humanities, Languages, Arts, Culture, Indian Knowledge Systems etc., will be maintained by CARE and referred to as 'CARE Reference List of Quality Journals'. This will be used for all academic purposes.
iii.
UGC has constituted a Committee under the Chairmanship of Prof. P. Balram, to review its quality mandate relating to promotion of Research and to review the existing M.Phil/ Ph.D Regulations.
Static/Current Takeaways Important For IBPS Clerk Mains Exam:
Prakash Javadekar is the present Union Minister of HRD.
7. SEBI Constitutes Research Advisory Committee Headed By Sankar De
i.
Market regulator
Security and Exchange Board of India (SEBI)
has constituted a
"Research Advisory"
committee which will assist in formulating policy to undertake research relevant for development and regulation of capital markets.
ii.
According to SEBI, the committee would comprise
prominent financial economists and market practitioners
. It will be headed by
Sankar De.
iii.
Another key task of the committee will be to
maintain databases relevant for capital market regulation research.
Static/Current Takeaways Important For IBPS Clerk Mains Exam:
SEBI Chairman- Ajay Tyagi, Headquarters- Mumbai.
8. 'National Consultation on Child Protection' Held in New Delhi
i.
The First
'National Consultation on Child Protection'
for 2019 was held at India Habitat Centre, New Delhi under the Chairmanship of the Secretary, Ministry of Women and Child Development.
ii.
The meeting was organized to follow up on the exercise of monitoring of the CCIs by States/UTs, to deliberate upon various aspects of child protection and to take stock of the efforts made by States/UTs regarding improvements in the Child Care Institutions.
9. BEE and CPWD Sign MoU On Promoting Energy Efficiency In Buildings
i.
The
Bureau of Energy Efficiency (BEE) and the Central Public Works Department (CPWD)
signed an MoU, kick-starting cooperation in building energy efficiency.
ii.
According to the MoU, BEE and CPWD will cooperate on promoting designs and construction of Energy Conservation Building Code (ECBC) compliant new buildings, star rating of CPWD managed buildings across the country with no registration or renewal fee, awareness of energy efficiency in the building sector and support for capacity building of CPWD officials in ECBC.
International News
10. Sri Lanka's Central Bank Gets USD 400 Million Swap From RBI
i. Sri Lanka's Central Bank announced that the Reserve Bank of India (RBI) has agreed to provide USD 400 million under a swap arrangement to boost the island nation's reserves.
ii. It stated that a further request to the RBI for another SWAP arrangement of USD 1 billion is "under consideration". These are to be made available under the SAARC SWAP facility. The RBI has agreed to provide the funds under its SAARC (South Asian Association for Regional Cooperation) Swap Facility.
Static/Current Takeaways Important For IBPS Clerk Mains Exam:
Sri Lanka's central bank is called as Central Bank of Sri Lanka.
It was established in 1950 under the Monetary Law Act No. 58 of 1949 (MLA) as a semi-autonomous body.
Dr. Indrajit Coomaraswamy is the Governor of CBS.
Banking News
11. India Allows Iran's Bank Pasargad To Open Branch in Mumbai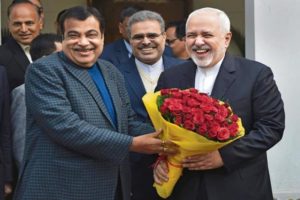 i. Union Minister Nitin Gadkari has announced that India has allowed an Iranian bank, Pasargad Bank, to open a branch in Mumbai. The move is aimed at circumventing US trade and investment sanctions as India builds a strategic port in the West Asian country.
ii. Iran's Pasargad Bank has received the necessary clearances to open its branch in Mumbai. Alongside, India's UCO Bank will open a branch in Iran.
Static/Current Takeaways Important For IBPS Clerk Mains Exam:
India has taken over operations of the Chabahar port in the Sistan-Balochistan province of Iran, the first time India will operate a port outside its territory.

12. IRCTC Partners With Bharti AXA General Insurance
i. Indian Railway Catering and Tourism Corporation (IRCTC), the Railways' subsidiary, will offer insurance of up to INR50 lakh for free for air passengers who book their tickets through its portal. IRCTC has tied up with Bharti-Axa for the offer.
ii. IRCTC's service charge of INR59 is the cheapest compared with travel websites. IRCTC has tied up with Galileo, a computer reservation system, for powering the flight search engine.
Static/Current Takeaways Important For IBPS Clerk Mains Exam:
Minister of Railways: Piyush Goyal.
Ranks and Reports

13. India To Become World's 3rd Largest Consumer Market By 2030: WEF
i. A report by World Economic Forum stated that India is set to become the world's third largest consumer market behind only USA and China by 2030. The report was titled as 'Future of Consumption in Fast-Growth Consumer Market – India'.
ii. As per the report, consumer spending in India is expected to grow from 1.5 trillion US dollar at present to six trillion US dollar by 2030. With the annual GDP growth rate of 7.5%, India is currently the world's sixth largest economy.
Static/Current Takeaways Important For IBPS Clerk Mains Exam:
The founder and Chairman of WEF- Klaus Schwab.
WEF Headquarters in Switzerland.
Books and Authors
14. Malala Pens New Book On Refugee Girls Titled We Are Displaced
i. Nobel Peace Prize winner and Pakistani activist Malala Yousafzai pens a new book, titled 'We Are Displaced: My Journey and Stories from Refugee Girls Around the World,' charting her experiences traveling the world and visiting refugee camps.
15. Mohamed Salah Named African Footballer Of The Year
i. Liverpool's Mohamed Salah has been named as the 2018 Confederation of African Football Player of the Year. For the second consecutive year he has won the award. Egypt forward Salah, 26, beat Liverpool team-mate Sadio Mane of Senegal and Arsenal and Gabon striker Pierre-Emerick Aubameyang to the title.
ii. Houston Dash and South Africa forward Thembi Kgatlana was named Women's Player of the Year.
16. World Hindi Day:10 January
i. World Hindi Day is celebrated on January 10 every year, marking the anniversary of first World Hindi Conference which was held in 1975. The first World Hindi Conference was inaugurated by the then prime minister Indira Gandhi. World Hindi Day was first observed on January 10, 2006.
ii. World Hindi Day and National Hindi Diwas are completely different. National Hindi Diwas is celebrated every year on September 14. On that day in 1949, the constituent assembly adopted Hindi, written in Devanagari script, as the official language of the Union.