1.
ISRO chosen for Indira Gandhi
prize for peace, disarmament

i.
Indian space agency ISRO will be
conferred the Indira Gandhi Prize for Peace, Disarmament and Development for
2014 in recognition of its contribution in strengthening international
cooperation in peaceful use of outer space.
ii.
The award jury, chaired by Vice
President Hamid Ansari, made the announcement today.
iii.
"The Indira Gandhi Prize for Peace,
Disarmament and Development is awarded to the Indian Space Research
Organisation (ISRO) in recognition of its path-breaking achievement,
culminating in the Mars orbiter mission, its significant contribution in
strengthening international cooperation in peaceful use of outer space," a
statement said.
iv.
The jury also noted the pioneering
role played by it in the application of advanced technologies in promoting
broadbased and sustainable social and economic development and addressing basic
needs of the people particularly in remote and rural areas of the country.
v.
ISRO has shown how Indian scientists
and talents can be harnessed to international level, catching up with more
advanced nations in a highly technical and sophisticated field, it said.
vi.
ISRO has demonstrated
that in space technology, India stands shoulder to shoulder with the best in
the world, it said.
2.
Japan slips into recession

i.
Japan's economy shrank for the second consecutive
quarter, marking a technical recession in the world's third largest economy.
ii.
Gross domestic
product fell at annualized 1.6 per cent from July to September, compared to
forecasts of a 2.1 per cent rise. That followed a revised 7.3 per cent in the
second quarter, which was the biggest fall since the March 2011 earthquake and
tsunami.
iii.
The economy shrank 0.4 per cent in the third quarter from the
previous one. Economists said the disappointing figures are likely to lead to a
delay to the proposed increase of the country's sale tax.
3.
World Toilet Day is observed globally

i.
World Toilet Day is a United Nations (UN) observance, on
November 19, that highlights a serious problem – 2.5 billion people in the
world do not have access to proper sanitation.
ii
. Each year thousands of people join in on promoting
World Toilet Day via social media campaigns, online petitions, and by getting
involved in a range of events held in different countries worldwide.
iii
. The provision of proper toilets could save the lives of
more than 200,000 children in the world, according to the UN.
iv.
The countries where open defecation is most widely
practiced are the same countries with the highest numbers of under-five child
deaths, high levels of under-nutrition and poverty, and large wealth
disparities. Moreover, over one billion people defecate in the open due to lack
of proper toilet facilities.
v
. International organizations, particularly the World
Toilet Organization, have promoted World Toilet Day for years.
vi
. In 2013, the UN officially recognized November 19 as
World Toilet Day in a bid to make sanitation for all a global development
priority. It deemed the practice of open-air defecation as "extremely harmful"
to public health.
4.
India extends $75-mn line of credit to
Fiji
i.

India
today announced a
$75-million line of credit for Fiji for a co-generation power plant and
upgrading the sugar industry and also a $5-million fund to develop its villages
even as the two countries agreed to expand their defence and security
cooperation.
ii.
Prime Minister Narendra Modi, who made
these announcements after talks with his Fijian counterpart Frank
Bainimarama shortly after his arrival, also announced a visa on arrival for
Fijians and assistance projects that included a parliament library and doubling
the scholarships and training slots in India for people from this country.
iii.
The lines of credit were part of three agreements signed
between the two countries in the presence of the two leaders.
iv.
Modi
also addressed the Fijian Parliament, the first by a foreign leader, after
parliamentary elections, during which he said that India was prepared to work
with Fiji to build a "Digital Fiji''.
v.
The line of credit included $70-million for a
co-generation power plant at Rarav sugar mill and $5 million to strengthen and
modernise Fiji's village, small and medium-scale industries.
Note: PM of Fiji – Frank Bainimarama,
Capital of Fiji – Suva, Currency – Dollar
5.
India to replace "BIPA" with a new
pact to protect investments
i.
The government plans to replace bilateral investment
protection treaties with a new pact that seeks to plug loopholes and enhance
legal protection of foreign investors in India as well as Indian investments
abroad.
ii. Finance Ministry is moving Cabinet
with a draft of a new agreement called the Bilateral Investment Treaty (BIT)
saying there is a need to revisit existing BIPAs as they do not take into
account the socio economic objectives of government policy.
iii
. With respect to systemic issues, the new model
introduces rules on conflict of interest regarding arbitrations and
transparency. The model excludes taxation matters, sources said.
iv.
India has so far signed 83 Bilateral Trade and Promotion
Agreements (BIPA), of which 72 are in force, the Finance Ministry said in its
website.
v.
Under the new model of BIT, investor who have substantial
business activities in the home State would be protected by the treaty. The
proposed BIT would remain in force for a period of 10 years.
6.
International Buddhist Conference 2014
held in Nepal
i.
The International Buddhist Conference 2014 was held from
15 November to 18 November 2014 in Lumbini, Nepal. It was held with an
objective of preserving Buddhist culture and heritage.
ii.
The conference was held with a joint initiative of Nepal
Theravada Buddhist Academy and Myanmar Sitagu International Buddhist Academy.
iii.
The conference was
attended by some 400 Buddhist experts and intellectuals and issued a 23 point
declaration.
7.
Axis Bank launches smart self-service
terminal

i.
Axis Bank, India's third largest private sector bank,
has launched a smart self-service terminal that enables customers to deposit as
well as withdraw cash from the same machine.
ii.
"Customers can initiate a deposit transaction through
the smart self-service terminal even without using a debit card and will
receive instant credit for the deposited amount.
iii.
There is no cap on the amount of cash deposited by the
customer through these terminals, provided his/her PAN details are available
with the bank," Axis Bank said in a statement.
8.
Government needs to infuse nearly Rs
2.4 lakh crore in state-run banks by March 2019: RBI
i.
Government needs to infuse as much as Rs 2.4 lakh crore
($38.78 billion) into state-owned banks by end-March 2019 to meet different
kinds of capital requirements including Basel III, provisioning for asset
quality, and additional risks, said a central bank Deputy Governor SS Mundra
ii.
Banks should start looking for ways to generate more
internal capital as the leeway to get additional funds from the government
would be limited due to the ongoing fiscal consolidation process, Mundra said.
iii.
Indian government's holding in state-run banks ranges
from 56.26 per cent to 88.63 per cent, and one of the options to generate
capital is to lower stakes in banks, Mundra said. According to the Banking
Regulation act, government holding in state-run banks cannot fall below 51 per
cent.
iv.
Banks should start looking for ways to generate more
internal capital as the leeway to get additional funds from the government would
be limited due to the ongoing fiscal consolidation process, Mundra said.
9.
9th East Asia Summit held in Nay Pyi
Taw, Myanmar
i
. 9th East Asia Summit was
held in Nay Pyi Taw, Myanmar on 13 November 2014. The summit was held on the
sidelines of the 25th ASEAN Summit
ii.
The leaders of the
forum discussed cooperation in areas of common concern, particularly the
non-traditional security issues such as wildlife trafficking, trafficking in
persons, pandemics, climate change and disaster management.
About East Asia
Summit
i
. The East Asia Summit is an annual meeting of
national leaders from the East Asian region and adjoining countries. The first
summit was held in Kuala Lumpur, Malaysia in December 2005.
ii.
18 member countries participated in the summit.
EAS meetings are held after annual ASEAN leaders' meetings.
10.
Andhra Bank launches saving schemes
for children, teenagers 'AB Little Stars'
i.
Andhra Bank, Kakinada zonal manager S Seshagiri Rao said
that 'AB Little Stars' scheme has been launched for children in age
group of 10-15 years and their parents stands as guardians while 'AB Teens' is
targeted for teenagers between 15-18 years.
ii
. Internet banking, ATM card, mobile banking and cash
transfer will be provided to the young customers, Rao added.
11.
IBM launches new e-mail service
'Verse'

i.
Tech giant IBM has launched a new e-mail application
'Verse' for enterprises that integrates social media, file sharing and
analytics to help increase productivity.
ii.
The service stems from IBM's $100 million
investment in design innovation and adds layers of analytics, social media and
security to the application as employees can access e-mails, calendars, file
sharing, instant messaging, social updates and video chats through a single
platform.
iii.
It is the first messaging system to feature 'faceted
search', which enables users to pinpoint and retrieve specific information
they are seeking across all the various types of content within their email.
iv.
IBM Verse uses built-in analytics to
provide an 'at-a-glance' view that intelligently surfaces an individual's most
critical actions for the day.
v.
IBM Verse will compete with Microsoft
Window's popular Outlook email service and Google's Inbox.
12.
Rubber Board wins

Indira Gandhi Rajbhasha Award
i
. The Department of
Official Language under Ministry of Home Affairs has selected Rubber Board for the
Indira Gandhi Rajbhasha Award (First Prize) for excellence in the
implementation of the official language policy for the year 2013-14.
ii.
A Jayathilak, Chairman, Rubber Board,
received the award from the President of India Pranab Mukherjee in a function
held at Vigyan Bhavan, New Delhi.
iii.
The award is
instituted for excellence in implementing Hindi as official language among
Boards, Trusts and Societies under Central Government in States where Hindi is
not used as the mother tongue.
13.
Indian-American Neha Gupta won
International Children's Peace Prize 2014
i.
Neha Gupta on 18 November
2014 was awarded with the prestigious International Children's Peace Prize
2014.
ii.
Neha, an 18-year-old
Indian American from Philadelphia was awarded for her work to help orphans in
India and other vulnerable children.
iii.
Neha became the first
ever American to be awarded with the prize.
iv.
She was awarded the
prize by Nobel Peace Laureate Desmond Tutu the patron of the Dutch children's
rights organization in The Hague, Netherlands.
v.
In 2013, the award
was conferred on Malala Yousufzai, who went on to win this year's Nobel Peace
Prize.
14.
Jan Dhan scheme: Finmin asks
LIC to sign MoU with Indian Banks' Association
i.
The Finance Ministry has directed Life Insurance
Corporation (LIC) to immediately operationalise the benefit of life cover under
the Pradhan Mantri Jan Dhan Yojana (PMJDY).
ii.
LIC has been asked to expeditiously enter into a
memorandum of understanding (MoU) with the Indian Banks Association (IBA) for
providing this facility, official sources said.
iii.
Contrary to earlier stance, the Finance Ministry has now
said that National Payments Corporation of India (NPCI) would not be required
to enter into MoU with LIC and IBA for providing this life cover benefit.
iv.
During the launch of PMJDY scheme on August 28 in the
capital, Prime Minister Narendra Modi had announced a life cover of Rs 30,000
with the RuPay card.
v.
This benefit would be made available for all those who
subscribe to a bank account for the first time during the period August 15 to
January 26 next year, it was announced.
vi.
Under the recently framed guidelines for the facility of
life cover, the Finance Ministry had specified that a four-partite agreement –
LIC, IBA, NPCI and Department of Financial Services—will have to be executed
for running the scheme.
i.
LIC will create a
fund for life coverage under PMJDY with an initial corpus of
₹

100 crore from the social security fund of Government of India under Aam Admi
Bima Yojana (AABY) being managed by LIC of India.
ii.
This will be
recouped through budgetary provision by the Government, the Department of
Financial Services (DFS) has said.
iii.
The fund will be replenished
by Government from time-to-time within the stipulated premium amount to meet
the outgo and administrative expenses.
15.
ADB approves $350 mn for upgradation
of roads in MP
i.
Asian Development Bank (ADB) will
provide $350-million loan assistance for upgradation of district roads in
Madhya Pradesh.
ii.
"The Asian
Development Bank has approved a $350-million loan to upgrade district roads in
Madhya Pradesh for a project which will tackle an important link in road
improvements," ADB said in a statement.
iii.
The project
will upgrade 1,600 km of major district roads in the State through lane
widening, surface improvements, and strengthening of culverts and bridges.
iv.
This is to
help cut travel time, improve traffic flow and road safety, and provide better
access to markets and social services for poor and remote communities, the
statement added.
16.
Oxford Dictionary names 'vape' as 2014
word of year
i.
The Oxford English Dictionary named "vape"
the word used for the act of drawing on an electronic cigarette instead
of a burning stick of tobacco as its 2014 word of the year.
ii.
The 2013 word of the year was selfie, describing
the decidedly less controversial self-portrait usually taken with a smart
phone.
iii.
The word appeared to peak in the United States in April,
when New York City banned vaping indoors. The United Kingdom opened its first
vape cafe called The Vape Lab in March.
17.
Mumbai top investment destinations
among UAE based Indians
i.
Despite high property prices, India's commercial capital
Mumbai has once again emerged as the most popular and attractive property investment
hotspot among the UAE-based Indian expats.
ii.
As many as 35 per cent UAE-based Indian expats voted for
the city as their favourite property destination in India, in a recently
conducted survey.
iii
. In the report, published by Sumansa Exhibitions, who also
organise the Indian Property Show to be held in Dubai in December.
iv. Bangalore grabbed the 2nd spot
with 24.13 per cent
votes going for it as the most favorite city for NRI property investments.
v.
Bangalore catches the fancy of NRI investors due to its multi-directional
growth in recent years plus potential of giving significant return on
investment.
vi.
Mumbai and Bangalore are on the 20th and 23rd positions
respectively, in the list of investment destinations covered by the 'Emerging
Trends in Real Estate Asia Pacific 2014', published jointly by the Urban Land
Institute (ULI) and PricewaterhouseCoopers.
18.
Amul to set up
Rs
200 crore unit in West Bengal
i.
Gujarat Cooperative Milk Marketing Federation
(GCMMF), the maker of Amul dairy products, is setting up a unit in West Bengal
for an investment of around
₹
200 crore.
ii.
According to Krishna Gupta, Managing Director of West
Bengal Industrial Development Corporation, GCMMF is taking up 16 acres of land
at the Sankrail Food Park in Howrah district in the State.
iii.
"Amul project would be the anchor investment in the 34
acre phase three of the food park," Gupta. The State arm WBIDC is developing
and extending the park.
19.
Trade deficit narrows to $13 bn in Oct
i.
Due to decline in oil import, India's trade deficit for
the month October has narrowed to 13 billion dollars as compare to the previous
month of 14.25 billion dollars. Trade deficit in October last year had stood at
10.5 billion dollars.
ii.
Export data today released by Commerce Ministry said that the gold
imports jumped to 4.17 billion dollars from 1.09 billion dollars a year ago.
iii.
Silver imports were reported at 686 million dollars.
Meanwhile, the exports in October also hit lowest level since March 2014. It
reduced by 5.04 per cent to 26 billion dollars in October as compare to same month
of last year
.
20.
Tamil film director Rudraiya
Chockalingam passed away
i.
Veteran Tamil film
director Rudraiya Chockalingam died on 19 November 2014 in Chennai following a
brief illness. He was 67.
ii.
Rudraiya
Chockalingam is most famous for his critically acclaimed 1978 film Aval
Appadithaan, a movie surrounding the trials and tribulations of a female
protagonist.
21.
Indian Hockey coach Terry Walsh quits

i.
India's hockey coach Terry Walsh today quit from his
position after his contractual talks with Hockey India and the Sports Authority
of India (SAI) broke down.
ii.
However, a fresh
proposal is still being worked out for the Australian's consideration.
iii.
Walsh, whose contract was to come to an end tomorrow,
had already submitted his resignation last month after his demands for a
greater say in team decisions and hand-picked support staff were turned down by
Hockey India and Sports Authority of India.
iv.
Walsh had been negotiating to stay on
board and met Sports Minister Sarbananda Sonowal this morning but the talks
ended inconclusively. This prompted the 60-year-old to head back to Australia
without withdrawing his resignation.
22.
First Ebola case surfaces in India,
patient quarantined
i.
In the first case of Ebola in the country, a national
returning from Liberia has tested positive and has been isolated at a special
facility at Delhi airport.
ii.
The health ministry said the 26-year-old man, who
reached here last Monday, was already treated for the disease in the African
country and had no symptoms. But the ministry said his semen samples tested
positive, prompting authorities to isolate him.
iii.
The situation is under control and there is no need for
any alarm. All precautions are being taken," the ministry said.
iv
. It said during recovery, people continued to shed virus
in body fluids for variable periods.
v.
But the virus in his semen samples may transmit the
disease through sex up to 90 days from the time of clinical cure, it said.
vi.
He will remain in isolation in the facility till his
body fluids test negative and he is found medically fit to be discharged, it
said. The ministry insisted the man was a treated and cured case.
About Course:
This package Includes IBPS PO Study Material - Subscribe Now
About Bank Mahapack
If you are preparing for more than 1 Banking & Insurance exams then this is the pack we recommend you buy.
It is most cost effective and you get access to 100% digital content for Bank & Insurance exams on Adda247.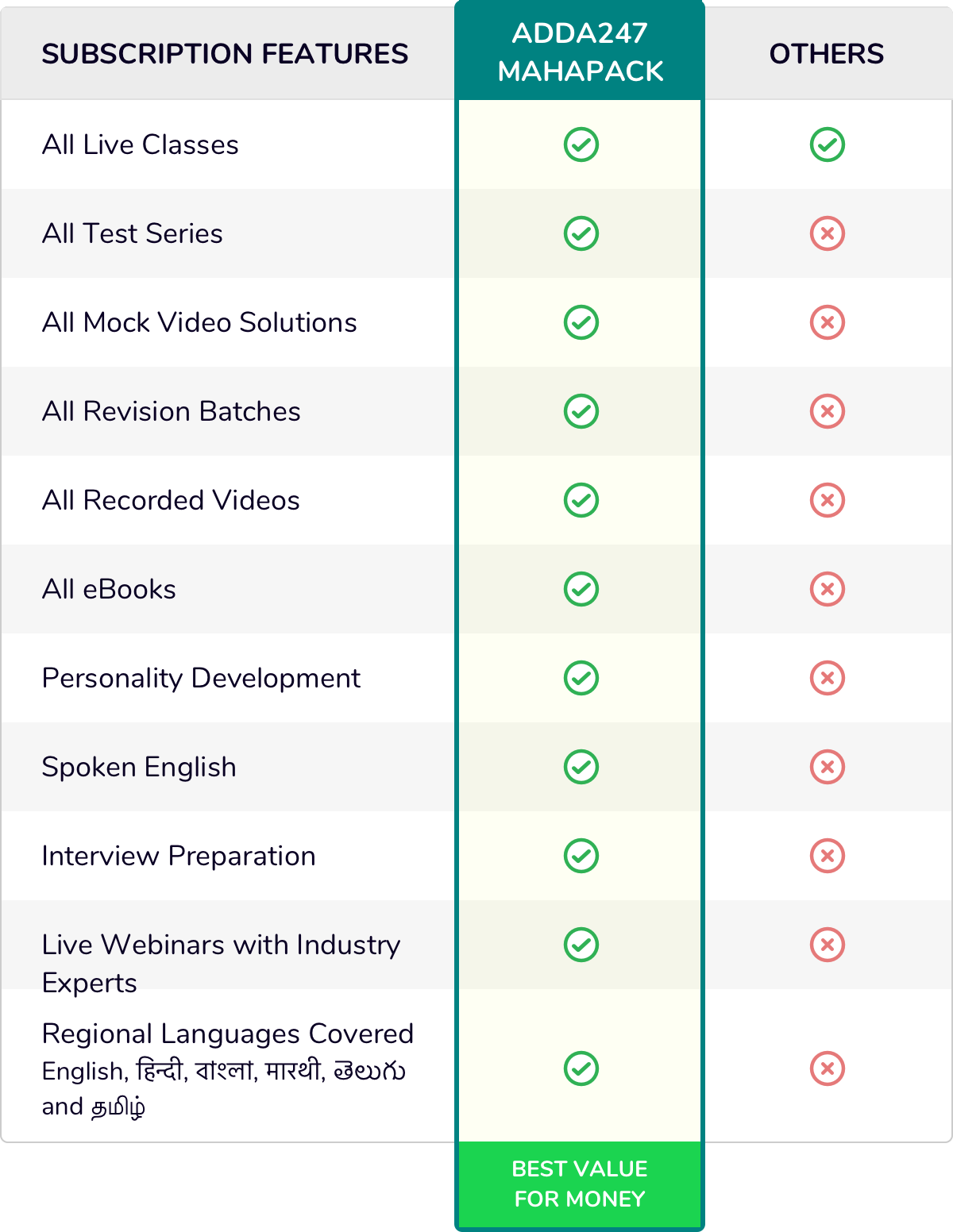 Banking & Insurance Exams Covered in this Pack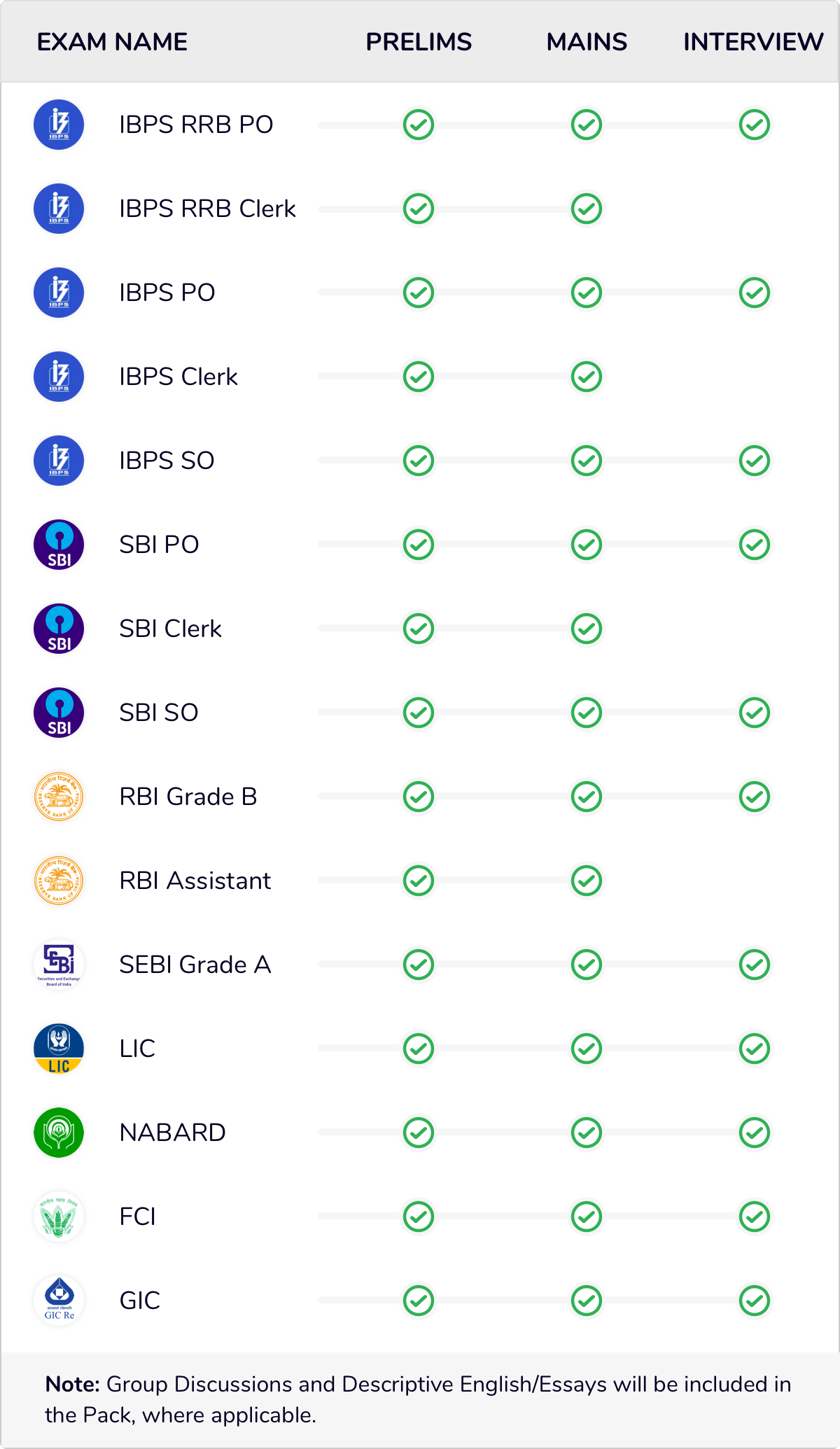 Additionally you can crack any private bank job exam with content in this pack.
Bank & Insurance Mahapack Highlights
Structured course content

Recorded classes available if you miss any live class

Previous Years' Papers of all upcoming exams.

Full Length Mocks based on the latest pattern with detailed solutions (video solutions for certain topics)

Topic level knowledge tests

Strategy sessions, time management & Preparation tips from the experts
Bank Maha Pack


Unlimited Live Classes & Recorded Video Courses
Unlimited Tests and eBooks
1 Lakh+ Selections
Validity
12 Months
6 Months
1 Month
3 Months
BUY NOW