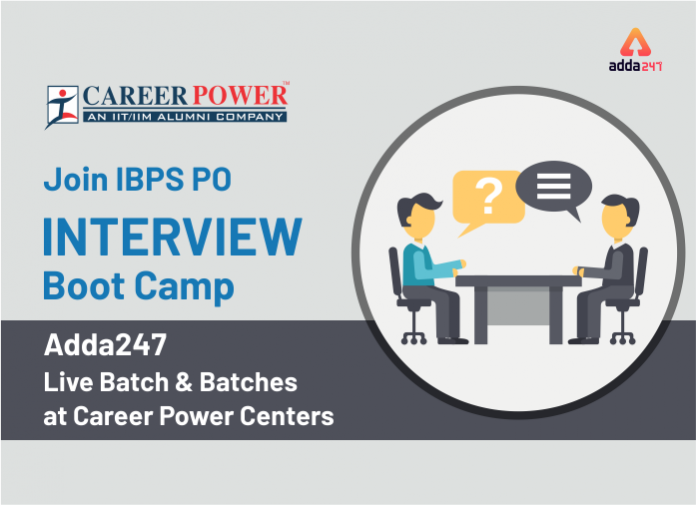 IBPS has finally released IBPS PO Interview Round's call letter. Aspirants who were waiting for the call letter must download the call letter from the official website. The time has come for the final struggle and you are only one step behind your dreams. Interview round is for testing an aspirant's personality rather than the knowledge whoch is already being tested through Prelims and Mains Phase of the examination. Start your preparation for the Interview round with us and get assured success. After all, your success matter's to us the most.

Bank Interviews are always the trickiest part of the recruitment process where candidates are clueless regarding what should they study what should they work on to crack this round or is it just a matter of luck?? Well, the answer is if you are going to appear for the IBPS PO interview round then you need guidance from experts who have helped thousands of students in getting through SBI and IBPS Interviews because it is primitive to understand how an interviewer thinks and perceives information that you'll be delivering.
Adda247 and Career Power has brought to you IBPS PO Interview Boot Camps Online and at Offline Centers both to deliver to you the expert guidance that you'll need to pass this round with flying colors.
What should be you aim for during the Interview Round?
Many candidates wish if they simply pass the interview round by getting the prescribed 40% marks as mentioned in the notification. But is it enough? Can you achieve more? Why not!! You aim should not be to simply pass the cut off of getting 40% of the total 100 marks allotted for the interview but to attain high enough score to make it up to the final merit list!! And believe us it is possible if you are determined to do so…all you have to do now is work smart.
The weightage (ratio) of Online Main Exam and interview will be 80:20 respectively and you have to score sufficiently high in the merit to be shortlisted for subsequent provisional allotment process.
How can you Prepare for IBPS PO interview Round?
You can choose online or offline mode of preparation as per your convenience. Adda247 has launched the Ultimate Interview Batch for IBPS PO By Anil Bhatnagar Sir and Career Power is running Interview Boot camp at its various centers across the nation.
This batch will be taught by Mr. Anil Bhatnagar who has more than 25 years of work experience and has worked as Ex. General Manager of SBI.
Anil Bhatnagar Sir- Ex General Manager of SBI
He was the chairman of the interview panel as well as the member.
More than 5000 candidates have been qualified and promoted under the guidance of Anil Bhatnagar Sir.
Head of the recruitment process from appearing and promoting internal candidates to selecting the candidates.
Read Success Stories of Candidates Selected in SBI PO 2019 Recruitment with the help of Anil Bhatnagar Sir's Guidance in Adda247 Ultimate Live Batch:
Have a doubt ? Call 08047108443 to get Counselling from Adda247 Experts. The Batch starts from 11th Jan 2020 and the classess will take place from 9AM to 12PM
Price: Rs. 2999/- | Click Here to Join
Interview Expert Faculties like Harish Kher Sir (Ex. SBI), T.C. Jain Sir and other professionals having more than 10 years of experience will guide you to crack this year's IBPS PO Interview. 
Last year Career Power recorded 500+ selections from Interview Batches.
Numerous interviews have been taken by the respected mentioned faculties, will be there to assist you with the interview question and other important details.
Each and every point related to the interview will be conducted so that nothing important is left behind.
You will be able to connect with the reputed teachers personally to gain more knowledge on the same.
Mock interview session will also be there, everything from how to introduce yourself to what to dress, how to behave, sit and stand everything will be taught in this Batch.
A one-on-one session with the experts will also be conducted to give you a real experience of the Interview round.
Check Details about IBPS PO Interview Boot camp Centers near you :
The following is a list of centres, contact number, starting date of Interview Boot Camp and the list of Panelists. You can contact the center near your location or you can register here and our team will get back to you-
Click Here to Register
| Branch | Date | Time |
| --- | --- | --- |
| AHMEDABAD | 10th January 2020 | 08:00 to 10:00am |
| BANGALORE | 10th January 2020 | 03:00 to 05:00pm |
| BHOPAL | 8th January 2020 | 11:00 to 01:30pm |
| BHUBANESWAR | 10th January 2020 | 10:00 to 01:00pm |
| DELHI (Laxmi Nagar) | 7th January 2020 | 12:00 to 3:00pm |
| DELHI (GTB Nagar) | 7th January 2020 | 10:00 to 02:00pm |
| DELHI (Mukherji Nagar) | 10th January 2020 | 10:00 to 02:00pm |
| DELHI (Munirka) | 13th January 2020 | 1:00 to 04:00pm |
| GANDHINAGAR | 7th January 2020 | 02:00 to 04:00pm |
| GHAZIABAD | 10th January 2020 | 10:00 to 01:00pm |
| GUWAHATI | 10th January 2020 | 02:00 to 04:00pm |
| INDORE | 10th January 2020 | 01:00 to 03:00pm |
| JAIPUR | 10th January 2020 | 02:00 to 04:00pm |
| KOLKATA | 10th January 2020 | 10:00 to 04:00pm |
| LUCKNOW | 6th January 2020 | 12:00 to 04:00pm |
| LUDHIANA | 8th January 2020 | 01:00 to 04:00pm |
| MUZAFFARPUR | 10th January 2020 | 10:00 to 01:00pm |
| NOIDA 12-22 | 7th January 2020 | 12:00 to 03:00pm |
| PATNA | 8th January 2020 | 10:00 to 02:00pm |
| PUNE | 10th January 2020 | 10:00 to 01:00pm |
| RANCHI | 9th January 2020 | 11:00 to 02:00pm |
| ROURKELA | 9th January 2020 | 10:00 to 01:00pm |
| UJJAIN | 10th January 2020 | 10:00 to 12:00pm |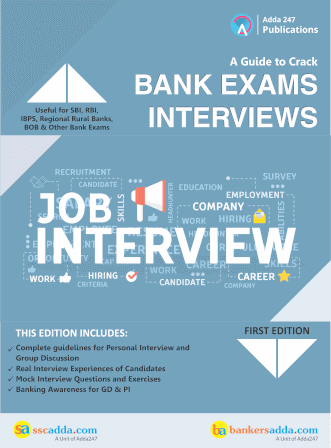 You can also make grades in the IBPS PO personal interview with the help of tips and solved examples of frequently asked questions included in the book by Adda247 to crack bank job interviews- A Guide To Crack Bank Exams Interviews Book (English Printed Edition). It also incorporates the real interview experiences of the candidates who appeared for previous bank's interview phases and mock exercise set to encourage them to be prepared to face the toughest questions with a decent strategy.
Price: Rs. 299/- | Click Here to Buy Now