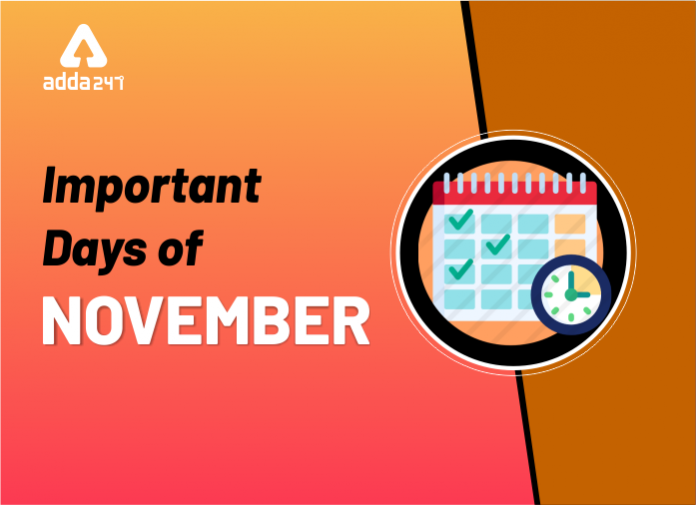 Banking sector is the one that attracts Indian students the most. However, entering the banking institutions demands cracking banking examination. GA forms a part and parcel of IBPS, SBI, and other banking examinations.

Important Days in November 2019
Generally, the banking examination has the reputation of having quantitative and reasoning as the main section but general awareness can help you sail through all the stages successfully. Also, General awareness is an important element for an aspirant who desires to crack other competitive examination. In general awareness section, days of national and international importance holds a good position. IBPS PO Mains exam is to e held on 30th November and it is important for the aspirants preparing for the same to go through the national and international day of importance. Adda247 has already provided you with the GA Power Capsules for various examinations. Also, our website has already provided you with important days of June, July, and August, September, October to provide you knowledge about the important events of the respective months. Today's article is focused on the important dates in the month of November. Go through them so as to enhance your knowledge and be exam ready.
October 2019: Important National and International Days
List of Important Days in September
List Of Important Days In August: National & International
"List Of  Important Days In November: National & International"
| | |
| --- | --- |
| Date | Days |
| November 1 | National Author's Day |
| November 1 | All Saint's Day |
| November 1 | World Vegan Day |
| November 2 | All Soul's Day |
| November 5 | World Tsunami Day |
| (1st Tuesday of Nov)  November 5 | Melbourne Cup Day |
| November 7 | Infant Protection Day |
| November 7 | National Cancer Awareness Day |
| November 9 |  Legal Services Day |
| November 11 | Remembrance Day |
| November 12 | World Pneumonia Day |
| November 12 | Guru Nanak Jayanti or Gurupurab. |
| November 13 | World Kindness Day |
| November 14 | Children's Day |
| November 14 | World's Diabetes Day |
| November 16 | International Day for Tolerance |
| November 17 | National Epilepsy Day |
| November 19 | World Toilet Day |
| November 20 | International Children's Day |
| November 20 | African Industrialization Day |
| November 21 | World Television Day |
| November 26 | National Law Day |
| November 29 | International Day of Solidarity with Palestinian People |
| November 30 | Independence day of Yemen |
| November 30 | Saint Andrew's Day |