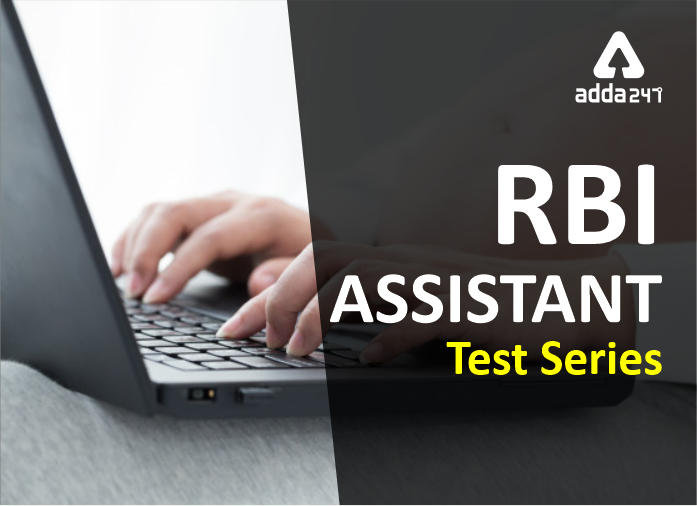 RBI Assistant Test Series: If you are one of those aspirant who is preparing for RBI Assistant and is looking for the best study material that can sail you through the exam, you are at the right place. We have come up with the best test series for RBI Assistant that is framed in accordance with the official exam pattern and latest trend in order to make students exam ready.
RBI is all set to recruit 926+ eligible candidates for the post of Assistant in Reserve Bank of India. The notification for RBI Assistant Recruitment was released on 23 December and the last date to fill the online registration was 16 January 2020. RBI has also released RBI Assistant Admit Card for prelims exam. Aspirants who wants to pursue their career with Reserve Bank of India at the grass-root level must have started their preparation already and must be looking for other things that can complete their preparation.
RBI Assistant Exam demands a proper practice. RBI Assistant test series provided by us will enhance you practice skills and make you emerge in flying colors. It will will also help in improving your speed and accuracy.
RBI Assistant Test Series
RBI Assistant Test Series FAQs
Question: Why to choose Test Series over any other study material?
Answer: Test series are the best material to enhance your score in the exam. If you are a serious aspirant, test series should be in your priority list as it enhances speed and accuracy which is important to sail through the exam. Also, RBI Assistant is to be held in online mode, so practicing online mock test will provide you an exam like environment make you aware of the type of question asked and the exam pattern.
Question: Why to choose Adda247 Test Series for RBI Assistant Recruitment?
Answer: We are a family of more than 10 crore users now. You can relate to this as this family isn't just a limelight, it is because of the material we provide. Here are few benefits of choosing our test series:
Test series is framed in accordance with the official exam pattern and latest trends
Each section is framed by the respective subject matter expert
Bilingual
Detailed video solution
It has full length as well as section-wise mocks
Question: How can you buy these test series?
Answer: You can avail these test series from the link of buy now given below or can visit adda247 store. Click on the link below to look for more products:
Question: Can you rely on our test series?
Answer: Yes, you can totally trust on our test series and other study materials. We have expert team who work day and night to prepare these materials. Also, you can check our students review. We are serving student for about a decade. We are a happy family of more than 10 crore members by providing trust-worthy materials.
Question: Is the test series affordable?
Answer: Adda247's test series is the most cost effective and provides everything in such a range of cost which you will not find anywhere else.
1. RBI Assistant Prelims 2020 Online Test Series
15 Full Length Mocks for RBI Assistant Prelims 2020 Exam
15 Section-wise Practice sets (5 Reasoning, 5 Quant & 5 English)
Other Salient Features:
Available in English as well as Hindi Medium.
Accessible on Adda247 store and Adda247 Mobile App
Detailed Solutions is available
Analysis of The Attempted Tests in Detail (All India Rank, comparison with toppers, etc.)
The plan for Mock is given below. You can attempt the mock after the schedule date as well and can check the analysis accordingly.
| | |
| --- | --- |
| S.No. | Date |
| Mock 1 | 2-Jan-2020 |
| Mock 2 | 4-Jan-2020 |
| Mock 3 | 8-Jan-2020 |
| Mock 4 | 10-Jan-2020 |
| Mock 5 | 14-Jan-2020 |
| Mock 6 | 17-Jan-2020 |
| Mock 7 | 21-Jan-2020 |
| Mock 8 | 23-Jan-2020 |
| Mock 9 | 25-Jan-2020 |
| Mock 10 | 29-Jan-2020 |
| Mock 11 | 30-Jan-2020 |
| Mock 12 | 1-Feb-2020 |
| Mock 13 | 5-Feb-2020 |
| Mock 14 | 7-Feb-2020 |
| Mock 15 | 11-Feb-2020 |
2. RBI Assistant Premium 2020 Online Test Series
Available in English as well as Hindi Medium
Covers prelims and main exam mock test
Weekly Current Affairs (Aug 2019- Feb 2020)
Accessible on Adda247 store and Adda247 Mobile App
Detailed Solutions
Analysis of The Attempted Tests in Detail (All India Rank, comparison with toppers, etc.)
eBooks are also available with the mocks in addition
Added Features
Prelims Exam
15 Full-Length Mocks with VIDEO SOLUTIONS
15 Section-wise Practice sets (5 Reasoning, 5 Quant & 5 English)
Mains Exam
10 Full-Length Mocks with VIDEO SOLUTIONS
15 Section-wise Practice sets (5 Reasoning, 5 Quant & 5 English)
eBooks (English Medium only)
The Hindu One Liner (Aug 2019 – Feb 2020)
Banking & Static Awareness eBook
The mock test plan for prelims exam is as follows:
| | |
| --- | --- |
| S.No. | Date |
| Mock 1 | 2-Jan-2020 |
| Mock 2 | 4-Jan-2020 |
| Mock 3 | 8-Jan-2020 |
| Mock 4 | 10-Jan-2020 |
| Mock 5 | 14-Jan-2020 |
| Mock 6 | 17-Jan-2020 |
| Mock 7 | 21-Jan-2020 |
| Mock 8 | 23-Jan-2020 |
| Mock 9 | 25-Jan-2020 |
| Mock 10 | 29-Jan-2020 |
| Mock 11 | 30-Jan-2020 |
| Mock 12 | 1-Feb-2020 |
| Mock 13 | 5-Feb-2020 |
| Mock 14 | 7-Feb-2020 |
| Mock 15 | 11-Feb-2020 |
The mock test plan for main exam is as follows:
| | |
| --- | --- |
| S.No. | Date |
| Mock 1 | 1-Feb-2020 |
| Mock 2 | 8-Feb-2020 |
| Mock 3 | 11-Feb-2020 |
| Mock 4 | 15-Feb-2020 |
| Mock 5 | 21-Feb-2020 |
| Mock 6 | 26-Feb-2020 |
| Mock 7 | 29-Feb-2020 |
| Mock 8 | 5-Mar-2020 |
| Mock 9 | 9-Mar-2020 |
| Mock 10 | 13-Mar-2020 |