SBI Clerk 2020 Online Application and Fee Submission end today as 26th January 2020 is the last day to register and submit your application for the recruitment process. Apply now from the direct link given below to avoid any last minute rush.
The State Bank of India has released more than 8000 vacancies to recruit Junior Associates (Customer Support & Sales) for 2020. SBI Clerk direct link will be closed by 26 January 2020, few hours left to apply for SBI Exam. If you are aiming to get a bank job in 2020 then you must register for SBI Clerk 2020 through SBI Clerk Apply Online direct link given below. The official notification to recruit clerks was published on the official website sbi.co.in on 2nd Jan and the SBI Clerk Apply Online Link will remain active till 26.01.2020.
SBI has not introduced any change in the recruitment process and online examination pattern in comparison to the last year's process. Candidates should read all important facts about SBI Clerk 2020 recruitment carefully before doing the online registration. Keep on reading the answers to FAQs below to know about eligibility criteria, exam dates, online application fees and steps to apply online for SBI Clerk 2020 recruitment.
Click Here to Read the Official Notification of SBI Clerk 2020

Do you know if you meet the eligibility criteria of age and education qualification to apply online for SBI Clerk 2020 recruitment? Is there sectional cut off in online exam of SBI Clerk Prelims and Mains? What are the important details that you should keep in mind while applying online? We've got your back!! Following are the answers to all such FAQs, keep on reading:
Q. How many vacancies are there in SBI Clerk 2020?
A. This year SBI has released 8000+ vacancies in SBI Clerk 2020 recruitment
Q. What is the Last Date to apply online for this recruitment?
A. Following are the important dates for SBI Clerk 2020 recruitment:
Apply Online Registration starts from: 03.01.2020
Closing of apply online: 26.01.2020
Q. What is the SBI Clerk 2020 recruitment process?
A. The SBI Clerk 2020 recruitment is a two staged process and it includes two online examination- Preliminary and Main Exam.
Q. When will the SBI Clerk Pre and Main Online Examination will take place?
A. Following are the tentative dates as per the official notification:
Preliminary exam: Tentatively in the month of February/March 2020
Mains Exam: Tentatively on April 19.04.2020
Q. What is the eligible qualification required for SBI Clerk 2020 Recruitment?
A. Graduation in any discipline from a recognised University or any equivalent qualification recognised as such by Central Government. Candidates having integrated dual degree (IDD) certificate should ensure that the date of passing the IDD is on or before 01.01.2020
Please note that this is as on 01.01.2020
Q. What is the age qualification required to apply for SBI Clerk 2020?
A. Candidates who are Not below 20 years and not above 28 years of age as on 01.01.2020 are eligible to apply online.
i.e. candidates must have been born not earlier than 02.01.1992 and not later than 01.01.2000 (both days inclusive)
Q. What is the SBI Clerk 2020 Exam Patten?
A. Preliminary Examination :
S.No.
Name of Tests(Objective
No. of Questions
Maximum Marks
Duration
1
English Language
30
30
20 minutes
2
Quantitative Aptitude
35
35
20 minutes
3
Reasoning Ability
35
35
20 minutes
Total
100
100
60 minutes
Main Examination :
S.No.
Name of Tests(Objective)
No. of Questions
Maximum Marks
Duration
1
Reasoning Ability & Computer Aptitude
50
60
45
minutes
2
General English
40
40
35 minutes
3
Quantitative Aptitude
50
50
45 minutes
4
General/Financial Awareness
50
50
35 minutes
Total
190
200
2 Hours 40 Minutes
Q. Is there any sectional cut off for SBI Clerk 2020 Online Pre and Main Exam?
A. No, as per the official notification there will be no sectional cut off. There will only a final cut off for the Preliminary and the Main examination, that will be declared by the bank.
Q. How much is the fees to apply online for SBI Clerk Recruitment?
For general/OBC/EWS: 750/-
For SC/ ST/ PWD/ XS: NIL
Q. Can you choose different Exam Centres?
A. Yes, you can choose to the same exam centre as that of the region you are applying from or different exam centres as well. You can even choose different centres for Prelims and Mains Exam.
Q. What are the steps to Apply Online for SBI Clerk 2020 Recruitment?
A. Follow the following steps carefully to apply online for SBI Clerk 2020. Read the eligibility criteria given above before proceeding to apply online. The SBI Clerk Apply Online is a 5 staged process with the following stages:
Basic Info
Photo & Signature
Details
Preview
Payment
After completion of the Payment the Online Application is submitted successfully.
Step 1: Visit the official online application link, Click Here to Apply Online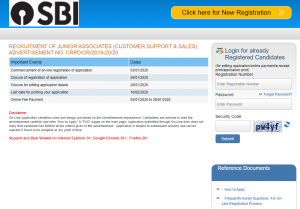 Step 2: If you have not registered yet, then first you must Register for SBI Clerk 2020 recruitment. Click on "Click here for New Registration" on the online application page. If you have already filled the online registration form then you can view your application by logging in.
Step 3: Read the "Important Points to be noted" that will appear on your window, then click continue.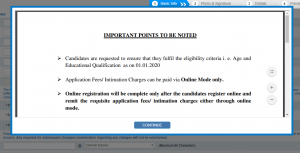 Step 4: Fill the Registration Form carefully. Starting with the Basic Info. Please keep in mind the following guidelines while filling in your basic info:
The Name entered in the online application form should match exactly with the requisite documents that you will produce at the time of exam.
Email ID and the mentioned mobile no. will be the only way through which you'll be notified regarding updates related to the SBI Clerk 2020 recruitment. So please carefully enter a valid email id and contact no.
Step 5: Once you've submitted your Basic Info, you will receive an SMS with your SBI Recruitment of Jr. Associates Provisional Registration Number and Password. Save these details for future use, you'll require them to log in later on. Then fill the details in the section of "Photo and Signature".
Things to keep in mind before uploading photograph and signature:
Photograph Image:
Dimensions 200 x 230 pixels (preferred)
Size of file should be between 20kb–50 kb
Photograph must be a recent passport style colour picture.
Caps, hats and dark glasses are not acceptable. Religious headwear is allowed but it must not cover your face
Signature Image:
The applicant has to sign on white paper with Black Ink pen.
Dimensions 140 x 60 pixels (preferred)
Size of file should be between 10kb – 20kb
Ensure that the size of the scanned image is not more than 20kb – Signature in CAPITAL LETTERS shall NOT be accepted
Step 6: Enter your "Basic Details" followed by "Qualification/ Experiences/ Languages". Be very carefully while selecting the Category and Sub-Caste as no change in the category will be permitted after the final submission and sub-caste should e same as mentioned in the caste certificates.
Choose the circle you are applying for carefully as it is mentioned in the official notification the candidates applying for vacancies of a particular State, should be proficient (reading, writing, speaking and understanding) in the specified opted local language of that State.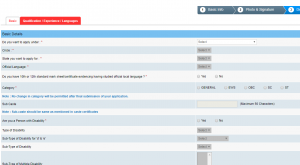 Step 7: After filling all the details carefully "Save and Submit" your application then check the preview of your final application. At last you can make the online payment and your registration for SBI Clerk 2020 recruitment will be submitted successfully.