Are you someone who wants to pursue his/her career with Reserve Bank of India (RBI)? RBI has released the official notification of Grade B examination for the recruitment of General, DSIR, DEPR streams. This year a total of 199 vacancies has been released by RBI for grade B level. You must be thinking about the best sources and guidance to ace through the RBI examination. However, finding the best among the flooded market is very hard. Don't panic. Adda247 is dedicated to help you in every way possible so that you don't have to face difficulties in sailing through the examination. We at Adda247 are offering live video courses which can provide you everything you need to crack the examination. 
What could be a better idea than an affordable video courses for RBI Grade B exam? You just have to pay once and have to enjoy the benefits of video anytime you want to. It is like a real experience of classes at your gadgets. You can take the benefit of these courses anytime, anywhere. Nothing is better than having access to such video courses by experts who will not only explain every subject, strategy and ways to crack examination but also helps you to clear you doubts. The other benefit of video course is that, you can revise your content anytime with your speed without going for much hassle handmade notes.
RBI Grade B 2019 Complete Video Courses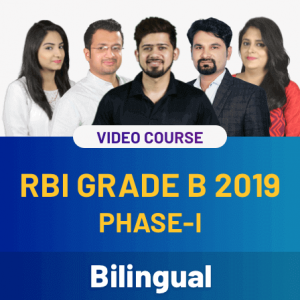 Package Details
Videos: 500+
Language : Bilingual
eBooks: 400+
Validity: 6 months
Question: Is it available only in english?
Ans: This video course is available in both hindi and english.
Question: What is the validity period of this course?
Answer: The validity period of RBI Grade B video courses is 6 months.
Question: Where can these videos used?
Answer: These videos can be seen through Adda247 app or if you are playing the videos on laptop/desktop then go to video courses, my purchased video course on store.
Get Free Counselling Session for Supreme Video Subscription or any queries