Monthly Current Affairs 2023: Current Affairs is an important section for candidates preparing for competitive exams such as RRB PO, Clerk, SO, IBPS PO, Clerk, SO, SBI, SSC, LIC, Railways, state exams, etc. The portion of Current Affairs is covered under the General Awareness part. A large number of candidates aspire for government exams and they must know that the weightage of the General Awareness section is the same as compared to other sections. To qualify for any competitive exam aspirants must study the monthly current affairs on a regular basis so that it does not get piled up at the last moment. Current Affairs is the scoring section and it boosts the overall score of the candidates. To help the aspirants in their preparation we are providing you with the Monthly Current Affairs for every month. In this article, we have provided you with the Monthly Current Affairs 2022 in detail.
Importance of Current Affairs
Current Affairs are very important for every competitive exam. It is important in all competitive exams, but they are even more important in banking and insurance exams than in other central and state-level government exams like NTPC & SSC. Current affairs are vital for applicants who want to pass major exams because questions about current affairs are asked in every competitive exam like Bank, PO, Clerk, SO, SSC, Railways, PSU, UPSC, and so on. Aspirants should be well aware about what is going at National & International level, Government schemes, current banking news, appointments, Ranks & Reports, Agreements and economy based news.
Download Monthly Current Affairs
As we all know, many bank notifications are about to release in the coming months, so it is advisable for all the students to prepare well for their examination, as many of the banking exams either in Prelims or Mains, consists of questions from Current Affairs.
Monthly Current Affairs PDF
Students can now download the Monthly Current Affairs PDF: The Hindu Review by simply clicking on the links mentioned below. In these pdf, you will get Monthly Current Affairs Summary e-books for quick revision. E-books will give you the best way to read and revise important monthly current affairs before the exam in a short period of time. Monthly Current Affairs PDF can help you to score better in the general awareness section of various banking exams.

Also Read:
Importance of Monthly Current Affairs PDF
Current Affairs play a vital role in every government examination. In every examination, usually the past 6 months, current affairs are asked and students are advised to prepare the same for all the upcoming examinations. Candidates must go through the monthly current affairs to be updated regarding the national and international events. This will ensure that the candidates are prepared for every possible question from the current affairs section. They should complete the revision of every month's current affairs at the end of the month. Being good at current affairs will surely enable you to crack any examination that you are preparing for.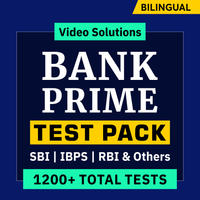 FAQ: Monthly Current Affairs PDF 2023 (English/Hindi)
Q1. Which monthly current affairs is best?
Ans. BankersAdda is the best platform to get download free monthly current affairs PDFs in Hindi & English Language.
Q2. How can I get monthly current affairs?
Ans. You can find daily & monthly current affairs from the Adda247 app and banking aspirants can also get updated monthly current affairs in this article.
Q3. How to prepare for Banking Awareness?
Ans. Banking awareness must be prepared from update-source as well as the RBI Official website so that you know the latest facts and figures.
Q4. Are Banking Awareness and Financial Awareness different?
Ans. Ideally, they are different but we study financial awareness as a part of banking from our exam point of view.
Q5. What is the best book for Banking Awareness?
Ans. The best book for Banking awareness is Adda247 Ace Banking Awareness & Static Awareness.