IBPS Clerk Syllabus 2022: The first step that a candidate should take to qualify for any competitive exam is to know the syllabus and exam pattern. It is very important for the students preparing for the SBI Clerk to be familiar with the SBI Clerk Syllabus 2022. So here in this post, we have provided the complete SBI Cler Syllabus & Exam Pattern for the prelims as well as for the mains examination. Preparing by going through with the detailed syllabus is very important for any examination. 
IBPS Clerk Syllabus 2022
The first step in cracking any competitive exam is to gather all the relevant information about the examination and its detailed syllabus. It is geared towards testing the aspirant's flexibility to solve complex questions. With every exam, IBPS is trying to follow the footprints of SBI and is showing extreme variations when compared to the previous year's examination.
IBPS Clerk Syllabus 2022: Overview
Candidates can check the complete overview of the IBPS Clerk Syllabus 2022 in the given table below.
IBPS Clerk Syllabus 2022: Overview
Organization
Institute of Banking Personnel Selection
Exam Name
IBPS Clerk Exam 2022
Post
Clerk
Vacancy
7035
Notification Date
30th June 2022
Application Date
1st July 2022
Exam Date Prelim
03rd & 04th September 2022
Official website
@ibps.co.in
IBPS Clerk Syllabus 2022
Check this Post in Hindi
IBPS Clerk Syllabus 2022: Prelims
There are three sections in the IBPS Clerk prelims exam namely English language, Reasoning Ability, and Quantitative aptitude. DI is the major and important topic in Quant whereas Puzzle is considered to be the most important topic in Reasoning ability. One needs to clear their concept on both the aforementioned topics as they carry the highest weightage in the exam. Reading comprehension in the English section comprises of 7-8 questions. There may be a set of one or two Reading comprehension in the IBPS Clerk prelims exams.
IBPS Clerk Syllabus English Language
Aspirants can check topic wise English Language syllabus of the IBPS Clerk in the given table.
English Language 
Vocabulary
Grammar
Reading Comprehension

Homonyms
Antonyms
Synonyms
Word Formation
Spelling

Spotting Errors
Phrases and idioms
Direct and Indirect speech
Active/ Passive voice

Theme Detection
Passage completion
Topic rearrangement of passage
Deriving Conclusion
IBPS Clerk Syllabus Reasoning
Candidates can check the reasoning syllabus in the given table.
Reasoning Ability
Verbal Reasoning
Non-Verbal Reasoning

Analogy
Classification
Word formation
Statement and conclusions Syllogism
Statement and assumptions
Statement and arguments
Coding-Decoding
Blood Relations
Passage and conclusions
Alphabet test
Series Test
Number, Ranking and time sequence
Direction sense Test
Decision-making test
Figure series
Input/output
Assertion and reasoning
Sitting Arrangement

Series test
Odd figure Out
Analogy
Miscellaneous Test
IBPS Clerk Syllabus Quantitative Aptitude
Candidates can check the section-wise quantitative Aptitude syllabus in the given table.
 Quantitative Aptitude
Simplification and Approximation
Quadratic Equation
Arithmetic Problems
Volumes
Basic Calculation
Problems on L.C.M and H.C.F
Quadratic Equations
Probability
Profit and Loss
Time & Work
Speed Time & Distance
Simple Interest & Compound Interest
Data Interpretation
Number Series
IBPS Clerk Syllabus 2022 For Mains Exam
More or less, the syllabus for IBPS Clerk Prelims and IBPS Clerk mains are similar but some topics are added in all the sections with the level of difficulty. General awareness is the add-on the subject in the main exam. Students need to prepare banking awareness, static awareness, and current affairs of the last 6 months to cover the GA part. Reroute all your attention to the DI and Puzzle and Seating arrangement in the mains exam. The level of the main exam is comparatively difficult. Check the detailed IBPS Clerk mains syllabus below:
| S. No. | Subject | Syllabus |
| --- | --- | --- |
| 1. | General English | Reading comprehension, Fillers( Double fillers, Multiple Sentence Fillers, Sentence Fillers), New Pattern Cloze Test, Phrase Replacement, Odd Sentence Out cum Para Jumbles,Inference, Sentence Completion,Connectors, Paragraph Conclusion, Phrasal Verb Related Questions, Error Detection Questions, Word usage/ Vocab Based Questions. |
| 2. | Reasoning and Computer Aptitude | Puzzles & Seating Arrangements, Direction Sense, Blood Relation, Syllogism, Order and Ranking, Coding-Decoding, Machine Input-Output, Inequalities, Alpha-Numeric-Symbol, Series, Data Sufficiency, Logical Reasoning , Introduction to Computer Organisation, Computer Memory, Computer Hardware and I/O Devices, Computer Software, Operating System, Computer Network, Internet, MS Office Suit and Short cut keys, Basics of DBMS, Computer and Network Security. |
| 3. | Quantitative Aptitude | Data Interpretation (Bar Graph, Line Chart, Tabular, Caselet, Radar/Web, Pie Chart), Inequalities (Quadratic Equations, Quantity 1, Quantity 2), Number Series, Approximation and Simplification, Data Sufficiency, Number system, Miscellaneous Arithmetic Problems (HCF and LCM, Profit and Loss, SI & CI, Problem on Ages, Work and Time, Work and Wages, Speed Distance and Time, Probability, Mensuration, Permutation and Combination, Average, Ratio and Proportion, Partnership, Problems on Boats and Stream, Problems on Trains, Mixture and Allegation, Pipes and Cisterns). |
| 4. | General/ Financial Awareness | Banking and Insurance Awareness, Financial Awareness, Govt. Schemes and Policies, Current Affairs, Static Awareness. |

IBPS Clerk Exam Pattern 2022
IBPS Clerk Examination is conducted in two phases viz. IBPS Clerk Preliminary Exam and IBPS Clerk Mains Exam.
IBPS Clerk Exam Pattern 2022: Prelims
The IBPS Clerk prelims exam consists of 3 subjects which are the English Language, Quantitative Aptitude, and Reasoning Ability. Candidates will be given 60 minutes to complete the examination.
| S.No. | Name of Tests(Objective) | No. of Questions | Maximum Marks |    Duration |
| --- | --- | --- | --- | --- |
| 1 | English Language | 30 | 30 | 20 minutes |
| 2 | Quantitative Aptitude | 35 | 35 | 20 minutes |
| 3 | Reasoning Ability | 35 | 35 | 20 minutes |
| | Total | 100 | 100 | 60 minutes |
IBPS Clerk Exam Pattern 2022: Mains Exam
Candidates who will qualify the Prelims examination will be called for the main examination. The IBPS Clerk mains exam consists of 4 sections for which candidates will have 160 minutes to complete the examination.
Sr. No
Name of Tests

(NOT BY SEQUENCE)

No. of

Questions

Maximum

Marks

Medium of Exam
Time allotted for each

test (Separately timed)

1
General/ Financial Awareness
50
50
English & Hindi
35 minutes
2
English Language
40
40
English
35 minutes
3
Reasoning Ability & Computer Aptitude
50
60
English & Hindi
45 minutes
4
Quantitative Aptitude
50
50
English & Hindi
45 minutes
Total
190
200
160 minutes

Important Note – Marks obtained by the candidates in the Main examination will be considered for shortlisting for the final merit list.
There will be negative marking for every wrong answer in both Preliminary and Main Examination for which there is a penalty of ¼ or 0.25 of the marks assigned to the particular question.
As the upward trend in the complexity of questions has only made the consistency of the examination pattern a question mark, keep yourself prepared for a bolt from the blues. Sink your teeth into the preparations and you will definitely bring it off this time. 
Tips and Tricks for IBPS Clerk 2022 Exam Preparation
Just preparing from the syllabus provided is not enough. The candidates need to prepare in a smart way to crack through the exam. Some of the tricks that surely help are:
Creating a timetable so that all the subjects and topics are covered up properly.

Reading English newspapers and similar sections regularly. 

Practicing maths and similar topics on a regular basis. 

Practicing mocks tests to understand the paper well and to manage time well. 
The exams for IBPS Clerk are a difficult one as lakhs of candidates apply for it to secure a position. Hence, it is important for the candidates to understand the syllabus and question paper well and prepare accordingly. 
Related Posts: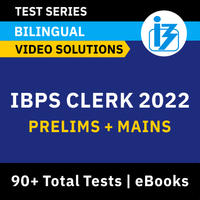 FAQs: IBPS Clerk Syllabus 2022
Q: When will IBPS Clerk 2022 notification be released?
Answer: The IBPS Clerk 2022 notification is released on 30th June 2022.
Q. What subjects do you have to prepare for IBPS Clerk 2022?
Ans. To crack IBPS Clerk Prelims exam you must cover the syllabus of Quantitative Aptitude, Reasoning, English, and General Awareness.
Q. Is there any major difference in IBPS Clerk Syllabus when compared to other bank exams?
Ans. No there is no major difference, the syllabus for almost all bank and insurance exams is the same. The level of questions asked in Officer grade and clerk grade exams differ.
Q. How long will it take to cover the complete IBPS Clerk Syllabus?
Ans. If you are preparing from scratch, then it is possible that you can complete the IBPS Clerk syllabus in 3 to 4 months with the proper study plan. However, this may differ from person to person depending on their strengths and weaknesses.