Preparing for IBPS Clerk Mains, NIACL AO, & other banking and insurance sector recruitment exams? Then you must ensure that you prepare from the latest and updated books as it is well known that the pattern keeps on changing with new twists and turns in banking sector recruitment exams. With the new recruitment season approaching here is a list of top 6 books that every Banking or Insurance Exam aspirant must have to ensure success.
In this book, you will get Solved Papers of all major Banking sector recruitment exams like SBI PO, SBI Clerk, IBPS PO, IBPS Clerk, IBPS RRB PO and IBPS RRB Clerk. This book is replete with 2400+ questions with 100% solutions which will help the candidate in cracking any competitive exam with ease.
9 SBI PO |Clerk Prelims.
5 IBPS PO | Clerk Prelims.
8 IBPS RRB PO|Clerk Prelims
4 IPPB | Indian Bank | RBI Assistant Prelims.
"15+ Bank PO | Clerk Mains Previous Year's Memory Based Papers" is the book which is motivated by the desire to take the preparation for banking examinations to the next level. It is a collection of all the major memory based papers of the various banking exams of the past few years. This book is an effort to explore the minutiae of the examinations for the banking sector. This book contains 15 + Memory based papers in the form of 5 SBI PO |Clerk Mains, 5 IBPS PO | Clerk Mains,5 IBPS RRB PO |Clerk Prelims, 1 Canara Bank PO.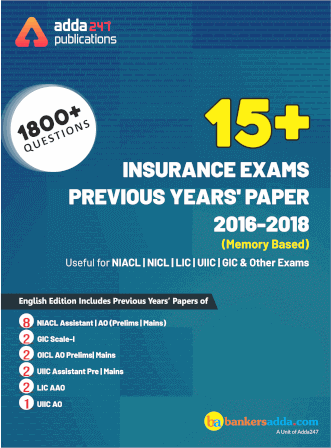 SALIENT FEATURES:
1850+ Questions Based on Latest Pattern with detailed Solutions
8 NIACL Assistant | AO ( Prelims | Mains)
2 GIC Scale -I ,2 OICL AO Prelims| Mains & 2 UIIC Assistant Pre | Mains
2 LIC AAO &1 UIIC AO
Essential for both Prelims and Mains exams
Mains exams do play a major role in a candidate's final selections as the marks of mains exam are counted in the preparation of final merit list. How you perform in the mains examination can make a big difference in your final results, in a good way or in a bad way. Many of you must be wondering what could be the best way to perform to the best of your ability in the mains level of banking examinations.
Special Features of "The Cracker For Bank Mains Exams":
Quantitative Aptitude: 800+ questions
Reasoning Ability: 550+ questions
English language: 550+ questions
Latest pattern questions based on 2018 and 2017 examinations
100 most important banking awareness questions
Step by step approach to solve lengthy and difficult questions
SALIENT FEATURES:
1500+ Questions Based on Latest Pattern with detailed Solutions
Covers all the types of DI such as Table| Pie | Bar | Line | Caselet |Radar
Includes Arithmetic Based & Missing DI asked in IBPS/SBI Mains Examinations
Includes Previous year questions asked in SBI, IBPS and other exams.
Essential for both Prelims and Mains exams
SALIENT FEATURES:
2000+ Questions on Puzzles & Seating Arrangement
New and Convenient Approach to solve tricky questions
Incorporates more than 10 Types of Puzzles & Sitting Arrangement
Incorporates all kinds of latest pattern questions
Incorporates the last 5-year Memory Based Questions asked in SBI, IBPS, RBI & Other Examinations
For details, visit: Store.adda247.com & Type the Name of the Book in the SEARCH BOX…
In case of any query…DO mail us at gopal.anand@adda247.com