Current Affairs 13th November 2018: Daily GK Update
Dear Aspirants,
The General Awareness Section of Banking Exams covers numerous sections in it like Banking Awareness, Static GK, and Current Affairs. But the most important thing that you might have noticed is that both the
Banking Awareness and Static Awareness questions asked in the General Awareness Section are based on Current Affairs only.
The questions on Static and Banking Awareness are related to the countries, events or anything that has been in news for a while.
Here is the Daily GK Update to get you acquainted with the top events that made the headlines today!!
National News
1. India and Morocco Sign Agreement On Mutual Legal Assistance
i. India and Morocco have signed an agreement on mutual legal assistance in criminal matters. The agreement will strengthen bilateral cooperation and enhance effectiveness and provide a broad legal framework for prevention, investigation, and prosecution of crimes.
ii. It was signed by Minister of State for Home Kiren Rijiju and Morocco Minister of Justice, Mohamed Aujjar in New Delhi.
Static/Current Takeaways Important For IBPS PO Mains Exam 2018:
Morocco Capital: Rabat, Currency: Moroccan dirham.
2. PM Modi Inaugurates Projects Worth Over Rs 2,400 crore in Varanasi
i. Prime Minister Narendra Modi dedicated to the nation several projects including two National Highways and an Inland Waterways Terminal on River Ganga at Varanasi in Uttar Pradesh.
ii. The total cost of these projects is 2413 crore rupees. The Prime Minister also received the country's first container cargo transported on inland waterways from Kolkata.
iii. Mr Modi inaugurated an Inland Multi-Modal Terminal Port constructed at the cost of 207 crore rupees on river Ganga at Ramnagar in Varanasi. This is the first of the four Multi-Modal Terminals being constructed on National Waterways-I on River Ganga as part of the World Bank-aided Jal Marg Vikas project of the Inland Waterways Authority of India.
Static/Current Takeaways Important For IBPS PO Mains Exam 2018:
Uttar Pradesh CM: Yogi Adityanath, Governor: Ram Naik.
3. ISPRL Signs MoU With ADNOC To Explore Storage of Crude Oil
i. Indian Strategic Petroleum Reserves Ltd (ISPRL) signed a Memorandum of Understanding (MoU) in Abu Dhabi with the Abu Dhabi National Oil Company (ADNOC) to explore the possibility of storing ADNOC crude oil at ISPRL's underground oil storage facility at Padur in Karnataka, which has a 2.5 million tonne capacity.
ii. The MoU was signed by Abdulla Salem Al Dhaheri, Director of Marketing, Sales and Trading at ADNOC and Mr. HPS Ahuja CEO & MD ISPRL on the sidelines of the Abu Dhabi International Petroleum Exhibition and Conference (ADIPEC).
Static/Current Takeaways Important For IBPS PO Mains Exam 2018:
ISPRL is an Indian government-owned company mandated to store crude oil for emergency needs.
4. Power Minister inaugurates INSPIRE 2018 In New Delhi
i.
Mr R K Singh, Union Minister of State (IC) for Power and New & Renewable Energy inaugurated the
International Symposium to Promote Innovation & Research in Energy Efficiency (INSPIRE 2018)
in New Delhi. This is the second edition of INSPIRE and is being organised by
Energy Efficiency Services Limited (EESL)
and
the World Bank.
ii.
The three-day symposium will focus on enhancing grid management, e-Mobility, financial instruments and technologies for energy efficiency in India.
Static/Current Takeaways Important For IBPS PO Mains Exam 2018:
Energy Efficiency Services Limited (EESL) works under the administration of Ministry of Power, Government of India.
5. Satyarup Siddhanta Became 1st Indian To Climb Mt Giluwe
i.
Indian mountaineer
Satyarup Siddhanta
became the first Indian to climb
Mt Giluwe,
the second highest mountain in
Papua New Guinea.
ii.
Satyarup reached the summit of the mountain which is at an elevation of
4,367
metres. Satya now has scaled 5 of the 7 volcanic summits.
6. Morocco & India Agree To Assist in Legal & Commercial Matters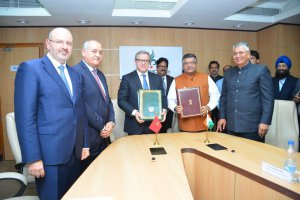 i. Morroco & India
signed an agreement to further mutual legal assistance in Civil & Commercial Courts. Union Minister of Law & Justice and Electronics & IT, Sh. Ravi Shankar Prasad and his Moroccan Counterpart Mr Mohammed Auajjar, Minister of Justice were present on the occasion.
ii.
The agreement will enhance co-operation in the service of summons, judicial documents, letters of request and the execution of judgments decrees and arbitral awards.
International News
7. 17th AEC Council Meeting Held in Singapore
i. The 17th ASEAN Economic Community (AEC) Council Meeting was held in Singapore as part of the 33rd ASEAN Summit and Related Summit Meetings. The blueprint seeks sustained and long-term growth for the ASEAN region.
ii. The meeting was attended by the ASEAN Economic Ministers and AEC Ministers. They signed the ASEAN Agreement on e-Commerce, Concluded the ASEAN Trade in Services Agreement (ATISA) and Finalised the Fourth Protocol to Amend the ASEAN Comprehensive Investment Agreement (ACIA).
8. Indian-Indonesian Navy Bilateral Exercise 'Samudra Shakti' Begins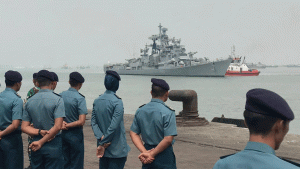 i. The inaugural edition of Indian Navy -Indonesian Navy Bilateral Exercise 'Samudra Shakti' began at Surabaya, Indonesia.
ii. The Indian Naval Ship (INS) Rana of the Eastern Fleet based at Visakhapatnam under the Eastern Naval Command arrived at the port of Surabaya to participate in the exercise.
Static/Current Takeaways Important For IBPS PO Mains Exam 2018:
Admiral Sunil Lanba is the present chief of Naval staff of Indian Navy.
9. 7th RCEP Inter-Sessional Ministerial Meeting Concludes in Singapore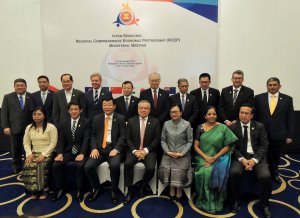 i. The Union Minister for Commerce & Industry and Civil Aviation, Suresh Prabhu, led the Indian delegation to the 7th RCEP Inter-Sessional Ministerial Meeting in Singapore.
ii. The Minister for Trade and Industry of Singapore Mr. Chan Chun Sing was the Chair of the meeting as Singapore is currently the Chair of ASEAN this year. The Ministerial Meeting was held in preparation for the 2nd RCEP Leaders Summit
Static/Current Takeaways Important For IBPS PO Mains Exam 2018:
The Regional Comprehensive Economic Partnership (RCEP) is a mega-regional free trade agreement being negotiated amongst 16 countries, comprising 10 ASEAN countries (Brunei, Cambodia, Indonesia, Laos, Malaysia, Myanmar, Philippines, Singapore, Thailand and Vietnam) plus six ASEAN FTA partners, namely Australia, China, India, Japan, Korea and New Zealand.
10. Binny Bansal Resigns As CEO of Flipkart Group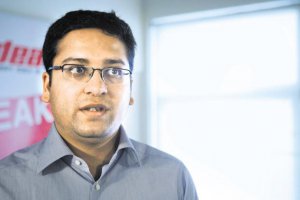 i. Co-founder Binny Bansal has resigned as CEO of Flipkart Group. This was announced by Walmart, the new owner of the e-commerce company.
ii. Kalyan Krishnamurthy will continue to be CEO of Flipkart, which will now include Myntra and Jabong, continuing to operate as separate platforms within the Flipkart business.
Static/Current Takeaways Important For IBPS PO Mains Exam 2018:
US-based Walmart had completed its $16-billion acquisition of India's largest e-commerce firm Flipkart.
Awards
11. Dr Debabhuson Borah Gets Munin Barkotoki Literary Award
i. The prestigious Munin Barkotoki Literary Award 2018 in Assam has been given to young writer-critic Dr Debabhuson Borah for his book on literary criticism titled 'Nirbochon'.
ii. The Munin Barkotoki Memorial Trust announced the annual Award instituted to encourage young and promising writers in Assamese. The award carries a cash prize of Rs 50,000 along with a citation and a plaque.
Static/Current Takeaways Important For IBPS PO Mains Exam 2018:
The Munin Barkotoki Literary Award was named after the renowned writer, critic and journalist Munin Barkotoki.
Sports News
12. Lewis Hamilton Won Brazilian Grand Prix
i. Lewis Hamilton (Mercedes) won the Brazilian Grand Prix after Red Bull's Max Verstappen lost the lead in a collision with backmarker Esteban Ocon (Force India).
ii. The incident dropped the Dutchman back to second place and although he came back at Hamilton, he could not quite catch him. Kimi Raikkonen of Ferrari secured the third-place.
13. Fuzhou China Open 2018 Concludes: Complete List Of Winners
i. The 2018 Fuzhou China Open was the 23rd tournament of the 2018 BWF (Badminton World Federation) World Tour.
ii. The tournament was organized by Chinese Badminton Association. It was sanctioned by BWF. Total prize money for the tournament was $700,000.
Obituaries
14. Stan Lee, Co-Creator of Spider-Man, Iron Man, Passes Away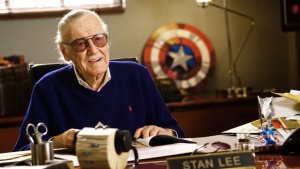 i. American comic-book writer and Marvel Comics co-creator Stan Lee passed away aged 95.
ii. Born as Stanley Martin Lieber in Manhattan, he is credited with co-creating several fictional characters including Spider-Man, the Hulk, Doctor Strange, the X-Men, Iron Man, and Thor.