Online Video Course For LIC Assistant Prelims 2019
What is the best way to prepare for the competitive exams? What all an aspirant required to clear the exam? Well with the release of LIC Assistant official notification to recruit more about more than 8000 students, every aspirant is in quest for the best source to prepare for LIC Assistant Exam. But finding the best one is a wild goose chase for every aspirant. Need of the hour is to have a real class like experience which can be accessed any time. What could be better than video course to give it a start. Video course give you the benefit of playing the recorded video anytime anywhere. You just pay once and can take the benefits out of it number of times. Adda247, offers Video courses for the LIC Assistant Prelims examination.
LIC Assistant Prelims 2019 Complete Video Course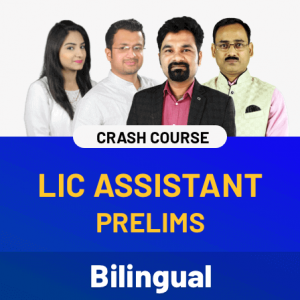 Package Details
Videos: 230+
Language : Bilingual
Validity: 1 month

1.Can I have a demo of the video course before i make the purchase?
Yes, you can watch demo videos before buying the Video Course..
2. Is it accessible on Phone/Laptop ?
Yes, You can access on both as per your convenience.
3. Where can I find my video courses on phone/laptop ?
Video in the phone can be seen in Adda247 app, and if you are playing the videos on laptop then go to video courses, my purchased video course on store.
4. How can I watch video courses offline?
You can watch the video courses offline by downloading them in the Adda247 app.
5.What is the price of the course? Is there any coupon code?
The actual price of the course is Rs. 1,499.