Read the most important current affairs of 14 September 2023. Today Current Affairs covers the headlines on Ayushman Bhav Campaign, "Steadfast Defender", Digital House Of Gujarat Assembly, Saragarhi Memorial, National e-Vidhan Application (NeVA), Hindi Diwas 2023, NASA's MOXIE Experiment.

Top 18 Current Affairs and News Headlines of 14 September 2023
National News
1.President Droupadi Murmu Virtually Launches Ayushman Bhav Campaign for Universal Health Coverage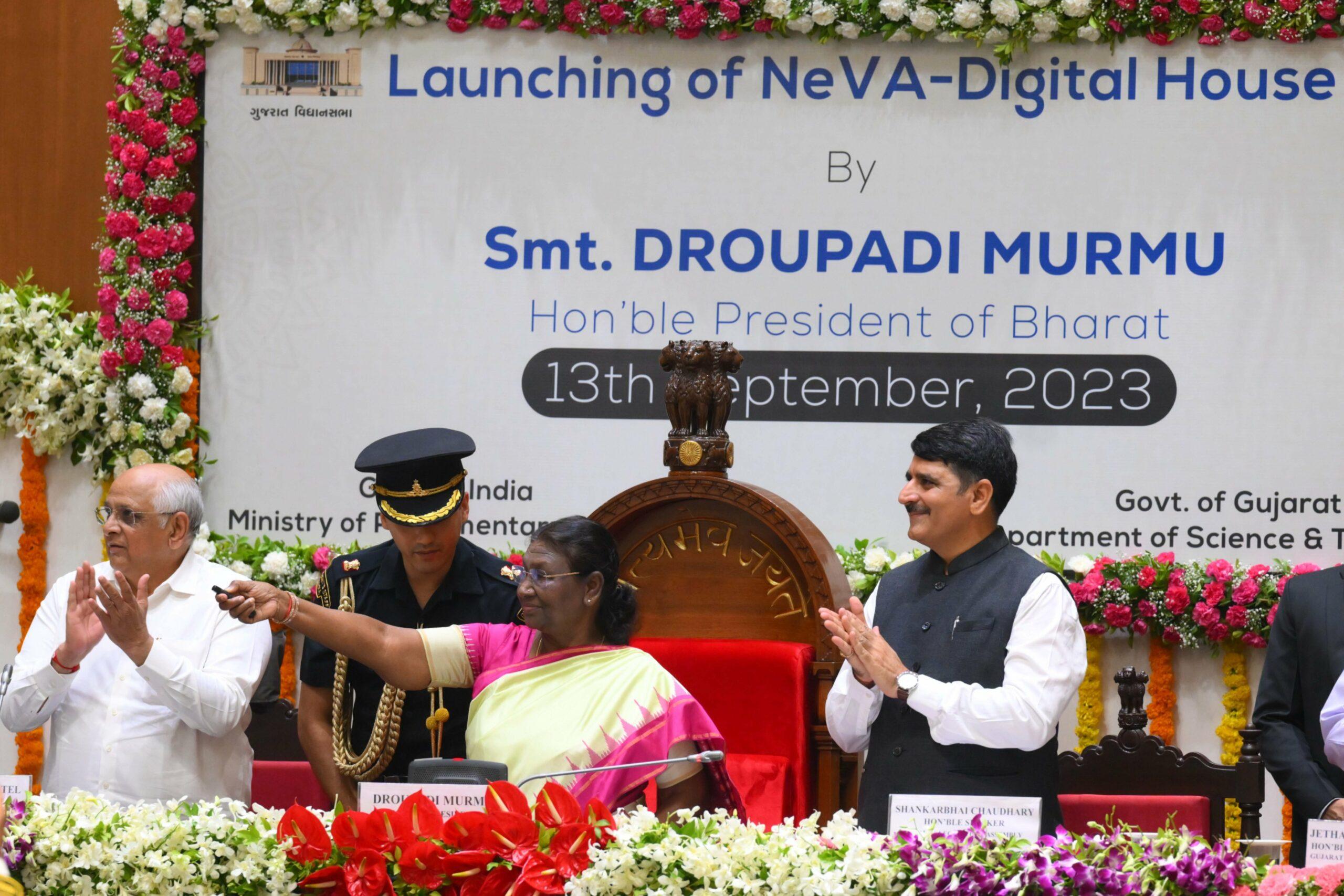 President Droupadi Murmu, in a historic virtual ceremony, launched the Ayushman Bhav campaign and the Ayushman Bhava portal from the Raj Bhavan in Gandhinagar, marking a significant stride towards achieving Universal Health Coverage (UHC) in India.
The campaign aims to facilitate access to Ayushman cards for citizens. It intends to generate ABHA IDs, streamlining healthcare services. Ayushman Bhav will also raise awareness about critical health schemes and conditions, including non-communicable diseases, tuberculosis, and sickle cell disease.
Components of Ayushman Bhav are: 1) Apke Dwar 3.0: Bringing healthcare services directly to the doorsteps of people. 2) Ayushman Melas at HWC and CHC: Organizing health and wellness events in Health and Wellness Centers (HWC) and Community Health Clinics (CHC) and 3) Ayushman Sabhas: Holding health meetings in every village and panchayat to engage communities in healthcare discussions.
International News
2.NATO's Largest Military Exercise Since the Cold War: "Steadfast Defender"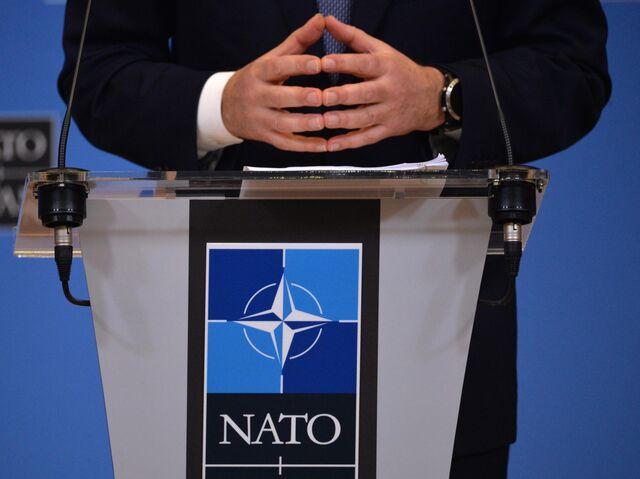 NATO member countries are gearing up to conduct their most extensive military exercise since the Cold War era. Set to commence in the spring of the following year, this ambitious undertaking is aimed at simulating various military scenarios, with a primary focus on defense against a hypothetical adversary resembling a Russian-led coalition known as Occasus.
This expansive military exercise is expected to encompass a multitude of elements, showcasing NATO's commitment to readiness and collective defense.
The overarching objective of this exercise, codenamed "Steadfast Defender," is to refine NATO's transformation from a crisis response organization into a robust war-fighting alliance. The scenario envisages repelling a hypothetical Russian-led attack on a NATO member state.
3.India Emerges as Bangladesh's Leading Export Partner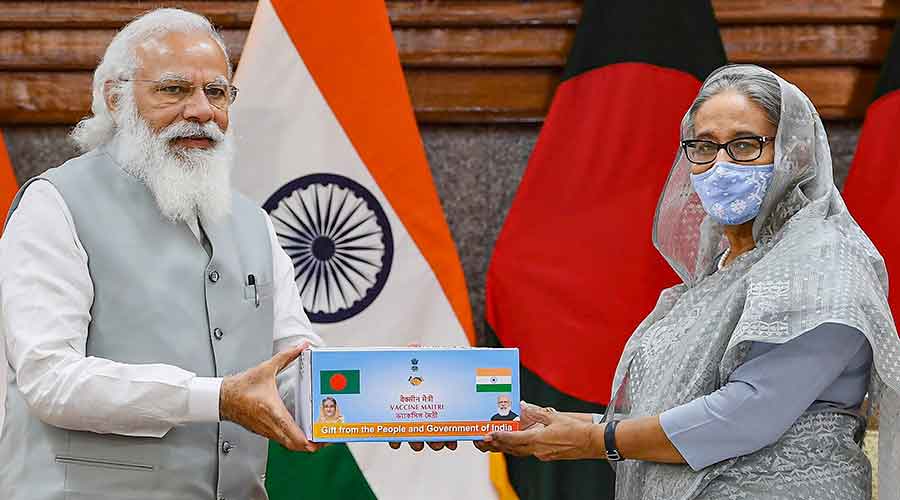 The Government of India has declared that it has surpassed Japan and China to become Bangladesh's largest export partner. The growth in bilateral trade has been particularly noteworthy, with Bangladesh's exports to India surging from $450 million to a remarkable $2 billion.
This announcement was made during discussions centered on exploring new trade routes, specifically the Agartala-Akhaura rail link project, which promises to bolster connectivity and trade ties between the two nations.
Once Agartala-Akhaura rail link project is operational, it will mark the seventh rail link connecting India and Bangladesh, further enhancing connectivity and trade opportunities. This development underscores the commitment to strengthening infrastructural ties.
State News
4.President Droupadi Murmu Inaugurates Digital House Of Gujarat Assembly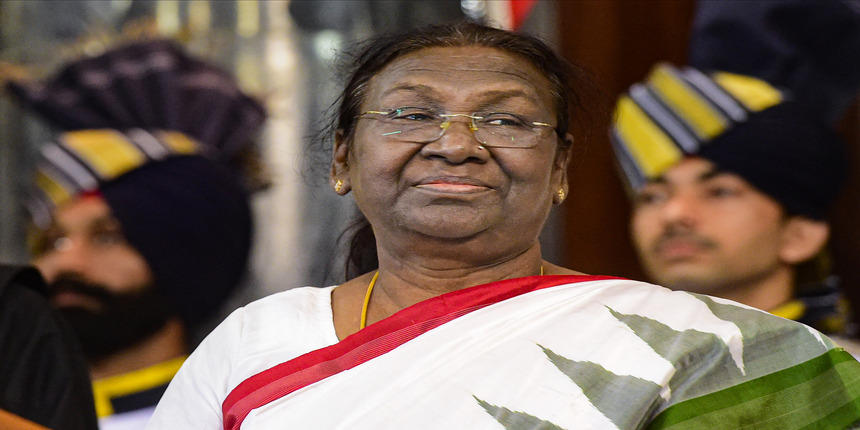 President Droupadi Murmu officially unveiled the Gujarat legislative assembly's Digital House project, National e-Vidhan Application (NeVA), in Gandhinagar.
The National e-Vidhan Application (NeVA), a Unicode-compliant software, has been developed by the Union Parliamentary Affairs Ministry with the primary goal of making all legislative work and data available online for both citizens and Assembly members. NeVA encompasses a user-friendly website and a mobile app, simplifying access to a plethora of documents, including the list of questions, business agendas, and reports, among others.
5.Haryana Govt Appoints Actress Mita Vashisth as Chair of Entertainment Policy Council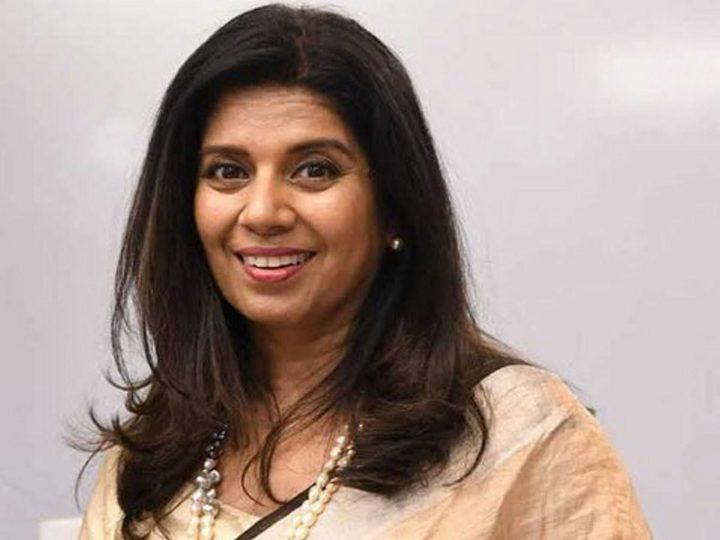 The state government of Haryana has appointed renowned film actress Mita Vashisth as the chairperson of the governing council tasked with overseeing the implementation of the Haryana Film and Entertainment Policy. This appointment follows the untimely demise of the beloved actor, director, and producer Satish Kaushik, who previously held the position. Mita Vashisth's extensive experience in the world of entertainment and her dedication to the craft make her a fitting choice for this prestigious role.
Mita Vashisth's journey in the world of entertainment has been nothing short of remarkable. With a career spanning decades, she has left an indelible mark on Indian cinema, television, theater, and more. Born in Pune, Maharashtra, Mita ventured into acting and quickly rose to prominence with her exceptional talent. Her impressive resume includes roles in 43 films, numerous television serials, web series, and theater productions.
6.CM Bhagwant Singh Mann Lays Foundation Stone Of Saragarhi Memorial In Ferozpur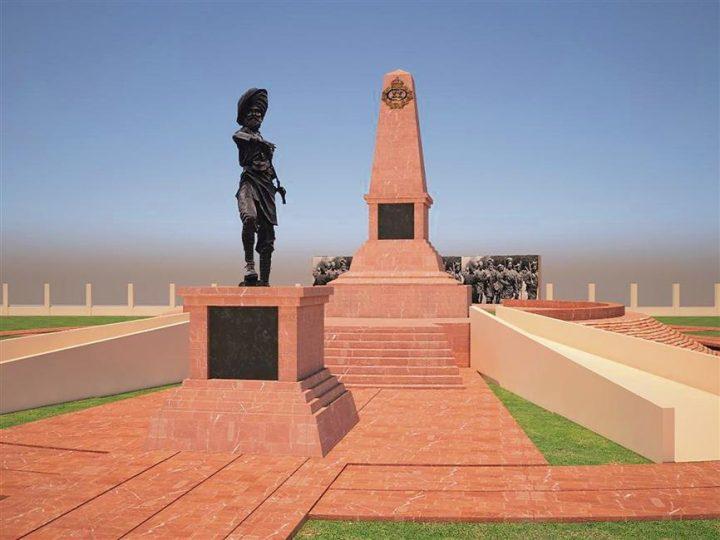 Punjab, Chief Minister Bhagwant Singh Mann made a significant announcement that marks a profound tribute to the valiant Sikh warriors who gave their lives in the historic Battle of Saragarhi. A state-of-the-art monument, dedicated to commemorating the martyrdom of 21 brave Sikh soldiers, will grace the landscape of Ferozepur, with an ambitious timeline of completion within six months.
In addition to the Saragarhi memorial, Chief Minister Mann unveiled his vision of developing Ferozepur district as a prominent tourism hub in the state. This district holds historical significance, housing not only the Saragarhi memorial but also the Hussainiwala Memorial, where renowned freedom fighters Shaheed Bhagat Singh, Shaheed Sukhdev, and Shaheed Rajguru were martyred. Chief Minister Mann aspires to showcase these historically significant sites to attract tourists from around the world.
7.State Health Minister Balbir Singh launches "Mission Intensified IndraDhanush" 5.0 in Mohali, Punjab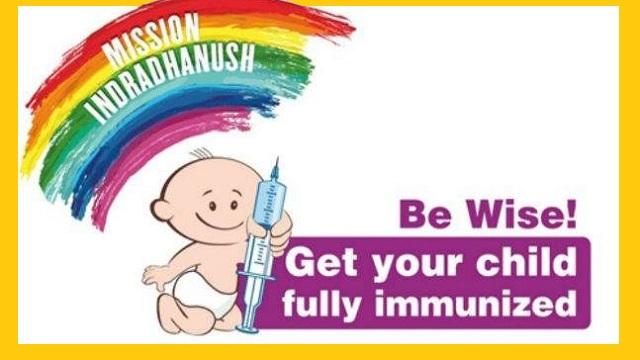 The State Health Minister of Punjab, Balbir Singh, inaugurated "Mission Intensified IndraDhanush" 5.0. The launch took place at Dr. BR Ambedkar Medical College in Mohali, Punjab. This mission, initially scheduled for August but delayed due to flooding in the state, aims to provide vaccination against 12 Vaccine-Preventable Diseases (VPD).
The mission intends to cover pregnant women who have received partial vaccination or remain unvaccinated. Additionally, it seeks to reach out to children aged 0-5 years who may have missed their vaccinations.
Over the course of the mission, a total of 6156 vaccination sessions will be organized throughout the state of Punjab. The vaccination teams will focus their efforts on reaching remote areas, especially brick kilns and places where migratory laborers reside. Identification and vaccination of individuals in these areas will be a top priority.
Important Days News
8.Hindi Diwas 2023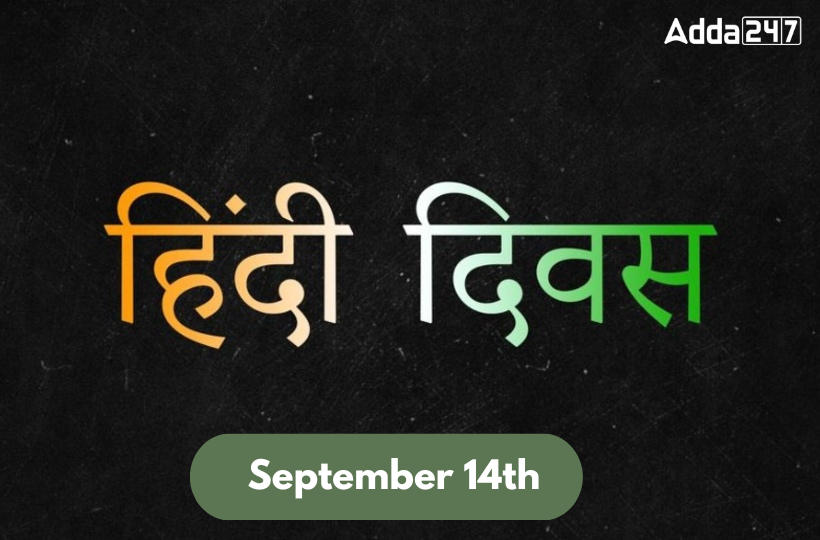 India, a diverse nation with a rich tapestry of languages, celebrates Hindi Diwas on September 14th each year. This significant occasion marks the adoption of Hindi in the Devanagari script as one of the official languages of the country. The history, celebration, and significance of Hindi Diwas shed light on the importance of linguistic diversity and the role of Hindi in India's identity.
The roots of Hindi Diwas trace back to a pivotal moment in India's history. On September 14, 1949, the Constituent Assembly of India recognized Hindi, written in the Devanagari script, as an official language of the nation. Officially, the first Hindi Day was celebrated on September 14, 1953.
Ranks and Reports News
9.Centre's Report Says India Has 150 Elephant Corridors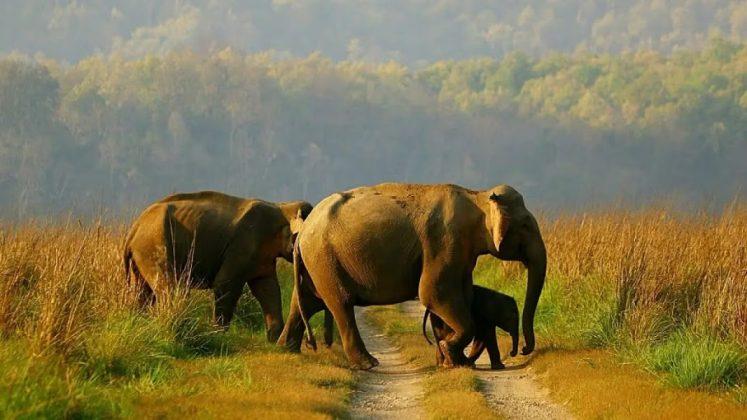 A recent report by the Union Environment Ministry has shed light on the state of elephant corridors in India. According to this comprehensive report titled "Elephant Corridors of India," the country boasts at least 150 elephant corridors, spread across 15 range-states, and encompassing four major elephant-bearing regions.
This is a significant increase from the 88 corridors identified in the 2010 Elephant Task Force report, known as the "Gajah report." This expanded understanding of elephant corridors signifies the evolving challenges and the growing awareness of the importance of conserving these vital pathways.
West Bengal emerges as the frontrunner in this report, with a staggering 26 elephant corridors, accounting for over 17 percent of the total corridors in India. Among the four major elephant-bearing regions in the country, the east-central region tops the list with 52 corridors, followed by the northeast region with 48, and the southern region with 32. In contrast, the northern region has the lowest number of elephant corridors at 18.
Agreements News
10.Nabard and UNDP India Join Forces for Data-Driven Agricultural Innovation
The United Nations Development Programme (UNDP) India and the National Bank for Agriculture and Rural Development (Nabard) have solidified their commitment to revolutionize Indian agriculture through data-driven innovations. Their collaborative effort is aimed at bolstering the agricultural and food systems to uplift the livelihoods of smallholder farmers.
Under the Memorandum of Understanding (MoU), UNDP India and Nabard have outlined several key objectives like, Open-Source Data Sharing: Both organizations will actively share open-source data, laying the foundation for product development and the transfer of agricultural technology.
Policy Framing Support: The partnership will extend support to the formulation of agrarian policies, which can prove to be instrumental in shaping the future of Indian agriculture and Digital Public Goods: One of the primary focuses is on enhancing and disseminating collaborative digital public goods like "DiCRA" (Data in Climate Resilient Agriculture).
Awards News
11.RITES Ltd wins 'Safety Innovation Award 2023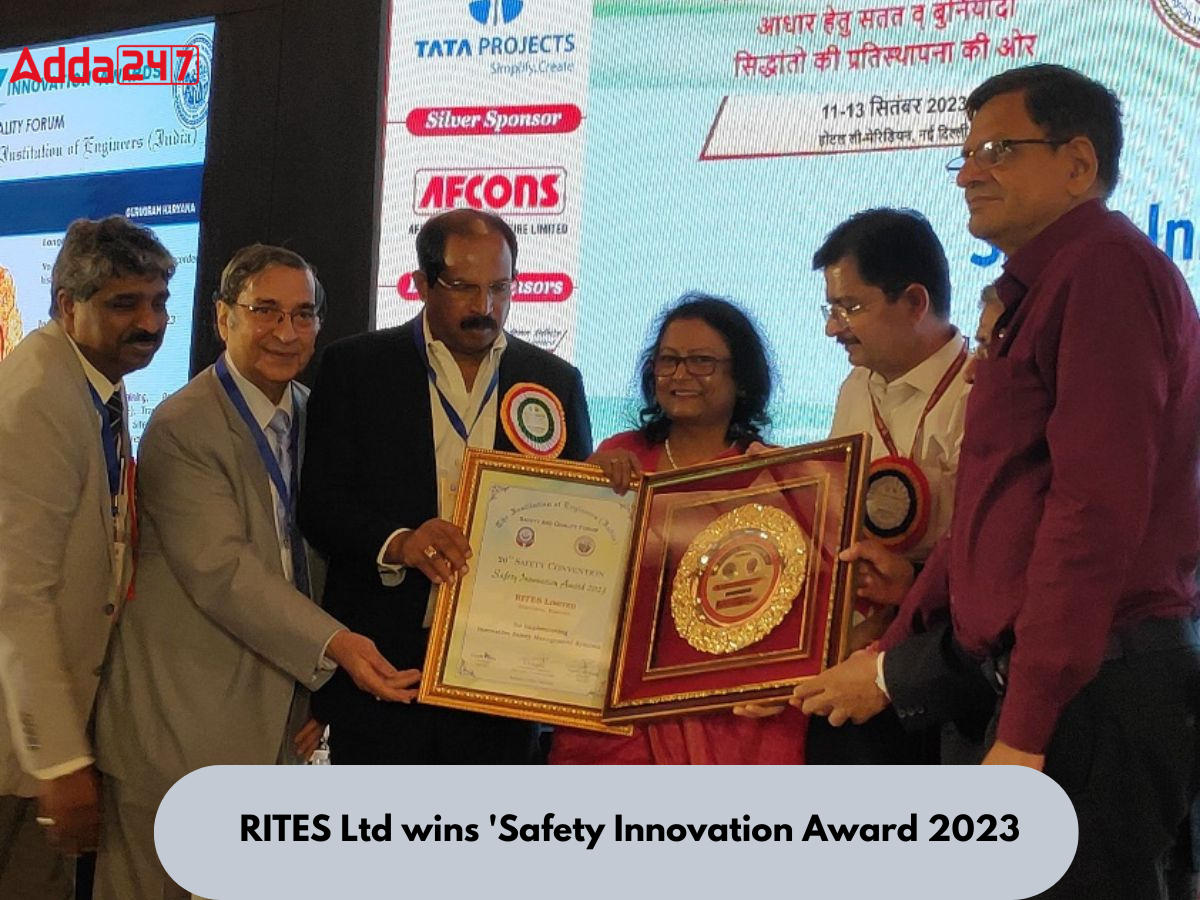 RITES Limited has been honoured with the 'Safety Innovation Award 2023', under the 'Construction' category, for implementing 'Innovative Safety Management Systems' in its operations.
The award was presented to RITES' officials during the inaugural function of the 20th Safety Convention organized by The Institution of Engineers (India), the largest multi-disciplinary professional body of engineers, at Hotel Le Meridien, New Delhi.
RITES, having multi-sectoral presence, has consistently embraced best safety practices in its operations, exemplifying its commitment to prioritizing safety measures at worksites. RITES remains resolute in its mission to create a safer and more secure infrastructure environment, delivering services that uphold stringent safety protocols, irrespective of geographical or logistical challenges.
12.Army doctor awarded Dr AM Gokhale award for ophthalmology in Pune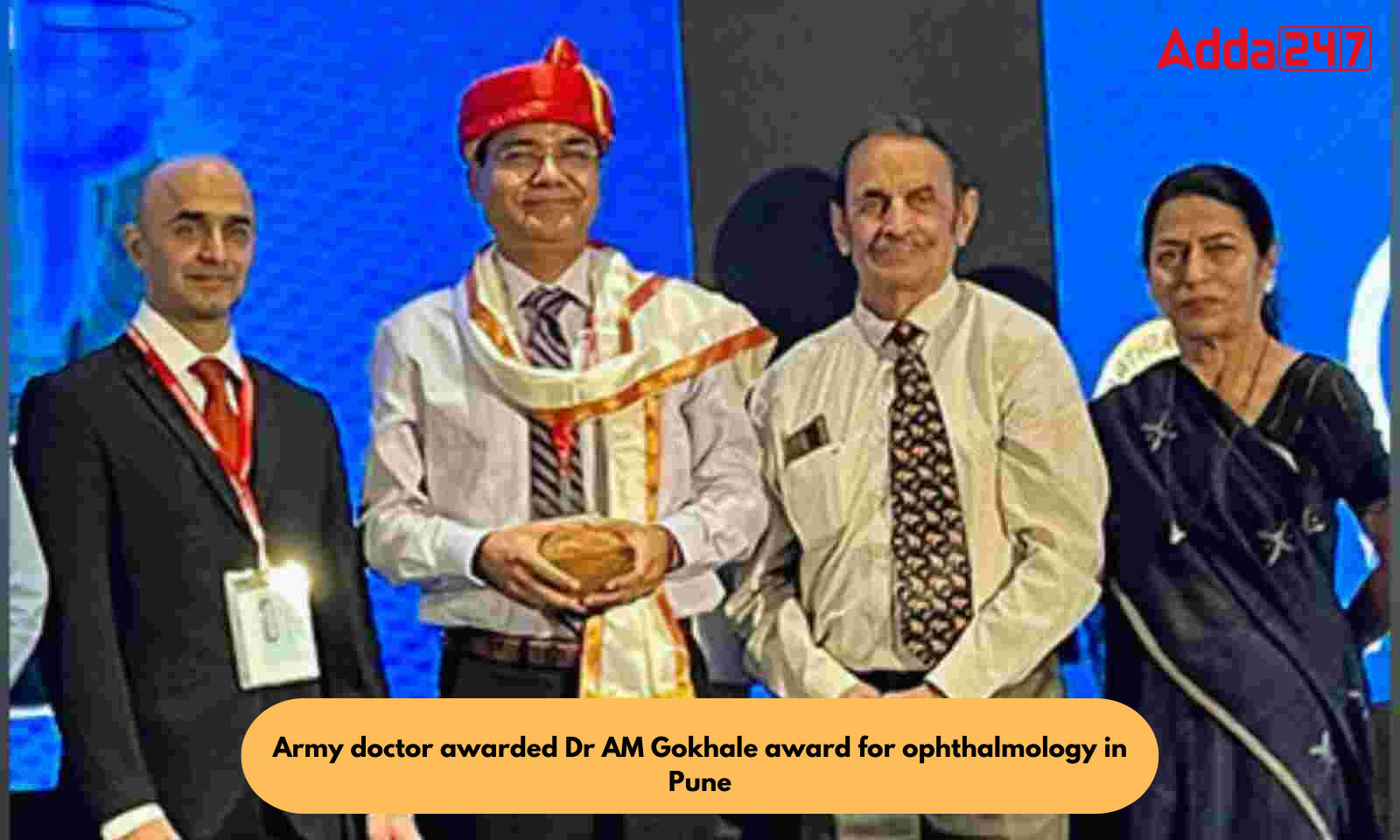 Renowned ophthalmologist Brig Sanjay Kumar Mishra of Indian Army's Research and Referral Hospital was conferred with the prestigious "Dr AM Gokhale Award" in Pune.
The award was conferred to him at the Retina Conclave at Pune. Dr AM Gokhale was a renowned teacher of Ophthalmology and his students progressed to become the doyens of Ophthalmology in the countr
Brig Sanjay Kumar Mishra hails from Mau, Uttar Pradesh and finished his tutoring from Prayagraj. He has been conferred with Bar to Sena Medal (Distinguished) by the President of India just before 26 January 2021. Earlier he was awarded the Sena Medal and Bar to Vishisht Seva Medal (VSM). Brig Mishra is one of the highest decorated officers of Indian Armed Forces Medical Services.
13.Najma Akhtar honored with lifetime achievement award in academia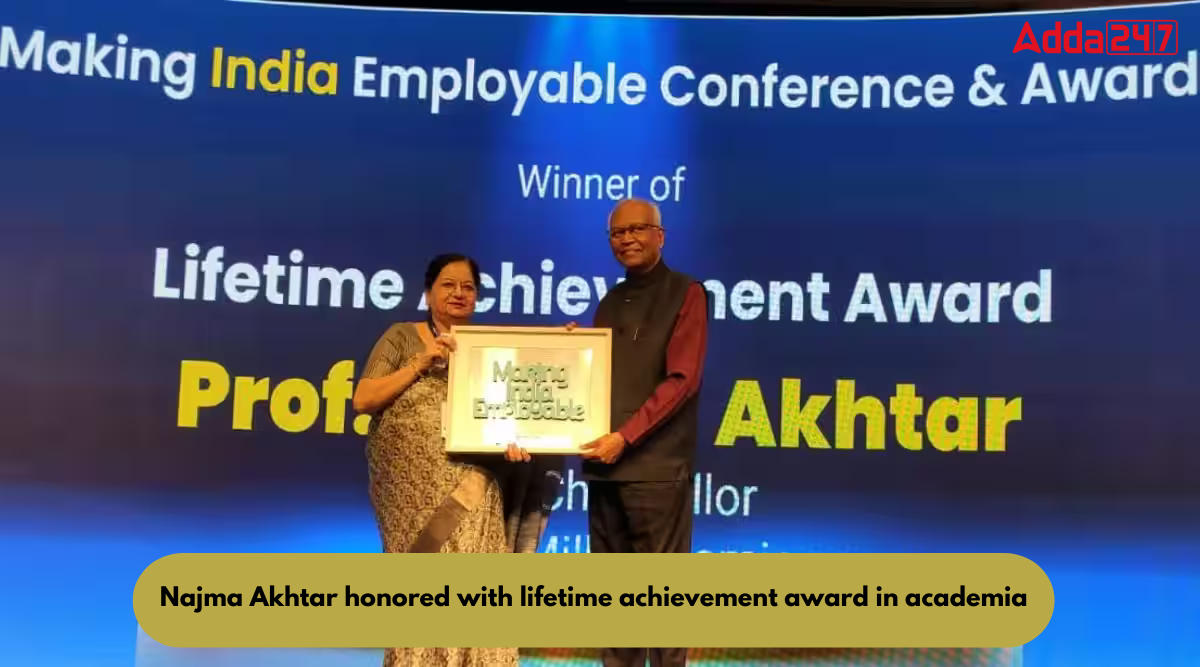 Jamia Millia Islamia (JMI) Vice Chancellor, Professor Najma Akhtar, was recently presented 'Lifetime Achievement Award-Academia. The award was presented to her by Dr Raghunath Anant Mashelkar (Padma Vibhushan) at the Grand Conference and award function titled "Making India Employable," organised by TeamLease EdTech.
Akhtar was selected for the award by a jury panel comprising of educationists and industry experts. She has been awarded for her "great efforts to connect education to employment.
The 'Making India Employable Awards' is organised to celebrate individualistic excellence, innovation and real-world impact in the fields of education, employability and skilling. These awards are bestowed on the very best of the best who showcase exemplary contributions towards the common goal of Making India Employable.
Science and Technology News
14.iPhone 15 Series to Feature ISRO-Certified GPS Technology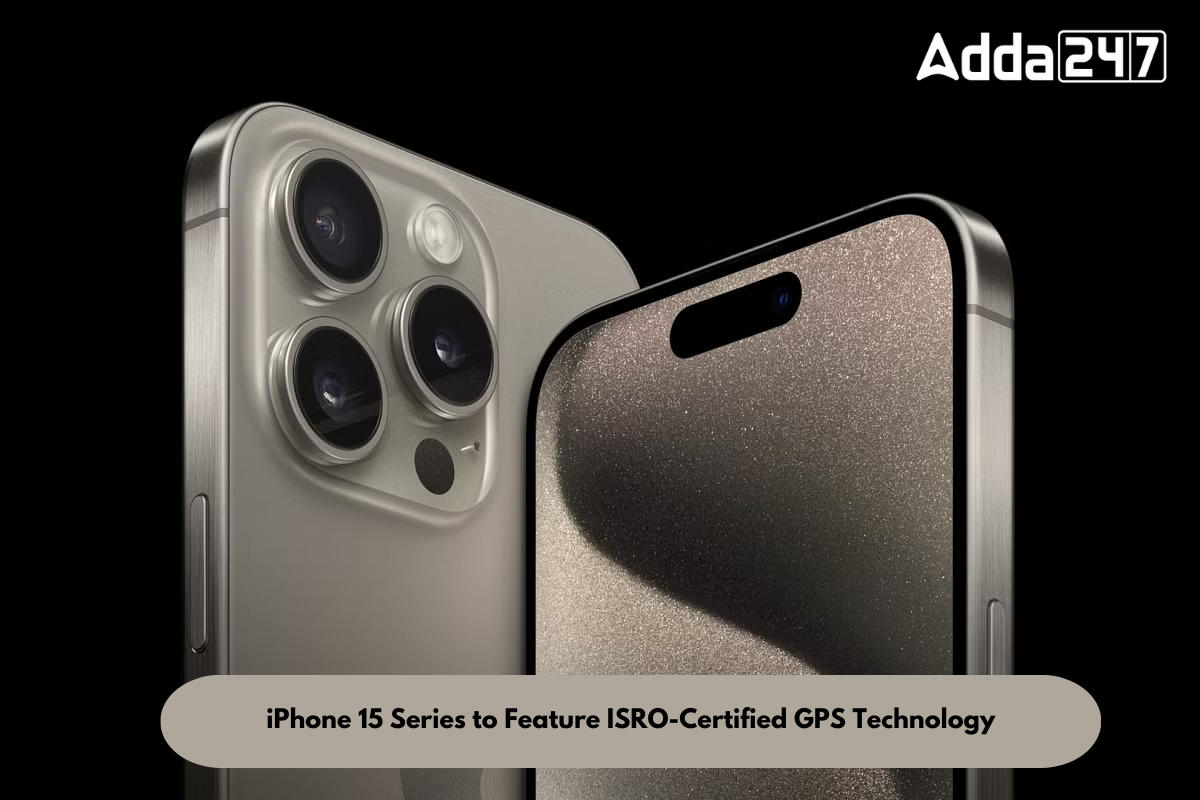 Apple's iPhone 15 Pro and iPhone 15 Pro Max are the company's latest flagship smartphones, and they come with a number of notable upgrades, including a new brushed titanium frame, a powerful A16 Bionic chip, and a more advanced camera system. However, one of the most significant changes under the hood is the integration of precision dual-frequency GPS, including support for NavIC, the Indian Regional Navigation Satellite System (IRNSS).
NavIC is a regional navigation satellite system developed by the Indian Space Research Organisation (ISRO). It consists of seven satellites in geostationary and inclined geosynchronous orbits, providing coverage over India and a region extending 1,500 kilometers beyond its borders.
The integration of NavIC into the iPhone 15 Pro series is a significant development for both Indian and global users. It offers a number of potential benefits, including improved accuracy and reliability, more accurate location-based services, increased resilience to jamming and spoofing attacks, and greater independence from foreign GNSS systems.
15.Amazon's AWS Partners with ISRO to Enhance AI Capabilities with Cloud Technologies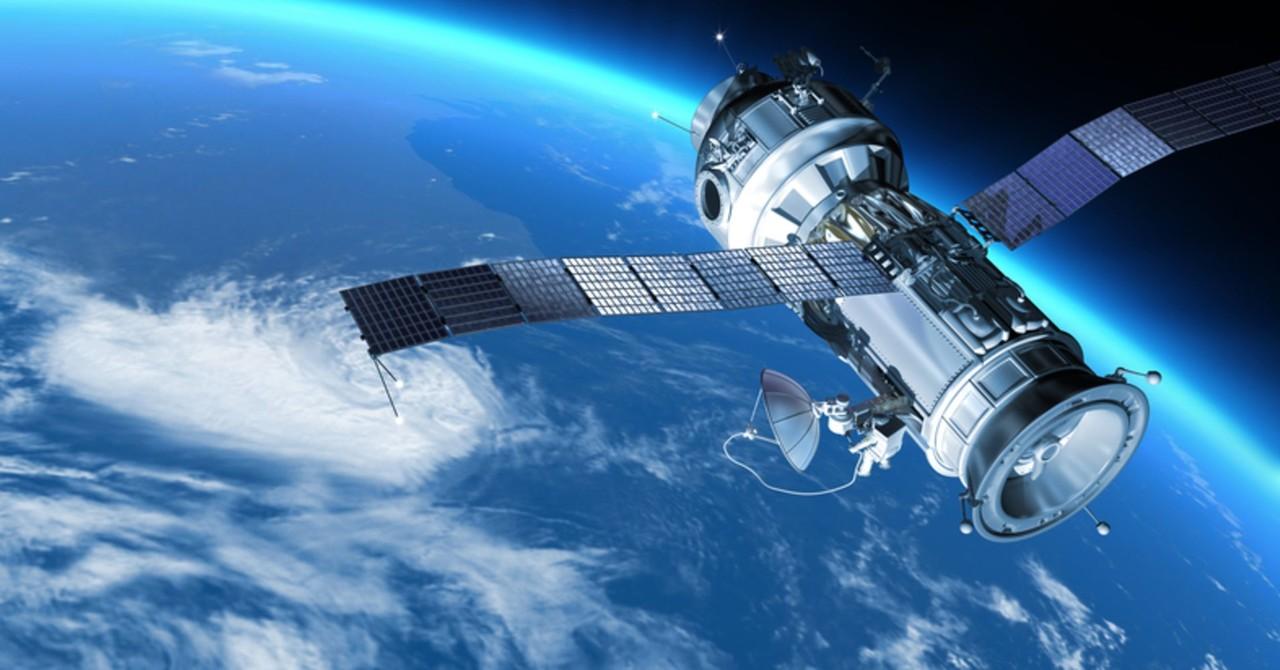 Amazon Web Services (AWS), a major player in the cloud computing industry, has entered into a strategic Memorandum of Understanding (MoU) with the Indian Space Research Organization (ISRO) and the Indian National Space Promotion and Authorization Centre (IN-SPACe). This collaboration aims to support space-tech innovations through cloud computing, opening up exciting possibilities in the space sector.
ISRO, IN-SPACe, and AWS will collaborate to foster and expand the startup community within the space-tech sector. AWS will extend support to eligible space startups through the AWS Activate program, offering tools, resources, and expert technical assistance at no cost.
This support aims to accelerate the development and commercialization of innovative space solutions. Additionally, startups will gain access to AWS's global expertise in building aerospace and satellite solutions through the AWS Space Accelerator program.
16.NASA's MOXIE Successfully Generates Oxygen On Mars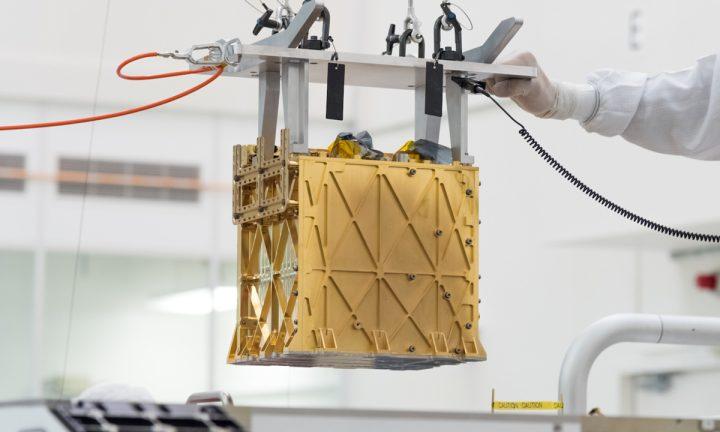 The Mars Oxygen In-Situ Resource Utilization Experiment, commonly referred to as MOXIE, has achieved a remarkable feat by producing a substantial 122 grams of oxygen, a quantity sufficient for sustaining a small dog's breathing for approximately 10 hours.. This compact device, roughly the size of a microwave, possesses an extraordinary capability: it can convert the tenuous and inhospitable Martian atmosphere into vital, life-sustaining oxygen.
Since the moment Percy, the Mars Perseverance rover, touched down on the Martian surface, MOXIE has been operating flawlessly. To date, it has generated a remarkable 122 grams of oxygen, averaging an impressive rate of 12 grams per hour. This achievement is more than double NASA's initial goal for MOXIE, and the oxygen produced boasts an impressive purity level of 98% or better.
17.Scrub Typhus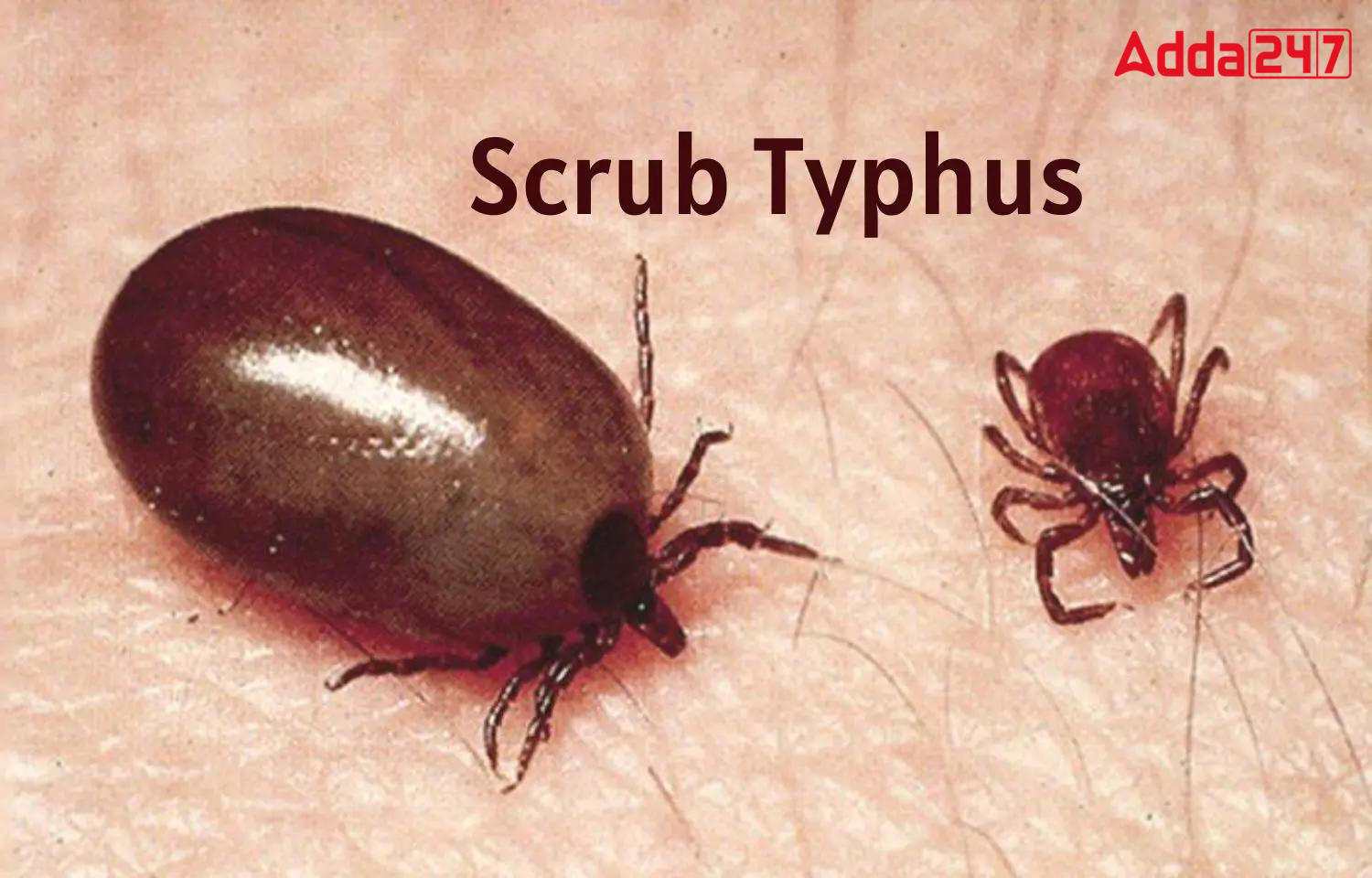 Scrub typhus, also known as bush typhus, is a bacterial disease caused by Orientia tsutsugamushi. It is transmitted to humans through the bites of infected chiggers, which are tiny larvae that develop into mites. In a surprising development, scrub typhus was detected in North Carolina in July 2023.
Scrub typhus can affect individuals of all ages and genders equally. However, certain factors increase the risk of contracting the disease. People are more likely to get scrub typhus if they come into contact with areas where chiggers thrive, such as rural or forested environments with specific conditions.
Antibiotics are the most effective treatment for scrub typhus. Early treatment is crucial for a faster recovery. Doxycycline is commonly prescribed, which can be taken orally or administered via intravenous (IV) injection. Children may receive a shorter course of treatment to minimize potential side effects.
Miscellaneous News
18.Nipah Virus In News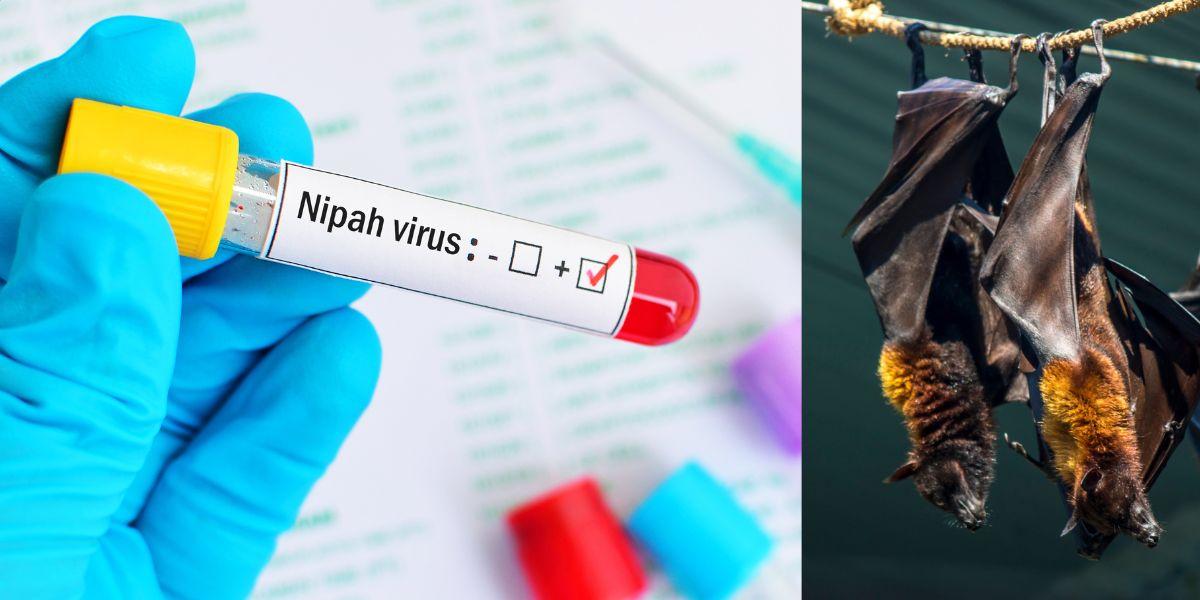 India's southern state of Kerala has once again found itself grappling with the ominous threat of the Nipah virus, a rare and deadly brain-damaging viral disease. In response to the deaths of two individuals from this infection, the state government has taken swift action by shutting down schools and offices and declaring containment zones in certain areas.
The Nipah virus, abbreviated as NiV, emerged onto the global stage in 1999 during an alarming epidemic in Malaysia and Singapore. This outbreak left a trail of devastation, with nearly 300 human cases and over 100 fatalities. Since the initial outbreak, Nipah virus cases have surfaced almost annually in various parts of Asia, primarily in Bangladesh and India. This virus is classified as zoonotic, which means it initially spreads between animals and humans. The primary animal host reservoir for NiV is the fruit bat, also known as the flying fox.
Important Current Affairs of 14 September 2023
Get all the International, National, Sports, Economy, latest schemes and appointments and current affairs updates with Adda247 Headlines of the day. Adda247 headlines of the day brings you the best accumulation of the daily updates. Stay updated with us!