Read the most important current affairs of 6 September 2023. Today Current Affairs covers the headlines on Vanuatu parliament, Malaviya Mission, Green Hydrogen Pilots In India' Conference, MoU With Adobe, Krishna Janmashtami 2023.

Top 19 Current Affairs and News Headlines of 6 September 2023
National News
1.India Unveils Worlds First Portable Hospital Arogya Maitri Cube
India has unvieled the world's first portable disaster hospital, a groundbreaking facility that can be airlifted and consists of 72 cubes. This extraordinary endeavor is a component of Prime Minister Narendra Modi's ambitious "Project BHISHM" (Bharat Health Initiative for Sahyog Hita and Maitri), unveiled in February 2022. The project was officially inaugurated during the MedTech Expo in Gandhinagar, Gujarat.
The heart of this innovative disaster hospital lies in its 72 cubes, each containing an array of essential equipment and supplies. Among these are an operation theatre, a mini-ICU, ventilators, bloo d test equipment, an X-ray machine, a cooking station, food, water, shelter, a power generator, and more. These cubes are ingeniously designed to provide critical medical care and humanitarian aid in the wake of natural disasters and humanitarian crises.
To enhance the efficiency of the disaster hospital, a tablet-based application has been developed to operate all 72 cubes seamlessly. The kit also includes a portable generator, featuring both traditional and solar panel-based options, ensuring a reliable power supply for the entire setup. Furthermore, all equipment is rechargeable, promoting sustainability in disaster relief operations.
International News
2.Vanuatu parliament elects Sato Kilman as prime minister
Vanuatu's parliament elected Sato Kilman as the nation's new prime minister after a court upheld a vote of no-confidence in his predecessor, who had sought closer ties with US allies amid China-US rivalry in the Pacific Islands. Kilman, a former prime minister and leader of the People's Progressive Party, was elected prime minister 27/23 in a secret ballot by lawmakers.
Vanuatu is an archipelago of 83 islands, of which 16 are inhabited. The largest islands are Espiritu Santo, Malakula, Efate, Erromango, Ambrym, Tanna, Pentecost, Epi, Ambae or Aoba, Gaua, Vanua Lava, Maewo, Malo and Aneityum or Anatom.
Banking News
3.Shri Dharmendra Pradhan launches the Malaviya Mission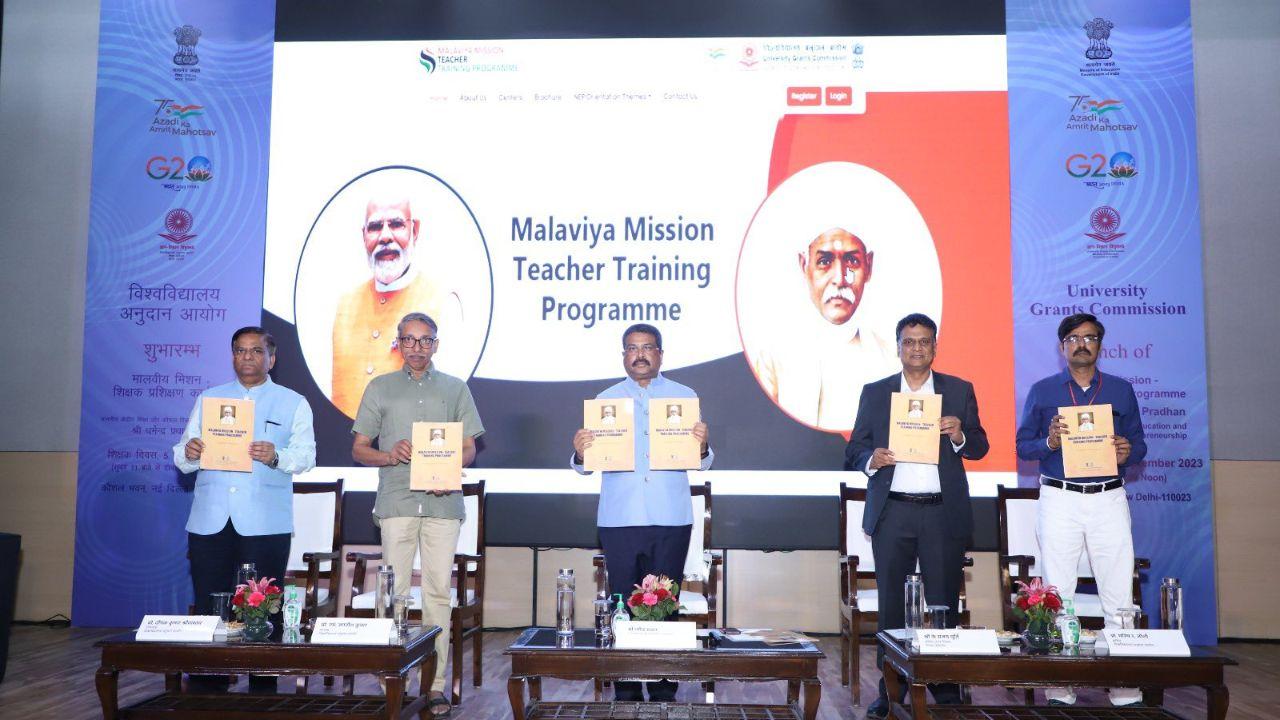 Dharmendra Pradhan, the Union Minister for Education, introduced the Malaviya Mission – Teacher Training Program at Kaushal Bhawan in New Delhi as a crucial step in improving the standard of education in India.
This ambitious project, spearheaded by the University Grants Commission (UGC) in partnership with the Ministry of Education, seeks to transform faculty capacity building and teacher preparation programs across the country's higher education institutions.
The Malaviya Mission plans to establish 111 centers across India to ensure comprehensive coverage. These centers will serve as hubs for teacher training and professional development, catering to the needs of educators in different regions. The program's reach is extensive, with the goal of building the capacities of 15 lakh teachers in higher educational institutions.
4.BIS and RBI Announce G20 TechSprint 2023 Winners
The Bank for International Settlements (BIS) and the Reserve Bank of India (RBI) have recently unveiled the winners of the G20 TechSprint 2023 challenge in a prestigious award ceremony held in Mumbai.
This initiative, launched by the RBI last May under India's G20 presidency, sought to foster innovative solutions that enhance cross-border payments.
The winners of G20 TechSprint 2023 are as follows: Team Secretarium Ltd. (UK) for Combating Financial Crimes. Team Millicent Labs (UK) for Enhancing Liquidity in Cross-Border Payments and Team Knox Networks (US) for  Developing Multilateral CBDC Platforms.
5.SBI announces interoperability of CBDC and UPI for seamless transactions
The State Bank of India (SBI) has taken a significant leap in the world of digital currency by announcing the successful implementation of Unified Payments Interface (UPI) interoperability with its Central Bank Digital Currency (CBDC), also known as the Digital Rupee.
Accessible through the 'eRupee by SBI' application, this new feature allows SBI CBDC users to effortlessly scan any merchant UPI QR code, simplifying and expediting transactions. With this integration, the State Bank of India aims to bridge the gap between CBDC and the widely adopted UPI platform, bringing convenience and efficiency to the forefront of digital payments.
6.RBI allows pre-sanctioned credit lines through UPI
The Reserve Bank of India (RBI) has announced a significant expansion of the Unified Payments Interface (UPI) System, allowing users to transact with pre-sanctioned credit lines issued by banks. This move marks a major development in India's digital payment landscape, enabling greater financial flexibility and convenience for consumers.
The UPI System's scope has been expanded to include various types of accounts, including savings accounts, overdraft accounts, prepaid wallets, and credit cards. This comprehensive approach aims to provide users with more options and flexibility when conducting digital transactions.
The RBI's circular on the "Operation of Pre-Sanctioned Credit Lines at Banks through UPI" provides important guidelines for this expansion. 1)Transactions using pre-sanctioned credit lines will require the prior consent of the individual customer. 2)Banks will have the flexibility to stipulate terms and conditions for the use of these credit lines. These terms may include credit limits, credit periods, interest rates, and more, as per their board-approved policies.
Defence News
7.IAF's Training Exercise Trishul Begins
The Indian Air Force (IAF) has kicked off its annual mega training exercise, Trishul, which is a crucial event aimed at bolstering its operational readiness and capabilities. This extensive exercise is organized by the Western Air Command (WAC) and spans a vast geographical area, from Leh in Kashmir to Nal in Rajasthan.
Trishul, scheduled from September 4th to 14th, is designed to rigorously assess the operational preparedness of the Western Air Command. This assessment encompasses a wide range of assets and scenarios, making it an intricate and comprehensive training program.
The exercise features the deployment of all frontline assets under the Western Air Command, showcasing the IAF's diverse airpower. This includes various fighter aircraft such as the Rafale, Mirage 2000, and Su-30MKIs, highlighting the formidable combat capabilities of the Indian Air Force.
Important Days News
8.Krishna Janmashtami 2023
Krishna Janmashtami: Janamshatmi festival is one of the main festivals in Hindu religion. This festivals holds a great religious significance among devotees. This festival is celebrated to commemorate the birth anniversary of Lord Krishna.
This is the 5250th birth anniversary of Vasudeva Krishna. The festival of Krishna Janmashtami is celebrated across the globe by Lord Krishna devotees. Beloved Lord Krishna was born on Ashtami Tithi (eighth day) of Krishna Paksha (Waning Moon) in the month of Bhadrapada. This year, Janmashatmi is being celebrated today i.e., September 6, 2023 or September 7.
9.International Day of Police Cooperation 2023: Date, History and Significance
The International Day of Police Cooperation is a United Nations observance held annually on September 7. It was created to commemorate the founding of Interpol and highlight the role of law enforcement from around the globe in maintaining peace, security, and justice. For most of human history, cooperation among law enforcement in different countries was organized largely on a case to case basis.
The world's first initiative for international law enforcement cooperation was the Police Union of German States, established in 1851. It brought together secret police forces from various German-speaking countries.
10.Ministry of Education observes Literacy Week from 1st to 8th September 2023
The Government of India has decided to organise a literacy week from 1st September to 8th September 2023 to celebrate International Literacy Day for generating awareness among all the stakeholders/ beneficiaries/ citizens about the ULLAS- Nav Bharat Saaksharta Karyakram.
Ullas- New India Literacy Program is a Centrally Sponsored Scheme in line with the National Education Policy (NEP) 2020, which will run from 2022 to 2027. The scheme comprises five components: Foundational Literacy and Numeracy, Important Life Skills, Basic Education, Vocational Skills and Continuing Education.
The Literacy Week aims to encourage mass participation and inculcate a sense of responsibility among all citizens in achieving complete literacy in India. Various stakeholders including students, teachers, volunteers, government employees and citizens will participate in the campaign.
Schemes News
11.Jal Jeevan Mission Achieves Milestone of 13 Crore Rural Households Tap Connections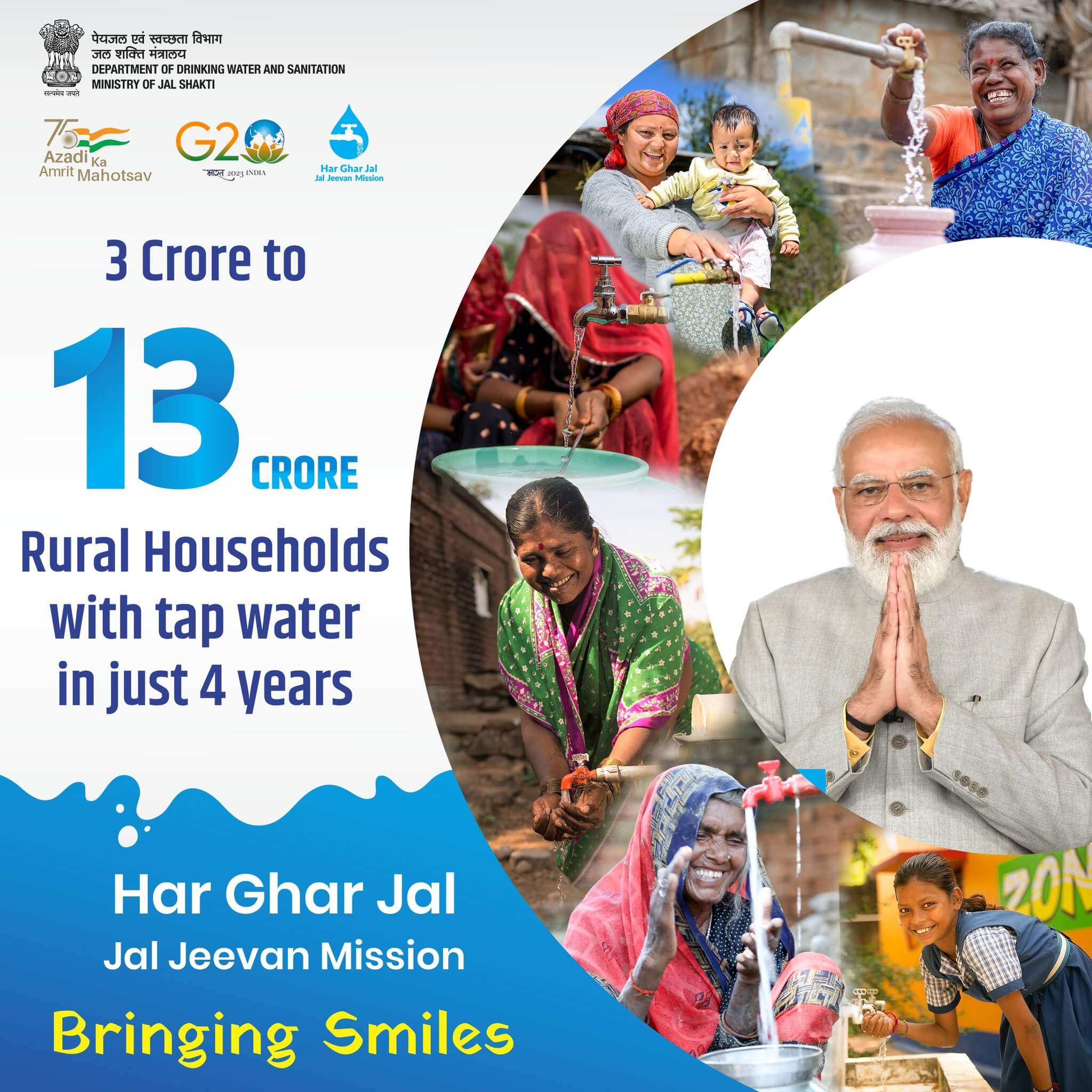 The Jal Jeevan Mission (JJM) has provided tap water connections to an impressive 13 crore rural households, marking a remarkable journey since its launch on India's 73rd Independence Day, August 15, 2019.
This mission, guided by the principles of speed and scale, has rapidly expanded access to clean water in rural areas, progressing from 3.23 crore households in August 2019 to the current milestone in just four years.
Several states and union territories, including Goa, Telangana, Haryana, Gujarat, Punjab, Himachal Pradesh, Puducherry, Daman & Diu, Dadra & Nagar Haveli, and the Andaman & Nicobar Islands, have achieved 100% tap water coverage. Across the nation, 145 districts and 1,86,818 villages report 100% coverage, underscoring the mission's wide-reaching impact.
Summits and Conferences News
12.'Green Hydrogen Pilots In India' Conference Held In The Run-Up
In the run-up to the highly anticipated G20 Summit, a pivotal conference centered around "green hydrogen pilots in India" took place in New Delhi on September 5.
Hosted by NTPC Limited, a leading Indian public sector undertaking, this one-day event showcased a remarkable array of green hydrogen initiatives, combining the efforts of both public and private sector entities.
The primary objective of this conference was the assimilation of information and the encouragement of open dialogue among industry pioneers. Participants were encouraged to share their achievements and challenges, fostering a collaborative spirit among early adopters of green hydrogen technology.
13.The 10th Meeting Of The Ministers Of Law And Justice Of SCO Countries Took Place
The 10th meeting of the Ministers of Law and Justice of SCO countries was convened via video conferencing, where several key initiatives and cooperative efforts were discussed.
Indian Law Minister Arjun Ram Meghwal reiterated India's commitment to the SCO charter, which is based on principles such as mutual trust, respect for sovereignty, territorial integrity, and mutual benefit. He cited Prime Minister Narendra Modi's vision of India as a "universal friend" and highlighted the importance of trust in government policies and practices.
The Indian government acknowledges the need for legal and judicial systems to evolve in tandem with changing societal realities. Minister Meghwal highlighted recent initiatives aimed at replacing colonial-era laws, such as the Indian Penal Code (1860), Indian Evidence Act (1872), and Criminal Procedure Code (1898). These replacements draw inspiration from traditional legal knowledge while addressing modern India's needs.
Agreements News
14.Centre Signs MoU With Adobe To Help Children Learn AI
Union Ministry of Education has joined forces with software giant Adobe to promote creative expression and digital literacy among students and educators through the utilization of Adobe Express, an innovative application developed by Adobe.
Under this program, Adobe is committed to providing free access to Adobe Express Premium for schools nationwide. This access will not only empower students to unleash their creativity but also offer a user-friendly platform for educators to foster digital literacy and creative skills among their students.
Furthermore, Adobe will facilitate professional development opportunities for 500,000 educators. These training programs will equip educators with the skills to effectively use Adobe Express for creating digital learning content. Those who successfully complete the training will be awarded the prestigious Adobe Creative Educators certification, a recognition of their dedication to enhancing the learning experience for their students.
Appointments News
15.Lokesh Suji elected to IESF membership committee for three-year term
The General Body of the International Esports Federation (IESF) has elected Lokesh Suji, director, the Esports Federation of India (ESFI) and vice-president, the Asian Esports Federation, to its membership committee on a three-year term. The election marks the first time that an Indian has become a part of the membership committee of the International Esports Federation.
The elections for Suji's appointment were conducted during the recent Ordinary General Meeting (OGM) of the IESF on August 28 in Iasi, Romania, where out of the 70 voting and present members, a majority of 42 member countries voted in favour of his selection. As part of the membership committee, he will now leverage his experience and expertise to ensure the execution of the process, contributing to a future for esports within the IESF.
16.Shyam Sunder Gupta Takes Charge As Central Railway's Principal Chief Operations Manager
Shyam Sunder Gupta took over as the Principal Chief Operations Manager of Central Railway on Tuesday, September 5, 2023. His appointment follows the superannuation of Mukul Jain, who retired from the position on August 31, 2023.
Shyam Sunder Gupta, a 1992 batch officer of the Indian Railway Traffic Service, brings with him a wealth of experience spanning various regions and responsibilities within the Indian Railways. Over the years, he has held several key positions across different railway divisions, showcasing his competence and dedication to the service.
In 2001, he received the Railway Minister Award, a testament to his outstanding performance and commitment to the railway sector. In 2010, he was honored with the General Manager's Award, further solidifying his reputation as a top-performing railway officer. He was a gold medallist and Best Participant in the 32nd Advanced Management program offered by the National Academy of Indian Railways in Vadodara.
Sports News
17.Nattaya Boochatham becomes 1st bowler from associate nation to pick up 100 Wickets in T20s
Thailand women's cricket team's star spinner Nattaya Boochatham created history with her three wickets against Kuwait in the ICC Women's T20 World Cup Asia Region Qualifier, September 4. Nattaya completed 100 wickets in T20Is to become the first-ever cricketer, male or female, to reach the 100-wicket mark in international cricket.
The 36-year-old spin all-rounder now has taken 101 wickets in 73 ODI matches at an average of 9.96 and becomes the first-ever cricketer to take 100 wickets at a bowling average below 10. She becomes the only 11th cricketer in the world with 100 T20I wickets in women's cricket but possesses the best bowling average in the list. She will join the current world no.1 bowler Sophie Ecclestone's 102 wickets tally if she picks one wicket in Thailand's next game against Hong Kong on September 6.
18.Amul is official sponsor of Indian contingent at Hangzhou Asian Games
Amul is named as the official sponsor of the Indian Contingent for the 19th Asian Games 2022 to be held in Hangzhou, China from September 23 to October 8, 2023. As part of this association, Amul will use the integrated logo in its communication to celebrate the efforts of the sportsperson.
Amul has partnered with Indian sportspersons through the Indian Olympic Association since the London 2012 Olympics for all Indian contingent to Olympics, Commonwealth Games and Asian Games and we are pleased to further strengthen our decade long relationship.
19.ICC, IndusInd To Ink Multi-Year Sponsorship Deal
IndusInd Bank, a leading financial institution in India, has announced a significant multi-year sponsorship deal with the International Cricket Council (ICC). The partnership is set to commence with the highly anticipated Men's Cricket World Cup, which is scheduled to begin on October 5th, showcasing the world's best cricketing talent on the Indian subcontinent.
The multi-year sponsorship agreement between IndusInd Bank and the ICC is valued at  $20-$24 million (approximately Rs 160-200 crore). This substantial financial commitment underscores the bank's dedication to supporting the sport of cricket and its global reach through this prestigious partnership.
In addition to IndusInd Bank's exciting announcement, Mastercard has also stepped up to become a top-tier sponsor for the upcoming ICC Cricket World Cup 2023.
Important Current Affairs of 6 September 2023
Get all the International, National, Sports, Economy, latest schemes and appointments and current affairs updates with Adda247 Headlines of the day. Adda247 headlines of the day brings you the best accumulation of the daily updates. Stay updated with us!