SBI Clerk Notification 2022: (SBI) will release the recruitment notification for the post of SBI Clerk( Junior Associate) in the month of May 2022. SBI Clerk 2022 will be conducted to recruit candidates for the junior associate (JR) post for performing the various duties of clerical staff. State Bank of India (SBI) offers candidates an opportunity to join the Banking sector by clearing one of the most reputed banking exams. The SBI Clerk notification PDF contains detailed information about the vacancies, application process, application fee, syllabus, eligibility criteria, exam pattern, selection process, and more. To know more about SBI Clerk notification 2022 read the full article.
SBI Clerk Notification 2022:
The State Bank Of India conducts the SBI Clerk Exam every year to recruit thousands of aspirants for the post of Junior Associates (Customer Support and Sales) in its various branches across the country. The SBI Clerk 2022 notification is expected to be released in the month of May 2022. Candidates should not wait for the release of the SBI Clerk 2022 notification and start preparing now as day by day the difficulty level of the exam is increasing. Whenever the official notification will be out, we will provide all the details here.
SBI Clerk Notification 2022: Important Dates
Whenever the recruitment notification is released by SBI, it contains all the important dates related to the exam. SBI hasn't released the official notification yet, therefore candidates should bookmark this page to get all updates regarding SBI Clerk 2022 exam.
SBI Clerk 2022: Important Dates
SBI Clerk notification release date
May 2022( Expected)
SBI Clerk 2022 Online Application Start Date
May 2022 (Expected)
SBI Clerk 2022 Online Application End Date
May (Expected)
SBI Clerk 2022 Prelims Admit Card
June (Expected)
SBI Clerk 2022 Prelims Exam Date
July (Expected)
SBI Clerk 2022 Mains Admit Card
August (Expected)
SBI Clerk 2022 Mains Exam Date
August (Expected)
SBI Clerk 2022 Apply Online
The online application for SBI Clerk 2022 exam will start in the month of May 2022(Expected). SBI Clerk 2022 is a national-level exam that is conducted every year by SBI. It is a 2 tier exam that comprises prelims and the main examination. Candidates will be able to apply for SBI Clerk 2022 from the link provided below, once the link is activated on the website of the State Bank of India after the release of the official notification.
Click here to apply for SBI Clerk 2022( Link Inactive)
SBI Clerk 2022: Application Fee
Given below is the category-wise fee structure for SBI Clerk 2022 online application. It is to be noted that Fee/Intimation charges once paid will NOT be refunded on any account nor can they be held in reserve for any other examination or selection. Make sure that the application fee must be paid online itself. To know more check the complete guide for SBI Clerk 2022 Application.
| | |
| --- | --- |
| Category | Application Fee |
| General/OBC/EWS | 750 |
| ST/SC/PWD | NIL |
SBI Clerk 2022: Eligibility Criteria
SBI Clerk Eligibility Criteria 2022 is the prerequisite to determine whether a candidate can appear in the online computer Based test or not. The SBI Clerk eligibility criteria are as follows:
SBI Clerk Age Limit
Not below 20 years and not above 28 years i.e.
SBI Clerk Educational Qualification
Graduation in any discipline from a recognized University or any equivalent qualification recognized as such by Central Government.
SBI Clerk 2022: Exam Process
SBI Clerk Exam is a two-stage exam
Prelims Examination
Mains Examination
More than 10 lakh aspirants apply for the SBI Clerk job every year. About 10 times the number of vacancies, candidates are selected for mains examination.
SBI Clerk (Junior Associates) Vacancy 2021
The State Bank of India (SBI) has released 5454 vacancies for the post of SBI Clerk 2021 recruitment. For 2020-21, SBI has released more than 8000 vacancies for the post of SBI Clerk or SBI Junior Associates. Vacancies for 2019 in SBI Clerk were more in comparison to 2020, in 2019, SBI has released around 8653 vacancies for the post of Clerk and in the year 2018, there were 8301 vacancies released by SBI. Here, we have compiled detailed data of SBI Clerk vacancies in terms of state-wise vacancies and the trend of the past couple of years.
| | |
| --- | --- |
| Category |  SBI Junior Associates Vacancies (In Total) |
| GEN | 2109 |
| EWS | 480 |
| OBC | 1181 |
| SC | 722 |
| ST | 423 |
SBI Clerk Vacancy
The total vacancies released by SBI for the post of Junior Associates were 5454. Below is the list of detailed Vacancies ( Regular+Backlog).
Total Vacancies in SBI Clerk 2021 | Regular + Backlog= 5454

For All Categories
Circle
State/ UT
Language
Total
Ahmedabad
Gujarat
Gujarati
902
Bangalore
Karnataka
Kannada
400
Bhopal
Madhya Pradesh
Hindi
78
Chhattisgarh
Hindi
120
Bengal
West Bengal
Bengali/Nepali
273
A&N Islands
Hindi/English
15
Sikkim
Nepali/ English
12
Bhubaneswar
Odisha
Odia
75
Chandigarh
Jammu & Kashmir
Urdu/ Hindi
12
Ladakh
Ladakhi/ Urdu/ Dogri
8
Himachal Pradesh
Hindi
180
Chandigarh
Punjabi/ Hindi
15
Punjab
295
Chennai
Tamil Nadu
Tamil
473
Pondicherry
2
Delhi
Delhi
Hindi
80
Uttarakhand
70
Delhi/ Chandigarh
Haryana
Hindi/ Punjabi
110
Hyderabad
Telangana
Telugu/Urdu
275
Jaipur
Rajasthan
Hindi
175
Kerala
Kerala
Malayalam
97
Lakshadweep
Malayalam
3
Lucknow/Delhi
Uttar Pradesh
Hindi/Urdu
350
Maharashtra/Mumbai Metro
Maharashtra
Marathi
640
Maharashtra
Goa
Konkani
10
North East
Assam
Assamese/Bengali/Bodo
149
Arunachal Pradesh
English
15
Manipur
Manipuri
18
Meghalaya
English/Garo/Khasi
14
Mizoram
Mizo
20
Nagaland
English
10
Tripura
Bengali/Kokborok
19
4915

 SBI Clerk 2021 Special Recruitment Drive

Circle
Special Area
Language
Total
Chandigarh
Kashmir Valley
Urdu/ Kashmiri/ Dogri
40
Leh & Kargil Valley
Urdu/ Ladakhi/ Dogri
15
North Eastern
Dibang Valley, Tawang etc.
English
10
Tura
Garo
10
Mokokchung
Ao (Naga)
10
85
Total
5000
Backlog Vacancies
SC/ST/OBC
121
PwD
96
Xs
237
Total Vacancies for SBI Clerk 2021
5454
SBI Clerk 2022 Admit Card
State Bank of India will release the SBI Clerk 2022 Admit Card after the closure of online application. Admit card will be issued to only those candidates who will successfully register themselves for SBI Clerk 2022 recruitment. SBI will not send the hardcopy of admit card by post therefore candidates will have to download their e-admit card by filling the credentials provided below
Registration number/roll number
Date of birth/password
SBI Clerk Exam Pattern 2022
Candidates can find below a table of SBI Clerk Exam Pattern 2022. SBI Clerk Exam consists of two phases i.e. Preliminary exam and the Mains exam followed by the LPT test (if applicable). Following is the SBI Clerk 2021 exam pattern for Phase l & Phase ll.
SBI Clerk Prelims Exam Pattern
The Preliminary Examination consists of Objective Tests for 100 marks is conducted online. There are 20 minutes for each subject which means a total of 1 hour.
S.No.
Name of Tests(Objective)
No. of Questions
Maximum Marks
Duration
1
English Language
30
30
20 minutes
2
Quantitative Aptitude
35
35
20 minutes
3
Reasoning Ability
35
35
20 minutes
Total
100
100
60 minutes
Candidates have to qualify for the test by securing passing marks to be decided by the Bank. There will be no sectional cutoff. An adequate number of candidates in each category as decided by the Bank (approximately 10 times the number of vacancies subject to availability) is shortlisted for the Main Examination.
SBI Clerk Mains Exam Pattern
SBI Clerk Mains Examination consists of Objective Tests for 200 marks. The below table shows the detailed SBI Clerk Mains Exam pattern.
S.No.
Name of Tests(Objective)
No. of Questions
Maximum Marks
Duration
1
Reasoning Ability & Computer Aptitude
50
60
45
minutes
2
General English
40
40
35 minutes
3
Quantitative Aptitude
50
50
45 minutes
4
General/Financial Awareness
50
50
35 minutes
Total
190
200
2 Hours 40 Minutes
SBI Clerk Syllabus
Candidates can check below SBI Clerk prelims syllabus from the table provided below:
| | | |
| --- | --- | --- |
| Reasoning Ability | Quantitative Aptitude | English Language |
| Direction & Distance | Simplification | Reading comprehension |
| Blood Relation | Approximation | Fillers |
| Syllogism | Missing Series | Cloze Test |
| Alphanumeric Series | Wrong Series | Phrase Replacement |
| Inequality | Quadratic Equation | Odd Sentence Out cum Para Jumbled |
| Coding-Decoding | Data Sufficiency | Inference, Sentence Completion |
| Order & Ranking | Data Interpretation (Bar, Line, Pie, Tabular) | Connectors |
| Input-Output | Average, Ratio, Percentage, Profit & Loss | Paragraph Conclusion |
| Data Sufficiency | Simple Interest & Compound Interest | Phrasal Verb Related Questions |
| Resultant & Coded Series | Problems on Ages | Error Detection/ Sentence based Error |
| Circular/Triangular/Square/Rectangular Seating arrangement | Time & Work, Pipes & Cisterns | Word Usage/Vocab based Questions |
| Linear row/Double row arrangement | Speed, Distance & Time | Sentence Improvement |
| Floor based Puzzle | Probability | Error Correction |
| Box based Puzzle | Mensuration | Idioms & Phrases |
| Day/Month/Year/Age-based Puzzle | Permutation & Combination | Word Swap |
| Comparison/Categorised/Uncertain Puzzle | Mixture & Allegation | Misspelt |
| Blood relation based Puzzle | Partnership | Word Rearrangement |
| Alphabets based Questions | Boat & Stream | Column based Sentences & Fillers |
SBI Clerk Syllabus & Exam Pattern 2022: Check Here
SBI Clerk 2022 Mains Exam Syllabus
Candidates can check below the exam syllabus for SBI Clerk 2022 mains examination
Reasoning Ability
Computer Aptitude
Quantitative Aptitude
English Language
General Awareness
Puzzles & seating Arrangements
History & Generation of Computers
Data Interpretation (Bar, Line, Tabular, Pie, Radar, Caselet)
Reading Comprehension
Banking Awareness
Machine Input-Output
Introduction to Computer Organization
Quadratic Equations
Fillers
Financial Awareness
Blood Relation
Computer Memory
Inequalities (Quantity 1 & Quantity 2)
New Pattern Cloze Test
Current Affairs
Syllogism
Hardware & Input-Output Devices
Missing Series
Phrase Replacement
Static Awareness
Direction & Distance
Computer Software
Wrong Series
Odd Sentence out cum Para Jumbles
Government Schemes & Policies
Alphanumeric Series
Computer Languages
Simplification & Approximation
Inference
Awards & Recognization
Coding-Decoding
Operating System
Profit & Loss
Sentence Completion
Books & Authors
Order & Ranking
Computer Network
Simple Interest & Compound Interest
Connectors
Committees
Inequalities
Internet
Problems on Ages & Partnership
Paragraph Conclusion
National Affairs
Data Sufficiency
MS Office & Shortcut Keys
Time & Work
Phrasal Verb related Questions
International Affairs
Statement & Conclusion
Basics of DBMS
Speed, Distance & Time
Error Detection
Sports
Statement & Assumption
Number System & Conversions
Mensuration
Word Usage
Defence News
Course of Action
Computer & Network Security
Probability, Permutation & Combination
Vocab Based Questions
Cause & Effect
Mixture & Allegation
Statment & Inference
Average, Ratio & Proportion
Strength of Argument
Boat & Stream
Pipes & Cisterns
Data Sufficiency
SBI Clerk Salary & Pay Scale
The pay scale of the SBI Clerk has been revised by SBI this year and the new pay scale of SBI Clerk is Rs.17900-1000/3-20900-1230/3-24590-1490/4-30550-1730/7-42600-3270/1-45930-1990/1-47920. Earlier, the pay scale was 11765-655/3-13730-815/3-16175-980/4-20095-1145/7-28110- 2120/1- 30230-1310/1-31450.
This means that the starting basic salary for a candidate will be Rs 17900/- with a year-on-year increment of Rs 1000/- with the Basic pay while the Maximum Basic Salary of an SBI Clerk Rs 47,920.
The In-Hand Salary of the SBI Clerk will include the approximate amount a candidate gets after the deductions. The starting salary of an SBI Clerk is between the range of Rs 26000 to 29000/-.
SBI PO Salary Structure 2022: Check Complete Detail Here
SBI Clerk Previous Year Cut-off
The SBI Clerk Cut-off depends upon certain factors:
Total Number of Vacancies
Total number of vacancies in a particular state
The total number of candidates who have applied from a particular state.
No. of aspirants who appeared for the exam
Difficulty level and average good attempts
| | |
| --- | --- |
| SBI Clerk Prelims Cut-off 2020 | 65-75 |
| SBI Clerk Prelims Cut-off 2019 | 61-73 |
| SBI Clerk Prelims Cut-off 2018 | 57-70 |
SBI Clerk Previous Year Cut off: Check Here
SBI Clerk 2022 Exam Centre
State/Union Territory
Exam Center
Andaman & Nicobar Island
Port Blair
Andhra Pradesh
Chirala, Guntur, Kadapa, Kakinada, Kurnool,
Nellore, Rajahmundry, Srikakulam, Tirupati,
Vijaywada, Vishakhapatnam, Vizianagaram
Arunachal Pradesh
Naharlagun
Assam
Dibrugarh, Guwahati, Jorhat, Silchar, Tezpur
Bihar
Arrah, Aurangabad (Bihar), Bhagalpur,
Darbhanga, Gaya, Muzaffarpur, Patna, Purnea
Chandigarh
Chandigarh – Mohali
Chattisgarh
Bhilai Nagar, Bilaspur, Raipur
Goa
Panaji
Gujarat
Ahmedabad – Gandhinagar, Anand, Jamnagar,
Mehsana, Rajkot, Surat, Vadodara
Haryana
Ambala, Faridabad, Gurugram, Hisar, Karnal,
Kurukshetra, Rohtak, Sonipat, Yamuna Nagar
Himachal Pradesh
Bilaspur, Hamirpur, Kangra, Kullu, Mandi,
Shimla, Solan, Una
Jammu & Kashmir
Jammu, Samba, Srinagar
Jharkhand
Bokaro Steel City, Dhanbad, Hazaribagh,
Jamshedpur, Ranch
Karnataka
Ballari, Bengaluru, Belgaum, Davangere,
Gulbarga, Hassan, Hubli – Dharwad, Mandya,
Mangalore, Mysore, Shimoga, Udupi
Kerala
Alappuzha, Kannur, Kochi, Kollam, Kottayam,
Kozhikode, Malappuram, Palakkad,
Thiruvananthapuram, Thrissur
Lakshadweep
Kavaratti
Leh
Leh
Madhya Pradesh
Bhopal, Gwalior, Indore, Jabalpur, Sagar, Satna,
Ujjain
Maharashtra
Amravati, Aurangabad (Maharashtra),
Chandrapur, Dhule, Jalgaon, Kolhapur, Latur,
Mumbai/ Thane/ Navi Mumbai, Nagpur, Nanded,
Nashik, Pune, Solapur
Manipur
Imphal
Meghalaya
Shillong
Mizoram
Aizawl
Nagaland
Dimapur, Kohima
Delhi-Ncr
Delhi NCR (All NCR cities)
Odisha
Balasore, Berhampur (Ganjam), Bhubaneshwar,
Cuttack, Dhenkanal, Rourkela, Sambalpur
Puducherry
Puducherry
Punjab
Amritsar, Bhatinda, Jalandhar, Ludhiana, Mohali,
Pathankot, Patiala, Sangrur
Rajasthan
Ajmer, Alwar, Bikaner, Jaipur, Jodhpur, Kota,
Sikar, Udaipur
Sikkim
Bardang, Gangtok
Tamil Nadu
Chennai, Coimbatore, Erode, Madurai,
Nagercoil, Salem, Thanjavur, Thiruchirapalli,
Tirunelvelli, Vellore, Virudhunagar
Telangana
Hyderabad, Karimnagar, Khammam, Warangal
Tripura
Agartala
Uttarpradesh
Agra, Aligarh, Prayagraj (Allahabad), Bareilly,
Faizabad, Ghaziabad, Gonda, Gorakhpur,
Jhansi, Kanpur, Lucknow, Mathura, Meerut,
Moradabad, Muzaffarnagar, Noida & Gr. Noida,
Varanasi
Uttarakhand
Dehradun, Haldwani, Roorkee
West Bengal
Asansol, Durgapur, Greater Kolkata, Hooghly,
Kalyani, Siligur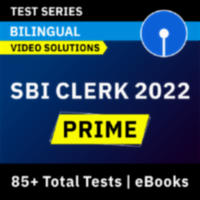 FAQ: SBI Clerk Notification 2022
Q.1 When will the Official Notification of the SBI Clerk 2022 Exam be released?
Ans: SBI Clerk 2022 official notification is expected to be released in the month of May 2022
Q.2 What is the eligibility criteria of SBI Clerk 2022?
Ans: To appear for the SBI Clerk 2022, A candidate should possess a graduation degree from a recognized university.
Q.3 When did SBI Clerk 2022 prelims exam to be conducted?
Ans. SBI Clerk 2022 exam dates have not been released yet.
Q.4 What is the selection process for SBI Clerk 2022?
Ans. The selection will be done through two phases online examination prelims & main