Dear Aspirants,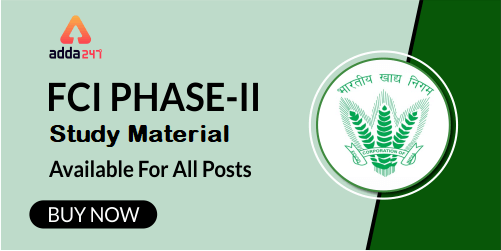 FCI (Food Corporation of India), one of the prestigious organisations of India, had released 
4103 Vacancies
 for the recruitment of various posts such as
 JE, Assistant Grade-II (AG II) (Hindi), Steno Grade-ii, Typist (Hindi) and Assistant Grade-III (AG III) (General / Accounts / Technical / Depot).
The FCI Phase 1 exam was conducted from 31st May to 3rd June 2019. FCI had released FCI phase-I 2019 result on 8th July now its time to start preparing for the next stage. FCI Phase 2 will vary according to the post you applied for.
Click here to Check FCI Phase-II Admit Card
In order to keep up with the momentum, one needs to be thorough with the preparations. Adda247, with its online test series for Phase 2, is providing full-length mock tests for almost all the papers included in Phase 2. Check the below table for all the package details for FCI Phase 2 exam:
FCI Phase 2 Exam Study Material
Package Details
FCI Phase-II Supreme Video Course 2019 (Bilingual)(General) Online Test Series
Available at Rs 2499
Videos: 425+
Mocks Tests: 25
Ebooks: 500+
FCI Phase-II 2019 ASSISTANT GRADE-III
(General) Online Test Series
Available at Rs 299
10 Full-Length Mocks (Paper-I)
for FCI Phase-II 2019 Exam
FCI Phase-II 2019 ASSISTANT GRADE-III
(DEPOT) Online Test Series
Available at Rs 29910 Full-Length Mocks (Paper-I)
for FCI Phase-II 2019 Exam
FCI Phase-II 2019 J.E.
(Electrical Mechanical Engineering)
Online Test Series
Available at Rs 399
10 Full-Length Mocks (Paper-I)
for FCI Phase-II 2019 Exam (Bilingual)
5 Full-Length Mocks (Paper – II)
for FCI Phase-II 2019 Exam (Only in English)

FCI Phase-II 2019 J.E. (Civil Engineering)




Online Test Series




Available at Rs 399


10 Full-Length Mocks (Paper-I)
for FCI Phase-II 2019 Exam (Bilingual)
5 Full-Length Mocks (Paper – II)
for FCI Phase-II 2019 Exam (Only in English)
FCI Phase-II 2019 AG-III (Technical)
Online Test Series
Available at Rs 399
10 Full-Length Mocks (Paper-I)
for FCI Phase-II 2019 Exam (Bilingual)
5 Full-Length Mocks (Paper – II)
for FCI Phase-II 2019 Exam (Only in English)
FCI Phase-II 2019
ASSISTANT GRADE-II (HINDI)
Online Test Series
Available at Rs 299
10 Full-Length Mocks (Paper-III)
for FCI Phase-II 2019 Exam
FCI Phase-II 2019
Typist (Hindi)
Online Test Series
Available at Rs 299
10 Full-Length Mocks (Paper-III)
for FCI Phase-II 2019 Exam
FCI Phase-II 2019
Steno Grade-II
Online Test Series
Available at Rs 299
10 Full-Length Mocks (Paper-V)
for FCI Phase-II 2019 Exam
FCI Phase-II 2019 E-Kit (English Medium eBooks)
Available at Rs 499
Ace Quant eBook
Ace Reasoning eBook
Ace English language eBook
Computer eBook
FCI Phase-II 2019 E-Kit (Hindi Medium eBooks)
Available at Rs 499
Ace Quant eBook
Ace Reasoning eBook
Ace English language eBook
Computer eBook
You May Also Like To Read: