LIC AAO Salary 2023: The job of Assistant Administrative Officer is considered one of the most sought jobs in the insurance sector which is the main reason for the increase in competition. Thus, to secure a seat as a LIC AAO, you need a lot of hard work and determination. The basic pay for LIC AAO posts starts from Rs.53,600/- per month plus allowances & other benefits.  Here we are going to provide you with the LIC AAO 2023 details In-hand, Salary Structure, Allowance, Perks, Job Profile & Promotion.
LIC AAO Notification 2023: Check Here
LIC AAO Salary 2023
Life Insurance Corporation of India is the largest Insurance company in India and securing a permanent Government Job in LIC is a dream come true for Government job aspiring candidates. Aspirants after getting selected as LIC AAO will need to complete 1 year probation period, after then they will be regarded as permanent employees. If the candidates fail to comply with the service conditions they will be required to pay an amount of 5,00,000 with GST and all other payable taxes to LIC.
LIC AAO Salary 2023: Overview
Candidates can check the complete overview of LIC AAO Salary 2023 in the given table below.
LIC AAO Salary 2023: Overview
Organization
Life Insurance Corporation of India
Exam Name
LIC AAO Exam 2023
Post
Assistant Administrative Officer
Vacancy
300
Notification Date
15th January 2023
Application Date
15th January 2023
Exam Date
17th February & 20th February 2023
Official website
@www.licindia.in
LIC AAO Salary 2023
Check This Post in Hindi
LIC AAO Salary 2023: Salary Structure
The salary structure of LIC AAO is 55600-2645(14)-2865(4). As per the given salary structure, the basic pay of LIC AAO after 18 years of service of will be 1,02,090 per month. There are various allowances and deductions in the LIC AAO salary structure. The details of the same are given below.
LIC AAO Salary 2023 Salary Structure

Basic Pay

53,600/-

Special Allowance

4,500/-

DA

21500/-

HRA (Minimum 7%)

3752/-

Transport Allowance

1,960/-

Gross Salary

85,612/-
LIC AAO Salary 2023: Deductions
There are certain standard amounts that are deducted from the salary of LIC AAO to get the net salary
| | |
| --- | --- |
| Particulars | Amount |
| New GI | 137 |
| Mediclaim | 200 |
| GIS | 3050 |
| GTIS | 241 |
| DCPS | 6,933 |
| Total Deductions | 10,561 |
| Net Salary | 75,051 |
LIC AAO Salary 2023 Perks and Allowances
The allowances are not fixed, they are raised from time to time as per the need. The purpose of allowances is to secure against the rising cost of living and provide security against unforeseen medical expenses. A candidate selected as a LIC AAO gets many attractive allowances & perks along with a handsome salary and some of them are mentioned below with an explanation.
Leave Travel Concession
Medical Facility
Accidental Insurance
Loan facility for personal vehicle
Meal Coupon
Dearness Allowance
House Rent Allowance
Transport Allowance
Special Allowance
Group Insurance
Mobile and other daily requirement expenses, etc.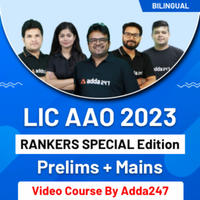 LIC AAO 2023: Probation Period
Candidates after the final selection as Assistant Administrative Officer in LIC will have to serve on probation for a time period of 1 year from the joining date. The Probation Period can be extended up to 2 years. According to the Life Insurance Corporation of India's extant policy aspirants will be continuously examined during the given period. If a candidate will not be able to meet up the expectations then as per the policy of the organization he/she will be terminated.
LIC AAO 2023: Guarantee Bond
Aspirants joining LIC as AAO will have to give the undertaking to work in LIC for a minimum period of four years from the date of joining (including the probationary period). If a candidate fails in fulfilling this undertaking then he/she or his /her heirs, executors, and administrators will be liable to pay liquidated damages of Rs.5,00,000/-only (Rupees Five Lakhs only) + GST or the sum of amount the Executive Director (Personnel) may prescribe from time to time.
LIC AAO 2023: Job Profile
Prior knowledge about the job roles and responsibilities of a LIC AAO, will help you work confidently in case you crack the selection phases. Candidates can check the job profile of LIC AAO 2023 in this post.
Formulating new schemes and checking the already existing and new policies.
Supervising and filing claims and settlements of the customers.
Rendering assistance and coordinating with the respective other departments as well.
Maintaining cordial relations with the customers, interacting with them, and coming up with solutions to their queries.
Completing tasks on time, as assigned by the higher departmental authorities.
Inspection of existing facts and pointing out factual errors.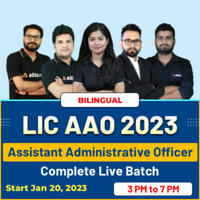 LIC AAO 2023: Career Growth
Everyone who is working in the government sector gets a promotion in his job period. With the increments, the LIC AAO is expected to be getting higher-grade assistants. It will also depend upon the performance and experience of the candidate.
Administrative Officer
Assistant Divisional Manager
Divisional Manager
Senior Divisional Manager
Zonal Manager