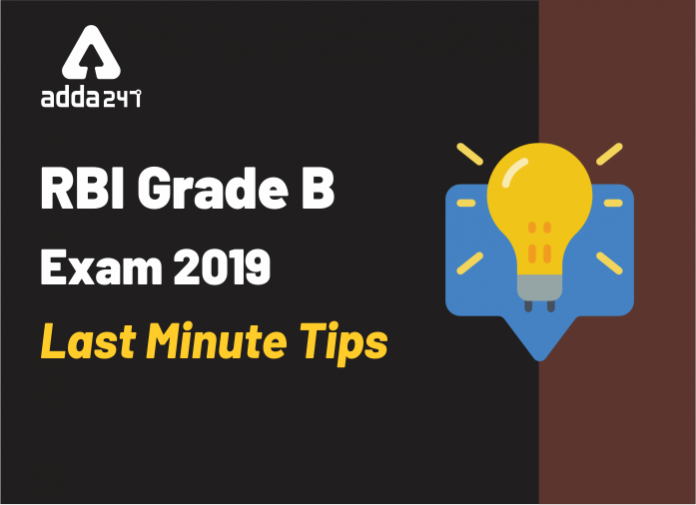 Reserve Bank of India (RBI) has released the RBI Grade B exam notification in the month of September. As per the official notification, RBI Grade B exam for Phase-I is to be held on 9th November 2019 and the RBI Grade B exam for phase II is scheduled to be held on 1-2nd December 2019. RBI Grade B Exam Admit Card is already been released by the RBI. Aspirants who want to pursue their career in challenging bank sector must have prepared well for the examination. RBI Grade B exam is not an easy task as this exam demands dynamic approach. This article is dedicated to provide you with last minute touch up that can help you in cracking through the RBI Grade B exam. 

Only few days are left for the RBI Grade B exam and hence aspirants need to tighten up their belt. The RBI Grade B exam do not follow the pattern of other banking exam. General Awareness (GA) carries more weightage in the prelims exam unlike other banking exam that has Quantitative Aptitude and Reasoning as the key areas. All the curious candidates must go through the given RBI exam last minute tips to understand the way they can deal with Grade B exam.
The RBI Grade B exam has introduced sectional timing. So, here is the new RBI Grade B exam pattern:
| | | | | |
| --- | --- | --- | --- | --- |
| Sr. No | Objective Type Test | No of Questions | Marks | Time |
| 1. | General Awareness | 80 | 80 | 25 minutes |
| 2. | Reasoning | 60 | 60 | 45 minutes |
| 3. | English Language | 30 | 30 | 25 minutes |
| 4. | Quantitative Aptitude | 30 | 30 | 25 minutes |
| | | 200 | 200 | 120 minutes |
Last Minute Tips For RBI Grade B
Every examination demands a proper strategy and consistent efforts. However, RBI Grade B needs a more strict strategy due to its dynamic nature. RBI Grade B consist of 4 sections: General Awareness, Reasoning Ability, Quantitative Aptitude, English. The total marks assigned to the prelims exam is 200 with a sectional break marks too. This year RBI has introduced sectional timing for all the section.
General Awareness: This section carries the highest weightage in the RBI Grade B exam. The question asked are generally from the current and banking awareness question. Go through all the reforms introduced by RBI. Read and revise the current affairs of last 6 months. Monetary policy, RBI, SEBI, Business News, Basel Norms, NBFC, etc forms the part and parcel of this examination. With giving focus to the current portion, understand the background (static) part as well.
Reasoning: Go through previous year's paper to get a glimpse of what is asked. Solve as many mock as you can. This section carries 60 question of 60 marks that can make a huge difference in your overall performance.
English and Quants: English and quants has same weightage in the RBI Grade B exam. Practice as much as you can. Both these section do not demand in depth knowledge but a basic understanding can help you in sailing through these section in the exam.
Mock and Speed test: Mock and speed test is the most important step in competitive exam preparation. Once you are done with all the key topics, you should go with the mock and speed test as it will test your speed and accuracy that defines you success rate in the exam. With the introduction of sectional timing, it is important for all the aspirant to go through the speed test.
Time Management: It is not going to be an easy task to crack the prelims examination. So, manage your time according to the exam pattern of the exam so that you don't have to face break down during examination.
Previous year question: You must have gone through the Previous Year's Paper already. Still solve them once again with the time alloted to every section so that you can get a proper glimpse of the examination.
Relax: You do not have to panic for the exam. Keep your mind calm and composed. This will help you in performing well in the examination.
You may also like to read: