Golden Rule to Crack Banking Exams: Aspirants preparing for the Banking exams must think about the golden rule or any trick by which they can crack any exam in the initial attempt. So, there is no particular golden rule, but practice in a strategic manner and time management. Candidates must practice with the test series which boosts their speed and accuracy. Students must know that banking exams are a game of speed and accuracy because of the negative marking.
Adda247 came up with the Bank Prime Test Pack 2022 which includes all the upcoming exams of 2022-23. The Bank prime test pack aims to make the aspirants prepare not for 1 but all the Bank & Insurance exams 2022-23 as in almost all the exams the base pattern is similar.
With Adda247 Bank Prime Test Pack, you will be able to crack all the Bank & Insurance exams like SBI PO | Clerk, IBPS PO | Clerk, IBPS RRB PO | Clerk RBI Grade B, RBI Assistant, LIC Assistant, NIACL AO, and other Bank & Insurance Exams 2022-23.
In this Bank Prime Test Pack, candidates will get 1200 + TOTAL TESTS with Detailed Solutions.
2X Prep Sale- Double Validity
Start Prep With Adda247, Use Code – PREP15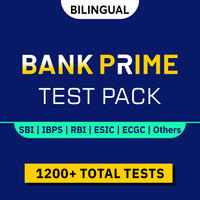 Bank Prime Test Pack: Package Highlights
Candidates can check the table for more details in which the number of mocks is given.
| | | | | |
| --- | --- | --- | --- | --- |
| Test Name | Full Length Mocks | Video solutions | Memory Based Papers | Section Tests |
| SBI PO Pre | 20 | Yes | 10 | 15 |
| SBI PO Mains | 10 | Yes | 5 | 15 |
| SBI CLERK Pre | 20 | Yes | 5 | 15 |
| SBI CLERK Mains | 10 | Yes | 5 | 15 |
| IBPS PO Pre | 20 | Yes | 5 | 15 |
| IBPS PO Mains | 10 | Yes | 5 | 15 |
| IBPS CLERK Pre | 20 | Yes | 5 | 15 |
| IBPS CLERK Mains | 10 | Yes | 5 | 15 |
| IBPS RRB PO Pre | 20 | Yes | 5 | 15 |
| IBPS RRB PO Mains | 10 | Yes | 5 | 15 |
| IBPS RRB CLERK Pre | 20 | Yes | 5 | 15 |
| IBPS RRB CLERK Mains | 10 | Yes | 5 | 15 |
| IDBI Assistant Manager | 10 | No | No | 15 |
| SEBI Assistant Manager | 10 | No | No | 15 |
| ECGC Bank PO (in English) | 5 | No | No | 15 |
| NPS Trust (in English) | 5 | No | No | 15 |
| J& K PO Prelims | 10 | No | No | 15 |
| J& K PO Mains | 5 | No | No | 15 |
| J&K Associates | 10 | No | No | 15 |
| IDBI Executive | 10 | No | No | 15 |
| NABARD Development Assistant | 10 | No | No | 15 |
| SBI Apprentice | 15 | | No | 15 |
| LIC Assistant Prelims | 15 | | | |
| LIC Assistant Mains | 10 | No | No | 15 |
| LIC AAO Prelims | 10 | | No | 15 |
| LIC AAO Mains | 10 | No | No | 15 |
| NIACL AO Prelims | 10 | No | 2 | 15 |
| NIACL AO Mains | 7 | No | 2 | 15 |
| NIACL Assistant Prelims | 10 | No | NO | 15 |
| NIACL Assistant Mains | 10 | No | No | 15 |
Preparation For Selection Begins With Adda24