Dear Aspirants,
The General Awareness Section
plays an important role in scoring well above cut off marks in any competitive exam. The
Banking Awareness and Static Awareness questions asked in the General Awareness Section are based on Current Affairs mainly.
So you need to prepare well this section to score good marks.
Here is the Daily GK Update to get you acquainted with the top events that made the headlines today!!
National News
1. India's First District Cooling System To Be Built In Amravati
i. United Arab Emirates (UAE) based international cooling provider, National Central Cooling Company PJSC (Tabreed) entered into a 30-year concession with Andhra Pradesh Capital Region Development Authority (APCRDA) to build India's first district cooling system in Amaravati.
ii. The agreement is for a contracted cooling capacity of 20,000 Refrigeration Tons (RTs) and will cater to the State's Assembly, High Court, Secretariat and other Government buildings currently being constructed, for which cooling services will start in early 2021.
Static/Current Takeaways Important for NIACL AO Mains Exam:
UAE Capital: Abu Dhabi, Currency: UAE Dirham.
International News
2. J P Morgan Became First US Bank With Cryptocurrency
i. JP Morgan rolled out the first US bank cryptocurrency. The currency is designed to be decentralized so that no one has control over transactions being sent over the network.
ii. Cryptocurrencies are used successfully to move money between the bank and a client which usually runs on a blockchain technology. The cryptocurrency, called "JPM Coin," is intended for the bank's wholesale payments business that moves $6 trillion around the world daily and not for retail customers.
Awards
3. Sunil Chhetri Given First Ever Football Ratna Award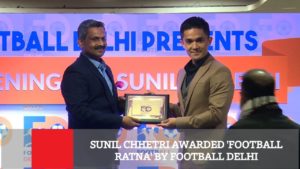 i. Sunil Chhetri, the all-time leading scorer for India in international football, has been conferred the first ever Football Ratna honour by Football Delhi, the association governing the sport in Delhi.
ii. He is popularly known as Captain Fantastic. He has scored the 2nd highest number of goals in international matches among active players after Cristiano Ronaldo.
4. De Goede, Van Doren Win 2018 FIH Player Of The Year Awards
i. Eva de Goede from Netherlands and Arthur van Doren of Belgium were titled the International Hockey Federation's Players of the Year for 2018.
ii. Eva de Goede, 29, was named the Female Player of the Year and Arthur van Doren, 24, won the Male Player of the Year award for the second year in a row.
5: Abdul Aziz Muhamat Wins International Human Rights Prize
i. Sudanese refugee, Abdul Aziz Muhamat, who spent 5 years in the Australian detention centre on Manus Island in Papua New Guinea, was given the Martin Ennals Award 2019 in Geneva, Switzerland, for exposing "the very cruel asylum seeker policy of the Australian Government".
Appointments
6. UN Appoints C Ramanathan As Controller And ASG For Programme Planning, Budget and Finance
i. Chandramouli Ramanathan has been appointed as Controller, Assistant Secretary-General for Programme Planning, Budget and Finance in the management strategy, policy and compliance department.
ii
. He succeeds
Bettina Tucci Bartsiotas
of
Uruguay
.
Static/Current Takeaways Important For NIACL AO Mains Exam:
United Nations Headquarters: New York, United States, Secretary General: Antonio Guterres.
Agreements
7. List of MOUs/Agreements Signed During State Visit Of President Of Argentina To India
i. MoU between the Ministry of Defence of the Republic of India and the Ministry of Defence of the Argentine Republic on Defence Cooperation.
ii. MoU between the Republic of India and the Republic of Argentina for cooperation in the field of Tourism.
Find More MoUs Here
Banking and Economy News
8. India Boosts Customs Duty To 200% On Goods Imported From Pakistan
i. India with immediate effect has boosted the Customs Duty on all the goods imported from Pakistan to 200% followed by the day after India repealed Most Favoured Nation (MFN) status from Pakistan.
ii. This 200% tariff rate is higher than the average bound rate of 113.5% for agriculture products and 34.6% for non-agriculture products. The MFN applied rates are 32.8% and 10.7%, respectively for farm and non-farm products.
Static/Current Takeaways Important for NIACL AO Mains Exam:
Pakistan Capital: Islamabad, PM: Imran Khan, President: Arif Alvi.
9. Government Raised Rs.10000 Crore From Bharat-22 ETF Offering
i. The government of India gets Rs.10000 crore from Bharat-22 Exchange Traded Fund (ETF) by additional offering. The government has absorbed approximately Rs.46000 crore by way of disinvestment with the successful offering of Bharat-22 ETF.
ii. Bharat-22 is an Exchange Traded Fund ( ETF) which will closely track the performance of Bharat-22 index. It was launched by Government of India in November 2017. ICICI Prudential Mutual Fund AMC will manage the fund.
Static/Current Takeaways Important For NIACL AO Mains Exam:
ICICI Prudential Mutual Fund Headquarters: Mumbai, MD and CEO: Nimesh Shah.
10. RBI Lifts Cap On FPI Investments In Corporate Bonds
i. The Reserve Bank of India (RBI) withdrew the 20% limit on investments by FPIs in corporate bonds of an entity with a view to encourage more foreign investments.
ii. As part of the review of the FPI investment in corporate debt undertaken in April 2018, it was stipulated that no FPI should have an exposure of more than 20% of its corporate bond portfolio to a single corporate (including exposure to entities related to the corporate).
Static/Current Takeaways Important For NIACL AO Mains Exam:
RBI 25th Governor: Shaktikant Das, Headquarters: Mumbai, Founded: 1 April 1935, Kolkata.

Sports News
11. Vidarbha Clinches The Irani Cup Title
i. Vidarbha became the only 3rd team in Indian Domestic Cricket history after Bombay and Karnataka to defend their Irani cup titles at Jamtha Stadium in Nagpur by defeating rest of India.
ii. Vidarbha chased a target of 280 runs on the day and young Karnewar was the Player of the match.
12. Chris Gayle Announces Retirement From One-day Internationals
i. West Indian batsman Chris Gayle has announced that he will retire from One-day Internationals after the forthcoming World Cup. The 39-year old left-hander has scored 9,727 ODI runs, second only to the legendary Brian Lara among West Indians in 284 matches.
ii. Gayle has scored a Windies record of 23 ODI hundreds, including the first-ever World Cup double century against Zimbabwe 4 years ago.
Static/Current Takeaways Important for NIACL AO Mains Exam:
The World Cup will be held in England and Wales from 30th May till 14th July.
13. Senior Badminton Nationals: Saina Nehwal Wins Women's Singles Title
i. In badminton, Saina Nehwal won her fourth title at the Yonex-Sunrise 83rd Senior Nationals. She defeated P.V.Sindhu in the finals in Guwahati. Sourabh Verma completed a hat-trick of titles, claiming the men's singles crown after defeating young Lakshya Sen in straight games.
ii. Earlier, the pair of Pranaav Jerry Chopra and Chirag Shetty outclassed top seed duo Arjun M.R and Shlok Ramachandran in straight games to clinch the Men's Doubles title.
Defence News

14. Hina Jaiswal Becomes The First Indian Woman Flight Engineer
i. Flight Lieutenant Hina Jaiswal from Chandigarh, became the First Indian Woman Flight Engineer of the Indian Air Force(IAF).
ii. She was commissioned in the IAF's engineering branch in 2015 and completed the 6-month Flight Engineer course from the 112 Helicopter Unit attached to the Air Force Station in Yelahanka, Bengaluru.
Static/Current Takeaways Important for NIACL AO Mains Exam:
IAF Chief: Air Chief Marshal Birender Singh Dhanoa.
15. 'Simplicity & Wisdom' Authored By Mr. Dinesh Shahra Launched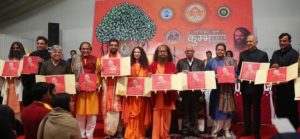 i. A book 'Simplicity & Wisdom' written by Dinesh Shahra was launched at Parmarth Ashram in Kumbh Mela.
ii. Launched by the Governor of West Bengal– Keshari Nath Tripathi and Swami Chidanand Saraswati, Head of Parmarth Ashram, this book is dedicated to Late Vedanti Swami Pragananandji.
Science and Technology
News
16. Infosys Unveils A Learning App 'InfyTQ' For Engineering Students
i. Infosys, the country's 2nd largest IT firm has launched a next-generation digital platform 'InfyTQ' to facilitate engineering students with best learning experiences by imparting technical and professional skills.
ii. InfyTQ is a free platform available on both mobile and desktop, featured with always-on, anytime, anywhere learning catered through a continuous transfer of digital skills.
Static/Current Takeaways Important for NIACL AO Mains Exam:
Infosys CEO: Salil Parekh.
Obituaries
17. Best-selling British Author 'Andrea Levy' Passed Away
i. The best-selling British author Andrea Levy, who explored the experience of Jamaican British people in a series of novel over 20 years, has died from cancer at the age of 62.
ii. She was known for penning books 'The Long Song' and 'Small Island'. She was conferred with Orange prize for fiction, Whitbread book of the year, Commonwealth writers prize and many more.
18. Swiss Actor Bruno Ganz Passed Away
i. 77 years old Swiss actor, Bruno Ganz who is famous for his role of German dictator, Adolf Hitler in the Oscar-nominated film Downfall, passed away in Zurich, Switzerland due to Colon Cancer.
ii. Bruno Ganz was born in 1941 and he was active in German theatre, film, and television for more than 50 years. He was honoured with European Film Academy Lifetime Achievement award and David di Donatello for Best Actor.

You may also like to Read: