Read the most important current affairs of 2 November 2023. Today Current Affairs covers the headlines on October Gross GST Collections, Global Housing Price Rise Index 2023, British Academy Book Prize, Zojila Day.

Top 19 Current Affairs and News Headlines of 2 November 2023
National News
1.UPSC tightens rules for appointment of State Police Chiefs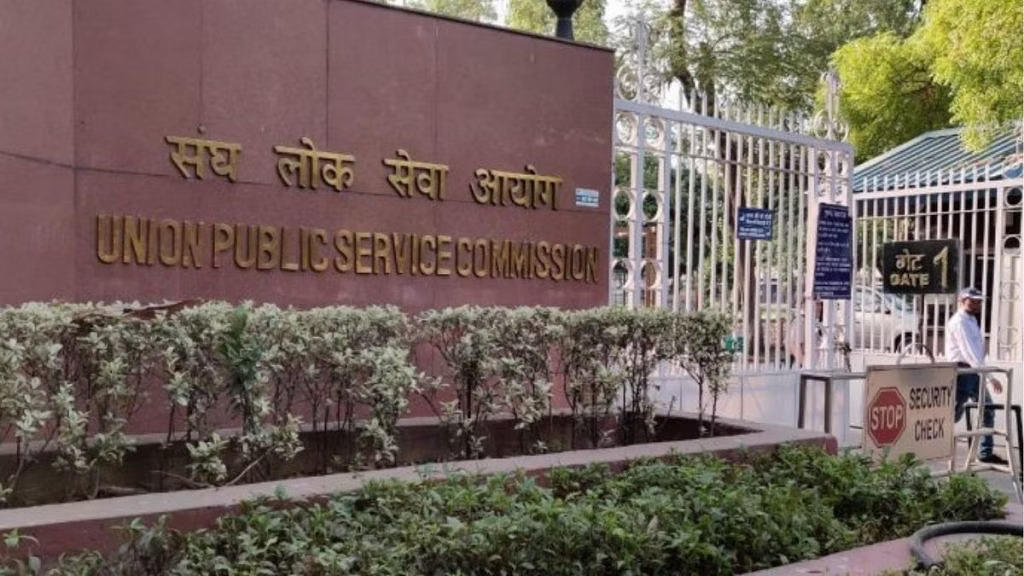 The Supreme Court has directed all states and Union territories to refrain from appointing any police officer as acting Director General of Police (DGP).
Instead, states are mandated to send names of senior police officers to the Union Public Service Commission (UPSC) for consideration as potential candidates for the position of DGPs or Police Commissioners.
The UPSC will meticulously evaluate the submitted names and prepare a list of the three most suitable officers. States are then free to appoint one of these officers as the police chief. The emphasis is on meritocracy and transparency in the selection process.
International News
2.Chinese Communist Party Delegation Enhances Ties with Solomon Islands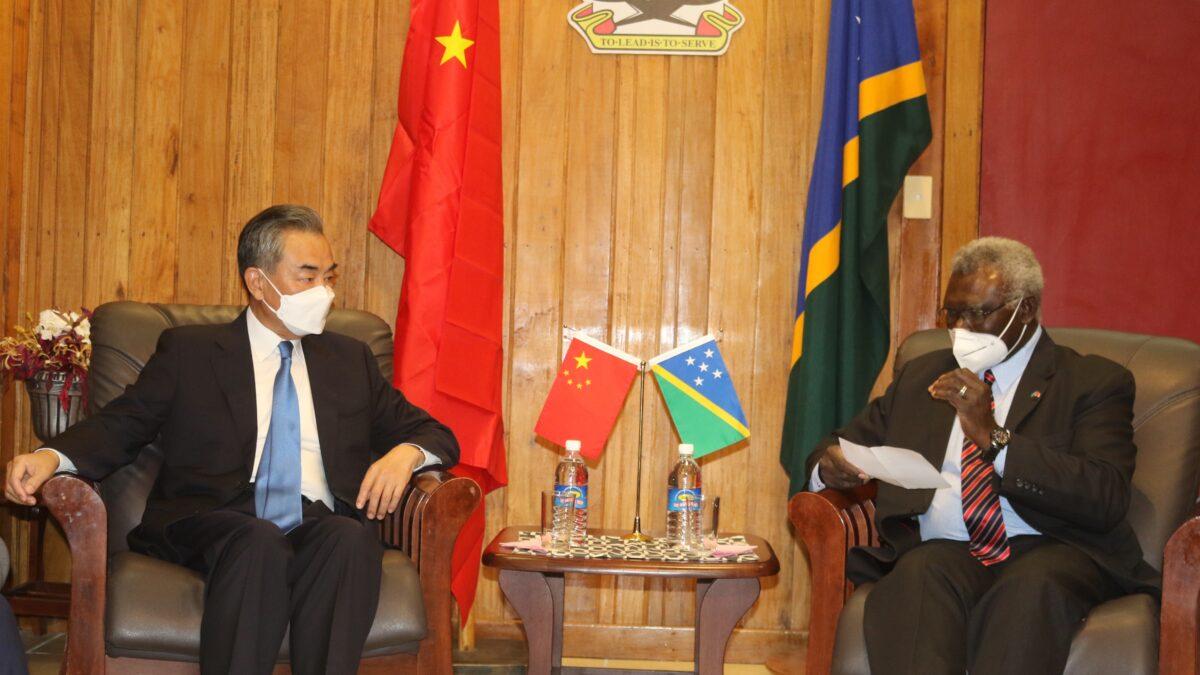 The Chinese delegation met with Solomon Islands' Prime Minister Manasseh Sogavare, foreign minister, and energy minister. The delegation, led by Guo Yezhou, engaged in high-level meetings with Solomon Islands' leadership during their visit.
China and the Solomon Islands had previously signed a policing pact in July, which marked the elevation of their relationship to a "comprehensive strategic partnership."
Solomon Islands are located in the South Pacific Ocean. It comprises a diverse group of islands, including the largest, Guadalcanal. It is home to various ethnic groups, including the indigenous Melanesian people. Its Capital city is Honiara.
Economy News
3.October Gross GST Collections Reach ₹1.72 Lakh Crore
In October, India witnessed a significant rebound in its Gross Goods and Services Tax (GST) collections, reaching a 10-month high of ₹1.72 lakh crore. This growth of 13.4% year-on-year is the sharpest uptick since December 2022, reversing a three-month trend of deceleration.
This growth marked a 5.7% increase compared to September, which saw a slowdown in indirect tax growth. The average monthly GST collection for FY 2023-24 stands at ₹1.66 lakh crore, representing an 11% increase over the previous financial year.
October's GST revenues included Central GST (CGST) of ₹30,062 crore, State GST of ₹38,171 crore, and Integrated GST (IGST) of ₹91,315 crore. The government settled ₹42,873 crore to CGST and ₹36,614 crore to SGST from IGST, resulting in a total revenue of ₹72,934 crore for CGST and ₹74,785 crore for SGST in October 2023 after regular settlements.
4.NPCI: UPI Records 1,140 Crore Transactions In October, Total Value Exceeds Rs 17.6 Lakh Crore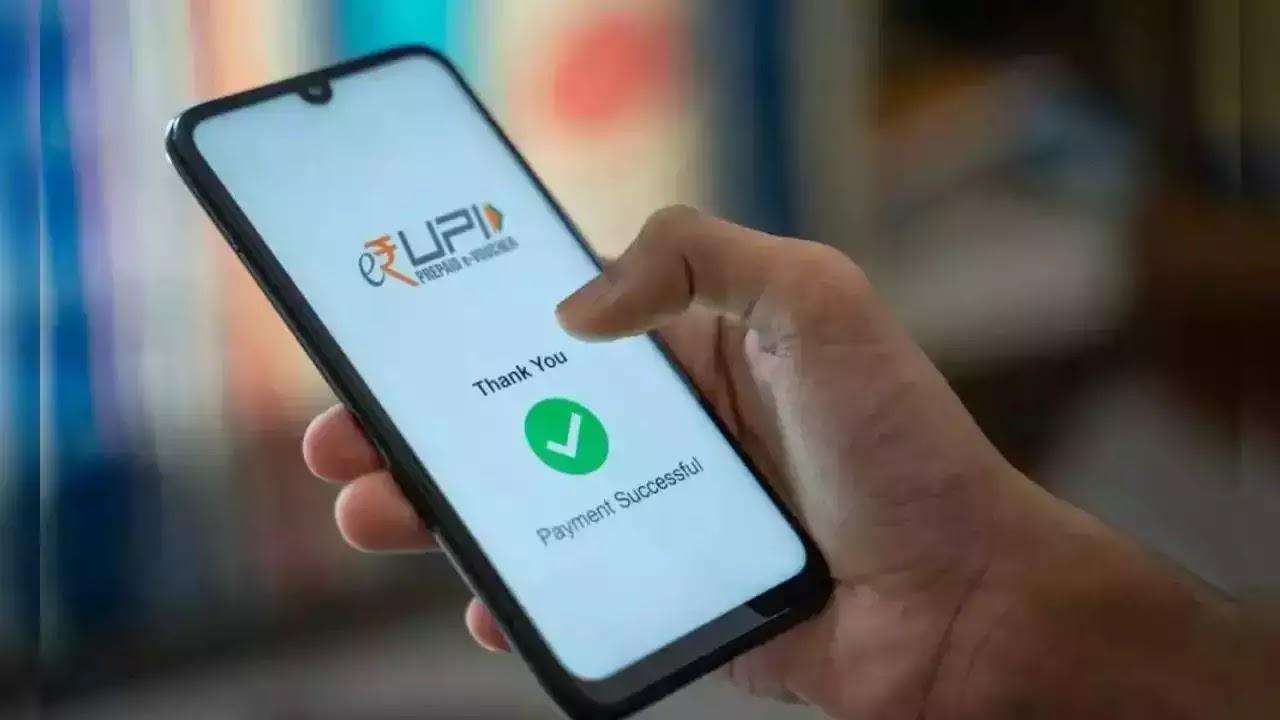 In October, UPI crossed an astonishing 11.4 billion transactions with a total transaction value surpassing Rs 17.6 lakh crore. The National Payments Corporation of India (NPCI), which operates the UPI system released this data.
NPCI recorded a 55 percent year-on-year growth in transaction volume and a 42 percent growth in transaction value. UPI had crossed the 10 billion transaction mark in August and continued its upward trajectory. In September, it recorded 10.56 billion transactions, a clear indicator of the platform's consistent growth.
NPCI's Chief, Dilip Asbe, has set an ambitious goal to achieve 2 billion daily transactions by 2030. Additionally, he foresees the integration of UPI for cross-border transactions in at least 50 percent of the world's top 30 markets or countries.
Banking News
5.More than 97% of ₹2,000 notes returned: RBI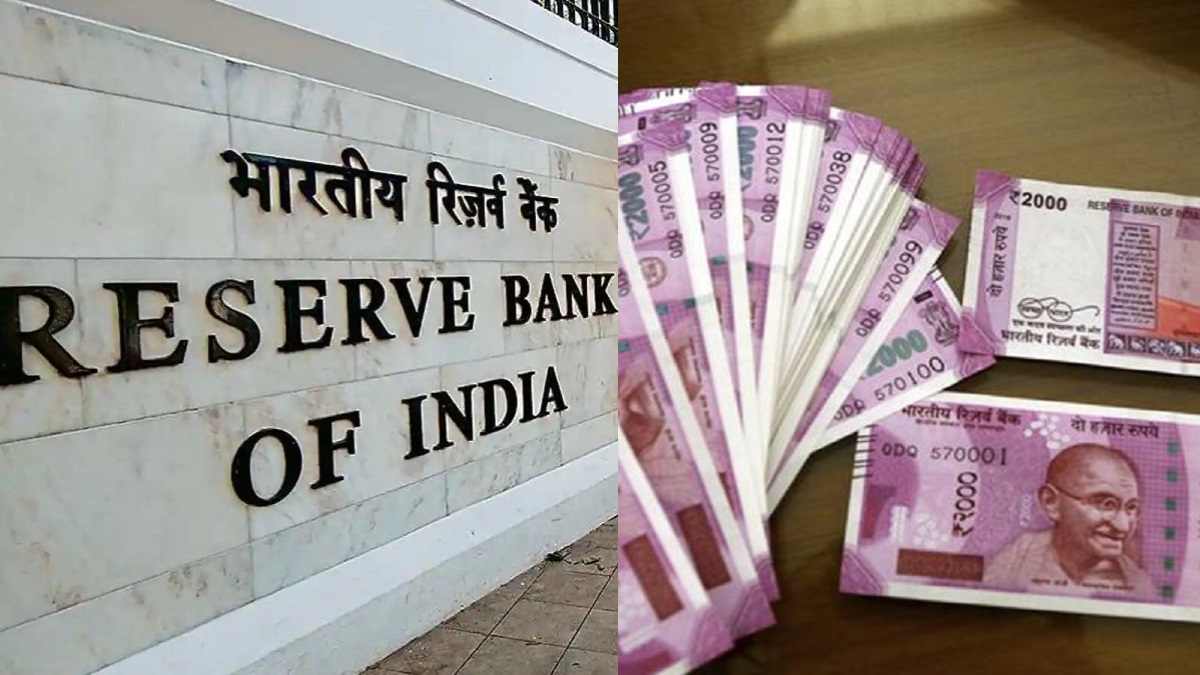 According to the RBI, More than 97% of the ₹2,000 banknotes in circulation as of May 19, 2023, have been returned by October 31, 2023. The remaining ₹2,000 banknotes in circulation are still considered legal tender.
The total value of ₹2,000 banknotes in circulation was ₹3.56 lakh crore as of May 19, 2023. This value has significantly reduced to ₹10,000 crore as of October 31, 2023.
The facility for deposit and exchange of ₹2,000 banknotes at bank branches ended on October 7, 2023. The central bank's initial goal for introducing these banknotes was to meet the currency needs of the economy after the withdrawal of ₹500 and ₹1,000 banknotes in November-December 2016.
Important Days News
6.International Day to End Impunity for Crimes against Journalists 2023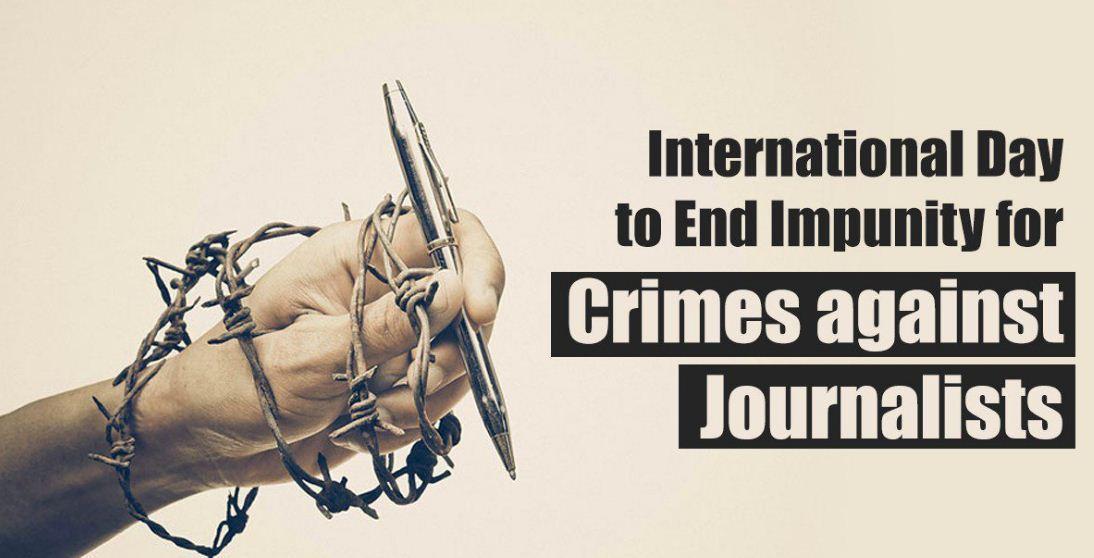 The International Day to End Impunity for Crimes against Journalists is a globally recognized occasion that shines a spotlight on the dangers and violence journalists and media workers face in their line of duty.
Every year, on November 2nd, this day serves as a poignant reminder of the vital role that a free press plays in upholding democracy and the imperative to safeguard those who uncover the truth
2023 marks the tenth anniversary of the United Nations Plan of Action on the Safety of Journalists, an initiative with a lofty mission – to create a secure and liberated environment for media professionals worldwide.
Schemes News
7.Prime Minister launches 'Mera Yuva Bharat (MY Bharat)' platform on the National Unity Day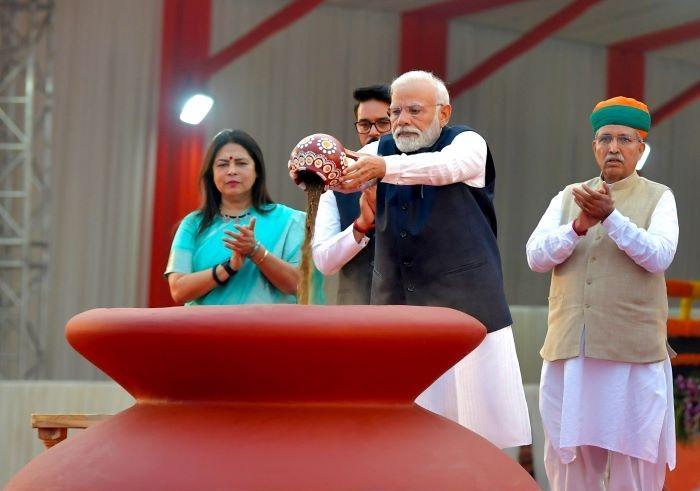 On October 31st, Prime Minister Shri Narendra Modi inaugurated the 'Mera Yuva Bharat (MY Bharat)' platform, a groundbreaking initiative designed to empower the youth of India.
This autonomous body, established by the Union Cabinet on October 11, 2023, aims to serve as a technology-driven facilitator for youth development and youth-led progress, fostering equitable opportunities and fostering a sense of social responsibility among young individuals.
'Mera Yuva Bharat (MY Bharat)' envisions a harmonious blend of physical and digital engagement, enabling young people aged 10-19 years to seamlessly connect with programs, mentors, and local communities. The goal is to deepen their understanding of local issues, nurture leadership skills, and encourage active participation in finding constructive solutions.
Ranks & Reports News
8.Mumbai Ranks Fourth In Global Housing Price Rise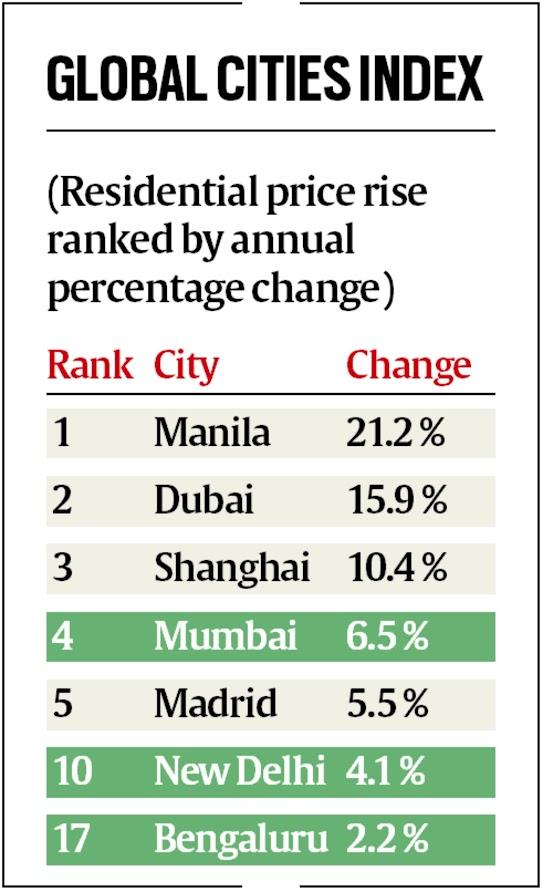 Knight Frank's Prime Global Cities Index, in its latest report, reveals that for the quarter ending in September 2023, Mumbai has achieved the fourth-highest year-on-year growth in prime residential prices among global cities. Mumbai's real estate market recorded a substantial 6.5% increase in prime residential prices
New Delhi's National Capital Region (NCR) has made a significant leap, climbing from the 36th rank a year ago to secure the 10th spot in the September 2023 rankings. This growth is underpinned by a substantial 4.1% year-on-year increase in prime residential prices.
Bengaluru, often referred to as the "Silicon Valley of India," has experienced a commendable rise in its global ranking. In 2022, the city held the 27th position, but in 2023, it soared to the 17th spot, backed by a 2.2% growth in prime residential prices.
Manila claims the top position in the Prime Global Cities Index. Manila has experienced an impressive 21.2% rise in residential property prices, a growth attributed to strong domestic and foreign investments in the city's real estate sector.
9.Alarming Rise in Road Accidents and Fatalities: India's Road Safety Crisis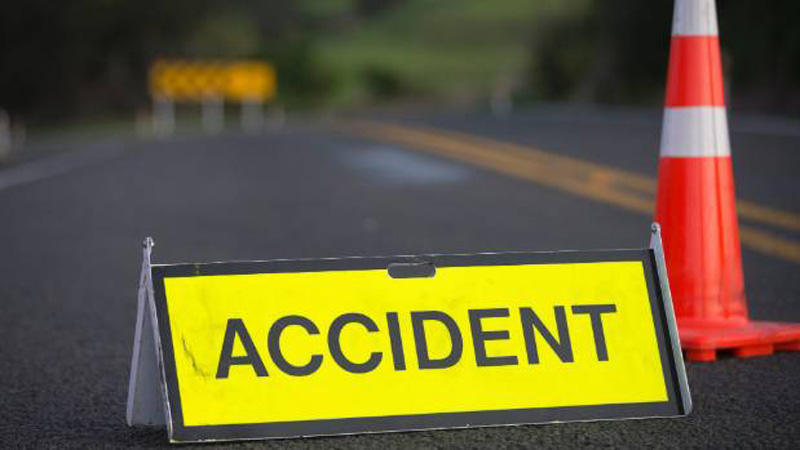 According to data released by the Ministry of Road Transport and Highways, the country experienced 53 accidents and 19 deaths every hour, amounting to a staggering 1,264 accidents and 42 deaths daily.
The severity of road crashes, measured by the number of people killed per 100 accidents, rose significantly from 28.2% in 2012 to 36.5% in 2022. During the pandemic, this rate spiked above 37%.
Uttar Pradesh recorded the highest share of deaths at 13.4%, followed by Tamil Nadu at 10.6% and Maharashtra at 9%. Over speeding was identified as the leading cause, accounting for a staggering 72.3% of accidents and 71.2% of deaths.
Appointments News
10.Deepesh Nanda Appointed As CEO & MD Of Tata Power Renewable Energy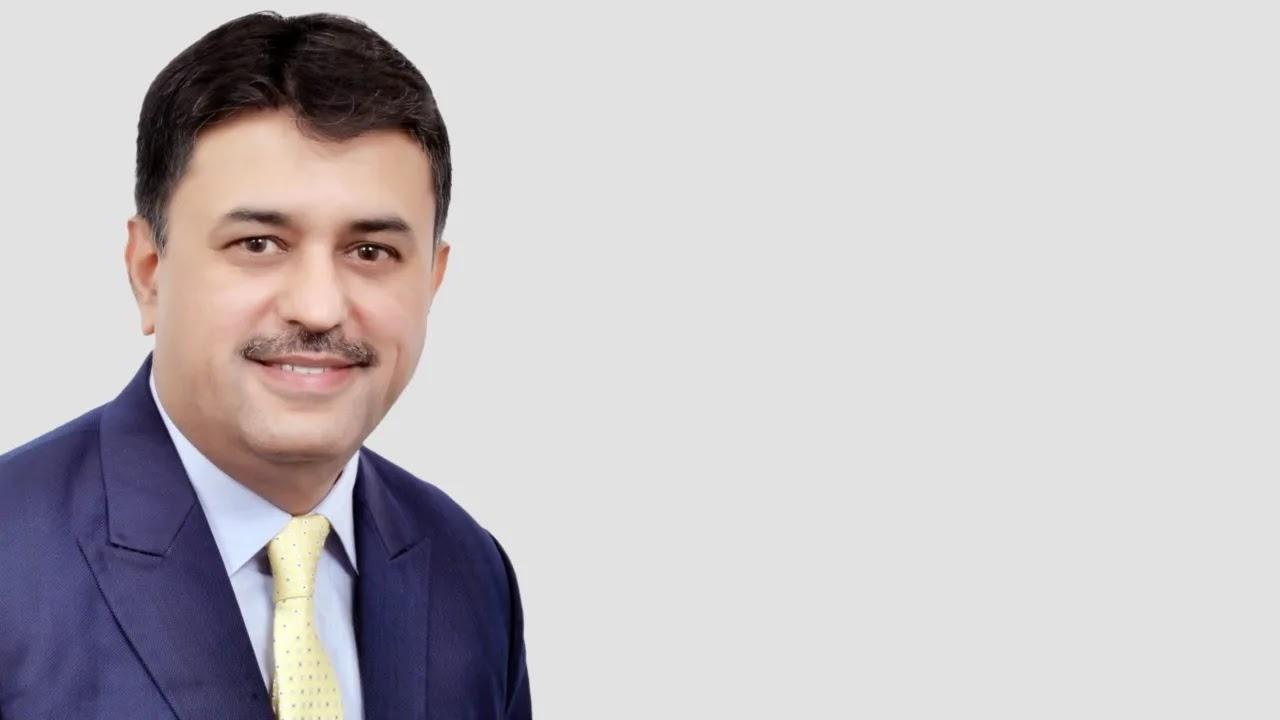 Tata Power, one of India's leading integrated power companies, announced a significant leadership change as it appointed Deepesh Nanda as the President-Renewables and the CEO & MD of its subsidiary, Tata Power Renewable Energy Limited (TPREL).
Deepesh Nanda, with 28 years of extensive experience in the industry, brings a wealth of knowledge and expertise to his new role. His professional journey has seen him excel in various roles across reputable companies like GE, Flowserve, and Tyco.
Prior to joining Tata Power, he served as the Chief Executive Officer for South Asia at GE Gas Power, overseeing operations in India, Bangladesh, Sri Lanka, Mauritius, and Nepal. Nanda also held the position of President & CEO of GE's Aero-derivative Gas Turbine business segment for Asia.
11.Saima Wazed Elected as WHO Regional Director for South-East Asia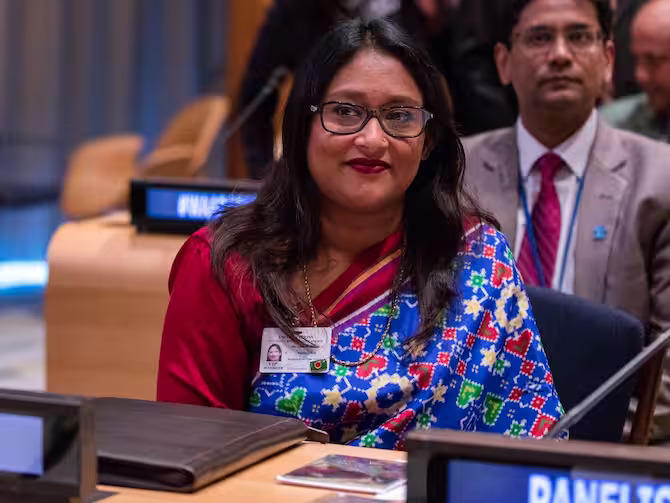 Bangladesh's Saima Wazed, daughter of Prime Minister Sheikh Hasina, emerged victorious in the election for the next World Health Organization (WHO) Regional Director for South-East Asia.
Saima Wazed currently serves as the chairperson of Bangladesh's National Advisory Committee on Autism and Neurodevelopmental Disorders. Her experience in promoting autism awareness and engagement in healthcare initiatives qualifies her for this crucial regional position
The SEARO is one of the six regions within the World Health Organization, with its headquarters located in New Delhi. This regional body plays a crucial role in addressing public health challenges and promoting healthcare initiatives in the South-East Asian countries.
Awards News
12.India-Born Author Nandini Das Wins 2023 British Academy Book Prize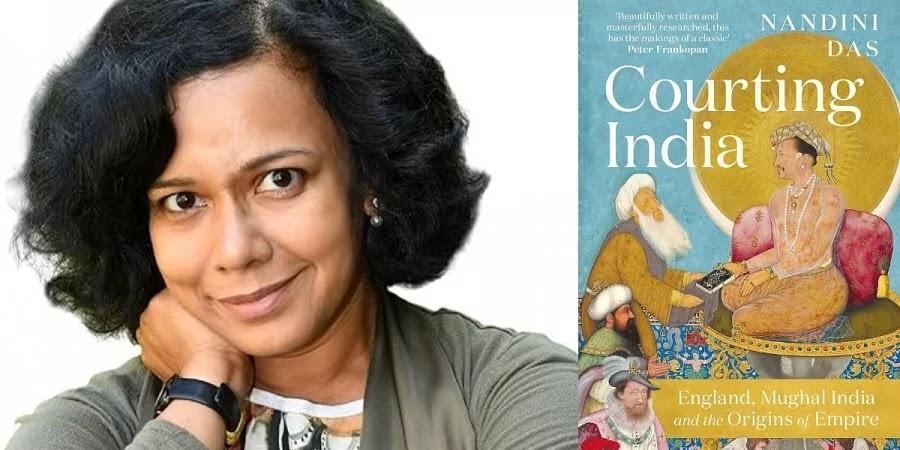 The British Academy Book Prize for Global Cultural Understanding, a prestigious international non-fiction award has been claimed by India-born author Nandini Das for her debut book, 'Courting India: England, Mughal India, and the Origins of Empire.'
This book delves into the historical account of the arrival of the first English ambassador in India, Sir Thomas Roe, during the early 17th century. In doing so, Das provides a unique lens through which to examine the intricate interactions between England and Mughal India, laying the groundwork for the empire that would eventually come into being.
The British Academy Book Prize for Global Cultural Understanding, previously known as the Nayef Al-Rodhan Prize, was established in 2013. Its mission is to recognize and celebrate exceptional works of non-fiction that exemplify academic rigor and originality.
Sports News
13.Aishwary Pratap Singh Tomar Wins Gold Medal In The 50m Rifle 3P event
At the Asian Shooting Championship 2023, Aishwary Pratap Singh Tomar clinched the gold medal in the men's 50m rifle 3 positions event. Tomar's impressive score of 463.5 in the final secured the top spot, making him the most successful Indian shooter at the event.
Tian Jiaming from the People's Republic of China secured the silver medal with a score of 462.7, while his fellow countrymen Du Linshu clinched the bronze medal with 450.3 points.
India's exceptional performance contributed to India's total medal count of 55, including 21 gold, 21 silver, and 13 bronze medals. In comparison, China emerged as the leading nation with 76 medals, including 33 gold.
14.Cricketer Sachin Tendulkar's statue unveiled at Wankhede Stadium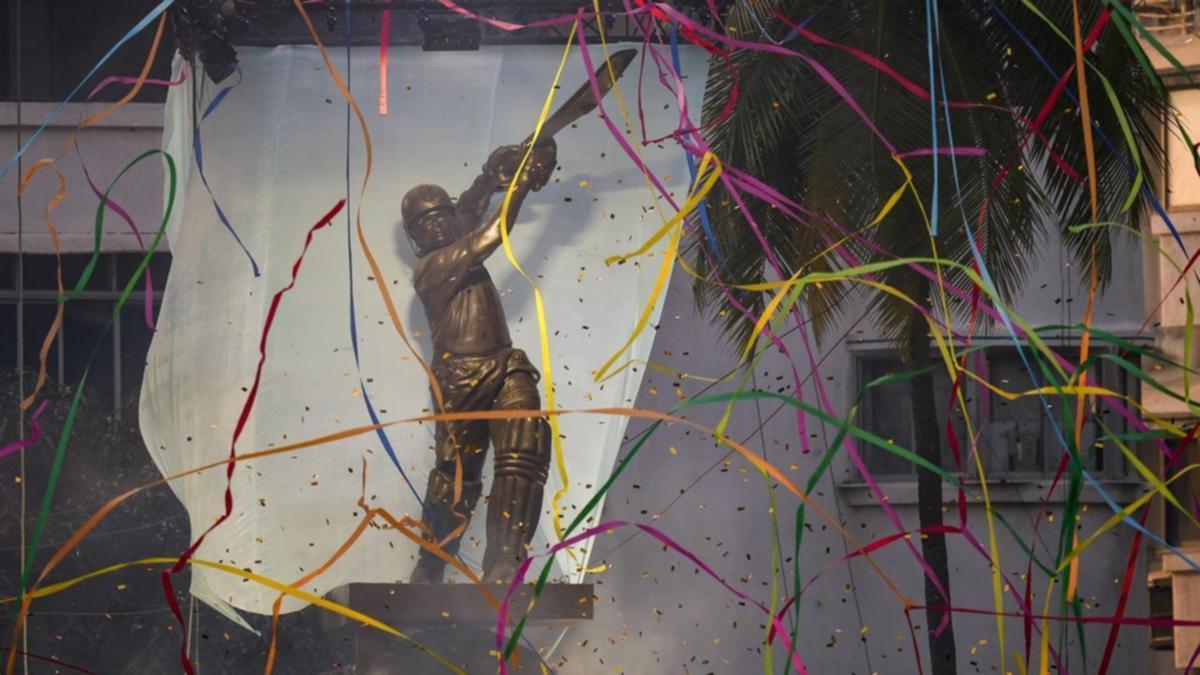 The iconic Wankhede Stadium in Mumbai is set to witness a momentous occasion as a statue of cricket legend Sachin Tendulkar will be unveiled, coinciding with the World Cup match between India and Sri Lanka.
The statue, capturing the legendary batsman in the midst of a cricket stroke, finds its place adjacent to the Sachin Tendulkar stand, paying tribute to the 'Little Master.' This remarkable sculpture is the creation of artist Pramod Kamble, a painter and sculptor from Ahmednagar.
Earlier this year, on Sachin Tendulkar's 50th birthday in April, the decision to place a statue at Wankhede Stadium was announced, making this unveiling an extraordinary tribute to the cricketing icon. Sachin Tendulkar himself will grace the unveiling ceremony.
15.David Willey Announces Retirement from International Cricket at Age 33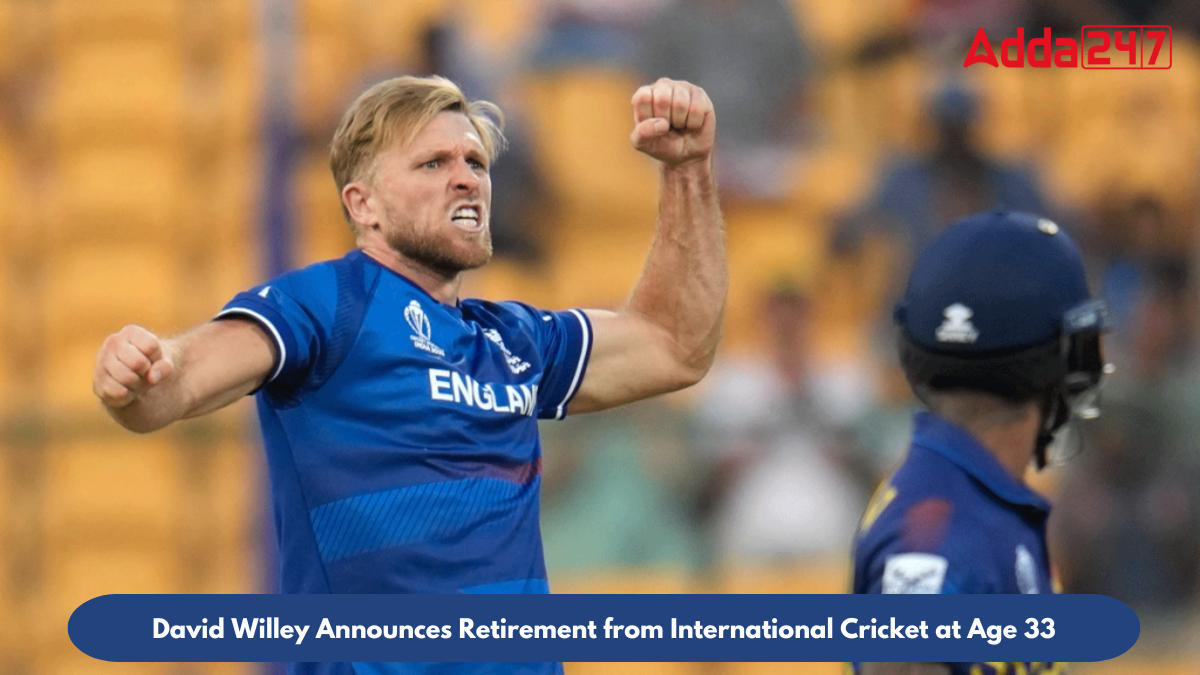 David Willey, the renowned all-rounder of the England cricket team, has declared his retirement from international cricket at the age of 33. Willey will play his final international match for England at the World Cup.
David Willey made his debut for the England cricket team in a no-result match against Ireland in May 2015, shortly after their group-stage exit from the World Cup. He played a pivotal role in England's white-ball squads as part of the team's rebuilding phase under the leadership of Eoin Morgan, Trevor Bayliss, and Andrew Strauss.
Over the course of his international career, he has amassed an impressive record, claiming 94 wickets in 70 One Day Internationals (ODIs) and an additional 51 wickets in 43 Twenty20 Internationals (T20Is), with his last appearance in October 2022.
Science & Technology News
16.India's Deep Ocean Mission (DOM): Unlocking the Depths of the Ocean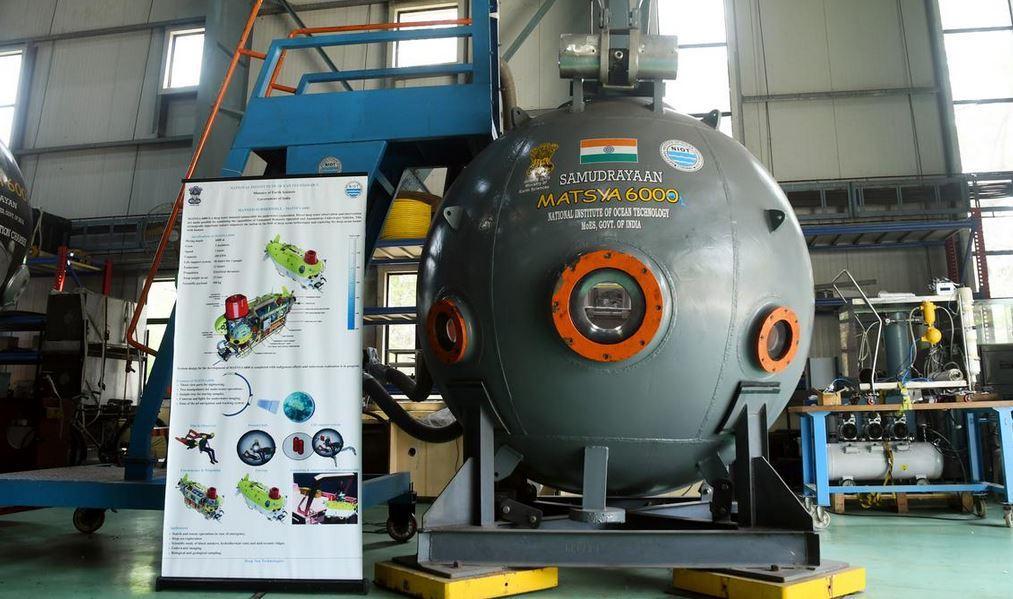 India's Deep Ocean Mission (DOM) marks a significant stride in underwater exploration, aiming to delve 6,000 meters into the ocean depths. This mission is spearheaded by the Ministry of Earth Sciences (MoES).
DOM focuses on developing indigenous technologies, including a manned submersible named Matsya6000, equipped with scientific sensors and tools.
DOM aims to identify potential sites of multi-metal hydrothermal sulphides mineralization along the Indian Ocean mid-oceanic ridges, contributing to mineral resource exploration.
17.Ashwini Vaishnaw: India To Become A Chip Fabrication And Design Hub In The Next Five Years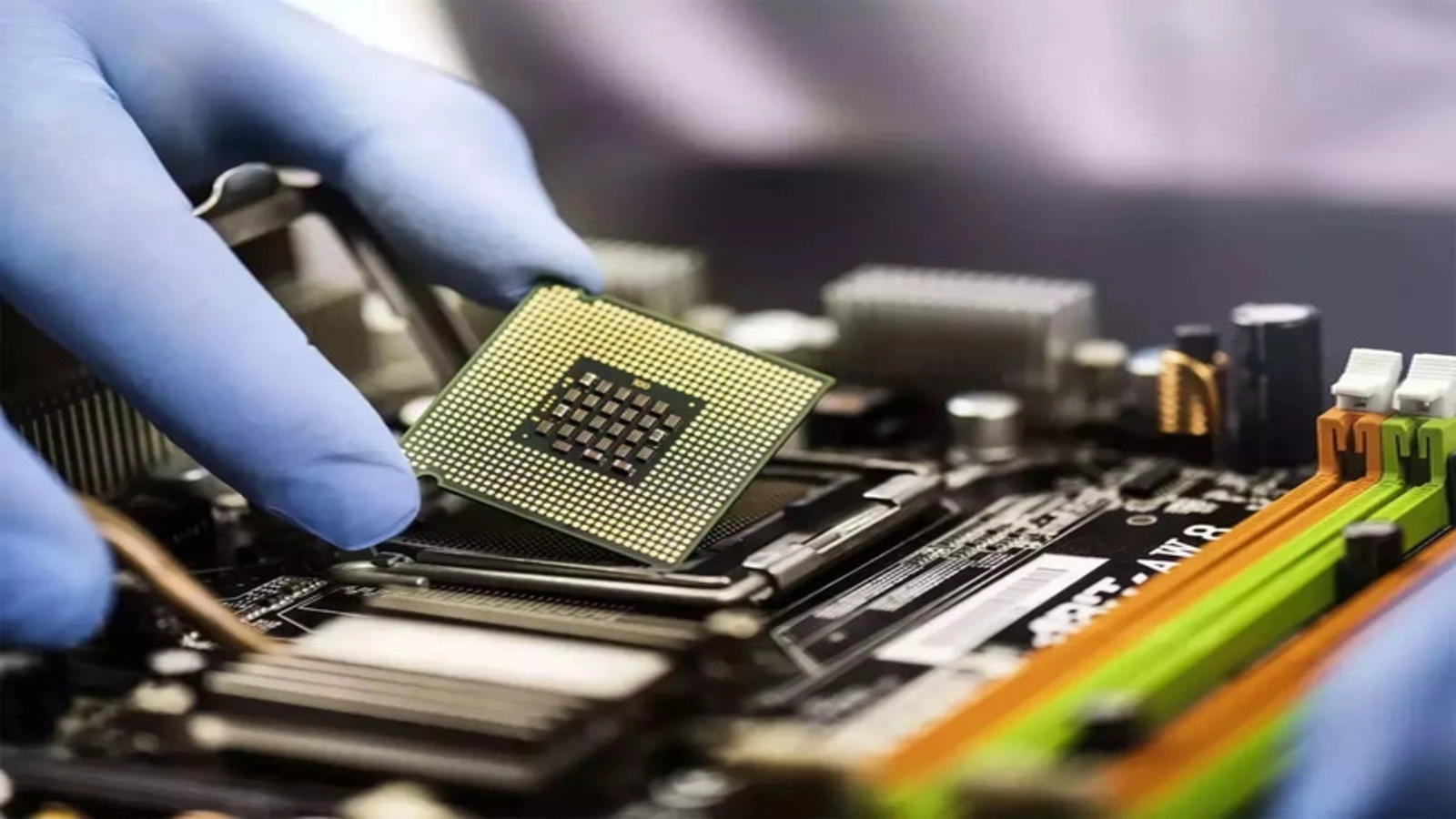 During the 21st edition of the Hindustan Times Leadership Summit, Ashwini Vaishnaw, the Union Minister for Electronics and Information Technology expressed his expectation that the global semiconductor market will double in the next 6-7 years, surpassing a trillion dollars in value.
Vaishnaw also announced the establishment of at least two large fabrication facilities offering "world-class technology." These facilities will not only boost India's domestic manufacturing capabilities but also attract global semiconductor players to invest in the country.
Moreover, India's homegrown 4G and 5G technology stack is nearing completion, with plans to launch it around Diwali. Vaishnaw anticipates that India will begin exporting telecom technology by the upcoming Diwali, emphasizing that India already exports technology equipment to 70 countries
Miscellaneous News
18.Zojila Day commemorated at Zojila War Memorial on 1st November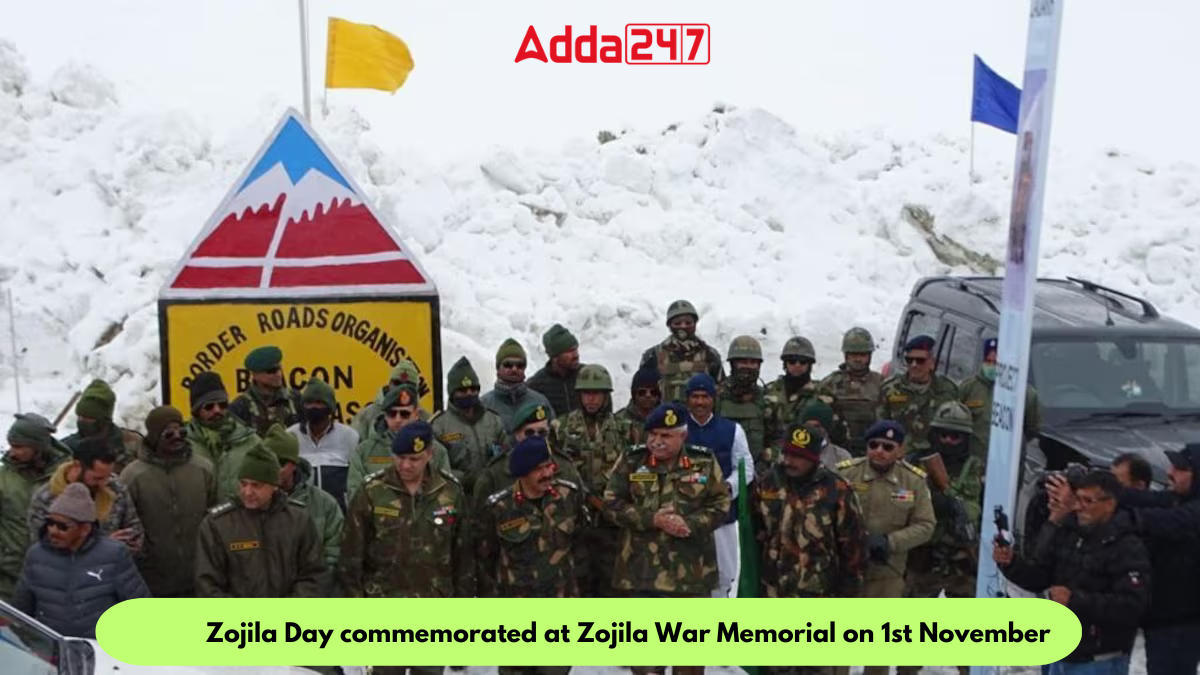 Zojila Day, celebrated on November 1st at the Zojila War Memorial near Drass, is a tribute to the valorous actions of Indian troops during 'Operation Bison' in 1948.
'Operation Bison' is a critical military operation launched in the challenging Zojila pass, which serves as the gateway to Ladakh This day celebrates the Indian Army's historic victory over Pakistani regulars and infiltrators, culminating in the recapture of the strategically vital Zojila Pass.
Zojila Pass connects the Kashmir Valley with the cold Indus Valley desert in the Ladakh region through the strategic Srinagar-Leh National Highway. It is situated at an elevation of approximately 3,528 meters (11,575 feet) and ranks as the second highest pass on the Srinagar-Leh National Highway, after Fotu La.
19.Iconic 'Throne Room' at Raj Bhavan in Kolkata named after Sardar Patel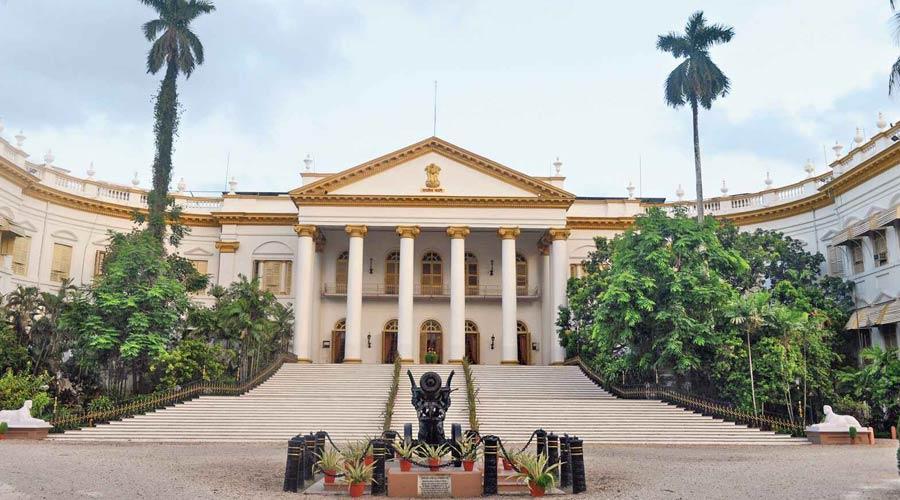 The iconic 'Throne Room' at the Raj Bhavan in Kolkata, which stands as a testament to the British era's grandeur, has been renamed to commemorate the legacy of Sardar Vallabhbhai Patel, the first Deputy Prime Minister and Home Minister of Independent India.
The 'Throne Room' will now bear the name 'Sardar Vallabhbhai Patel Unity Room,' symbolizing the unity and integrity that Sardar Patel championed during India's early post-independence years.
The 'Throne Room' is not just a space of historical importance but a repository of relics that echo the rich tapestry of India's past. It boasts a collection of thrones that were once occupied by iconic historical figures, including Lord Wellesley and Tipu Sultan.
Important Current Affairs of 2 November 2023
Get all the International, National, Sports, Economy, latest schemes and appointments and current affairs updates with Adda247 Headlines of the day. Adda247 headlines of the day brings you the best accumulation of the daily updates. Stay updated with us!