Dear Aspirants,
The General Awareness Section
plays an important role in scoring well above cut off marks in any competitive exam. The
Banking Awareness and Static Awareness questions asked in the General Awareness Section are based on Current Affairs mainly.
So you need to prepare well this section to score good marks.
Here is the Daily GK Update to get you acquainted with the top events that made the headlines today!!
National News


1. Mobile App 'Conquer Exam, Be a Warrior' Developed By IIPHG
i. Indian Institute of Public Health Gandhinagar, (IIPHG) in collaboration with National Mental Health Program, Department of Health and Family Welfare, Government of Gujarat has developed a mobile application called as 'Conquer Exam, Be a Warrior' for students to reduce the exam pressure.
Static/Current Takeaways Important for LIC AAO Exam:
Gujarat Capital: Gandhinagar CM: Vijay Rupani, Governor: Om Prakash Kohli.
Appointments
2. Gauri Sawant Becomes India's 1st Transgender Election Ambassador
i. The Election Commission of India has appointed transgender social activist Gauri Sawant, as one of the 12 election ambassadors from Maharashtra. She is the first transgender election ambassadors.
ii. According to the Election Commission, Gauri Sawant's appointment would help in more people from this category getting registered during the final phase of voters enrollment.
3. Kazakhstan President Resigns After Nearly 30 Years In Power
i. Kazakhstan President Nursultan Nazarbayev has announced his resignation after nearly 30 years in power. The 78-year old leader had ruled the country since it emerged from the collapse of the Soviet Union in the early 1990s.
ii. The Chairman of the Kazakh Senate would take over. The announcement came less than a month after the President sacked his government, citing a lack of economic development despite the country's vast energy resources.
Static/Current Takeaways Important For LIC AAO Mains Exam:
Kazakhstan Capital: Astana, Currency: Kazakhstani tenge.

Economy News



4. GST Council Approves Transition Plan For New GST Rates
i. GST council approved a transition plan for new goods and services tax rates on residential properties under which developers of under-construction buildings may either opt to shift to the revised lower rates without input tax credit or stick to the previous rates.
ii. Revenue Secretary Ajay Bhushan Pandey informed that for housing projects launched on or after the first of April 2019, the developers will have to adhere to the new GST rates recommended by the council.
Awards



5. Mathematician Karen Uhlenbeck becomes 1st Woman To Win Abel Prize
i. University of Texas professor Karen Uhlenbeck has become the first woman to win the Abel Prize, a mathematics honour first given in 2003. The 76-year-old was awarded for the impact of her work on "analysis, geometry and mathematical physics".
ii. Modelled after the Nobel Prize, the Abel Prize is presented by the King of Norway and carries a $700,000 cash award.
6. Indian Writer Raghu Karnad Wins Windham-Campbell Prize
i. An Indian journalist, author and chief of The Wire, 'Raghu Karnad' received the prestigious Windham-Campbell prize of USD 165,000 for his debut book, 'Farthest Field: An Indian story of Second World War', published in the year 2015 in the non-fiction category.
7. International Day Of Happiness: 20 March
i. International Day of Happiness is celebrated every year on March 20.
ii. The theme for IDH 2019 is 'Happier Together', focusing on what we have in common, rather than what divides us.
Obituaries


8. Famed Economist Alan Krueger Passes Away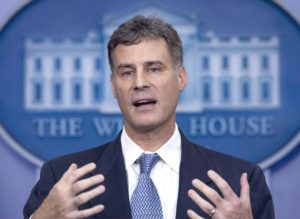 i. Former White House economist and Princeton University professor Alan Krueger passed away. He was 58.
ii. Krueger served as chief economist at the Department of Labor under President Bill Clinton and chair of the Council of Economic Advisers from 2011 to 2013 under former President Barack Obama.
You may also like to Read: