Read the most important current affairs of 21 September 2023. Today Current Affairs covers the headlines on "Chacha Chaudhary aur Chunavi Dangal," Volvo To End Diesel Car By 2024, "State of Working India 2023: Social Identities and Labour Market Outcomes," International Day of Peace 2023, World Alzheimer's Day 2023.

Top 20 Current Affairs and News Headlines of 21 September 2023
National News
1.ECI Ropes In Chacha Chaudhary & Sabu To Educate And Motivate Young Voters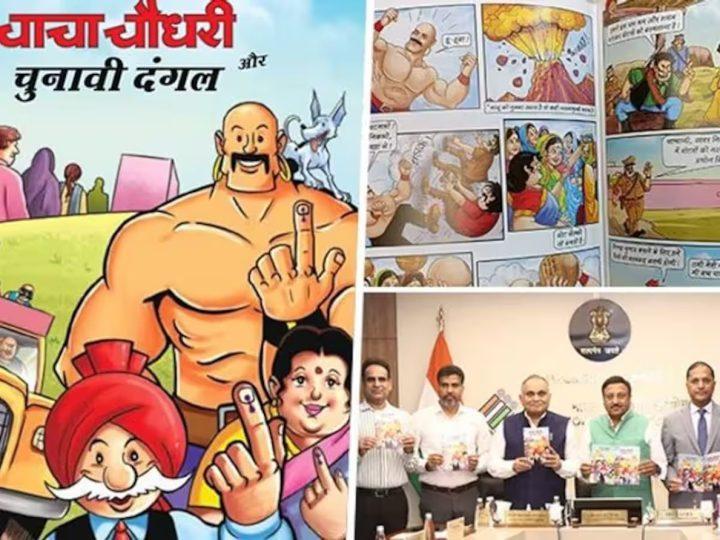 Given the immense popularity of Chacha Chaudhary comics, a unique initiative, a comic book titled "Chacha Chaudhary aur Chunavi Dangal," was launched by CEC (Chief Election Commissioner) Shri Rajiv Kumar and ECs (Election Commissioners) Shri Anup Chandra Pandey and Shri Arun Goel today at Nirvachan Sadan.
The comic book is a joint initiative of ECI (Election Commission of India) & Pran Comics designed to inspire the youth to enroll and participate in the festival of democracy. It features the iconic cartoon characters Chacha Chaudhary, Sabu, and Billoo brought to life by the renowned Cartoonist late Shri Pran Kumar Sharma.
This comic book serves as a multifaceted tool, addressing various critical aspects of voter awareness. Its primary focus is to encourage young eligible voters to register themselves, ensuring their active participation in forthcoming elections. In the comic, Chacha Chaudhary also plays a pivotal role in introducing readers to various apps developed by the Election Commission of India like cVigil and KYC, thereby empowering them to become an active and informed participant in the election process.
International News
2.UK PM Rishi Sunak Delays Ban on New Petrol and Diesel Cars by 5 Years in Net Zero Reset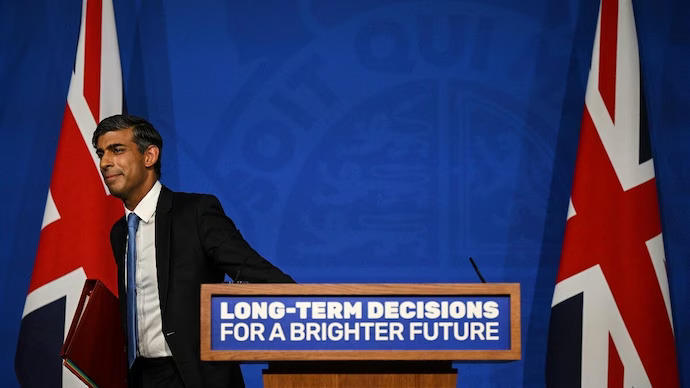 British Prime Minister Rishi Sunak has unveiled a shift in the UK's strategy for achieving its Net Zero climate action targets. This strategy includes a significant delay of five years in implementing the proposed ban on petrol and diesel cars, pushing the deadline to 2035.
Despite this delay, Sunak emphasized that the UK remains steadfast in its commitment to reduce carbon emissions and achieve its Net Zero target by 2050. The core objective is unchanged, but the approach is evolving to be more practical, proportionate, and realistic, particularly in light of the ongoing cost-of-living crisis.
In addition to delaying the ban on petrol and diesel cars, Sunak's plan includes: The ban on installing oil and LPG boilers, as well as new coal heating, for off-gas-grid homes by 2035 and Exemption for Fossil Fuel Boilers including gas, in 2035, allowing a transition to low-carbon alternatives. Policies that compelled landlords to upgrade property energy efficiency will also be scrapped.
3.Invitation to U.S. President Biden for Republic Day Celebration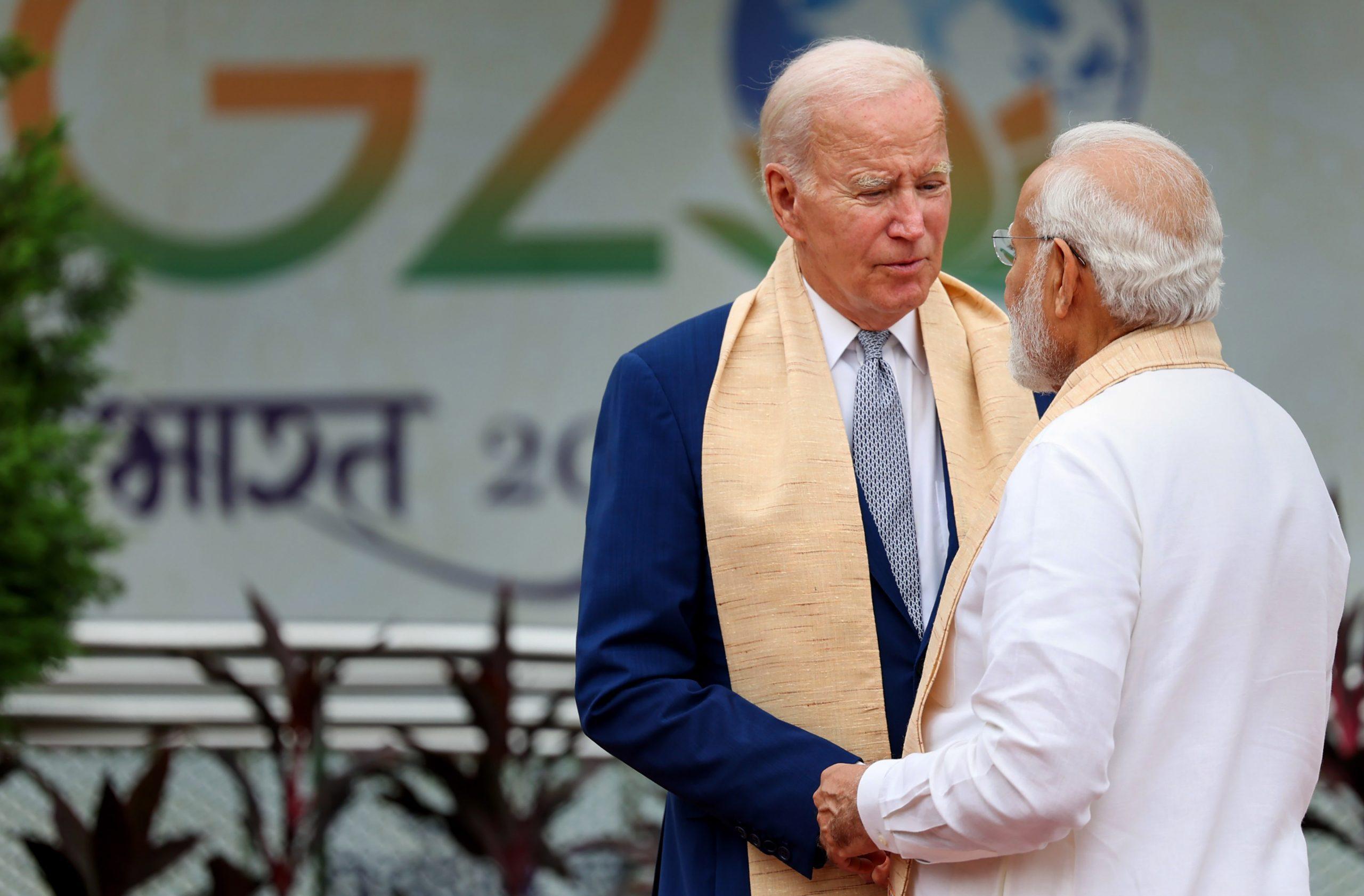 Indian Prime Minister Narendra Modi extended an invitation to U.S. President Joe Biden to be the chief guest at India's Republic Day celebrations on January 26 next year. U.S. Ambassador Eric Garcetti confirmed the invitation, stating that it is under consideration by the U.S. government. President Biden is also scheduled to visit India in 2024 for the Quad Summit, and efforts are being made to align the summit with his visit.
This marks the third time the Modi government has invited a U.S. President to be the chief guest at the Republic Day parade. In 2015, President Barack Obama was the first American President to attend Republic Day as the chief guest. President Donald Trump declined the invitation for January 2019 due to scheduling conflicts in the U.S. Congress.
4.Escalation in Nagorno-Karabakh Conflict: Azerbaijan Launches Military Operation
Azerbaijan's military operation in Nagorno-Karabakh has ignited concerns of a renewed conflict in the region. This long-standing dispute revolves around an ethnic Armenian region within Azerbaijani territory. The recent attacks have escalated tensions and raised international alarm.
Azerbaijan has initiated a military operation backed by artillery strikes in Nagorno-Karabakh. The operation was triggered by landmine incidents, attributed to Armenian saboteurs, resulting in casualties. Azerbaijan's defense ministry aims to disarm Armenian forces, secure their withdrawal from Azerbaijani territories, and neutralize their military infrastructure. They have reported the capture of over 60 military posts and destruction of numerous military vehicles.
Armenia's foreign ministry condemned Azerbaijan's actions as "large-scale aggression" and accused them of pursuing ethnic cleansing. Casualty figures remain unverified, but a separatist Armenian human rights official reported 25 casualties, including civilians.
State News
5.ICMR Approval for Truenat Test to Detect Nipah in Kerala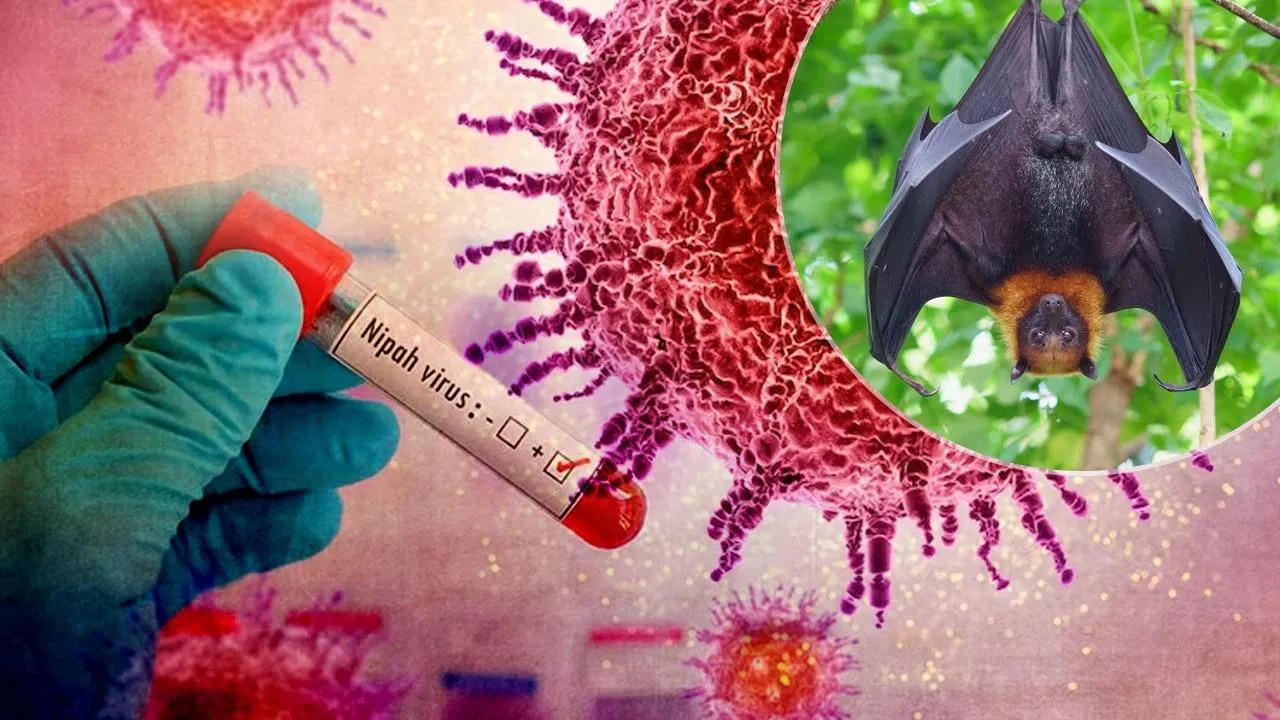 The Indian Council for Medical Research (ICMR) has granted approval for the use of the Truenat test to diagnose Nipah virus (NiV) in Kerala. This development is significant as hospitals equipped with Biosafety Level 2 (BSL 2) laboratories can now conduct the test. The Health Minister, Veena George, has announced that a standard operating procedure (SOP) will be formulated for conducting the Truenat test.
With the ICMR's approval, more laboratories in the state of Kerala will have the capacity to perform NiV diagnostics using the Truenat test. Samples testing positive for NiV through the Truenat method can be further analyzed at designated facilities such as Kozhikode or Thiruvananthapuram Medical College Hospitals or the Institute of Advanced Virology in the capital.
Nipah surveillance is integrated into the state's Aarogya Jagratha calendar, and healthcare workers have been trained in accordance with the Nipah protocol. Although the incubation period for Nipah is 21 days, the state intends to maintain surveillance for an additional 21 days, totaling 42 days of active monitoring.
Defence News
6.INDIAN NAVAL SHIPS, SUBMARINE & LRMP AIRCRAFT REACH SINGAPORE TO PARTICIPATE IN SIMBEX 23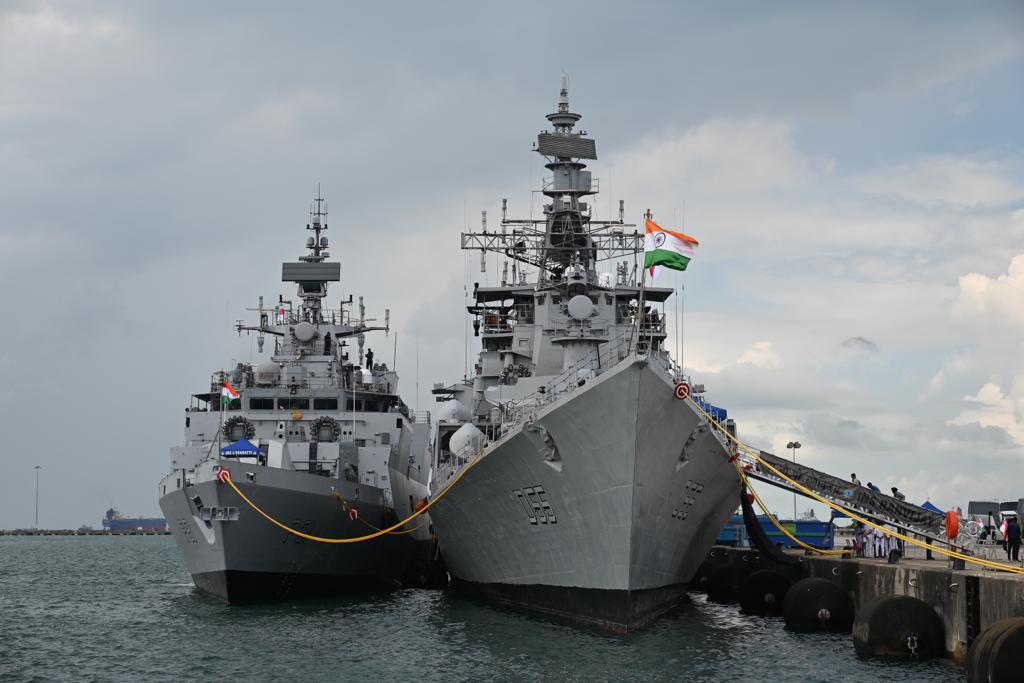 The 30th edition of the Singapore India Maritime Bilateral Exercise (SIMBEX) has commenced, marking another milestone in the strong and enduring partnership between the Indian Navy and the Republic of Singapore Navy (RSN).
This annual naval exercise, which began in 1994, stands as a testament to the deep-rooted maritime cooperation between the two nations. Indian Naval Ships Ranvijay and Kavaratti, alongside the submarine INS Sindhukesari, have arrived in Singapore to participate in SIMBEX-2023. The exercise also sees the inclusion of the Long-Range Maritime Patrol Aircraft P8I.
SIMBEX has etched its name in history as the longest continuous naval exercise conducted by the Indian Navy with any other country. Over nearly three decades, this bilateral exercise has evolved, providing a robust framework for maritime cooperation and partnership. It has not only strengthened the ties between the Indian Navy and RSN but has also contributed to regional stability and security in the Indo-Pacific region.
Economy News
7.ADB lowers FY24 GDP forecast to 6.3%, India Ratings raises it to 6.2%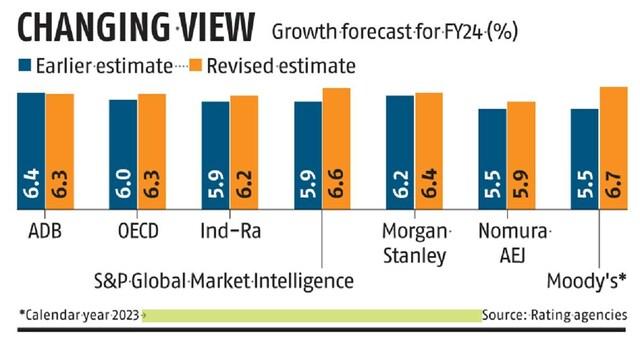 The Asian Development Bank (ADB) and India Ratings and Research have released contrasting forecasts for India's economic growth in the fiscal year 2024 (FY24). While ADB has lowered its projection to 6.3%, India Ratings has raised it to 6.2%.
ADB also revised its inflation projection for India in FY24 to 5.5%, up from the previous 5%. Adverse weather conditions have led to food inflation, contributing to South Asia's overall inflation rate. The continuation of the rice export ban could further escalate food price inflation.
Despite the downward adjustment for FY24, ADB maintains its growth projection for FY25 at 6.7%. This optimistic outlook is based on expectations of rising private investment and industrial output driving economic growth.
8.Increasing Regular Jobs but Lingering Unemployment Concerns: Report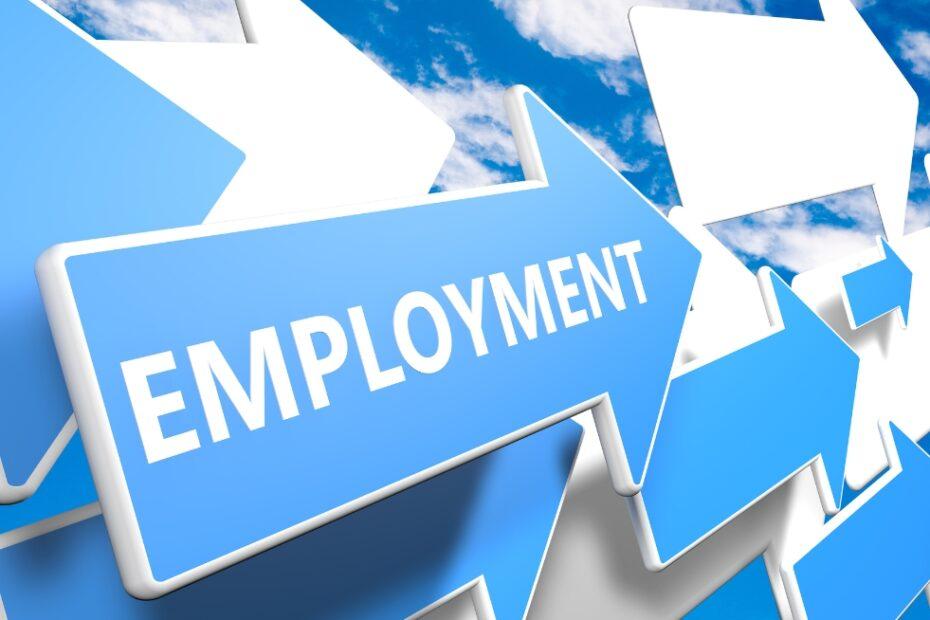 In a recent report titled "State of Working India 2023: Social Identities and Labour Market Outcomes," a group of economists and researchers from Azim Premji University shed light on the employment landscape in India.
This report highlights the dynamics of job creation, the prevalence of regular wage jobs, caste-based segregation, gender-based earnings disparities, and the impact of the COVID-19 pandemic on unemployment rates.
The report reveals that from 2004 to 2017, India witnessed an annual creation of three million regular jobs. However, between 2017 and 2019, this figure surged to five million jobs, indicating a positive trend in employment opportunities. One concerning aspect is that only 6% of these regular jobs provide any form of social security, including health insurance or accidental care insurance. This raises questions about the stability and well-being of the workforce.
Business News
9.Volvo To End Diesel Car Production By 2024, To Become All-Electric Carmaker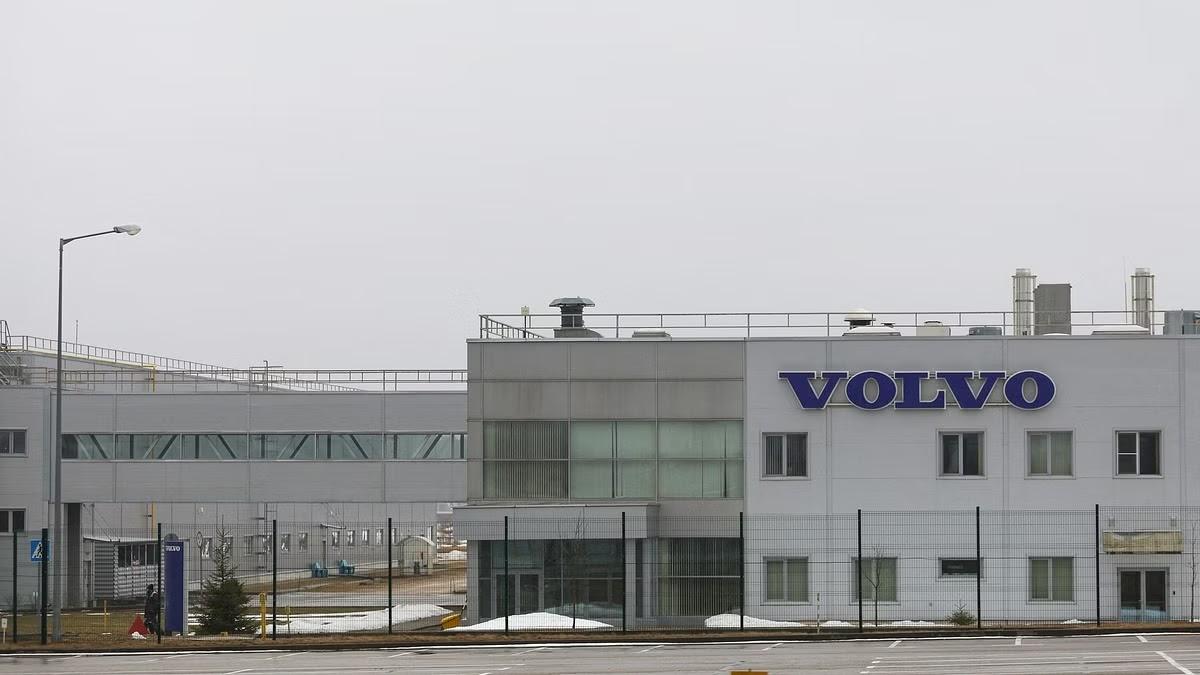 Volvo Cars, a prominent name in the automotive industry, has recently made a groundbreaking announcement. The Swedish car manufacturer has declared its intention to cease the production of diesel-powered vehicles by early 2024, marking a significant step toward its goal of becoming an all-electric carmaker. This decision aligns with Volvo's commitment to transitioning fully to electric vehicles by 2030.
Volvo's bold move to discontinue diesel vehicle production is a proactive response to the evolving landscape of the automotive industry. According to the company's official statement, the last diesel-powered Volvo car will roll off the assembly line in just a few months. This decisive action places Volvo among the pioneers in the automotive world, as one of the first legacy car manufacturers to completely eliminate diesel from its lineup.
Schemes News
10.Education Scheme For Medical Devices Sector Approved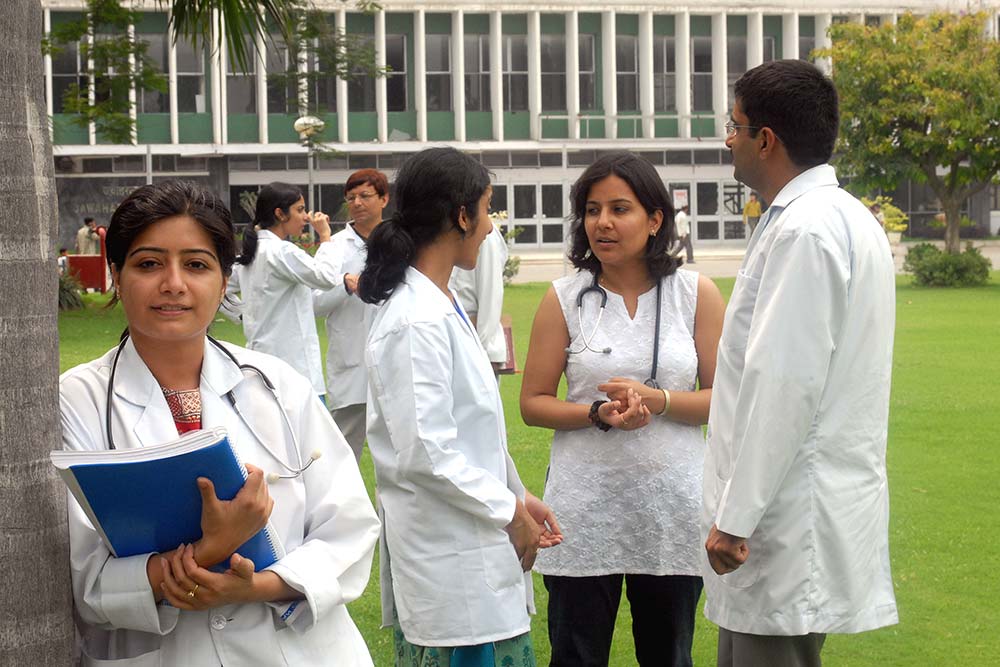 The Indian government has taken a significant step towards strengthening the country's medical devices industry by approving a ₹480 crore scheme aimed at developing a skilled talent pool.  This three-year initiative is poised to provide essential financial support to government institutions for the implementation of various courses related to medical devices, with the goal of upgrading these institutions to global standards.
One of the primary objectives of this scheme is to ensure a steady supply of skilled professionals across the medical device sector. To achieve this, the Department of Pharmaceuticals is poised to leverage the available resources within the Ministry of Skill Development and Entrepreneurship.
Under the new scheme, dedicated multidisciplinary courses for medical devices will be introduced in existing institutions. This initiative is designed to guarantee the availability of a highly skilled workforce capable of addressing the demands of futuristic medical technologies, high-end manufacturing, and cutting-edge research.
11.Assam Government To Launch A New Scheme Named Mukhyamantrir Atmanirbharshil Asom Abhiyan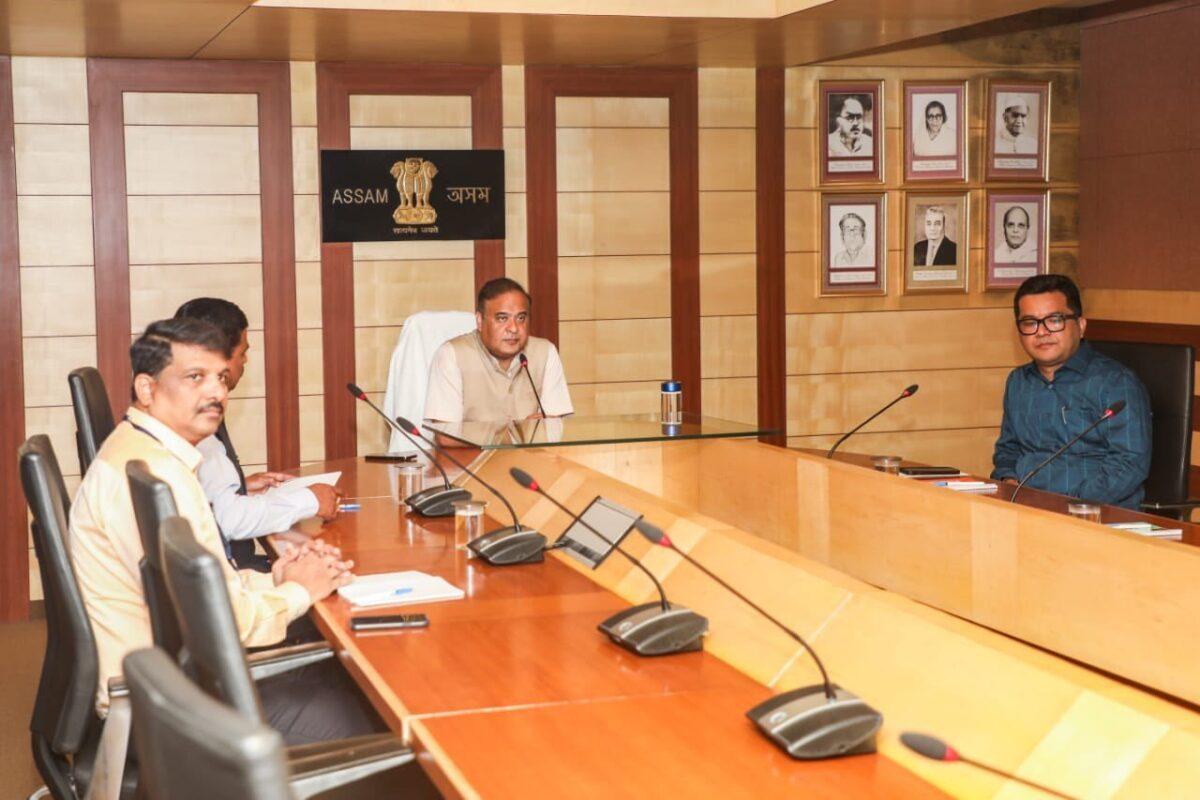 The Assam government is set to usher in a new era of empowerment and self-reliance for its youth with the launch of the "Mukhyamantrir Atmanirbharshil Asom Abhiyan." This ambitious scheme aims to provide financial assistance of Rs 2 lakh each to two lakh deserving young individuals, paving the way for a brighter and more self-sufficient future for the state's youth.
Over the span of two years, the government intends to extend financial assistance to a total of 200,000 eligible applicants, complemented by subsidies and an interest-free loan that carries a five-year repayment period.
Selected beneficiaries are required to engage in a month-long training program, during which they will receive a stipend of Rs. 10,000. This training initiative focuses on enhancing skills related to management, accounting, and entrepreneurship. Successful candidates must also meet the prerequisite of attending classes at their designated educational or skill training institutions.
Awards News
12.Government Comes Out With A New Set Of National Awards Known As "Rashtriya Vigyan Puraskar''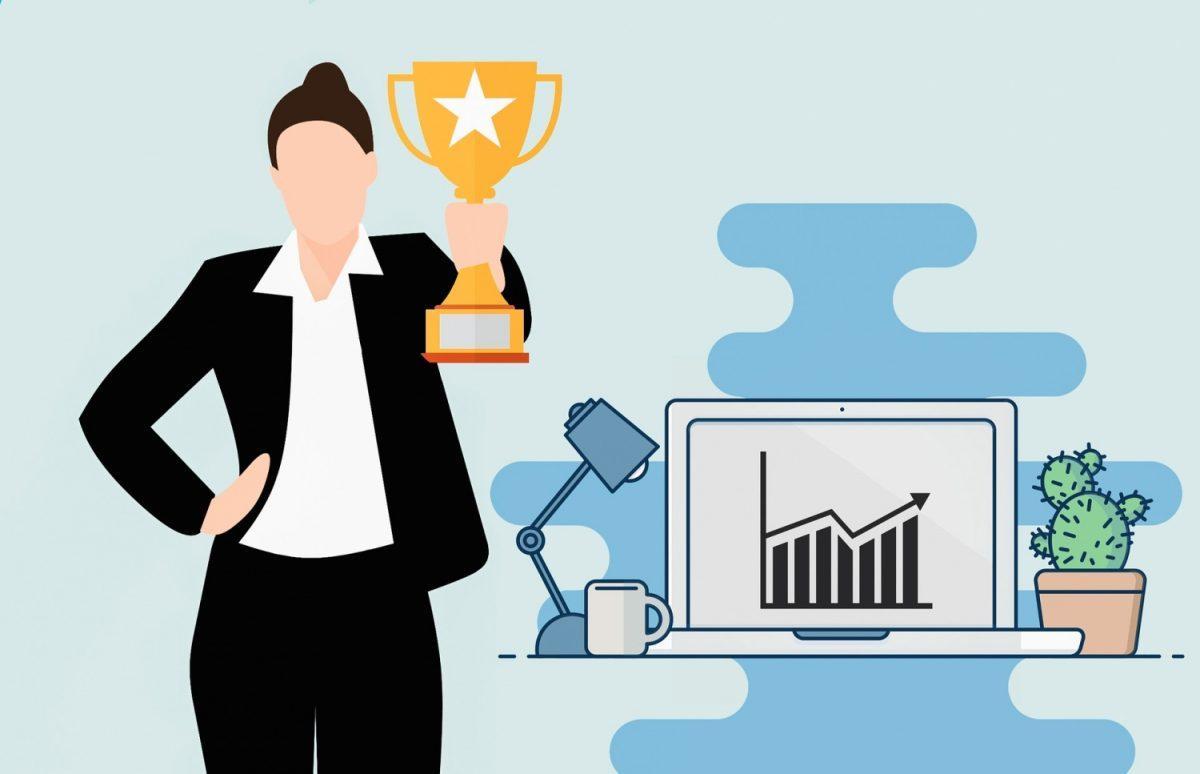 The Government of India has recently introduced a prestigious set of National Awards in the field of Science, Technology, and Innovation, known as the "Rashtriya Vigyan Puraskar" (RVP). These awards serve a vital role in recognizing and honoring the exceptional contributions made by scientists, technologists, and innovators who have significantly impacted various domains of science, technology, and technology-led innovation.
The Rashtriya Vigyan Puraskar stands as one of the highest honors within the scientific and technological community in India. It encompasses individuals from diverse backgrounds, including those working in government, private sector organizations, or as independent contributors to the scientific and technological landscape.
The Rashtriya Vigyan Puraskar encompasses 13 domains, ensuring comprehensive recognition of achievements in the scientific and technological spectrum. Nominations for the Rashtriya Vigyan Puraskar awards are meticulously reviewed by the Rashtriya Vigyan Puraskar Committee (RVPC).
Sports News
13.What is World Cup 'Golden Ticket' given to Indian Celebrities and who are the recipients?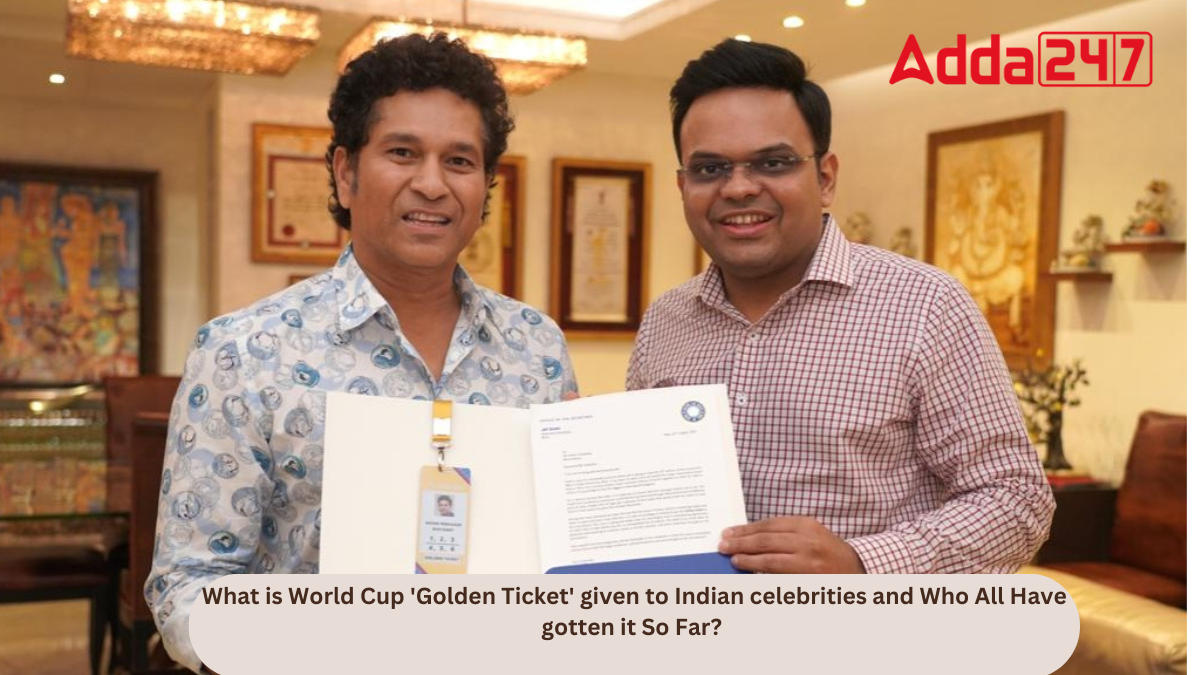 Jay Shah, the Secretary of the Board of Control for Cricket in India (BCCI), has handed out "Golden Tickets" to several iconic figures in India ahead of the hosting of the One-Day International (ODI) World Cup.
These Golden Tickets, bestowed by the BCCI, are aimed at promoting and publicizing the World Cup. Recipients of these exclusive tickets will not only have the privilege to witness all World Cup matches from the ground zero but will also be treated to VIP services.
The Golden Ticket is part of the "Golden Ticket for India Icons" program initiated by the BCCI. It is designed to honor India's greatest personalities. This ticket grants its holders the opportunity to watch all Cricket World Cup matches live from the stadium. Some of the recipients of this ticket are legendary Amitabh Bachchan, followed by cricketing maestro Sachin Tendulkar and most recently, the enigmatic superstar of Indian cinema, Rajinikanth.
14.BCCI announces SBI Life as official partner for 2023-26 Season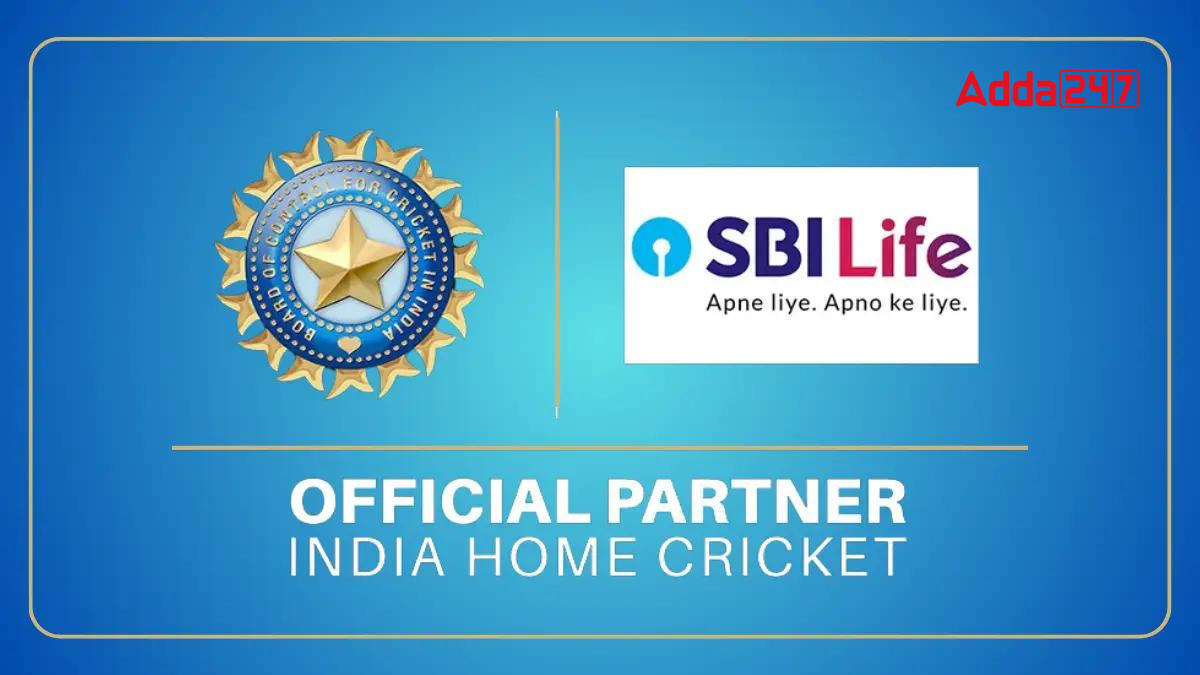 Board of Control for Cricket in India (BCCI) announced SBI Life as the official partner for the BCCI Domestic and International Season 2023-26 on September 20, 2023. This is a three-year deal, and the partnership will begin with the upcoming three-match ODI series against Australia, starting September 22, 2023.
The BCCI is one of the most powerful and influential sports organizations in the world, and SBI Life is a leading life insurance company in India. his partnership will help to promote and support cricket at all levels in India. SBI Life's commitment to excellence aligns perfectly with BCCI's vision for cricket. This collaboration reflects the  commitment of promoting and supporting the sport of cricket at all levels.
15.Harmanpreet, Lovlina To Be Flag-Bearers At Asian Games Opening Ceremony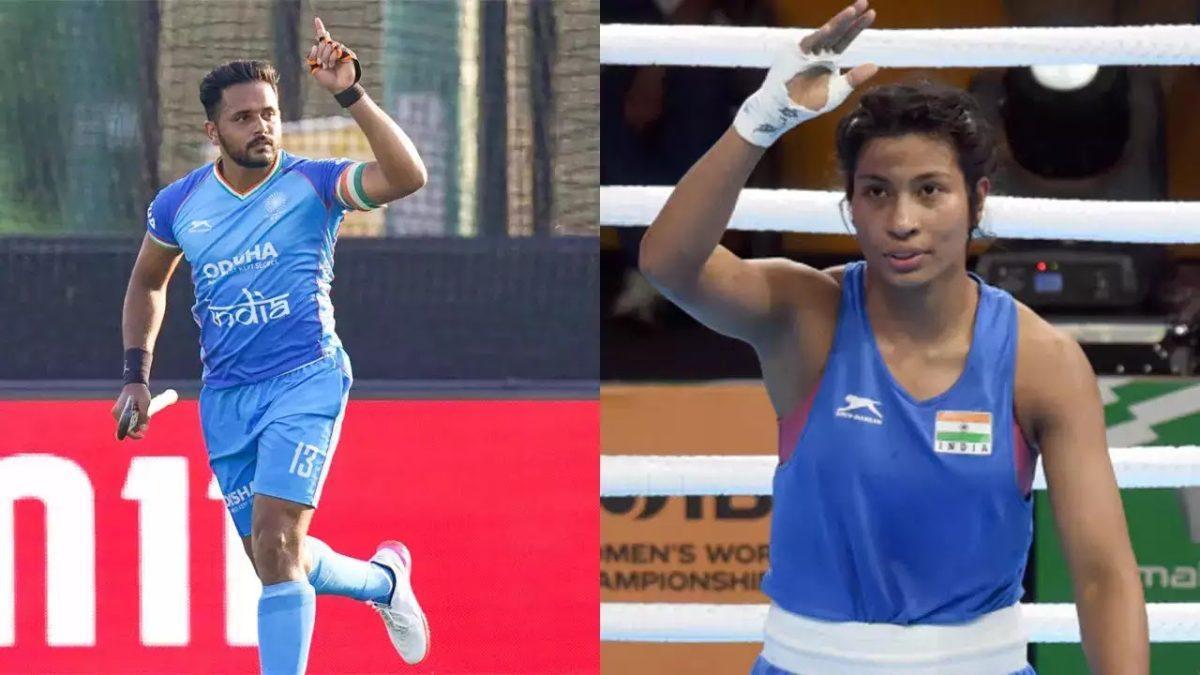 The Indian Olympic Association (IOA) has decided to have not one, but two flag-bearers: Harmanpreet Singh and Lovlina Borgohain, to lead the Indian contingent at the opening ceremony of the upcoming Asian Games 2023 in Hangzhou, China.
Harmanpreet Singh is widely regarded as one of the best drag-flickers in the world. He was an integral part of the Indian Hockey team that made history by winning a bronze medal at the Tokyo Olympics. Lovlina Borgohain, the Olympic medallist boxer, is another shining star in India's sporting constellation. She clinched a bronze medal at the Tokyo Olympics in the 69kg category.
The Asian Games 2023 will see a record-breaking Indian contingent with a total of 655 athletes representing the nation. This marks the largest Indian contingent ever to participate in the Asian Games, reflecting the country's growing prominence in the field of sports.
16.ICC Cricket World Cup 2023 anthem is released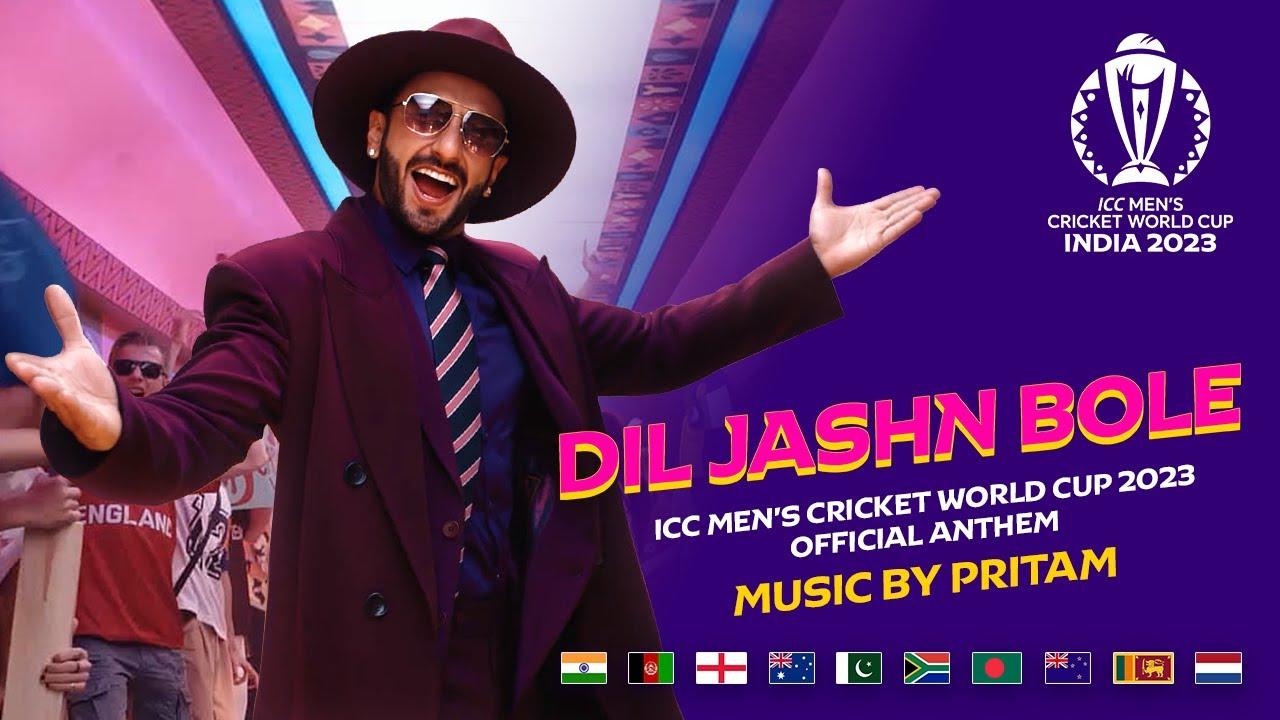 The International Cricket Council (ICC) has unveiled the official theme song for the upcoming ICC Men's Cricket World Cup 2023, set to be hosted in India. Titled 'Dil Jashn Bole,' this musical composition by Pritam is a vibrant celebration of cricket and the spirit of India.
The music video features the renowned Bollywood star Ranveer Singh in a leading role, alongside a star-studded cast of celebrities and content creators, including Dhanashree Verma, the wife of Indian cricketer Yuzvendra Chahal.
The song, 'Dil Jashn Bole,' captures the essence of excitement, enthusiasm, and the festive atmosphere that the tournament is expected to bring. With lyrics penned by Shloke Lal and Saaveri Verma, the song boasts a dynamic ensemble of vocal talent, including Nakash Aziz, Sreerama Chandra, Amit Mishra, Jonita Gandhi, AKASA, and features a rap performance by Charan.
17.New York, Dallas, and Florida to host T20 Cricket World Cup matches in 2024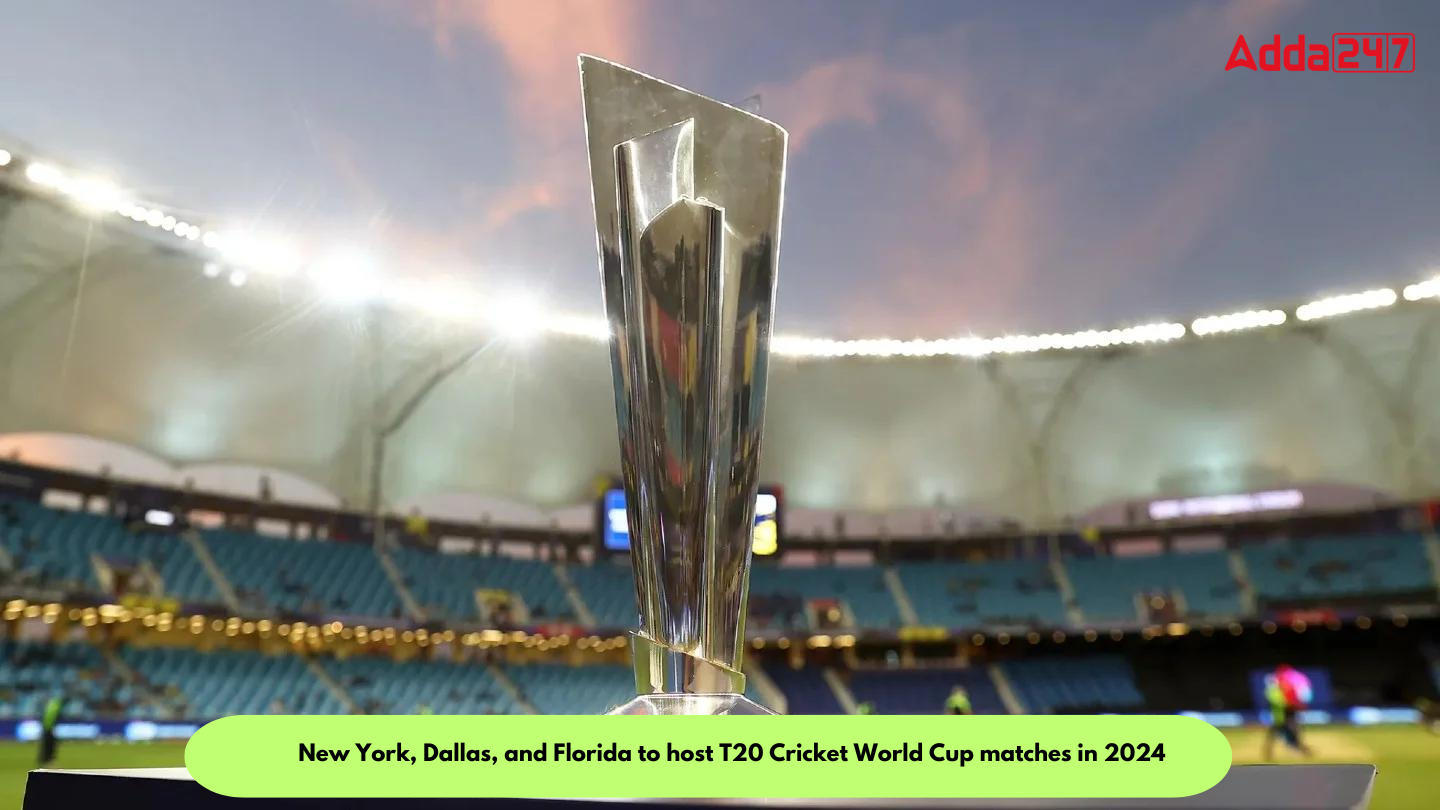 In a significant announcement, the International Cricket Council (ICC) has officially designated three prestigious venues in the United States for hosting the ICC Men's T20 World Cup 2024. This marks a historic moment as the tournament makes its debut on American soil, with Dallas, Florida, and New York being selected as the host cities.
To ensure the success of the ICC Men's T20 World Cup 2024, preparations are in full swing, including infrastructure development. Notably, a groundbreaking agreement has been reached for the construction of a cutting-edge, 34,000-seat modular stadium in Eisenhower Park, Nassau County, New York.
Moreover, the existing venues in Grand Prairie and Broward County will undergo expansions through modular stadium solutions. These upgrades will enhance seating capacity, media facilities, and premium hospitality areas, subject to final agreement.
Important Days News
18.International Day of Peace 2023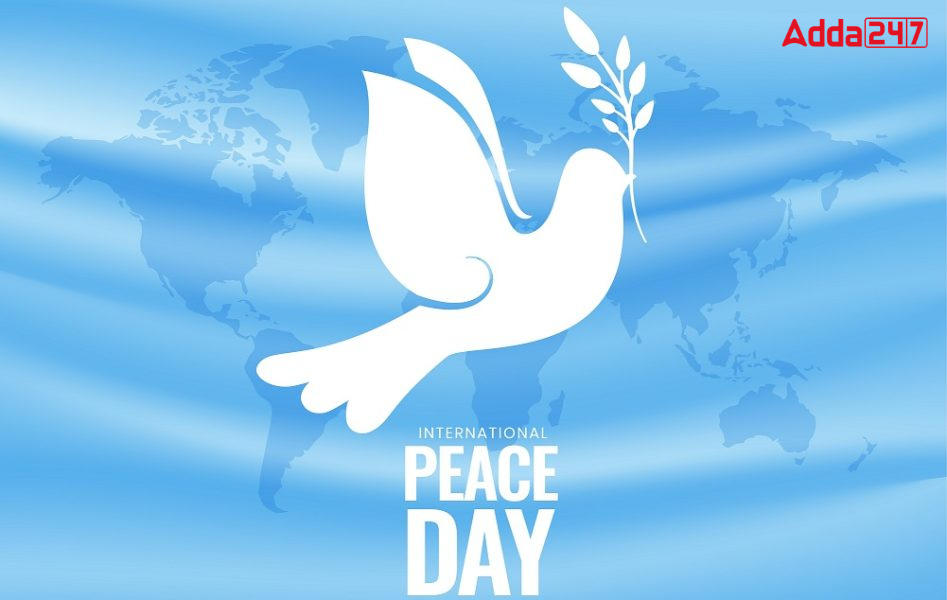 Each year on 21 September, the world comes together to observe the International Day of Peace (IDP). This day, established by the United Nations (UN), serves as a reminder of our commitment to peace, non-violence, and conflict resolution.
The theme for the 2023 International Day of Peace is "Actions for Peace: Our Ambition for the #GlobalGoals." This theme underscores our individual and collective responsibility in fostering peace.
The history of the International Day of Peace dates back to the United Nations General Assembly passing Resolution 36/67 on September 30, 1981. This resolution called for a global ceasefire and the cessation of all hostilities on that day. Subsequently, the third Tuesday of September each year was declared as the International Day of Peace.
19.World Alzheimer's Day 2023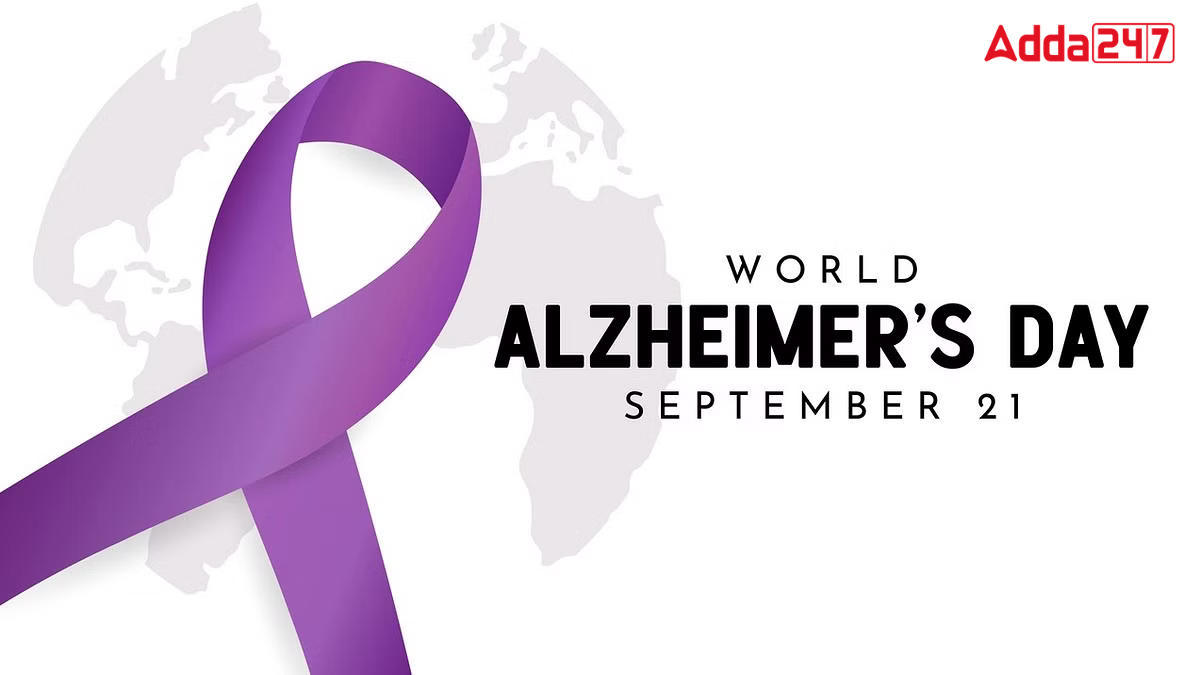 World Alzheimer's Day, observed on September 21 every year, is a global initiative aimed at increasing awareness about Alzheimer's disease and reducing the stigma associated with it and other forms of dementia.
Alzheimer's disease, the most prevalent type of dementia, accounts for 60-70% of dementia cases. It is a progressive brain disorder that affects memory, cognitive function, and behavior, gradually impacting an individual's daily life.
The entire month of September is dedicated to World Alzheimer's Month, and for 2023, the theme is "Never too early, never too late." This theme emphasizes the importance of identifying risk factors for dementia and adopting preventive measures to delay or mitigate its onset.
20.International Week of the Deaf 2023: September 18 to 24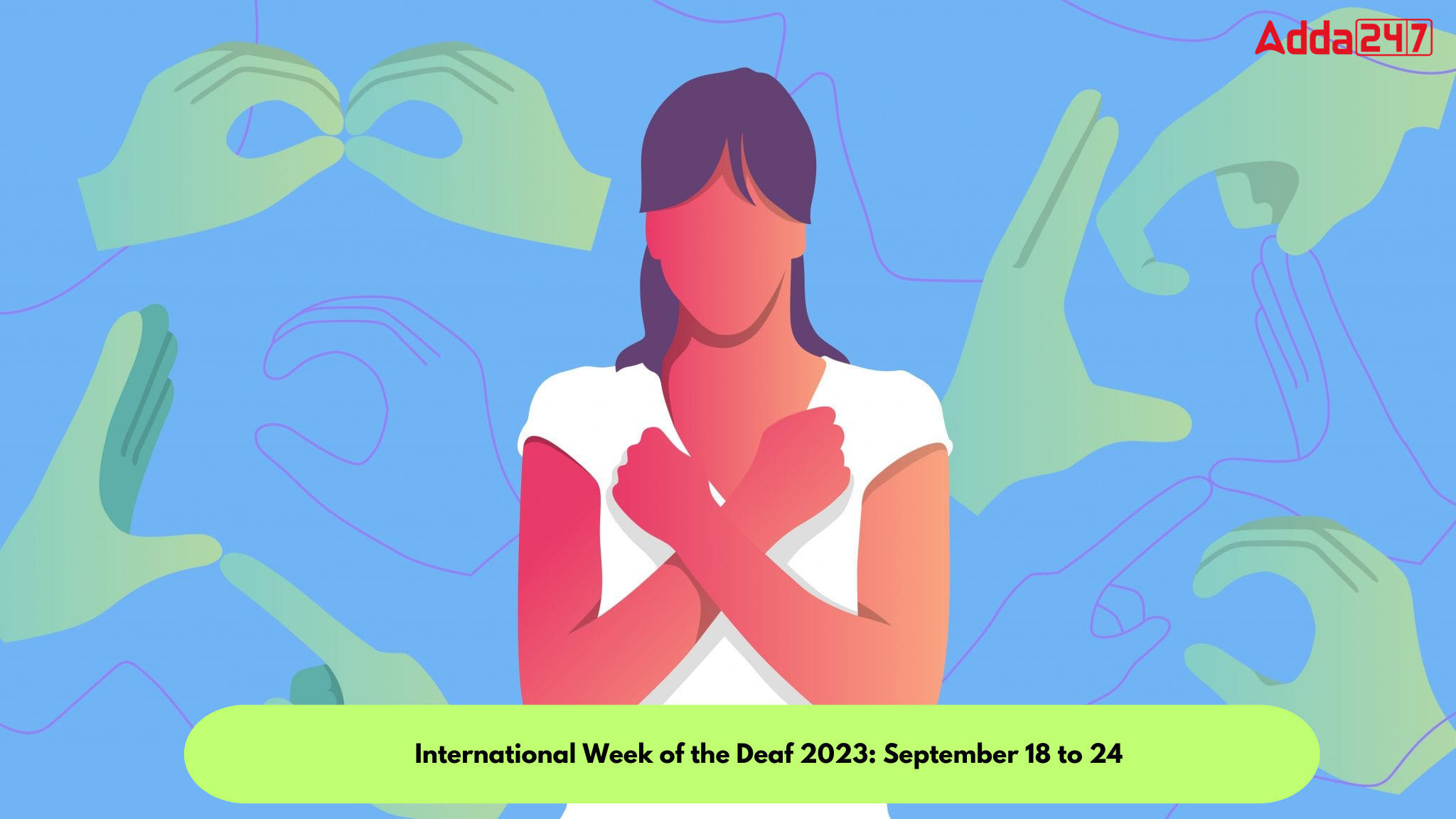 Every year, the full week ending on the last Sunday of September is observed as the International Week of the Deaf (IWD). In 2023, IWD is being observed from September 18 to 24. The last Sunday of the month of September is celebrated as the World Day of Deaf or International Day of the Deaf. (September 24, 2023).
IWDP aims to call for unity from the rest of the world through consistent, coordinated, and widespread mobilisation to ensure that the campaigns are visible
through sufficient media coverage.
The theme of 2023 IWD


| Date | Theme |
| --- | --- |
| September 18 | Declaration on the Rights of Deaf Children |
| September 19 | Enhancing Capacities in Deaf Communities Worldwide |
| September 20 | Realizing "Nothing without Us" |
| September 21 | Prioritizing Deaf People's Concerns |
| September 22 | Ensuring Sign Language Rights for All |
| September 23 | A World Where Deaf People Can Sign Anywhere! (International Day of Sign Languages) |
| September 24 | Cultivating Inclusive Deaf Communities |
Important Current Affairs of 21 September 2023
Get all the International, National, Sports, Economy, latest schemes and appointments and current affairs updates with Adda247 Headlines of the day. Adda247 headlines of the day brings you the best accumulation of the daily updates. Stay updated with us!