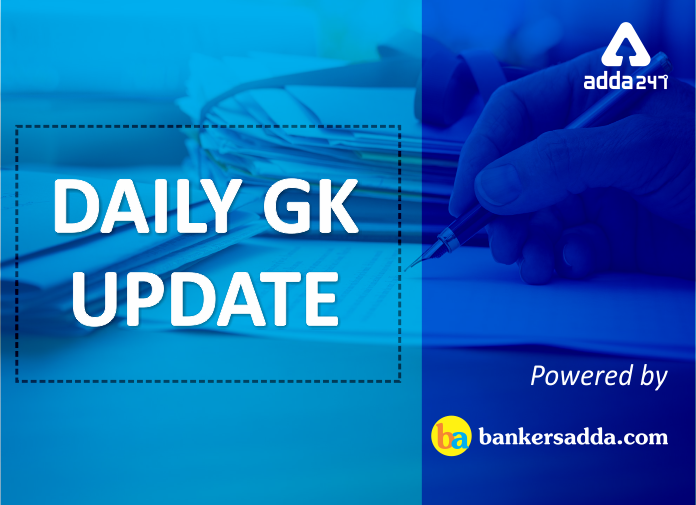 Dear Aspirants,
General awareness section is the most important part of every competitive exam, it can help you score well in the exam if you are updated with all the current news. Banking Awareness, Static GK and the current news are the parts that make the GA section complete. It is important to know what is happening in and outside of India. GK updates are incorporated with the important news that made the headlines today. It is the complete bag of the important news that held all day long. One should have complete knowledge about the banking terms, current affairs news, etc. So, here is the GK update of 15th and 16th December to help you prepare the Current affairs part. After reading this section, you can successfully attempt Current Affairs Quiz.


National News
1. FASTags becomes mandatory for all vehicles from 15th December 2019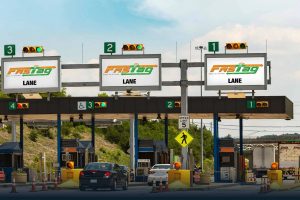 FASTags or prepaid rechargeable tags for toll collection have become mandatory for all vehicles from 15th December 2019.
The FASTags or prepaid rechargeable tags allows automatic payment of toll. The government launched the National Electronic Toll Collection System which provides for the collection of user fee through FASTag to save fuel and time, curb pollution and ensure seamless movement of traffic.
National Highways Authority of India has equipped all fee plazas with Electronic Toll Collection System.
With the help of a FASTag, drivers will not have to stop their vehicles at toll plazas to pay tax.
A FASTag uses radio frequency identification technology to enable direct toll payments from a moving vehicle.
2. Bureau of Energy Efficiency organises 29th National Energy Conservation Awards
Bureau of Energy Efficiency has organised the "29th National Energy Conservation Awards" under the guidance of Ministry of Power, Government of India.
India celebrates the National Energy Conservation Day every year on 14th December to recognise and celebrate the efforts towards energy conservation.
The day highlights the importance of energy conservation in Country's sustainable development approach.
During the event, a Handbook for Implementation of Provisions of Energy Conservation Act 2001 was also released.
International News
3. Nuad Thai massage included in UNESCO heritage list
Thailand's famous 2000-year-old massage, Nuad Thai was added to UNESCO's (United Nations Educational, Scientific and Cultural Organization) prestigious heritage list.
Nuad Thai is an intense form of massage in which the body is pulled and rotated well with the help of the thumb, elbow, knees and feet.
Thai massage originated in India and brought it to Thailand about 2,500 years ago by doctors and monks who carried its secrets for generations.
Static/Current Takeaways Important For IBPS SO 2019:
UNESCO formation: 4 November 1946.
UNESCO headquarters: Paris, France.
UNESCO Director-General: Audrey Azoulay.
4. Former PM Abdelmadjid Tebboune elected as the President of Algeria
Abdelmadjid Tebboune, former Prime Minister (PM) of Algeria was elected as the President of Algeria succeeding Abdelkader Bensalah.
He served as the PM from May 2017 to August 2017, under the governance of President Abdelaziz Bouteflika.
Static/Current Takeaways Important For RRB NTPC/SSC CGL:
Algeria Capital: Algiers
Algeria Prime Minister (PM): Noureddine Bedouia.
Algeria Currency: Dinar.
State News
5. Ministry of Coal to establish "Sustainable Development Cell" to promote clean mining
The Coal Ministry will establish 'Sustainable Development Cell' (SDC) for promoting sustainable coal mining in the country.
It will address environmental concerns during the decommissioning or closure of mines.
The Cell will advise, mentor, plan and monitor the mitigation measures taken by the coal companies for maximizing the utilization of available resources in a sustainable way, minimizing the adverse impact of mining and mitigating it for further eco-system services.
Sustainable Development Cell will also formulate the future policy framework for the environmental mitigation measures including the Mine closure Fund.
The Sustainable Development Cell envisages to address the environmental mitigation measures in a systemic manner and to provide a better environment to people working and residing in the vicinity of Mines.
Static/Current Takeaways Important For IBPS SO 2019:
Minister of Coal and Minister of Mines: Pralhad Joshi.
Awards
6. Toni-Ann Singh crowned Miss World 2019
Tony-Ann Singh of Jamaica was announced as the winner of the Miss World 2019 beauty pageant held at the ExCeL London.
She was crowned by her predecessor Miss World 2018 Vanessa Ponce from Mexico.
Ophelia Mezino of France and Suman Rao of India were the first and second runners up of the beauty pageant respectively.
Miss World 2019 was the 69th edition of the contest and contestants from 120 countries competed for the title.
Business
7. Edelweiss AMC launches India's 1st corporate bond 'Bharat Bond ETF'
Edelweiss Asset Management Company (AMC), a subsidiary of Edelweiss Capital Limited (ECL) has launched India's 1st Corporate Bond ETF (exchange trade fund) called the Bharat Bond ETF.
The ETF is a government initiative and Edelweiss AMC was given the mandate to design and manage the product.
Edelweiss aims to raise an initial amount of Rs 3,000 crore through this bond from institutional players with a greenshoe option of Rs 2,000 crore in the 3-year maturity period (2023) and Rs 4,000 crore with a greenshoe option of Rs 6,000 crore in the 10-year maturity bucket (2030).
Small retail investors will have to invest at least Rs 1,000 in this fund.
After this, there is a facility for multiple investments. Here they can invest up to 2 lakhs.
At the same time, the minimum amount for anchor investors has been fixed at Rs 10 crore.
Static/Current Takeaways Important For RRB NTPC/SSC CGL:
Edelweiss Capital Limited Headquarters: Mumbai; Founder: Rashesh Shah.
Edelweiss Capital Limited founded: 1995.
Summits and Conferences
8. Prime Minister chairs 1st meeting of National Ganga Council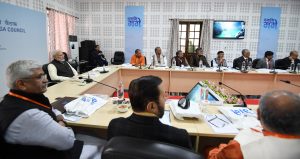 Prime Minister Narendra Modi has chaired the first meeting of the National Ganga Council.
The meeting was held in Kanpur, Uttar Pradesh. The first meeting of the Council aimed at reinforcing the importance of a 'Ganga-centric' approach in all departments of the concerned states as well as relevant Central Ministries.
The Council has been given overall responsibility for superintendence of pollution prevention and rejuvenation of River Ganga Basin, including Ganga and its tributaries.
Prime Minister urged for a holistic thinking process where 'Namami Gange' evolves to 'Arth Ganga' or a sustainable development model with a focus on economic activities related to Ganga.
The income generated from encouraging eco-tourism and Ganga wildlife conservation and cruise tourism etc. would help to generate sustainable income streams for cleaning of Ganga.
9. WDO to launch World Design Protopolis in Bengaluru
The World Design Organization is all set to launch its new global programme World Design Protopolis in Bengaluru. It is aimed at implementing holistic progress in megacities across the world and thus making them sustainable.
The project also aims to measure the progress of the city, attract investments and solve problems so that the city becomes a better place for citizens.
The mega event, witnessed the convergence of policymakers and government officials, design professionals from India and abroad, architects, interior designers, heads of various companies, thought leaders, besides the general public.
Static/Current Takeaways Important For IBPS SO 2019:
The International Council of Societies of Industrial Design was founded in 1957 from a group of international organizations focused on industrial design. It was renamed the World Design Organization in January 2017.
10. Rashtrapati Bhavan hosted university heads' conference
Rashtrapati Bhavan hosted a conference of 46 Heads of Central Universities and Institutes of Higher Learning in several fields including agriculture, pharmaceuticals, aviation, design, petroleum and energy.
Each of these institutes will be instrumental to the realization of the country's socio-economic goals.
The Central Agricultural Universities can support the national goal of promoting sustainable agriculture, productivity and supporting farmers with useful research.
During the conference, different sub-groups comprising of heads of various institutes made presentations on issues such as the promotion of research, promotion of innovation and entrepreneurship among students and building industry-academia linkages.
Books and Authors
11. Viswanathan Anand launches his autobiography 'Mind Master'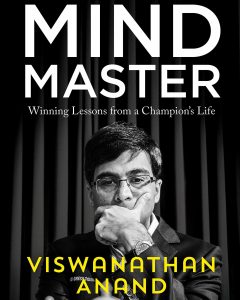 Viswanathan Anand has launched his autobiography 'Mind Master'. Anand's autobiography is co-authored by sports journalist Susan Ninann.
It has been published by THG Publishing Private Limited. The book covers wonderful memories of Viswanathan Anand's journey.
Obituaries
12. New Zealand three-times Olympic champion Peter Snell passes away
New Zealand's 3-times Olympic middle-distance champion Peter Snell passed away.
He was the last male athlete to have completed the 800m and 1500m double at an Olympic Games, which he achieved in Tokyo in 1964.
He also won 2 gold medals at the Commonwealth Games in 1962 in the 880 yards and one mile run in Perth.
Important Days
13. India celebrates Vijay Diwas: 16 December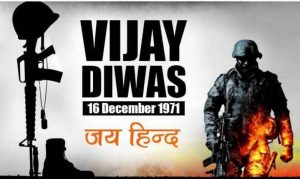 The nation celebrates 16 December as Vijay Diwas to commemorate India's victory over Pakistan in 1971 war.
The Indo-Pakistan war of 1971 which began on December 3 lasted for 13 days and officially ended on December 16, after which Pakistan surrendered to India.
It was on this day in 1971, the chief of the Pakistani forces, General AA Khan Niazi, along with 93 thousand troops, had surrendered unconditionally to the allied forces consisting of Indian Army and Mukti Bahini.
The end of the war also resulted in subsequent secession of East Pakistan into Bangladesh.
Miscellaneous
14. Google Earth covers 98 percent of entire population
Search engine giant Google has revealed that it's powerful mapping service, Google Earth now covers more than 98 per cent of the world, and has captured 10 million miles of Street View imagery, a distance that could circle the globe more than 400 times.
Google Earth, the software that lets you browse the globe with 3D representation, right from the comfort of your couch, offers 6 million square miles of high definition satellite images, covering more than 98 per cent of the entire population.
Static/Current Takeaways Important For RRB NTPC/SSC CGL:
Google CEO: Sundar Pichai;

Founded: 

4 September 1998.
Learn Current Affairs with ADDA247 Youtube Channel. Check out the video below.
You may also like to Read:
   All the Best BA'ians for LIC Assistant Mains and IBPS SO Prelims 2019 !!