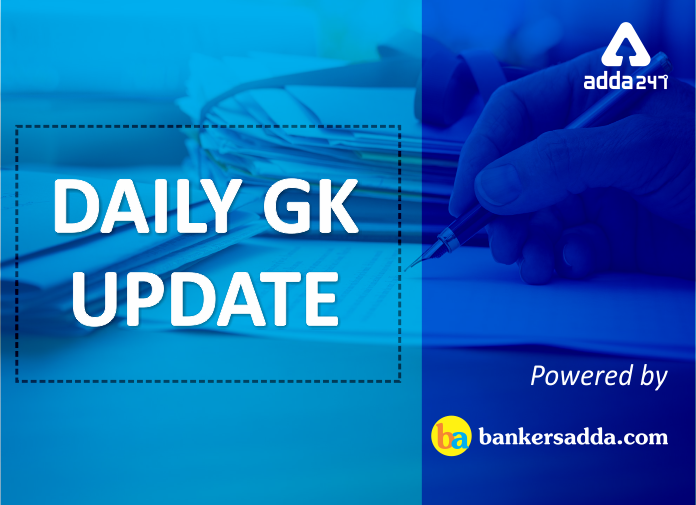 Dear Aspirants,
General awareness section is the most important part of every competitive exam, it can help you score well in the exam if you are updated with all the current news. Banking Awareness, Static GK and the current news are the parts that make the GA section complete. It is important to know what is happening in and outside of India. GK updates are incorporated with the important news that made the headlines today. It is the complete bag of the important news that held all day long. One should have complete knowledge about the banking terms, current affairs news, etc. So, here is the GK update of 20th December to help you prepare the Current affairs part. After reading this section, you can successfully attempt Current Affairs Quiz.

National News
1. Afghanistan becomes 1st country to recognize Indian Pharmacopoeia
The Indian Pharmacopoeia (IP) has been recognised formally by the National Department of Regulation of Medicines and Health Products of the Ministry of Public Health of Islamic Republic of Afghanistan.
With this Afghanistan has become the 1st country to recognize IP pursuant to the efforts of Department of Commerce and Ministry of Health and Family Welfare.
IP is an officially recognized book of standards as per the Drugs and Cosmetics Act, 1940 and Rules 1945 thereunder. It specifies the standards of drugs

manufactured and marketed in

India

in terms of their

identity, purity

and

strength

.

To ensure the quality of medicinal products, the legal and scientific standards are

provided

by

Indian Pharmacopoeia Commission

(IPC) in the form of Indian Pharmacopoeia (IP).
2. Portugal announces Gandhi Citizenship Education Prize
Portuguese Prime Minister Antonio Costa announced the setting up of a Gandhi Citizenship Education Prize. Portugal will be launching a Gandhi Citizenship Education Prize, each year inspired by his different thoughts and quotes.
The first edition of this prize will be dedicated to animal welfare as Mahatma Gandhi said that the greatness of a nation can be judged by the way its animals are treated.
Static/Current Takeaways Important For RRB NTPC/SSC CGL:
Portugal Capital: Lisbon; Portugal Currency: Euro.
International News
3. Donald Trump becomes 3rd US President to be impeached
Donald Trump has become the third US President in history to be impeached by the House of Representatives. The impeachment will led to setting up a trial in the Senate that will decide whether Trump will remain in office or not.
The House of Representatives formally charged Donald Trump with abuse of power.
The Democratic-led House passed the abuse of power article of impeachment on a largely party-line 230-197 vote. Although, no President in the 243-year history of the United States has been removed from office by impeachment.
Only two previous presidents have been impeached in the US history. The House in 1998 impeached President Bill Clinton

while President

Andrew Johnson

was impeached in 1868.
State News
4. Meghalaya Assembly to pass resolution to bring state under ILP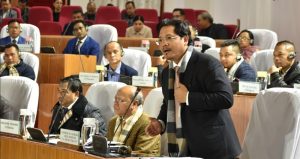 The Meghalaya Assembly unanimously adopted a resolution urging the Government of India to implement Inner Line Permit in the state under the Bengal Eastern Frontier Regulation, 1873.
The one-day special session was conducted with the sole intention to pass the resolution in view of the demand by the indigenous residents of the state for implementation of the ILP.
Inner Line Permit (ILP) is an official travel document issued by the Government of India to allow inward travel of an Indian citizen into a protected area for a limited period.
It is obligatory for Indian citizens from outside those states to obtain a permit for entering into the protected state. The document is an effort by the government to regulate movement to certain areas located near the international border of India.
Static/Current Takeaways Important For RRB NTPC/SSC CGL:
Meghalaya Capital: Shillong; Chief Minister: Conrad Sangma; Governor: Tathagata Roy.
Awards
5. Sahitya Akademi award 2019 released
Sahitya Akademi announced its annual Sahitya Akademi Awards in 23 languages. Seven books of poetry, four of the novel, six of short stories, three of essays and one each of non-fiction, autobiography and biography have won the Sahitya Akademi Awards 2019. This time, the awards for the Nepali language will be announced later.
The complete list of winners in a different language and genre categories is given in the table below. 
S.No
Language
Title and Genre
Name of the Author
 1
Assamese
Chanakya (Novel)
Joysree Goswami
Mahanta
 2
Bengali
Ghumer
Darja Thele (Essays)
Chinmoy
Guha
 3
  
Bodo
Akhai
Athumniphrai (Poetry)
Phukan
Ch. Basumatary
 4
Dogri
Bandralta
Darpan (Essays)
Om
Sharma Jandriari
 5
 English
  
  An
  Era of Darkness (Non-Fiction)
  
  Shashi
  Tharoor
  6
Gujarati
Mojma
Revu Re (Essays)
Ratilal
Borisagar
 7
  Hindi
Chheelate
  Hue Apne Ko (Poetry)
  Nand
  Kishore Acharya
 8
Kannada
Kudi
Esaru (Autobiography)
Vijaya
 9
Kashmiri
Akh
Yaad Akh Qayamat (Short Stories)
Abdul
AhadHajini
10
  
Konkani
The
Words (Poetry)
Nilba
A Khandekar
11
Maithili
Jingik
Oriaon Kariat (Poetry)
Kumar
Manish Arvind
12
Malayalam
Achan
Piranna Veedu (Poetry)
V
Madhusoodanan Nair
13
Manipuri
EiAmadi
Adungeigi Eethat (Novel)
L
Birmangol Singh (Beryl Thanga)
14
Marathi
Kadachit
Ajoonahi(Poetry)
Anuradha Patil
15
Odia
Bhaswati
(Short Stories)
Tarun
Kanti Mishra
16
Punjabi
Antheen
(Short Stories)
Kirpal
Kazak
17
  
Rajasthani
BareekBaat
(Short Stories)
Ramswaroop
Kisan
18
Sanskrit
  
  Prajnachakshusham
  (Poetry)
  
  Penna
  Madhusudan
19
Santali
Sisirkali
(Short Stories)
Kali
Charan Hembram
20
Sindhi
Jeejal
(Short Stories)
Ishwar
Moorjani
21
Tamil
Sool
(Novel)
Cho
Dharman
22
Telugu
Septabhoomi
(Novel)
Bandi
Narayana Swamy
23
Urdu
  
  Sawaneh-E-Sir
  Syed: Ek Bazadeed (Biography)
  
  Shafey
  Kidwai
The Award in the form of a casket containing an engraved copper-plaque, a shawl and an amount of Rs. 1,00,000/- towards cash content will be presented to the authors of these books at a special function to be held on 25 February 2020 at New Delhi during the Festival of Letters organized by Sahitya Akademi.
Appointments
6. Former HC Judge CV Ramulu appointed as Telangana Lokayukta
Former High Court Judge Justice CV Ramulu has been appointed as the Lokayukta of Telangana. Former Law Secretary V Niranjan Rao has been appointed as Upa Lokayukta.
The governor also appointed another former judge Justice G Chandraiah as Chairman of the State Human Rights Commission.

This is the first time that the state government has constituted the Lokayukta and Human Rights Commission since the state was formed in 2014.
Important takeaways for all competitive exams:
CM of Telangana: K Chandrashekhar Rao.
Capital of Telangana: Hyderabad.
Governor of Telangana: Tamilisai Soundararajan.
7. Devesh Srivastava appointed GIC chief
Devesh Srivastava has been raised to the position of Chairman and Managing Director (MD) at the General Insurance Corporation India (GIC Re).
Previously he was managing the departments of human resource and training, ReInsurance Worldwide (RIWW), corporate communications, CMD's Secretariat and innovation centre, he was transferred to GIC in 1999.
Important takeaways for all competitive exams:
General Insurance Corporation India founded: 22 November 1972.
General Insurance Corporation India Headquarters: Mumbai, India.
8. IPS officer Atul Karwal appointed as Director of National Police Academy
The Union Government appointed a senior Gujarat Cadre IPS officer Atul Karwal, as Director of Sardar Vallabhbhai Patel National Police Academy in Hyderabad.
He is a 1988 batch IPS officer, is currently posted as Additional Director General of Central Reserve Police Force (CRPF).
Science & Technology
9. International Astronomical Union names new star 'Sharjah'
The International Astronomical Union (IAU) announced the names of the newly discovered stars and planets, where the name "Sharjah" was chosen for a star with "Barjeel" being the name of one of its planets.
Important takeaways for all competitive exams:
International Astronomical Union Headquarters: 

Paris, France.

International Astronomical Union Founded: 

28 July 1919.
Economy
10. ADB & India signs $490 Million loan to upgrade roads of Madhya Pradesh
The Asian Development Bank (ADB) and the Government of India has signed a $490 million loan. The loan is signed for public-private partnership (PPP) project through the hybrid-annuity model (HAM) to upgrade about 1,600 km of state highways and major district roads in the state of Madhya Pradesh.
An additional $286 million investment will be mobilised through private sector participation under the PPP modality.
The upgradation of these roads under the project will improve rural and peri-urban connectivity in the state and improve access to markets and better services.
The HAM

is a

mix of engineering, procurement, construction,

and

build-operate-transfer.

This passes the responsibility of design, implementation, and operation and maintenance obligations to the private sector, while attracting some private sector financing.
Important takeaways for all competitive exams:
Asian Development Bank Headquarters: Manila, Philippines, President: Takehiko Nakao.
Sports
11. Indian men's football team ranked 108th in latest FIFA rankings
The Indian men's football team remained static at 108th spot in the year-ending FIFA rankings.
India lost 11 places throughout the year. With 1187 total points, India is placed at 19th spot among Asian countries headed by Japan 28th.
Important takeaways for all competitive exams:
President of FIFA: Gianni Infantino; Founded: 21 May 1904.
Headquarters: Zürich, Switzerland.
Defence
12. Upgraded version of Pinaka Rocket successfully test-fired off Odisha coast
An upgraded version of the indigenously developed Pinaka-guided rocket system with enhanced strike range and guidance system was successfully test-fired from the DRDO's Proof and Experimental Establishment firing test range off Odisha coast.
The system has a maximum range of 40 km for Mark-I and 75 km for Mark-II and can fire a salvo of 12 HE rockets in 44 seconds. It is mounted on a Tatra truck for mobility.
Pinaka is an indigenous multi-barrel rocket launch (MBRL) system, which has been developed by the Defence Research and Development Organisation (DRDO) for the Indian Army.
The weapon system is equipped with state-of-the-art guidance kit comprising of an advanced navigation and control system.
While the all-weather tracked-chassis Quick Reaction Surface-to-Air Missile (QR-SAM)

also tested from a mobile launcher at a launch complex of the Integrated Test Range.
Static/Current Takeaways Important For IBPS SO 2019:
DRDO Chairman: G Satheesh Reddy, Established: 1958, Headquarters: New Delhi.
Important Days
13. International Human Solidarity Day: 20 December
International Human Solidarity Day is organized across the world on 20th December. The General Assembly, on 22 December 2005, by resolution 60/209 identified solidarity as one of the fundamental and universal values.
International Human Solidarity Day is:
A day to celebrate our unity in diversity;
A day to remind governments to respect their commitments to international agreements;
A day to raise public awareness of the importance of solidarity;
A day to encourage debate on the ways to promote solidarity for the achievement of the Sustainable Development Goals including poverty eradication;
A day of action to encourage new initiatives for poverty eradication.
Learn Current Affairs with ADDA247 Youtube Channel. Check out the video below.
You may also like to Read:
   All the Best BA'ians for LIC Assistant Mains and IBPS SO Prelims 2019 !!