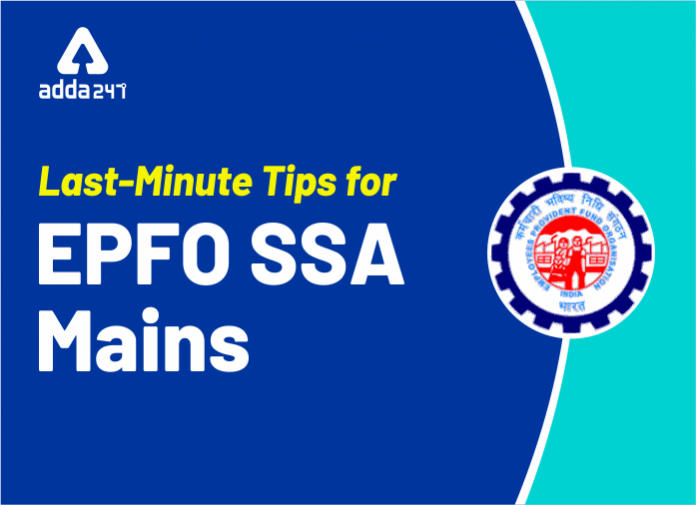 EPFO SSA Mains is scheduled to be held on 14th November 2019 which is around the corner now. Students going to appear for it are very close to their goal as the marks obtained in the EPFO SSA Mains will be considered for final selection. Although selected candidates will also have to appear for the computer test after clearing EPFO SSA Mains, but it will be qualifying in nature. Students, all your focus should now be at acing your marks, improving on your mistakes, speed and accuracy. Maximum attempts with a mix of good accuracy in EPFO Mains 2019 will help you fetch good marks to secure your selection in the upcoming exam.


We can not deny the fact that banking  or any other examination does take one through the emotional turmoil a few days before the actual exam. At this point of time, one best bet would be to revise the whole stuff that he has prepared in the past time. To help you with the revision process, here are some useful last minute tips to boost up your preparation. Make sure you are unladen and exam stress does not take a toll on you at the eleventh hour. Read the Last-minute revision tips here.
Last Minute Revision Tips For EPFO SSA Mains 2019
General Tips:
Have good sleep. This will help you to keep your mind refresh and active.
Do not try to pull an all-nighter a day before the exam it may make you unable to recall what you have learned so far and your ability to focus on the exam.
Try to exercise every day for about 15 minutes it gets the blood flowing. It resets your brain, increases blood flow to the brain and prepares you for critical thinking and retention in the difficult task..
Eat healthy food. A nutritious diet keeps your mind active and you will be able to perform well during the exam.
Avoid food the can lock your brain. such as foods made of white flour or those that are high in refined sugar: cookies, cakes, and muffins, chocolates, desserts or candies.
Revision Tips:
Revise the important topics before the actual exam. Divide your time for all the subjects so that nothing gets left out.
Do not start anything new as it may puzzle you before the exam. Revise what you have done till date so that everything remains fresh in your memory.
Make sure you practice what you revise. Revise all the formulas and how to compute  them in the questions. Your basic knowledge should be clear. Do not go for short tricks if you don't know how to use them as it will just waste your time.
How to attempt the exam:
Attempt the exam with the proper plan and strategy to that you do not feel puzzled what to pick and what you can leave for later.
Do not stick to a single question for a long time. This will consume your time which you can use in solving other questions.
Be on the right edge so that you will not be barking the wrong trees at the time of the exam.