RBI Grade-B Prelims Exam was held on 9th November 2019. Here, Bankersadda has come up with the General Awareness (GA) questions with answers to help you deal with your performance analysis. These questions will help to prepare for GA sections in other competitive exam like IBPS PO Mains, IBPS SO Prelims, LIC Assistant Mains, EPFO SSA Mains and IBPS Clerk Mains.
 Read the questions asked in the examination with solution below:

Q1. Where is the headquarters of Credit Saison India, Which has received a non-banking financial company (NBFC) licence from the Reserve Bank of India?
Answer: Bengaluru
Q2. Lalji Tandon is an Indian politician serving as the 22nd and current Governor of-?
Answer: Madhya Pradesh
Q3. Where is the headquarter of Lakshmi Vilas Bank?
Answer: Chennai
Q4. Which country has opened the largest solar farm in Southeast Asia?
Answer: Vietnam
Q5. The International Atomic Energy Agency (IAEA) is an international organization that seeks to promote the peaceful use of nuclear energy, and to inhibit its use for any military purpose, including nuclear weapons. Where is the headquarters of IAEA?
Answer: Vienna, Austria
Q6. The Reserve Bank of India (RBI) announced a minimum equity capital of _____________ crore to set up a small finance bank (SFB) under the 'on tap' licence regime to expand the banking services through high technology-low cost operations.
Answer: Rs 200 crores
Q7. UN-Habitat is the United Nations programme working towards a better urban future. Where is the headquarter of UN-Habitat?
Answer: Nairobi, Kenya
Q8. The Nobel Prize in Chemistry 2019 rewards the development of the-?
Answer: Lithium-Ion Battery Creators (John B. Goodenough, M. Stanley Whittingham and Akira Yoshino share the 2019 Nobel Prize in Chemistry)
Q9. Who beats John Millman to win the Japan Open 2019?
Answer: Novak Djokovic (Serbia)
Q10. Peter Higgs and Francois Englert was shared the 2013 Nobel Prize in which subject?
Answer: Physics
Q11. Pakyong Airport is a greenfield RCS airport in which city?
Answer: Gangtok, Sikkim
Q12. India-Maldives joint military exercise 'Ex EKUVERIN – 2019' culminated with an impressive closing ceremony held in-
Answer: Pune
Q13. Indian batsman Rohit Sharma is launching the Rohit4Rhinos campaign, in partnership with WWF India and _________________, to help build awareness for the need to conserve the Greater One-Horned Rhinoceros or the Indian Rhino.
Answer: Animal Planet
Q14. In which city, Defence minister Rajnath Singh has attended the meeting of the Council of Heads of Government (CHG) of Shanghai Cooperation Organisation (SCO)?
Answer: Tashkent, Uzbekistan
Q15. In which city, G20 2020 summit will be held?
Answer: Riyadh, Saudi Arabia
Q16. Which company has signed up world badminton champion Pusarla Venkata Sindhu (PV Sindhu) as its brand ambassador for two years?
Answer: Visa
Q17. Rudrasagar Lake, also known as Rudijala, is a lake located in-?
Answer: Tripura
Q18. Who is the first Lieutenant Governor of the union territory of Ladakh?
Answer: Radha Krishna Mathur
Q19. Which organisation has announced relaxation in norms for 'Muni Bonds' to help smart cities and other registered entities working in areas of city planning and urban development work like municipalities to raise funds through issuance and listing of their debt securities?
Answer: SEBI
Q20. Which organisation has constituted a working group on Social Stock Exchanges (SSE) under the chairmanship of Ishaat Hussain, Director, SBI Foundation?
Answer: SEBI
Q21. Piyush Goyal is the Minister of Railways and Minister of Commerce & Industry in the Government of India. Where is the Constituency of Piyush Goyal?
Answer: Member of Parliament for Rajya Sabha from Maharashtra
Q22. In which state, the Ratapani Tiger Reserve has been located?
Answer: Madhya Pradesh
Q23. Who has won the Professional Cricketers' Association awards recently?
Answer: England all-rounder Ben Stokes
Q24. The ________________ Integrity Unit has banned Indian sprinter Sheoran Nirmla for four-year.
Answer: Athletics
Q25. India's first e-waste clinic to be set up in-?
Answer: Bhopal
Q26. The Reserve Bank of India has given the final approval for the merger of district co-operative banks in-?
Answer: Kerala
Q27. The Railway ministry, Department of Science & Technology and _______________ have forged an association on a project on 'Industry 4.0', which includes a host of digital technologies like artificial intelligence, Big Data, machine learning and cloud computing.
Answer: IIT- Kanpur
Q28. Lessons Life Taught Me, Unknowingly – An Autobiography by-?
Answer: Anupam Kher
Q29. What is the official mascot of the 2022 Winter Olympics held in China?
Answer: Bing Dwen Dwen
Q30. _______________ delivers first AH-64 Apache combat helicopter.
Answer: Tata Boeing Aerospace
Q31. In which city the World Hindu Economic Forum 2019 was held?
Answer: Mumbai
Q32. The World Economic Forum Annual Meeting 2020 will be held in?
Answer: Davos, Switzerland
Q33. What is theme for the World Teachers' Day 2019?
Answer: "Young Teachers: The Future of the Profession"
Q34. The integrated exercise named 'Chang Thang' was conducted in-?
Answer: Ladakh
Q35. Trying to meet the disinvestment target set by the government, the _________________ and Niti Aayog are looking at the scope of putting various public sector enterprises (PSUs) on the block.
Answer: Department of Disinvestment and Public Asset Management (DIPAM)
Q36. What is the theme for the International Day of the Girl 2019?
Answer: GirlForce: Unscripted and Unstoppable
Q37. Reliance Insurance is one of the best life insurance companies in India catering to customers with wide range of life insurance policies. Now Reliance Insurance known as-?
Answer: Reliance Nippon Life Insurance
Q38. The Courage in Journalism Award is a prize by the International Women's Media Foundation (IWMF) for women journalists. Name the winners of this year?
Answer: Ukrainian journalists Anna Babinets of SLIDSTVO.INFO and Nastya Stanko of Hromadske; Anna Nimiriano of The Juba Monitor; Nicaraguan journalist Lucía Pineda of 100% Noticias who was recently released from prison; and, Liz Sly, the Beirut bureau chief for The Washington Post.
Q39. Where is the headquarter of Laxmi Vilas Bank?
Answer: Chennai
Q40. Largest solar park of India is located in which state?
Answer: Gujarat
Q41. The climate activist Greta Thunberg belongs to which country?
Answer: Sweden
Q42. What is the capital of Finland?
Answer: Helsinki
Q43. Name the Nephrologist and the Padma Shri Awardee who passed away recently.
Answer: Dr HL trivedi
Q44. Name the country which leads the list of countries with maximum migrants around the world, accounting for about 18 million persons living abroad.
Answer: India
Q45. The Ministry of Health and Family Welfare recently conducted the first-ever comprehensive National Nutrition Survey with the help of which organization?
Answer: UNICEF
Q46. Name the campaign launched by Life Insurance Council to raise awareness about the importance of life insurance.
Answer: Sabse Pahle Life insurance
Q47. The movie "Gully Boy" has been nominated for the Oscar. The movie is directed by?
Answer: Zoya Akhtar
Q48. The Vikram Sarabhai Library bagged the UNESCO Asia Pacific Award for Cultural Heritage Conversation 2019. The library is located in?
Answer: IIM Ahmedabad
Q49. The 5th edition of the World Parliament of science, religion and philosophy was organized by MIT World Peace University in?
Answer: Pune
Q50. Three railway stations of which state has bagged top honours in the railways' cleanliness survey unveiled by Railway Minister Piyush Goyal?
Answer: Rajasthan
Q51. India will offer $ 236 mn as additional credit to which country for setting up a 1.5 million tonne per annum oil refinery?
Answer: Mongolia
Q52. India is set to increase its public health spending to 2.5 per cent of its gross domestic product (GDP) by which year?
Answer: 2025
Q53. Who is the author of the book titled "150 Years of Celebrating the Mahatma the South African Legacy" which was recently launched in Johannesburg, South Africa?
Answer: Fakir Hassen
Q54. Article 15 of the Indian Constitution is related to?
Answer: Prohibition of discrimination on grounds of religion, race, caste, sex or birth
Q55. Sarah Taylor is a women cricketer. She plays for which country?
Answer: England
Q56. Name the organization which has decided to translate and publish an anthology of the writings of Guru Nanak Dev in world languages to mark his 550th birth anniversary.
Answer: UNESCO
Q57. Indian Army's biggest mountain combat exercise 'Him Vijay' was conducted in which state?
Answer: Arunachal Pradesh
Q58. Name the bank which has deployed 'Robotic Arms' for currency sorting at its chests.
Answer: ICICI Bank
Q59. Name the bank which has announced the launch of a digital fixed-deposit product called 'Express FD'.
Answer: Axis Bank
Q60. The world's population is expected to increase by ___________________ persons in the next 30 years as per the World Population Prospects 2019.
Answer: 2 Billion
Q61. The army of which country is also known as the People's Liberation Army?
Answer: China
Q62. Name the 2 states which were the joint winners in the Adventure Tourism category at the National Tourism Awards 2017-18.
Answer: Goa and Madhya Pradesh
Q63. With which organization NITI Aayog's Atal Tinkering Labs (ATL) has launched 'The Gandhian Challenge' on the 150th birth Anniversary of Mahatma Gandhi?
Answer: UNICEF
Q64. United Bank of India will be merged with which bank?
Answer: Punjab National Bank
Q65. LIC has decided to infuse Rs 4700 crore in which bank?
Answer: IDBI Bank
Q66. Name the project recently initiated by ISRO to safeguard Indian space assets from debris and other harm.
Answer: Project NETRA
Q67. IAAF World Athletics Championships was recently held at which place?
Answer: Doha, Qatar
Q68. Who is the president of Zambia?
Answer: Edgar Chagwa Lungu
Q69. Finance Minister Nirmala Sitharaman has inaugurated the National e-Assessment Centre (NeAC) in?
Answer: New Delhi
Q70. The WTO hosted the first World Cotton Day (WCD) Conference at?
Answer: Geneva
Q71. Salwa Eid Nasser has won the gold medal in the 400m women's race for 2019 IAAF World Athletics Championships. She is from which country?
Answer: Bahrain
Q72. Kaleshwaram Lift Irritation project was recently inaugurated in which state?
Answer: Telangana
Q73. 14th Session of the Conference of the Parties to the UN Convention to Combat Desertification (COP 14) was held in which country?
Answer: India
Q74. Which Indian state has recently launched the Emissions trading scheme?
Answer: Gujarat
Q75. Name the Italian journalist who will receive the 2019 Peter Mackler Award for Courageous and Ethical Journalism.
Answer: Paolo Borrometi
Q76. Which Indian state has inked a 'sister state agreement' MoU with "New Jersey" for cooperation in economic development, clean energy, higher education, tourism, cultural exchange as well as health and trade-investment.
Answer: Gujarat
Q77. '______________ Youth Parliament', a mock Assembly session will be held to mark the silver jubilee of the House and the 150th birth anniversary of Mahatma Gandhi.
Answer: Delhi
All The Best For Upcoming Exams!!!
You can also mail your exam experience and review to us at blogger@adda247.com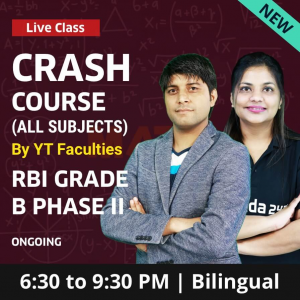 RBI Grade B 2019: Detailed Exam Analysis and Review of Shift I