IBPS PO 2020:IBPS on 28th October 2020 re-opened the online application window for IBPS PO. IBPS also released a notice consisting of new dates for the re-examination of IBPS PO Prelims. IBPS made these changes for the welfare of those banking aspirants who were willing to appear but could not even apply for IBPS Po Prelims as their respective graduation results were not released by their universities. The re-opened window will continue to take online application till 11th November 2020. This will benefit a lot of banking aspirants who failed to apply for the IBPS PO exam 2020. IBPS is conducting the re-examination of IBPS PO Prelims on  5 January / 6 January 2021.
In this article, we will be discussing the IBPS PO exam pattern as well as the syllabus for both prelims and mains.
 Make sure you stick to the syllabus given here as it is based on the previous year's exam analysis. We have included all those topics from which questions were asked in the past to make sure that you don't lag behind. 

IBPS PO Exam Pattern
As per the official notification of IBPS, there will be three stage recruitment process namely: Prelims, Mains and Interview. Given below is the detailed explanation of all the stages.
Stage – 1 : IBPS PO Pre Examination
As per the notification released by IBPS, the PO Preliminary examination will be objective in nature.
S.No.
Name of Test
No. of Questions
Maximum Marks
Duration
1
English Language
30
30
20 minutes
2
Quantitative Aptitude
35
35
20 minutes
3
Reasoning Ability
35
35
20 minutes
100
100
60 minutes
Students will have to clear the individual cut-off along with the overall cut-off for IBPS PO 2020.
Stage 2 : IBPS PO Mains Examination
IBPS PO Mains Exam is objective as well as descriptive in nature and is again in online mode. The time duration for the test is 3 hours 30 minutes out of which the objective test is 3 hours consist of 200 marks whereas the descriptive test is of 30 minutes of 25 marks.
S.No.
Name of Tests(Objective)
No. of Questions
Maximum Marks
Duration
1
Reasoning & Computer Aptitude
45
60
60 minutes
2
English Language
35
40
40 minutes
3
Data Analysis & Interpretation
35
60
45 minutes
4
General/ Economy/ Banking Awareness
40
40
35 minutes
Total
155
200
3 Hours
The extra 30 minutes are there to complete the descriptive test which contains Letter Writing and Essay with 25 marks and 30 minutes duration.
Stage 3: IBPS PO Interview
The marks scored in mains and Interview are used to make the final merit list and the total marks assigned to the interview stage is 100. A candidate from the General category will have score  40% for general candidates and 35% for SC/ST/OBC. The final merit list is prepared by considering the marks in the ratio of  80:20 of mains exam and interview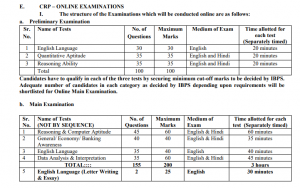 Also Read,
IBPS PO Syllabus 2020
Now that you know the exam pattern, it's time to move on to the next important stage of the rcruitment process i.e. IBPS PO 2020 Syllabus. Here we will be sharing in detail about the IBPS PO Syllabus so that you only study relevant topics. 
IBPS PO Syllabus for Prelims Exam
Here's the complete list of topics asked under each section,comprising IBPS PO Syllabus for Prelims 2019:
| Reasoning | Quantitative Ability | English Language |
| --- | --- | --- |
| Puzzle | Simplification & Approximation | Reading Comprehension |
| Alphanumeric Series/ Alphabets/ Numeric Series | Number Series | Cloze Test |
|  Direction sense | Inequality (Quadratic & Quantity based) | Para jumbles |
| Data Sufficiency | Ratio & Proportion, Partnership | Vocabulary Based |
| Inequalities | Percentage | Fill in the blanks |
| Seating Arrangement | Mixtures & Alligations | Multiple Meaning/Error Spotting |
| Input-Output | Average & ages | Paragraph Completion |
| Syllogism | Profit & Loss | Spelling Errors |
| Blood Relation | Time and work & Pipe and cistern | Word Replacement |
| Order and Ranking | Simple Interest & Compound Interest | Column based Fillers and Sentence Connectors |
| coding-decoding | Time & Distance, Boat & stream | Word Usage |
| | Permutation, Combination &Probability | Idioms and Phrases |
| | Mensuration (2D&3D) | Sentence Completion |
| | Data Interpretation ( Bar, line, pie, mixed, missing, arithmetic, caselet), | |
| | Data sufficiency | |
The complete IBPS PO Mains Syllabus is discussed below:
IBPS PO Syllabus for Mains Exam
Given below is the complete IBPS PO Syllabus 2020 for Mains examination.
Data Analysis
Reasoning
English Language
General/Economy/Banking Awareness
Computer Aptitude
Number System, HCF &LCM,
Series
Puzzle
Reading Comprehension
Banking and Financial Awareness
Internet
Inequality
(Quantity based)
Syllogism
Error Detection
Current Affairs (4-5 Months)
Memory
Ratio & Proportion, Partnership
 Seating Arrangement
Vocabulary
Static Awareness
Keyboard Shortcuts
Percentage
Input-Output
Phrase Replacement
Computer Abbreviation
Mixtures & Alligations
Blood Relations
Word Association
Microsoft Office
Average & ages
Sentence Improvement
Computer Hardware
Profit & Loss
Direction sense
Para Jumbles
Computer Software
Time and work & Pipe and cistern
Data Sufficiency
Cloze Test
Operating System
Simple Interest & Compound Interest
Coding-Decoding
Spelling Errors
Networking
Time & Distance, Boat & stream
Inequalities
Fill in the blanks
Computer Fundamentals/Terminologies
Permutation, Combination & Probability
Logical Reasoning
Column Based Fillers
Number System
Mensuration (2D&3D)
Sentence Connectors
Basic of Logic Gates
   Data Interpretation   ( Bar, line, pie, mixed, missing, arithmetic, radar),
Word Replacement
Caselet
Word Usage
Sentence Rearrangement
Sentence Completion

Note: Students who will successfully clear the mains examination will be called out for the interview round. The marks Obtained in mains and interview will decide the fate of the candidate in the final merit list.
IBPS PO Interview
The interview basically the assessment of the candidate's personality. The General awareness about the basic things like: Total number of lok sabha seat, CM of the states in India, basic banking related terminology and knowledge related to the subject you have done your graduation in will be more than enough. To clear this round, work on your personality like: sitting posture, communications skills etc.
For more interesting and informative articles related to IBPS PO 2020, Stay tuned to bankersadda!

Frequently Asked Questions- IBPS PO Syllabus 2020
Q. What are the important topics of Reasoning section?
Ans. Puzzles & Seating Arrangement, Blood relation, Direction, Alphanumeric series, Inequalities etc are some of the most important topics that one must go through to ace this section.
Q. What are the Important topics of Quantitative Aptitude?
Ans. Arithemetic topics like: SI & CI, Profit & loss, Ratio and proportion, Number series etc are some of the important topics.
Q. What are the important topics of English Section?
Ans. Reading comprehension, Para jumbles, Cloze test etc are some of the topics from which questions are asked.