Hello! My name is Ankita. I am going to share IBPS RRB PO VII Interview Experience. Hope it will help other banking aspirants.

Name: Ankita Mandaviya
Place of interview: Gujarat Science Forensic University (Gandhinagar).
I knocked door and then entered. Wished them good morning to all sir and ma'am. They asked me to sit.
M1: Apne bare me kuchh bataiye!
ME: Answered.
M1: Aap kaise khud Ko strong women manti hai?
ME: Answered.
M1: Bank kya Hoti hai?
ME: Answered all the functions.
M1: Aaj ka newspaper Padha?
ME: Yes Sir!
M1: Kya tha aaj ke paper me?
ME: Told about DHFL.
M1: Difference between credit card and debit card?
ME: Answered.
M2: Aap ke liye teaching field achhha hai to bank me kyu aa rahe ho?
ME: Answered.
M2: What is NVP?
ME: Sorry sir I don't know.
M2: Aapne engineering Kiya hai to software coding kyu nahi karte?
ME: I don't have interest in coding sir.
M2: What is credit card?
ME: Answered.
M1: Prepaid card debit card hai k credit card?
ME: Answered.
F1: Aapke life me Aisa kya Kiya jisse aap bahot khush ho? One example!
ME: Answered.
M1: Aapko Kahi pe bhi post milegi to aap kar paoge aapke father aayenge aapke Sath?
ME: Answered.
M1: That's all Ankita! All the very best for result.
ME: Thank you sir and have a nice day to M1. Nice to meet you sir to M2.
Finally, I went out. Experience is good confidence also good.
All The Best Ankita For Future Endeavours!
Check the LIC Assistant Mains Test Series below that includes full length mock as well.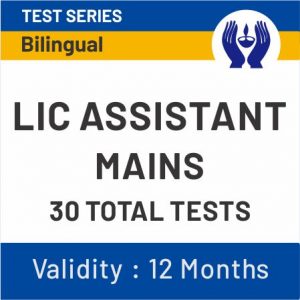 Share Your Interview Experience at blogger@adda247.com