Hello! My name is Sagar. I am going to share IBPS RRB PO VII Interview Experience. Hope it will help other banking aspirants.
Date of Interview – 19th November 2019
Venue – Indore
Reporting Time – 8:30 AM
Panel – IV
Biometric and document verification was done and subsequently my turn for interview came at 7th number. There were total 4 members in the panel – 3 males and 1 female. I entered the room and greeted them. They asked me to sit down and then the conversation started.
M1 – So you are from Datia. Tell me why Peetambara Shaktipeeth is famous?
ME – I told them the story behind it but then he asked,"why it is called Shaktipeeth and what does this word mean? I told them and they looked satisfied.
M2 – So you completed your graduation in 2016. What are you doing since then?
ME – I told them that I did a job in my core engineering sector and from past 1 year, I am preparing for banking.
M2 – So how much banking have you prepared ?
ME – "I have studied the basics sir".
M2 – Ok then tell me the proper Indian banking structure.
ME – I explained.
M2 – Define and categorise cooperative banks.
ME – I explained.
M3 – Tell me the problems faced by farmers in your states nowadays.
ME – I told him then he said, but nowadays banks are making sure that no farmer is left helpless and ensures full help to them. Then why still they are facing these problems?
I said that sir most of the farmers are not aware about the banks and government schemes that's why they do not get benefited.
They said ok and looked satisfied and wished me good luck. They also gave me a chocolate. I think they were giving chocolate to every aspirant after the completion of interview.
Female in the panel didn't ask any question and my whole interview lasted for about 10 minutes. Mode was bilingual. That's all. Thank you!
All The Best Sagar For Future Endeavours!
Check the LIC Assistant Mains Test Series below that includes full length mock as well.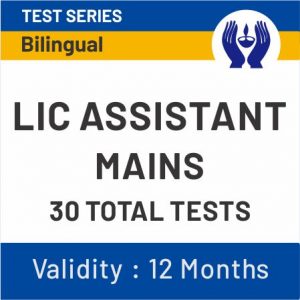 Share Your Interview Experience at blogger@adda247.com