JAIIB Syllabus 2022 PDF: JAIIB Exam is conducted by the Indian Institute Of Banking And Finance(IIBF). This year IIBF is going to conduct the JAIIB exam on the 11th, 12th, and 19th June 2022 for which registration was done from 05th-25th April 2022. Having a detailed knowledge of the syllabus is necessary to prepare your own exam strategy and to score better in the exam. JAIIB exam is a professional exam whose exam syllabus is quite different from other exams in the banking sector therefore it is necessary to go through the whole syllabus to have an idea about all the topics from which questions can be asked.
Strategy to Crack JAIIB Exam 2022
JAIIB Syllabus 2022
Before moving toward the syllabus, it is also important to know how the JAIIB exam is different which highlights the importance of a syllabus. To crack this exam, you need professional guidance.
There are some key points that make JAIIB Exam different from other banking exams
There is no negative marking in the JAIIB exam
Candidates need to score at least 45% marks in each subject and 50% marks in aggregate in a single attempt to qualify
Candidates need to pass this exam in 4 consecutive attempts within 2 years after doing registration for the JAIIB exam
If you are unable to qualify within this 2-year time limit then you have to re-enroll yourself
The time limit of 2 years will begin from the date of application for the first attempt to appear for the JAIIB Exam.
JAIIB Syllabus 2022
The syllabus is the backbone of any examination. The JAIIB has three papers 1st paper is divided into 5 modules and the other two papers are divided into 4 modules.  Candidates must check the JAIIB syllabus of all three papers and the modules of each paper thoroughly. Do not miss any important topic during your preparation.
JAIIB Syllabus 2022 Check in Hindi
Paper-I Principles and Practices of Banking
The first paper for the JAIIB exam 2022 consists of 5 modules which are Principles and Practices of Banking. Candidates are advised to check the detailed syllabus for the Paper from the table mentioned below in order to cover the whole syllabus.
Module A

Indian Financial System

Modules B Functions of Banks
Module C

Banking Technology

Module D

Support Services, Marketing of Banking

Module E

Ethics in Bank and Financial Institutions

Indian Financial System

Bank customer

essentials of bank computerization

distribution

Ethics, Business ethics, and banking: An Integrated Perspective

Banking Regulation

principle of lending

payment systems 

Distribution

Ethics at the individual level

Retail banking

banker special relationship

overview of IT act

promotion

Ethical behavior at the workplace

Wholesale and international banking

cash operations

Data communication network

Channel management

Ethical Dimensions: Workplace

role of the money market

consumer protection

electronic banking

marketing, social marketing, and networking

Work Ethics and the workplace

debt markets and forex markets

KYC,AML and CFT norms

role of technology up-gradation and its impact on banks

services./products

Banking Ethics: Changing Dynamics

role and functions of capital markets

agriculture

Finance

preventative vigilance in electronic banking

Direct marketing agent in the bank

 

Mutual funds and insurance companies

Micro, small and medium enterprises

Marketing Information Systems

 

SEBI

Credit monitoring

role of the direct selling agent

 

Risk Management

priority sector advances

Consumer behavior

 

factoring

Credit cards

product pricing

 

Fair Practices Code for Debt Collection

personal loans

Recent Developments in the Financial System

Home loans and consumer loans

CIBIL

documentation
Paper-II Accounting and Finance for Bankers
Candidates can check the detailed syllabus for paper II (accounting and finance for bankers) from the table mentioned below.
Module A

 Business Mathematics and Finance

Modules B

Principles of Bookkeeping and Accounting

Module C

 Final Accounts

Module D

 Banking Operations

Capital Budgeting

Maintenance of Cash

Balance Sheet Equation

Banking Operations & Accounting Functions

Calculation of YTM

Scope and Accounting Standards

Preparation of Final Accounts,

Calculation of Interest and Annuities

Subsidiary Books and Ledger

Ratio Analysis

Depreciation and its Accounting

Basic Accounting Procedures

Final Accounts of Banking Companies

Foreign Exchange Arithmetic

Bank Reconciliation Statement

Company Accounts I & II

Bills of Exchange

Accounting in a Computerized Environment
Paper-III Legal and Regulatory Aspects of Banking
The JAIIB exam consists of 3 papers, so the detailed syllabus of Paper III is provided below. Candidates can check the table to know the syllabus of paper 3.
Module A

Regulations and Compliance

Modules B

 Legal Aspects of Banking Operations

Module C

 Banking Related Laws

Module D

Commercials Laws with Reference to Banking Operations

Legal Framework of Regulation of Banks

Different Types of Borrowers

The Law of Limitation

Indian contract act, 1872

Regulation of Banking Business

Types of Credit Facilities

Tax Laws

The Sale of Goods Act, 1930

Winding-up

Secured and Unsecured Loans

Payment & Settlements Systems Act, 2007

Indian Partnership Act, 1932

Public Sector Banks and Co-operative Banks

Indemnities

Negotiable Instruments Act, 1881

Definition and features of a company

Control over Organization of Banks

Bank Guarantees

The Legal Services Authorities Act, 1987,

The Prevention of Money Laundering Act, 2002

Mergers & Acquisitions

Letters of Credit,

The Consumer Protection Act, 1986 and CERSAI

Information Technology Act, 2000

Financial Sector Development Council

Deferred Payment Guarantees

Recovery of Debts due to Banks and Financial Institutions Act, 1993(DRT Act)

The Right to Information Act, 2005

Financial Sector Legislative Reforms

Laws Relating to Bill Finance

Securitization and Reconstruction of Financial Assets and Enforcement of Securities Interest Act (SARFAESI)

Transfer of Property Act, 1882

Recent Legislative Changes in RBI Act

Various Types of Securities

Banking Ombudsman Scheme

Foreign Exchange Management Act, 1999
Prepare for JAIIB/CAIIB 2022 with Adda247
JAIIB Exam Pattern 2022
There will be three papers in the JAIIB examination 2022. Candidates will be given 2 hours for each section, the detailed exam pattern is given below:
| | | | |
| --- | --- | --- | --- |
| Subjects | No. of Questions | Total Marks | Duration |
| Principles and Practices of Banking | 120 | 100 | 2 hours |
| Accounting and Finance for Bankers | 120 | 100 | 2 hours |
| Legal and Regulatory Aspects of Banking | 120 | 100 | 2 hours |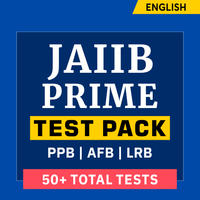 FAQs: JAIIB Syllabus 2022
Q1. Is there any negative marking in the JAIIB Exam 2022?
Ans: There is no negative marking for wrong answers in JAIIB Exam 2022.
Q2. What is the mode of JAIIB Exam 2022?
Ans. JAIIB Exam 2022 will be in online mode.