JAIIB Exam Study Material 2023
As the Indian Institute of Banking and Finance has released the JAIIB Registration and Exam Date 2023, it is the right time for aspiring candidates to start their preparation. IIBF has made changes in the IIBF Syllabus and new subjects are added therefore aspirants require ample time and the right guidance for their preparation. In the given article, we have discussed the JAIIB Exam Study Material 2023 which will be the best source of preparation for banking and financial sector employees.
JAIIB Exam Study Material 2023: Quizzes
Aspirants who are preparing for JAIIB can find the quizzes on a daily basis which are prepared by our expert team members and those who have topped the exam, under expert guidance. The quizzes are available on our Adda247 app JAIIB/CAIIB Category. Here, we have provided the link which will redirect aspirants to the JAIIB quizzes.
JAIIB Exam Study Material 2023: Video Course
Video courses help candidates manage their study hours as per their convenience. Video course includes every detail to cover all the aspects of the JAIIB with video classes, E-books and Mocks which will make aspirants ready for the JAIIB 2023 Examination.Whenever a candidate require to learn the concepts then they can play videos. Through the video course, there will be complete coverage of all the four papers of JAIIB.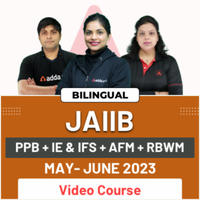 JAIIB Exam Study Material 2023: Live Batch
As you are a working aspirant then for you the best source of preparation for sure shot selection is through live batches. Prepare for JAIIB with the online live classes and get real coaching like experience at your fingertips. Raise your query and get it resolved by our best faculty members. You will also get recorded lectures and PDF equipped with number of questions for self practice.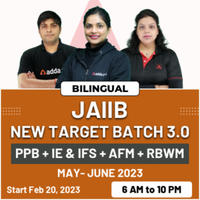 JAIIB Exam Study Material 2023: Test Series
The preparation is incomplete without analyzing the performance. Taking online mock test is the best way to make improvements. Mock test help you manage your speed, maintaining accuracy and time for each paper of JAIIB. It is also helpful in drawing the weak points where you are lagging behind besides providing all India rank.
Apart from this, students can prepare from our YouTube OfficersAdda247 channel, where there are  number of free videos to help you with your preparation. Learn the basics of all the compulsory papers of JAIIB and enhance your preparation through the videos.