Last-Minute Tips for ESIC UDC Mains Exam 2022: ESIC UDC Mains exam has been scheduled for 30th April 2022 with almost one week left for the exam candidates must be thinking about making the most of this time by practicing and giving the mock tests. To crack the ESIC UDC Mains exam 2022 in the most efficient manner, it is important to take care of some important tips so that candidates do not succumb to the pressure at the time of examination. In this article, we will be discussing last-minute tips for ESIC UDC Mains Exam 2022 that will help you during the ESIC UDC Mains exam 2022.
ESIC UDC Mains Admit Card 2022: Download Now
Last-Minute Tips for ESIC UDC Mains Exam 2022
ESIC UDC is one of the most popular exams in the country. The ESIC UDC prelims exam was conducted on 19th March 2022. The ESIC UDC Mains will be conducted on 30th April 2022. With just a few days from the day of the exam, we bring to you a few ESIC UDC Mains last-minute tips. Many of these tips may appear basic but vital as the ESIC UDC mains is a speed-based exam and small optimizations at your end can help aspirants at least a few extra marks.
Last-Minute Tips for ESIC UDC Mains Exam 2022
Practice while attempting the mock tests and sectional tests which are available on our adda247 app. These tests are designed by our expert faculty and are based on the latest exam patterns.
As the exam day is here, candidates are advised not to touch on any new topic at the last moment as it will create chaos and which may hamper their preparation.
 Make a schedule for your practice sessions. You may start with the easy ones and then move to complex problems. As you practice, you must remember that speed is as important as accuracy.
 If you haven't been able to prepare for certain topics, it is recommended not to spend last-minute preparing for such topics.
It is also essential for aspirants they should provide the required amount of rest to the brain so that they can remember all that they have studied during their bank preparation.
Do not practice or study too much the night

 

before or on the day of the exam. Keep your mind fresh and active to help you stay focused.
One of the most important things that a candidate should do before an exam is to take good care of their health. Candidates should make sure that they eat good and healthy food and drink lots of water.

Keep all the important documents, you are advised to carry for the examination.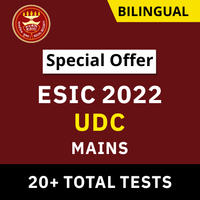 "All the best aspirants. Keep practicing with Adda 247"
Also Check: