Missed to join Adda247's Ultimate Batch to crack SBI PO Interview? Don't worry, we have brought you the SBI PO Interview Batch 2. After the huge response of the 1st SBI PO Ultimate batch, we have launched the second batch for all those aspirants who wanted to join it to crack the final phase of SBI PO 2019 recruitment. SBI PO exam were conducted for the recruitment 2000 vacancies that were declared in the official notification. In the official notification, the organization has declared that they will be calling out candidates three times the total vacancies. So approximately 1770 and 6000 candidates will appear for this interview. Interviews are the last step on the ladder but a tricky one. One wrong move and you are out of the race and all the preparations and hard work will come at a halt. Adda247 is here with the Ultimate complete package to prepare you, especially for the SBI PO Interview.  So you could be in your A-game.
Who will be teaching in the Adda247 Ultimate for Interview | SBI PO MAINS?
This batch will be taught by Mr. Anil Bhatnagar who has more than 25 years of work experience and has worked as Ex. General Manager of SBI.
ROLE IN INTERVIEW PROCESS:
He was the chairman of the interview panel as well as the member.
Head of the recruitment process from appearing and promoting internal candidates to selecting the candidates
Points you need to keep in mind while giving an interview:
Introducing yourself to the board.
The way you interact and body language.
Knowledge of the organization you are appearing for.
Replying to the questions with appropriate answers.
No if's and but's or stuttering
Your appearance as a whole: dressing matters.
What you will get in Adda247 Ultimate for Interview?
15+ Hours of interactive Live Classes.
Mock Interview Questions and Exercises.
Current Affairs based Exercises
eBooks –  A Guide To Crack Bank Exams Interviews E-Books
Group Discussion Based Exercises
These batches will completely focus on the SBI PO, And if we talk about the package, they offer more than 15 hours of live lectures where you can interact with the faculty and clear your query and share your concern before appearing for the interview. As explained the only thing that is between you and your seat in the organization is the interview phase.
A mock interview will give you an exact idea of the vibes that are shared by the interviewer and the applicant. It will give you a clear cut idea of how you should sit, speak or express yourself. In an interview, you are judged on every aspect, the body language, gestures and most importantly the confidence you express yourself with.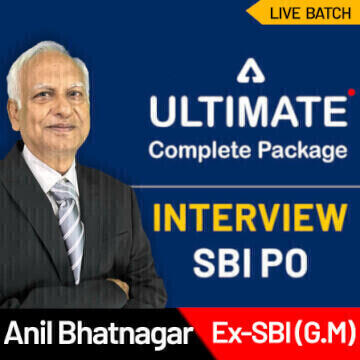 Knowledge
is the agenda you will have to forte on your own, though we are here to explain the questions you can expect. Like
the current affairs hold importance in all the interviews.
One would want to know,
how updated and alert you are
about your surrounding.
Finally, we have
e-books to assist you
with the details of all the important aspect of an interview so you can go through it whenever you want to.
If you have all these tools no matter how tricky the interviewer is, you will crack the process with ease and confidence,
And that is all we want.
Group discussion-based exercise is the added advantage in the SBI PO interview batch.
Price: 
₹ 1,999 (SBI PO Batch)
Timings for the Daily Classes of SBI PO Batch are:
9:00 AM to 12:00 PM | Batch 1 (Bilingual)
Class Schedule:
| | |
| --- | --- |
| Date | TOPIC |
| 6 September | Introduction Class |
| 7 September | Current Affairs Class I |
| 9 September | Current Affairs Class II |
| 10 September | Banking Awareness Class |
| 11 September | Group Discussion Class |
| 12 September | Mock Interview I |
| 13 September | Mock Interview II |
| 14 September | Mock Interview III |
Adda247 also launched an
 Interview plan for SBI PO
 which is scheduled from 2nd August to 30th of August, to make you familiar with the complete interview process.