The Ministry of Home Affairs has issued an order to further extend the nationwide lockdown for 2 weeks beyond 4 May, under the Disaster Management Act, 2005. The ministry has also issued new guidlines to regulate different activities in the red, orange and green zone districts, where they have permitted considerable relaxations in the Green and Orange zone districts.
The count of COVID-19 infection has climbed up to 35,447 on 1 May and is increasing day by day with the number of active cases being 24,943 in the nation. The further extension in the lockdown was expected as many states West Bengal, Andhra Pradesh, Goa, Himachal Pradesh, Meghalaya, Mizoram etc were in favour of extending the lockdown for the safety of people in the country. This decision by the Ministry of Home Affairs was taken based on risk-profiling of various districts across the country. The lockdown 3.0 comes with new economic guidlines to regulate the econimic activities that is given below.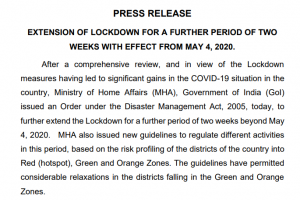 Red Zones- 130 district
Orange Zones-284 districts
Green Zones- 319 districts
Click Here to Check all Latest News and Updates related to Coronavirus Pandemic
Which Districts will fall in Green Zone?
As stated in the guidlines by the Ministry, "The Green Zones will be districts with either zero confirmed cases till date; or, no confirmed case in the last 21 days. "
In the Green Zones, all activities are permitted except the limited number of activities which are prohibited throughout the country, irrespective of the Zone. However buses can operate with upto 50% seating capacity and bus depots can operate with upto 50% capacity
Which Districts will fall in the Red Zone?
The classification of districts as Red Zones will take into account the total number of active cases, doubling rate of confirmed cases, extent of testing and surveillance feedback from the districts. Reports state that the states Uttar Pradesh and Maharashtra have the highest number of red zones at 19 and 14 respectively, followed by Tamil Nadu at 12 and all of Delhi's 11 districts marked as red zones.
Summary of Guidlines by MHA on Lockdown 3.0.
Interstate Travelling is Banned- Interstate travel by train, air, metro any kind of inter-state movement is not allowed.
Inter-District movement allowed in orange zones- inter-district movement of individuals & vehicles will be allowed for permitted activities only.
No School, Colleges or Public Gathering- running of schools, colleges, and other educational and training/ coaching institutions is prohibitted.
No Non-Essential movement between 7 pm to 7 am- so only go out if you have an essential task with proper safety measures.
Red and Orange Zones, are designated as Containment Zones- local  authority to ensure 100% coverage of Aarogya Setu app among the residents of the Containment Zone
Some Movement Allowed in Red Zone- a maximum of 2 persons (besides the driver) in four-wheeler vehicles, and with no pillion rider in the case of two-wheelers.
Industries permitted to resume operation in urban areas- includes Special Economic Zones (SEZs), Export Oriented Units (EOUs), industrial estates and industrial townships with access control.
Stanalone shops are allowed, malls to remain closed- Shops in urban areas, for non-essential goods, are not allowed in malls, markets and market complexes. However, all  standalone (single) shops, neighborhood (colony) shops and shops in residential complexes are permitted to remain open in urban areas, without any distinction of essential and non-essential.
Most of the commercial and private establishments allowed in the Red Zones- print and electronic media, IT and IT enabled services, data and call centres, cold storage and warehousing services, private security and facility management services, and services provided by self-employed persons, except for barbers
Cargo movement is allowed accross the nation.
Click Here to Register for Bank Exams 2020 Preparation Material