Q1. Train A crosses a 230m long platform in 29 seconds and train B crosses a 150m long platform in 24 seconds. Train B which is 450m long crosses train A in 160 seconds, while running in the same direction. Find how much time will the train A take to cross a 50m long bridge?
(a) 16 seconds
(b) 22 seconds
(c) 20 seconds
(d) 17 seconds
(e) 25 seconds
Q2. A 950 metres long train-A crosses another train-B running in same direction in 16 seconds. If the ratio of speed of these trains is in the ratio 17:13 respectively, find out the length of train B?
(a) 1000 meter
(b) 1900 meter
(c) 1600 meter
(d) 1100 meter
(e) Can't be determine
Q3. A train crosses a tunnel which is half of its length with a speed of 144 km/hr. in ½ min, then find the time in which it will cross another train which is double of its length and standing on platform in opposite direction with 60% of its initial speed?
(a) 120 sec.
(b) 90 sec.
(c) 150 sec.
(d) 100 sec.
(e) 180 sec.
Q4. Deepak takes 24 minutes more to cover a certain distance by decreasing his speed by 25%. What is the time taken by him to cover the distance with his original speed?
(a) 70 minutes
(b) 72 minutes
(c) 75 minutes
(d) 90 minutes
(e) 84 minutes
Q5. The speed of boat in downstream is 'X-4' kmph and ratio of time taken by a boat to cover a certain distance in upstream to downstream is 2 : 1. If boat takes 5 hours to Cover 40 km in Upstream, then find the value of X?
(a) 16
(b) 20
(c) 22
(d) 24
(e) 18
Directions (6-10): What value will come in place of question mark (?) in the following questions.
Q6. 2230+3120-4050=?
(a)1300
(b)1100
(c)1200
(d)1500
(e)1400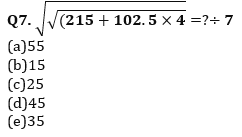 Q8. 72×2.5-2400÷16=?
(a)20
(b)50
(c)40
(d)30
(e)10
Q9. ?2+30% of 480=110% of 160+4
(a)8
(b)6
(c)4
(d)16
(e)14
Q10. 145+53=? ×9
(a)60
(b)50
(c)30
(d)40
(e)20
Solutions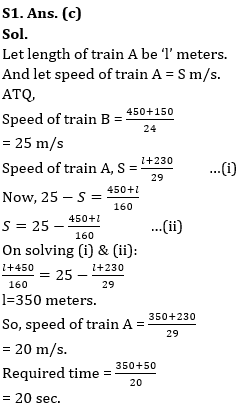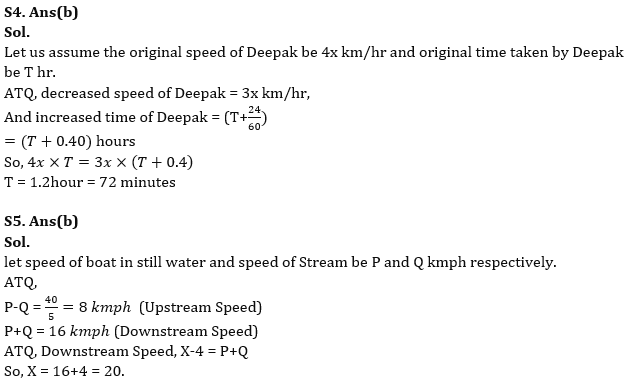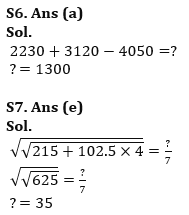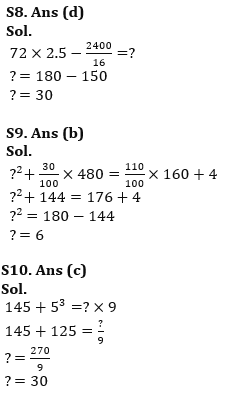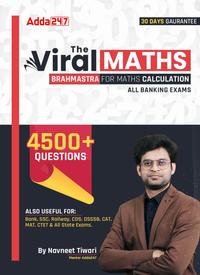 .                                                                 .