SBI Clerk 2020: The online application for SBI Clerk 2020 recruitment ends today i.e. 26.01.2020 The State Bank of India released the notification for recruitment of Clerks on its official website sbi.co.in This year SBI has released more than 8000 vacancies and all the details related to recruitment process are given below.
The Junior Associates (Clerks) work in various branches of SBI and assist Probationary officers recruited through SBI PO exam. SBI Clerk is one of the most coveted jobs in banking sector which offers lucrative salary as well as excellent career progression.
SBI Clerk 2020 Notification
To fill the vacant posts, SBI has released the SBI Clerk official notification 2020 for 8000 vacancies spread across various Indian states/UTs. For reference, we have provided state-wise vacancy of SBI Clerk 2020 & trends of past couple of years (Top 10 States).
Click Here to Check the Official SBI Clerk 2020 Notification
SBI Clerk 2020 Apply Online
The SBI Clerk 2020 online application link is open now and the registration process will end on 26.01.2020 Candidates can apply online from the link provided below:
Click Here to Apply Online for SBI Clerk 2020 Recruitment: Direct Link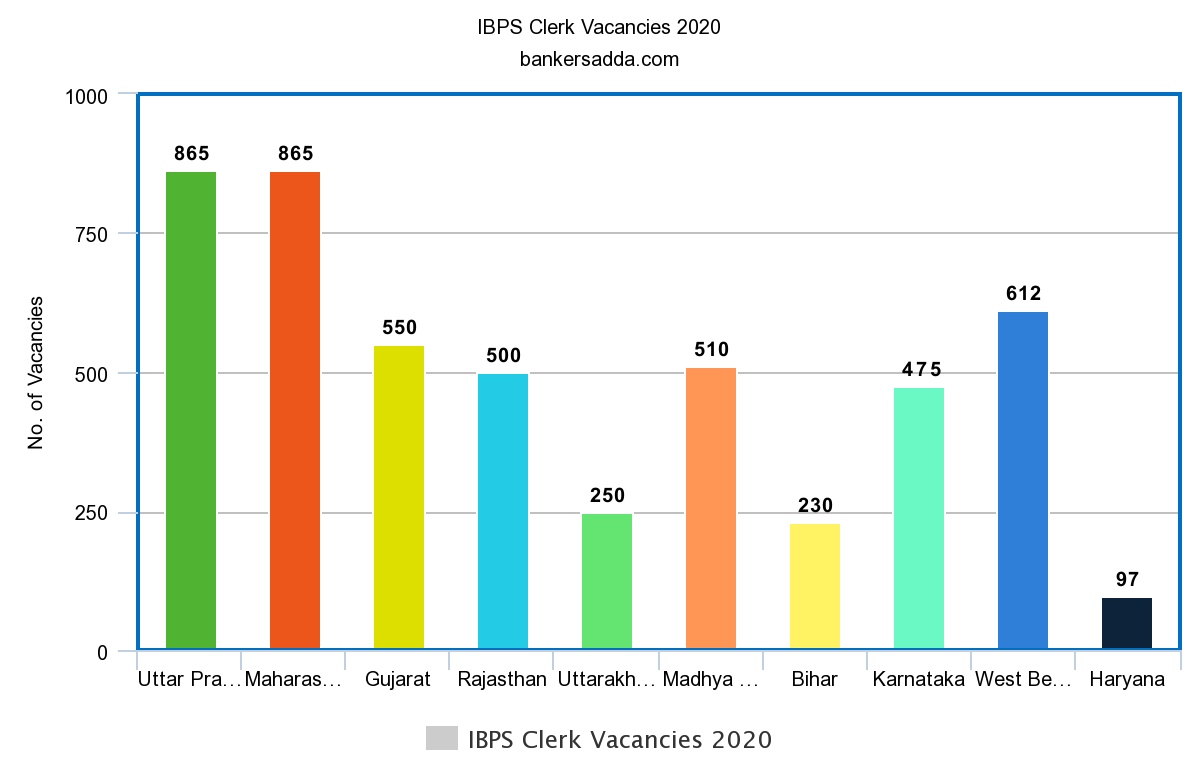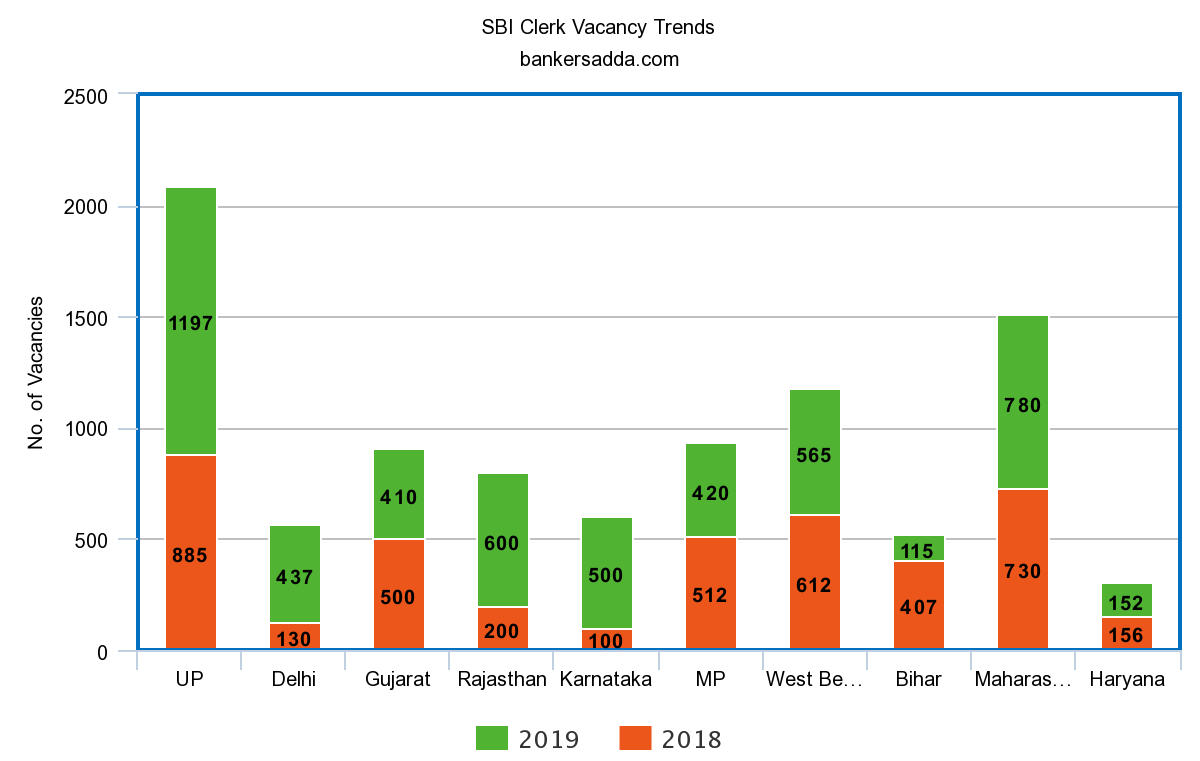 SBI Clerk 2020 Eligibility Criteria
SBI Clerk Eligibility Criteria 2020 is the prerequisite to determine whether a candidate is eligible to take SBI Clerk exam or not. The SBI Clerk eligibility criteria is as follows.
Essential Academic Qualifications:
Graduation in any discipline from a recognized University or any equivalent qualification recognized as such by the Central Government.
Basic knowledge of computer is a must.
The date of passing the eligibility examination will be the date appearing on the marksheet or provisional certificate issued by the University/Institute.
Age Criteria:
Minimum Age Limit: 20 Years
Maximum Age Limit: 28 Years
SBI Clerk 2020 Salary
As mentioned in the SBI Clerk 2020 official notification, selected candidates will get a starting basic pay of Rs.13075/- (Rs11765/- plus two advance increments admissible to graduates). The pay scale is as follows: Rs.11765-655/ 3-13730-815/ 3-16175-980/ 4-20095-1145/ 7-28110-2120/ 1-30230-1310/1-31450
Other perks and emoluments:
SBI Clerks also get various other emouluments, which varies from one location of posting to the other. The total starting emoluments of a Clerical Cadre employee payable at Metro like Mumbai will be around Rs.26,000/- per month inclusive of D.A., other allowances at the current rate.
Other perquisites includes, provident fund, Pension under New Pension scheme (Defined Contribution Benefit), Medical, Leave-Fare and other facilities
SBI Clerk 2020 Exam Dates
SBI Clerk Exam Dates 2020 have been officially released. SBI Clerk Mains 2020 will be held on 19th April 2020. Readers can go through the table mentioned below to get an overview about SBI Clerk 2020 timeline.
| Sr. No. | Activity | Dates |
| --- | --- | --- |
| 1 | On-line registration Dates | 3.01.2020 to 26.01.2020 |
| 2 | Payment of Application Fees/Intimation Charges | 3.01.2020 to 26.01.2020 |
| 3 | Download of call letters for online Preliminary Examination | Feb/March 2020 |
| 4 | Conduct of Online Examination – Preliminary | Tentatively in the month of February/March 2020 |
| 5 | Result of Online exam – Preliminary | March 2020 |
| 6 | Download of Call letter for Online Main Exam | March 2020 |
| 7 | Conduct of Online Examination – Main | Tentatively on April 19.04.2020 |
| 8 | Result of Online Examination – Main | Will be updated in due course |
SBI Clerk 2020 Exam Pattern
SBI Clerk is a two-tier exam i.e. preliminary exam, main exam followed by LPT test (if applicable). Following is the SBI Clerk exam pattern 2020 .
Phase-I: Preliminary Examination
Preliminary Examination consisting of Objective Tests for 100 marks is conducted online. This test is of 1-hour duration consisting of 3 Sections (with separate timings for each section) as follows:
S.No.
Name of Tests(Objective
No. of Questions
Maximum Marks
Duration
1
English Language
30
30
20 minutes
2
Quantitative Aptitude
35
35
20 minutes
3
Reasoning Ability
35
35
20 minutes
Total
100
100
60 minutes
Candidates have to qualify the test by securing passing marks to be decided by the Bank. There will be no sectional cutoff. An adequate number of candidates in each category as decided by the Bank (approximately 10 times the numbers of vacancies subject to availability) are shortlisted for the Main Examination.
Phase – II: Main Examination
SBI Clerk Main Examination consists of Objective Tests for 200 marks and. Below table shows the detailed pattern of SBI Clerk exam 2020.
S.No.
Name of Tests(Objective)
No. of Questions
Maximum Marks
Duration
1
Reasoning Ability & Computer Aptitude
50
60
45
minutes
2
General English
40
40
35 minutes
3
Quantitative Aptitude
50
50
45 minutes
4
General/Financial Awareness
50
50
35 minutes
Total
190
200
2 Hours 40 Minutes
SBI Clerk 2020 Syllabus
SBI Clerk Syllabus 2020 for both the stages i.e. prelims and mains has been given below. The SBI Preliminary exam consists of 3 sections while the SBI Mains exam consists of 4 sections. Detailed section wise syllabus has been given below.
English Language
Reading comprehension, Fillers( Double fillers, Multiple Sentence Fillers, Sentence Fillers), New Pattern Cloze Test, Phrase Replacement, Odd Sentence Out cum Para Jumbles, Inference, Sentence Completion, Connectors, Paragraph Conclusion, Phrasal Verb Related Questions, Error Detection Questions, Word usage/ Vocab Based Questions.
Quantitative Aptitude

Data Interpretation (Bar Graph, Line Chart, Tabular, Pie Chart), Inequalities (Quadratic Equations), Number Series, Approximation and Simplification, Data Sufficiency,

Miscellaneous Arithmetic Problems (HCF and LCM, Profit and Loss, SI & CI, Problem on Ages, Work and Time, Speed Distance and Time, Probability, Mensuration, Permutation and Combination, Average, Ratio and Proportion, Partnership, Problems on Boats and Stream, Problems on Trains, Mixture and Allegation, Pipes and Cisterns).

Reasoning Ability
Puzzles & Seating Arrangements, Direction Sense, Blood-Relation,
Syllogism, Order and Ranking, Coding-Decoding, Machine Input-Output, Inequalities, Alpha-Numeric-Symbol Series, Alphabet Related Questions.
General/Financial Awareness
Banking and Insurance Awareness, Financial Awareness, Govt. Schemes and Policies, Current Affairs, Static Awareness.
SBI Clerk Previous Years Cut-off Analysis
The SBI Clerk Cut-Off depends upon certain factors:
Total Number of Vacancies
Total number of vacancies in a particular state
Total number of candidates who have applied from a particular state.
No. of aspirants who appeared for the exam
Difficulty level and average good attempts
Here is the SBI Clerk Prelims Cut-off Analysis of previous years:
Here is the SBI Clerk Mains Cut-off Analysis of previous years: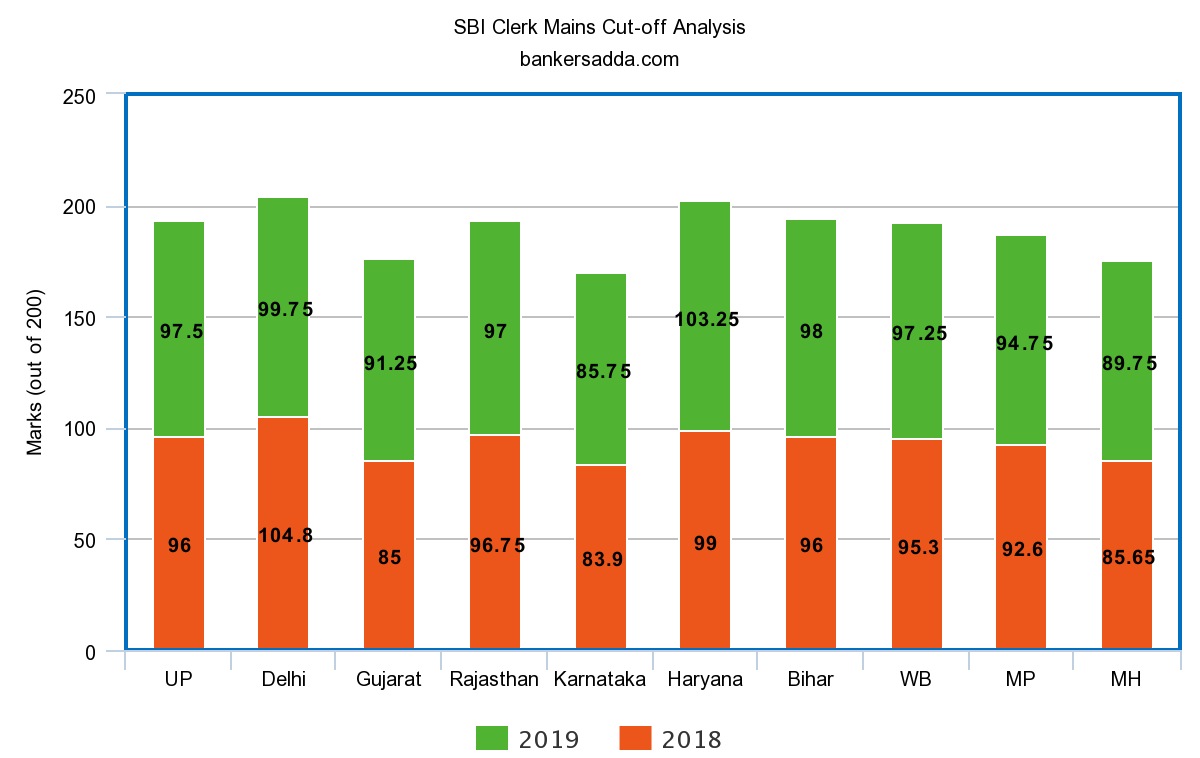 SBI Clerk Previous Years' Papers: Download PDF
If you are appearing for SBI Clerk 2020 recruitment examinations, then you must practice with memory based question papers of previously held preliminary and mains examinations. The links to download SBI Clerk Previous Year Papers is given below:
SBI Clerk Memory-Based papers 2019 (Prelims)
SBI Clerk Memory-Based papers 2018 (Prelims)
SBI Clerk Memory-Based papers 2016 (Prelims)
SBI Clerk 2020 Result
The SBI Clerk Result 2020 will be updated once it is released by State Bank of India. The SBI Clerk result 2020 will be released in two stages i.e. SBI Clerk Prelims result followed by SBI Clerk mains result.
Viewers are advised to bookmark this link  to get latest updates about SBI Clerk Result 2020.
You may also like to practice with: