Dear Aspirants,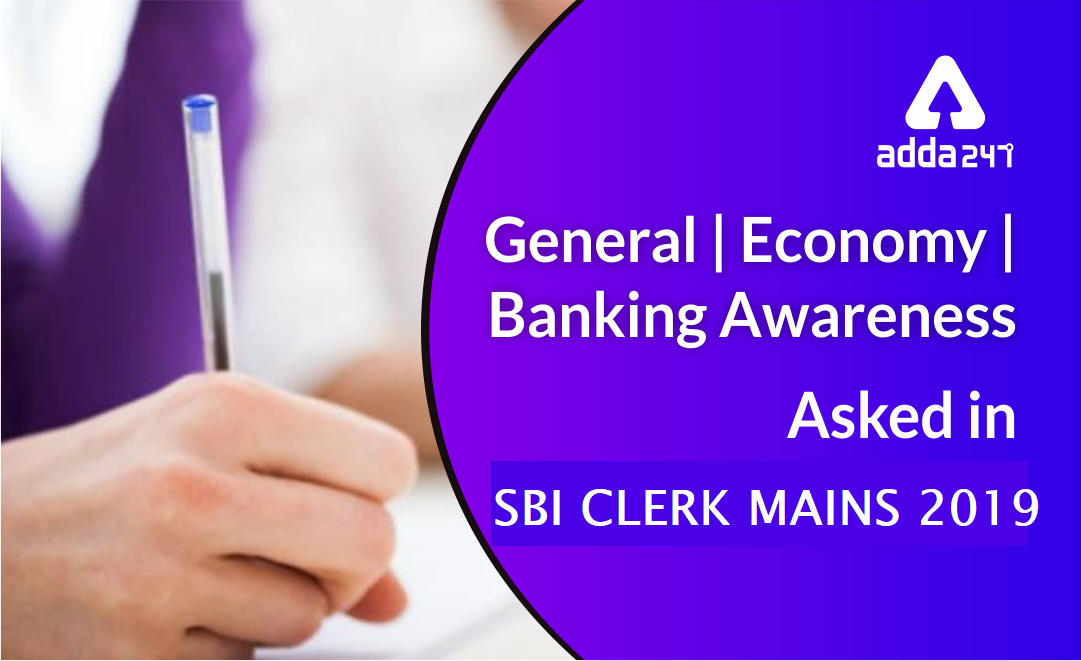 SBI Clerk Mains 2019 GA Questions Asked
Here are the GA Questions asked in
SBI Clerk Main 2019 Exam.
The exam level of GA was Moderate. Check out the
SBI Clerk 2019 memory based GA Questions
here. You can also check
SBI Clerk Mains Cut Off
(Expected).
Q1. What is the full form of FBA?
Answer: Foreign Business Act
Q2. 19th August is celebrated as-?
Answer: World Photography Day
Q3. The First Indian State to issue Masala Bond?
Answer: Kerala
Q4. Which state is set to host the 21st Commonwealth Table Tennis Championship at the Jawaharlal Indoor Stadium-?
Answer: Cuttack, Odisha
Q5. Commercial paper is an unsecured promissory note with a fixed maturity of not more than-?
Answer: 270 days
Q6. Male is the capital city of-
Answer: Maldives
Q7. Who is the present Minister of Chemicals and Fertilizers in the Government of India?
Answer: DV Sadananda Gowda
Q8. Who wins the silver medal in World Youth Cup 2019 from India?
Answer: Arinjeeta Dey
Q9. Who was an Indian businessman of the Birla family has passed away recently?
Answer: Basant Kumar Birla
Q10. Damnganga-Pinjal river linking project will fulfill water needs till 2060 in-?
Answer:
Mumbai, Maharashtra
Q11. The Shanghai Cooperation Organisation (SCO 2019) 19th summit was held in-?
Answer: Bishkek, Kyrgyzstan
Q12. Titan segment is located in-
Answer: Space
Q13. War Over Words: Censorship in India, 1930-1960 Book has been authored by-?
Answer: Devika Sethi
Q14. Which state government would set up a first-of-its-kind elephant rehabilitation center here at an outlay of Rs 105 crore?
Answer: Kerala
Q15. What is the full form of PCR?
Answer: Provisioning Coverage Ratio
Q16. Amrabad Tiger Reserve located in-
Answer: Telangana
Q17. According to some newspaper report, one-third of the total wilful defaulter is which bank?
Answer: State Bank of India
Q18. RBI has formed a committee to review regulatory guidelines and supervisory framework applicable to core investment companies (CICs). This committee is headed by-?
Answer: Tapan Ray
Q19. Kaziranga National Park is a protected area in-?
Answer: Assam
Q20. Who has lead Indian delegation for G20 meeting on trade in Japan?
Answer: Piyush Goyal
Q21. The surcharge was levied on individuals with a total income more than Rs 1 crore at the rate of-?
Answer: 10%


Q22. LIC has how much crore in unclaimed money?
Answer: 10,500 crores
Q23. Where is the headquarters of National Institute of Agricultural Economics and Policy Research?
Answer: New Delhi
Q24. Which Indian city made its entry into the UNESCO World Heritage Site list recently?
Answer: Jaipur
Q25. Deposits in bank accounts opened under Jan Dhan scheme have crossed the Rs __________ lakh crore mark.
Answer: 1 lakh crore
Q25. What is the full form of FPI?
Answer: Foreign Portfolio Investor
Q26. Who is the present speaker of Lok Sabha
Answer: Om Birla
Q27. RBI has initiated steps to set up a wide-based DPCR to capture details of all borrowers. DPCR stands for-
Answer: Digital Public Credit Registry
Q28. The National Institute of Food and Agriculture (NIFA) based in-
Answer: USA