The Hindu Editorial Article of 17th July 2020 – For Equal Treatment.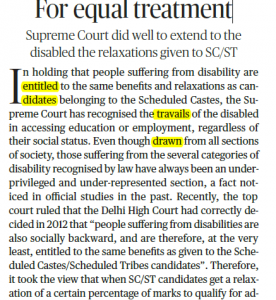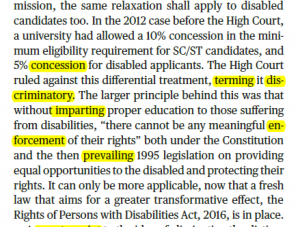 Word 
Meaning
Synonyms
Antonyms
Entitled (adjective) हकदार

Believing oneself to be inherently deserving of privileges or special treatment.

Travail

(verb) तुच्छ

engage in painful or laborious effort.

agony

anguish

tribulation

Drawn

(verb) तैयार

(of a person) looking strained from illness, exhaustion, anxiety, or pain.

harassed

harrowed

pinched

Concession (noun) छूट

A preferential allowance or rate given by an organization.

acknowledgment

admission

compromise

Term (verb) अवधि

give a descriptive name to; call by a specified term.

Discriminatory
making or showing an unfair or prejudicial distinction between different categories
Imparting (verb)  प्रदान

make (information) known.

Enforcement

(noun) प्रवर्तन

the act of compelling observance of or compliance with a law, rule, or obligation.

Prevailing (adjective) प्रचलित

having most appeal or influence; prevalent.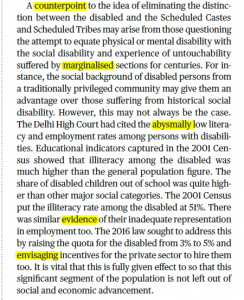 Article from- The Hindu Editorial
| | | | |
| --- | --- | --- | --- |
| Word | Meaning | Synonyms |  Antonyms |
| counterpoint (noun) सुर | emphasize by contrast. | | |
| marginalize (verb) हाशिये पर | treat (a person, group, or concept) as insignificant or peripheral. | | |
| abysmal (adjective) मात्र | extremely bad; appalling. | | |
| evidence (noun)सबूत | signs or indications of something. | | |
| envisage (verb)परिकल्पना | contemplate or conceive of as a possibility or a desirable future event. | | |
| left out (adjective) बाहर छोड़ दिया | Excluded | | |
Visit Achieversadda.com and participate in discussions with other aspirants and achievers. Get answers to your queries and connect with others on Achieversadda.com