UPSC EPFO APFC Salary 2023:  The Union Public Service Commission has released the official notification for 159 posts of the EPFO APFC.  The post of APFC is attractive as it is a Group A, Non-ministerial post with a grade pay of Rs 5400. The UPSC EPFO APFC salary for the post is one of the many motivating factors for the candidates as it includes a number of perks and benefits.  In this post, we are providing all details on UPSC EPFO APFC Salary 2023 along with the job profile role & responsibilities, and promotion.
UPSC EPFO APFC Salary 2023
As per the official notification, aspirants appointed for UPSC EPFO APFC posts are given an initial basic pay of Rs. 47,600 which is a great amount.  Along with the good UPSC EPFO APFC Salary 2023, the candidates are eligible for a good number of benefits and allowances. Timely promotions and career growth are added advantages other than UPSC EPFO APFC Salary for the selected candidates.
UPSC EPFO APFC Salary: Overview
An overview of UPSC EPFO Salary 2023 including all the important points are discussed in the given table.
UPSC EPFO APFC Salary 2023: Overview
Organization
Union Public Service Commission
Exam Name
UPSC EPFO APFC Exam 2023
Post
Assistant Provident Fund Commissioner
Vacancy
159
Category
Government Job
Job Location
All India
Selection Process
Written Exam & Interview
Application Mode
Online
Official Website
@www.upsc.gov.in.
UPSC EPFO APFC Salary 2023
Check This Post in Hindi
UPSC EPFO APFC Salary 2023: Salary Structure
As per the official notification, the salary structure for the post includes – basic pay, various types of allowances, and other added benefits. The components like HRA and TA are variable in nature as it depends upon the place of posting. The details on the UPSC EPFO APFC salary structure are listed below.
UPSC EPFO APFC Salary Structure

Name Of The Component
Amount In Rupee
Basic Salary
47,600
Dearness Allowance (DA)
18088
House Rent Allowance (HRA)
12852
Transport Allowance (TA)
4968
FMA
2000
Total
85,508
UPSC EPFO APFC Salary 2023: Allowances
There are various allowances that are included in the UPSC EPFO APFC Salary. Candidates must be aware of it therefore we have provided below the list of allowances that the APFC Officers get in addition to their salary.
Dearness Allowance
House Rent Allowance
Transport Allowance
FMA
City Compensatory Allowance
Washing Allowance
Job Profile Of EPFO APFC
The job role of Assistant Provident Fund Commissioner is not easy as it is a very responsible position where you have to look after various things and also involves public dealing. Here we are providing below the various responsibilities of an EPFO APFC officer.
One of the key role of UPSC EPFO APFC officer is to look after the work of Enforcement
Performing Statutory functions like conducting enquiry and settlement of claims
Performing administrative functions like general administration, maintenance of Cash Book/Reconciliation of Bank Statements, MIS returns etc
Also looks after pension and cash related matters
The EPFO APFC officer is also responsible to see the legal matters
Career Growth of EPFO APFC Officer
Before start preparing for any exam, one question that strikes our mind is if we get selected today, then how far we can reach in that particular organization. So here we have provided the career growth of UPSC EPFO APFC officer
APFC (Assistant Provident Fund Commissioner)
Regional Provident Fund Commissioner II
Regional Provident Fund Commissioner I
Additional Central Provident Fund Commissioner II
Additional Central Provident Fund Commissioner I
Central Provident Fund Commissioner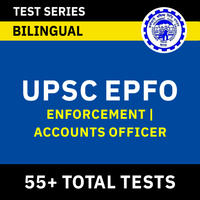 FAQ: UPSC EPFO APFC Salary 2023
Q. What is the UPSC EPFO APFC Salary 2023?
Ans The gross salary of UPSC EPFO APFC is around 85,000 rupees
Q. Is EPFO APFC a gazetted officer?
Ans No EPFO APFC is not a gazetted officer.
Q. What are the allowances given as a part of UPSC EPFO APFC Salary?
Ans The selected candidates will be eligible for various allowances like house allowance, traveling allowance, dearness allowances, etc.
Q. Is there a probation period after UPSC EPO APFC Exam?
Ans Yes, the candidates will be on a probation period of 2 years.