You all must be feeling puzzled to see the new and fresh look of the bankersadda. You all may be scratching your mind to get the answers to this change. Well, students change is the only thing which is permamnent. We are joyous to announce and present this new and fresh look of bankersadda to our viewers and readers. We are here to answer all your queries so that you feel relaxed and calm for your competitive exams preparations.
Everything we do has a specific reason that will be for the benefit of our readers only. The main motto of changing the interface of this platform is to provide everything all you need in a organized form Although we have tried our best to do so always but now we are moving a step forward to this change as the need of the hour. Everyone of you need not be worried about the quizzes, articles, current affairs, and other study material everything is there but now in a fresh form. We hope you all will appreciate and accept the change for your conevenience.
How new face of bankersadda can help you in getting the material easily? Why this change?
Nothing is permanent except change. In this new form you will find all the events, articles, study notes, current affairs, job alerts, quizzes and other realted study material in a categorised and organized form.
Check all the latest post at the top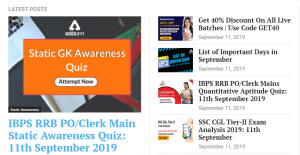 Now you can find all the latest and trending post at the top of the website. You do not have to search for the new post everything will be there in the top of the corner.
Job Alerts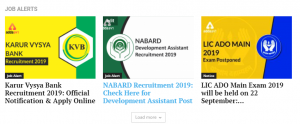 All the job alerts can be find just below the latest post. Here every new and ongoing job vacancies can be found so that you will have the idea about the jobs and upcoming exams.
Daily Quizzes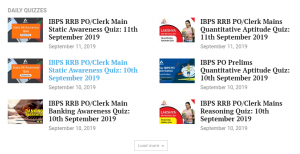 Now, no need to find all the daily quizzes as you can view all of them piled up just below the job alerts. latest daily quizzes will be updated here.
Current Affairs

Keeping in mind the importance of current affairs, we have organized all the important news and events at a single place. Now you can brush up all your knowledge and keep yourself updated by reading the news at the same place. You can also load more news to check other events also.
We hope you will accepts the change and your preparation will boost up for the upcoming exams. Rest You can navigate using the menu bar. If you have any query you can mail us at blogger@adda247.com or can connect to our moderators below in the comment section. Your feedback means a lot to us. Do share your reviews about the change. All The Best!