Coronavirus which is causing pneumonia like illness is spreading rapidly round the globe. Although China is reportedly taking measures to contain the outbreak in the country as it has lock down millions of people in the Hubei province but the disease as spread to other countries where cases have been reported recently. According to the Washington Post, cases have been confirmed in France, South Korea, Japan, Nepal, Thailand, Cambodia, Singapore, Vietnam, Taiwan and Canada.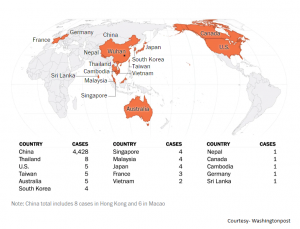 106 people have been reported to have died and 56 million people are believed to infected or exposed to the virus in China. All of this begun in Wuhan in China which is said to be the epicenter of the outbreak. Coronavirus is causing different symptoms ranging from common cold to serious pneumonia like symptoms and can affect both humans and animals.
What is this Novel Coronavirus?  Should we worry about it? Keep on reading to know answers to these questions and everything else that you should know about the possible pandemic.
What is Coronavirus?
Coronaviruses are known to be a broad family of viruses, as per the Centers for Disease Control and Prevention (CDC) "Human coronaviruses commonly cause mild to moderate illness in people worldwide. Two newer human coronaviruses, MERS-CoV and SARS-CoV, have been known to frequently cause severe illness. As per reports, the outbreak in Wuhan, China has been linked to a large seafood and animal market, suggesting a possible zoonotic origin to the outbreak"
The mild Coronaviruses cause the common cold, but severe acute respiratory syndrome (SARS) is a coronavirus which is reported to have killed 774 of the 8,098 people infected in an outbreak that started in China in 2002. Novel coronavirus (nCoV) 2019 is a new strain that has not been previously identified in humans and is responsible for this outbreak by causing acute respiratory illness in infected patients.
What are the common signs and symptoms of infection?
The World Health Organisation states that the common signs of infection from coronaviruses include respiratory symptoms, fever, cough, shortness of breath and breathing difficulties. But in severe cases, it is believed that the infection can cause pneumonia, severe acute respiratory syndrome, kidney failure and even death.
How does Coronavirus spreads?
Some coronavirus can transmit from one infected person to another by couging and sneezing, close personal contact. People infected with coronaviruses shows common cold, pneumonia like symptomps.
As reported in various news, The Ministry of Health and Family Welfare (MoHWF) has issued an advisory for Indians travelling to China, in particular, Wuhan. So far no case has been reported in India, the health department is screening passengers arriving from China. 
You may also like to check: