Life Insurance Corporation of India is a public sector insurance industry that releases huge vacancies every year. This year around 8000 vacancies for LIC Assistant is announced. Candidates who want to pursue their career in insurance sector must have start preparing for the examination. Aspirants who are in search of the best study materials includy study kit, test series for leaving no stone unturned have a good opportunity now. Adda247 is providing you with heavy discount on study material that will help you in emerging in flying colours. All the products for LIC Assistant are now at 40% off. You can avail the discount by using code FEST40. We are dedicated to help you crack competitive examination. Adda247 has study material, test series, video courses, live courses, etc for all the competitive examination. As the exam of LIC Assistant is approching on 21st and 22nd October 2019, we are providing you with everything you want to crack the examination with discount. This is for you convinience and affordability, so that you don't have to taste the failure.

For helping you to get assured success in LIC Assistant, we are doing everything from our side. In addition to these products, we will also launch Maha Mock for LIC Assistant exam on 15th and 18th October 2019 to make you exam ready. Maha Mock is free of cost and there discussion videos are also available after the test. So, facilitate yourself with these study materials, test series, video courses anytime, anywhere and crack the examination. We assure your guaranteed selection.
Why choose Adda247 products?
Complete courses and kit covering the whole syllabus of LIC Assistant
Test series with detailed solution and analysis according to the latest trend and previous year's paper.
Live video classes
Discount of 40% on every product.
Recommended by toppers and experts.
LIC Assistant Products 2019 (Prelims + Mains)
Use code FEST40 to get discount of 40% on all the products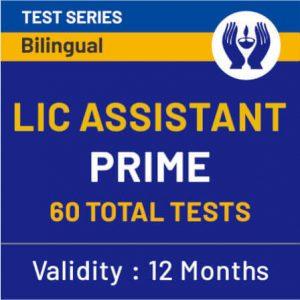 1. LIC Assistant Online Test for Prelims and Mains
Package Includes:
15 Full-Length Mocks for Prelims
10 Full-Length Mocks for Mains
15 Section Wise Practice sets (5 Reasoning,5 Quant & 5 English)
Price: 699/-
2. LIC Assistant 2019 Prelims Online Test
Package Includes: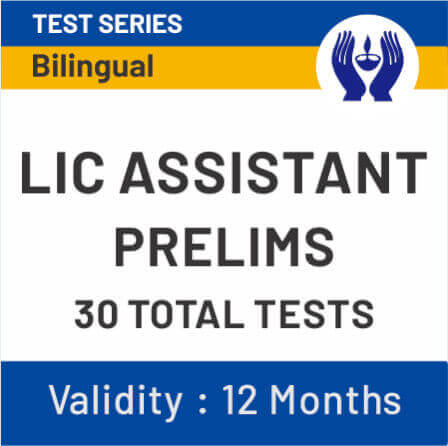 15 Full-Length Mocks (Reasoning, Quant, English, Hindi)
15 Section Wise Practice sets (5 Reasoning,5 Quant & 5 English/Hindi)
Salient Features:
In English & Hindi Medium.
Accessible on Adda247 store and Adda247 Mobile App
Detailed Solutions.
Analysis of The Attempted Tests in Detail (All India Rank, comparison with toppers, etc)
Price: 399/-
3. LIC Assistant Prelims Ultimate (Bilingual) Live Classes (LIC Special)
Package Includes:
75+ Hours of interactive Live Classes.
Topic-wise Tests(Quant+Reasoning+English+Hindi).
1600+ Practice set Questions based on the latest pattern.
Recorded Class.
Pdf's of Lecture will be provided which will be taken by Adda247 best faculty.
Ways to Solve questions in 30 seconds will be discussed(As, this exam has 100 questions to be solved in 1 hour i.e. 36 seconds per question)
Important Concepts & Approaches will be covered which is required to crack LIC Assistant Prelims Exam.
Price: 2,499/-
4. LIC Assistant 2019 Complete Video Course (LIC Special)
Price: 2,999/-
5.Samanya Hindi for LIC Assistant 2019 Video Course
Price: 2,199/-
6. LIC Assistant Prelims Books Kit Hindi Printed Edition (LIC Special)
Books Included in this Kit :
ACE Reasoning
ACE Quant
ACE English
eBook Hindi Language
Price: 1099/-
7. LIC Assistant Prelims Books Kit English Printed Edition (LIC Special)
Books Included in this Kit :
ACE Reasoning
ACE Quant
ACE English
eBook Hindi Language
Price: 1099/-