Are you targeting JAIIB 2020 Exams? If yes then you must not miss the classes of this live batch as the experts will be teaching everything from expected questions in the JAIIB Exam, theory and concepts to tips and tricks. Check the complete crash course of all subjects for JAIIB 2020 Exam.
JAIIB 2020 LIVE ONLINE CLASS
Batch Start Date-
12-May-2020
Batch End Date-
20-Aug-2020
Total Lecture –
72
Per Lecture Time
2 Hours
Batch Time
08:00 PM to 10:00 PM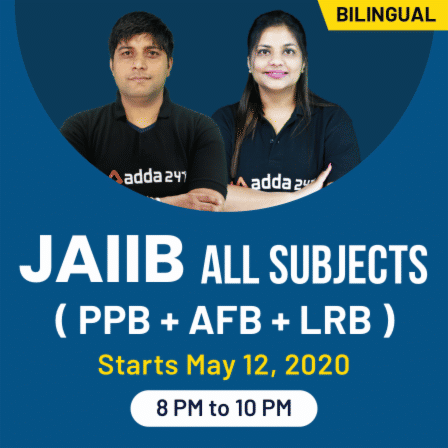 This package includes an additional validity of 2 months (valid during promo period only)
JAIIB ALL SUBJECTS (PPB+AFB+LRB) JAIIB 2020 LIVE CLASSES BILINGUAL
AFB: 12 May 2020 (Live Classes)
PPB: 16 June 2020 (Live Classes)
LRB: 12 July 2020 (Live Classes)
What is JAIIB?
JAIIB stands for Junior Associate of the Indian Institute of Bankers and DBF stands for Diploma in Banking and Finance.
It is a flagship course offered by the Indian Institute of Banking and Finance (IIBF).
JAIIB is for Bankers/members and DBF can be attempted by non-bankers/non-members.
The exam is held twice every year – Once in May and once in November.
JAIIB has 3 papers – Principles and practices of banking, Accounting, and Finance for bankers and Legal and regulatory aspects of banking of 100 mark each.
Clearing JAIIB will earn you increments in Banks and consequently will fetch you an increased salary. In some banks even for promotion, there is some weight for JAIIB. It will enhance your knowledge which in turn will help you even in your day to day work.
Subject Covered 
 JAIIB Paper-1: Principle and Practices of Banking (PPB) is an introduction to Indian banking and touches on almost every aspect, from the Indian financial system to contemporary issues and developments in the industry.
JAIIB Paper-2: Accounting And Finance For Bankers (AFB) covers major aspects of both accounting and finance required to gain proficiency in the day to day accounting in the bank.
JAIIB Paper-3: Legal & Regulatory Aspects Of Banking (LRB) brings an all-inclusive view into all the laws associated with the banking and finance terminologies.
What will you get?
Complete coverage of Course through 145+ hours of Live Interactive Classes
To improve the speed of candidates, 3600+ Practice Questions will be provided (In the form of the full-length mock test).
To make you exam-ready, 30 Full-Length Mocks will be provided.
When you have a hectic day at work and can't attend the live class, watch recorded videos at your convenience.
In-depth analysis of the subject till the last day of your exam under the guidance of Experts
Batch Eligibility
This course is for all those students who aim to qualify JAIIB in a single attempt and is also for those who intend to do a quick revision of course
About the Faculty
Priyanshu Maheshwari
CA, MBA (Finance), JAIIB
More than 1000 candidates have been qualified and promoted under the guidance of Priyanshu Maheshwari
8+ years of experience in training and mentoring candidates for various bank promotional examinations and also part of training the bank officers across India.
Praveen Kumar
MBA, JAIIB, CAIIB, NISM, NCFM, CCOC
6+ years of experience for training and mentoring bank officers for internal bank promotional examinations and conducting various other training across India
More than 1000 candidates have been qualified and promoted under the guidance of Praveen Kumar
Remember to use the Code: "JUNE60" and get 60% discount