BIS Syllabus 2022: Having a clear and cut idea about the syllabus of the BIS Syllabus 2022 can give the aspirants the required boost for successfully cracking the examination. This year Bureau of Indian Standards announced the 276 vacancies for the posts of Group A, B, & C on the official website of BIS. Therefore, candidates should carefully go through the details BIS syllabus 2022. In this article, we have provided a detailed BIS Syllabus 2022 as well as BIS Exam Pattern 2022.
BIS Syllabus and Exam Pattern 2022
The Bureau of Indian Standards (BIS) conducts nationwide competitive examinations for various posts in several departments. Candidates who are going to apply for the BIS Recruitment 2022 are able to apply from 19th April 2022. The BIS exam is an important exam that aspirants want to clear for entry into the government sector. Many candidates register for this competitive exam. If you are among those candidates appearing for BIS  then you must know the BIS Syllabus 2022 before starting to prepare for the BIS exam. In this article, candidates can check the BIS syllabus 2022 and exam pattern in this article.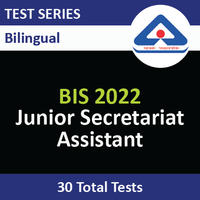 BIS Syllabus And Exam Pattern 2022 Check in Hindi
BIS Exam Pattern 2022
In the given table BIS exam pattern is for the posts of Assistant Director (Administration & Finance), Assistant Director (Marketing & Consumer Affairs), and Assistant Director (Library). Total time allotted 120 Minutes for 150 Questions. The candidates will be required to secure at least 50 % marks in aggregate out of the total maximum marks in the online examination, to be considered for an interview.
Subjects
Questions 
Maximum Marks
General Intelligence & Reasoning
40
40
English Language
40
40
Quantitative Aptitude
20
20
Assistant Director (Finance)
– Domain Knowledge in Finance Assistant Director (Legal)
– Domain Knowledge in Law
Assistant Director (Marketing & Consumer Affairs)
– Domain knowledge on Public Relations/ Publicity/
Advertising/ Scientific Journalism
For Assistant Director (Library)
– Domain knowledge of Library Science
50
50
Total
150
150
BIS Exam Pattern 2022 for the Posts of Assistant Section Officer, Personal Assistant, Stenographer, Senior Secretariat Assistant, and Junior Secretariat Assistant.
The total time allotted for all these posts exam is 120 minutes for 150 questions.
Subjects
Questions
Maximum Marks
General Intelligence &
Reasoning
50
50
General Awareness
25
25
Quantitative Aptitude
25
25
English Language
50
50
Total
150
150
Related Post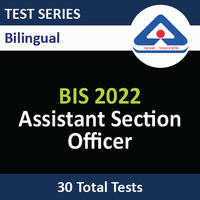 BIS Syllabus 2022
Candidates can check the subject-wise complete BIS syllabus in the given table.
Logical Reasoning
Arrangement & pattern
Syllogism
Analogy
Inequality
Puzzles & Sitting Arrangements
Direction & Distance
Blood Relation
Venn Diagrams
Word Sequence
Missing Characters
Sequential Output training
Directions
Test on Alphabets
Eligibility Test
Quantitative Aptitude
Volumes
Problems on L.C.M and H.C.F
Odd Man Out
Quadratic Equations
Probability
Profit and Loss
Simplification and Approximation
Basic Calculation
Quadratic Equation
Time & Work
Speed Time & Distance
Simple Interest & Compound Interest
Data Interpretation
Number Series
Arithmetic Problems
English Language
Sentence Improvement.
Idioms and Phrases.
Antonyms.
Para Completion.
Active Voice and Passive Voice.
Basic Grammar
Error Detection
Reading Comprehension
Cloze Test
Fill in the Blanks
Vocabulary
Antonyms/Synonyms
Para Jumble
Sentence rearrangement\
Finance (Assistant Director)
Bank Management
Infrastructure and Project Finance
Management Control System
Money and banking
Financial Risk Management
Structured Finance
Mixed-Income Markets
Marketing (Assistant Director)
Product Strategy and Branding
International and National Marketing
Salesforce Marketing
Marketing Management
Operations Management
Digital Marketing and Social Media Management
Consumer Strategy
Library Science
Library Foundation and Management
Classification Theory
Cataloging theory
Basics of Information Technology
Classification Practicals
Cataloging practicals
Information Sources and Services
Latest Govt Jobs Notifications
FAQs: BIS Syllabus 2022
Q1. What is the syllabus for the BIS exam 2022?
Ans. The complete BIS exam 2022 Syllabus has been discussed in the article.
Q2. Are the exam patterns for Groups A, B, and C different?
Ans. Yes, the exam patterns for online tests are different depending on the posts.
Current Affairs