BOB PO 2020- Bank of Baroda has not realeased any notice so far on its official website @bankofbaroda.in and we advice all aspirants to beware of the fake or unauthenticated BOB PO Notification circulating in various groups over whatsapp and telegram. Any official recruitment for Bank of Baroda will be announced first on its website's career portal and there nothing so far related to PO recruitment through Admission to Baroda Manipal School of Banking.

BOB PO Fake Notification
The following is the link to the fake BOB PO notice doing the rounds of various online groups. We ask all students to always check the official website or bankersadda first as we will update on Bankersadda once the actual or official notice is released. So far there is nothing as such on Bank of Baroda official website thus the following BOB PO Notification PDF is suspicious and unauthenticated. You can download the BOB PO Fake Notification through the link given below to check it out-
Check BOB PO 2020 Unauthenticated Notification Curculating in Various Groups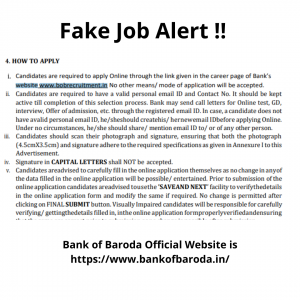 BOB PO Fake Website
A fake website with a simillar interface to that of IBPS Apply Online Portals is also there for BOB PO Apply Online. Students beware of this fake website with url http://bobrecruitment.in/ as it is always IBPS that conducts the online application process and its official website is ibps.in The bank of baroda's official website is bankofbaroda.in so do not fill any form through such fake websites.
BOB PO Notification 2020
We will update on bankersadda and Adda247 App as soon as the Bank of Baroda releases the BOB PO Notification on its official website @bankofbaroda.in There is no such update till now.