JAIIB PPB, IE&IFS, AFM and RBWM Video Course
The Indian Institute of Banking and Finance(IIBF) has announced the JAIIB Exam Dates for the May and October session. Candidates aspiring for the JAIIB Exam 2023 must prefer the best and latest study material. The team of Adda247 has brought the JAIIB PPB, IE&IFS, AFM and RBWM Video Course in Bilingual Medium. The candidates will be guided by expert faculty members who will provide them with the right strategy for preparation. The video course will be beneficial to the aspirants and help them in qualifying JAIIB 2023 Exam easily.
JAIIB PPB + IE & IFS + AFM + RBWM | May-June 2023 Exam | Bilingual Video Course By Adda247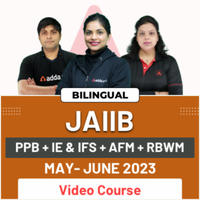 This New JAIIB video course is assembled for all Bankers to make you Exam ready for 2023 with the new curated syllabus of the all the updated subjects of JAIIB like –
Paper 1: Indian Economy and Indian Financial System (IE & IFS)
Paper 2: Principles and Practices of Banking (PPB)
Paper 3: Accounting and Financial Management for Bankers (AFM)
Paper 4: Retail Banking and Wealth Management (RBWM)
This video course includes every detail to cover all the aspects of the IIBF with video classes, E-books and Mocks which will make you all around ready for the JAIIB MAY-JUNE 2023 EXAM success.
Two new compulsory subjects have been added to the JAIIB Revised Syllabus 2023. The new compulsory subjects are Indian Economy & Indian Financial System and Retail Banking & Wealth Management.
What will you get?
Complete coverage of the Course through video Classes of  PPB + IE & IFS + AFM + RBWM.
Mocks & E-books for Regular intensive practice.
Detailed subject Expertise for JAIIB MAY-JUNE 2023 attempt.
In-depth analysis of the subject till the last day of your exam under the guidance of Experts.
Study as per your own schedule
Study anywhere and anytime
JAIIB Team Experts:-
Praveen Rana
[MBA, JAIIB, CAIIB, NISM, NCFM, CCOC]
(a) 8+ years of experience for training and mentoring bank officers for internal bank promotional examinations and conducting various other training across India.
(b) More than 3000 candidates have been passed and promoted under the guidance of Praveen Sir.
(c) More than 5000 Candidates have been taught.
Priyanshu Maheshwari
CA, MBA (Finance), JAIIB]
(a) More than 2000 candidates have been qualified and promoted under the guidance of Priyanshu Maheshwari Ma'am.
(b) 10+ years of experience in training and mentoring candidates for various bank promotional examinations and also part of training the bank officers across India.
(c) More than 5000 Candidates have been taught.
Amanjyot Maam  – IE & IFS
(a) 5+ Years of experience in teaching with expertise in General Awareness, Economics & Social Issues.
(b) Mentored more than 9000 aspirants.
(c) Provided promotional training to more than 1500 bankers.