Read the most important current affairs of 1 September 2023. Today Current Affairs covers the headlines on Islamic Banking Pilot Program, Gabon Coup, Nagaland launched (ALBR) system, Ramon Magsaysay Awards 2023.

Top 16 Current Affairs and News Headlines of 1 September 2023
International News
1.Russia Launches Islamic Banking Pilot Program: Exploring Shariah-based Finance
Russia is set to embark on a historic journey by launching its first Islamic banking pilot program on September 1.
With a considerable Muslim population of approximately 25 million, the move aims to tap into the potential of Islamic finance, which has already had a presence through institutions but lacked official recognition.
Islamic banking operates on the principles of Shariah, the Islamic legal system that prohibits usurious transactions and interest charges due to their perceived injustice. This fundamental difference sets it apart from conventional banking practices.
2.Gabon Military Seizes Power Following Disputed Election: A Series of Coups in West and Central Africa
Gabon, an oil-producing country in Central Africa, has experienced a coup led by military officers. President Ali Bongo was placed under house arrest after being declared the winner of a disputed election.
This marks the eighth coup in West and Central Africa since 2020, reflecting a trend of democratic setbacks in the region. Military officers announced the seizure of power, canceling election results and dissolving state institutions.
The officers declared President Bongo's victory invalid and placed him under house arrest. General Brice Oligui Nguema was appointed as the new leader through a unanimous vote by generals.
National News
3.India's Largest Home-Built Nuclear Plant Starts Operations
Prime Minister Narendra Modi announced that the 700 MW nuclear power plant located in Kakrapar, Gujarat, has commenced its operations at maximum capacity.
The Kakrapar Atomic Power Project (KAPP) had initiated its commercial operations on June 30, 2023, but initially operated at only 90 percent of its capacity. On August 31, 2023, the plant finally achieved its full operational potential.
Nuclear Power Corporation of India Limited (NPCIL) is responsible for constructing two 700 MW pressurized heavy water reactors (PHWRs) at Kakrapar, Gujarat. Kakrapar is already home to two 220 MW power plants, and with the new 700 MW unit coming online, it strengthens India's nuclear power generation capacity.
4.Union Minister Piyush Goyal Unveils Statue of First Finance Minister Of Independent India
In an event organized by the South Indian Panchayat Association in Coimbatore, Piyush Goyal, the Union Minister of Textiles, inaugurated the statue of RK Shanmugam Chetty, who served as the first Finance Minister of independent India.
This statue now resides within the esteemed confines of the South Indian Panchayat Sangha complex, situated in the Racecourse area of Coimbatore. This act not only served as a tribute to Chetty's remarkable contributions but also as a lasting homage to his enduring legacy, which remains a source of inspiration and guidance to this day.
Ramasamy Chetty Kandasamy Shanmukham Chetty, known as R.K. Shanmukham Chetty, was a prominent Indian lawyer, economist, and politician. He was India's first Finance Minister who presented India's first budget on 26 November 1947 after gaining independence.
5.Cabinet okays PRIP scheme to boost research and innovation
The Union Health Ministry have introduced the Promotion of Research & Innovation in Pharma-MedTech sector (PRIP) scheme to boost research and innovation in the pharmaceutical and medtech sectors.

The scheme was rolled out earlier this month by the government with the belief that the Indian pharmaceutical industry has the potential to increase its current 3.4 per cent share of the global market to 5 per cent by the year 2030.
The Union Health Ministry has announced a plan to invest ₹700 crore in creating seven Centres of Excellence at various National Institutes of Pharmaceutical, Education & Research (NIPER) to boost research and innovation in the pharma and medtech sector.
State News
6.Nagaland Becomes First State In North Eastern Region To Initiate Aadhaar Linked Birth Registration
Nagaland has taken a pioneering step in the North Eastern region by launching the Aadhaar-Linked Birth Registration (ALBR) system. This groundbreaking initiative focuses on simplifying the procedures of birth registration and Aadhaar enrolment for children aged 0 to 5 years.
The initiative aims to improve the overall journey for both parents and children throughout the crucial phases of birth registration and Aadhaar enrolment. Through ALBR, the process of Aadhaar enrolment occurs simultaneously with birth, seamlessly intertwining it with the registration process.
One of the paramount benefits of the ALBR system is the conferment of a unique identity upon infants. This unique identity ensures proper tracking of essential services such as immunization, Integrated Child Development Services (ICDS), education, and various social welfare provisions.
Business News
7.Viacom 18 Secures BCCI TV and Digital Media Rights in a 5-Year Deal Worth Rs 5,963 Crore
Viacom 18, a Reliance-owned media outlet, has emerged victorious in the auction for media rights, encompassing both digital and TV broadcasting, of India's domestic matches and BCCI-hosted domestic tournaments for the next five years.
For the 88 matches scheduled between 2023 and 2028, the BCCI set a base price of Rs 20 crore per match for TV rights and Rs 25 crore per match for digital rights, totaling Rs 3,960 crore.
Viacom 18 secured digital rights for approximately Rs 3,101 crore. TV rights were acquired for approximately Rs 2,862 crore. The combined deal amounts to approximately Rs 5,963 crore.
Banking News
8.PNB Launches App To Enable MSMEs Access Instant Loans Using GST Invoices
Punjab National Bank (PNB) has become the first public sector bank to facilitate effortless credit availability for Micro, Small, and Medium Enterprises (MSMEs) via GST invoices.
The bank has unveiled a dedicated mobile application for the GST Sahay scheme. This innovative digital solution facilitates comprehensive lending procedures based on GST invoices, ensuring a seamless end-to-end process.
The newly launched PNB GST Sahay App transforms the entire loan application process into a digital format, eliminating the need for manual intervention on the borrower's part. The app streamlines the process, rendering it more cost-effective, expeditious, and efficient. Notably, the sanctioned loan amount will be directly deposited into the borrower's current account maintained with the bank.
9.YES Bank goes live with UPI interoperability on CBDC
YES Bank, announced a significant development in the digital currency space by launching UPI interoperability on the Reserve Bank of India (RBI) Central Bank Digital Currency (CBDC) app.
Users can now seamlessly scan any UPI QR code through the YES Bank Digital Rupee app, simplifying transactions and making digital payments more accessible and user-friendly.
By integrating the Central Bank Digital Currency (CBDC) with UPI QR codes, the e-rupee gains a broader platform, positioning itself as a staple in daily transactions. This strategic move not only strengthens the e-rupee but also seamlessly integrates it with the widely-adopted UPI system, which boasts an overall merchant base of 150 million.
Economy News
10.Centre's Fiscal Deficit for April-July Reaches 33.9% of FY24 Target
In the first four months of the 2023-24 financial year, India's fiscal deficit has surged, surpassing a third of the full-year target. This financial imbalance, measured as the difference between government expenditure and revenue, is a critical indicator of the government's borrowing needs.
As of the end of July, the fiscal deficit in absolute terms stood at Rs 6.06 lakh crore, according to data from the Controller General of Accounts (CGA). This represents a significant increase compared to the same period in the previous financial year, where the deficit was at 20.5% of the Budget Estimates (BE).
11.India's GDP growth accelerates to 7.8% in April-June quarter
In a significant economic development, India's Gross Domestic Product (GDP) demonstrated robust growth, surging to 7.8% in the first quarter of the fiscal year 2023-2024, compared to a 6.1% growth rate recorded in the preceding January-March quarter of the fiscal year 2022-23.
The GDP growth rate of 7.8% aligns closely with the projections made by financial experts, who had estimated a growth rate of 7.7% for the fourth quarter. However, there is anticipation in the economic community that India's Q1 GDP may surpass the 8% forecast set by the Reserve Bank of India's (RBI) Monetary Policy Committee (MPC), chaired by RBI Governor Shaktikanta Das.
RBI's MPC had earlier projected India's real GDP growth for the entire fiscal year 2023-24 at 6.5%, with the Q1 growth rate estimated at 8%. The actual Q1 figures suggest that the economy is on a path that could potentially outperform these expectations, which is an encouraging sign for policymakers and investors alike.
Schemes and Committees News
12.India Forms Committee To Explore Possibility Of 'One Nation, One Election': Report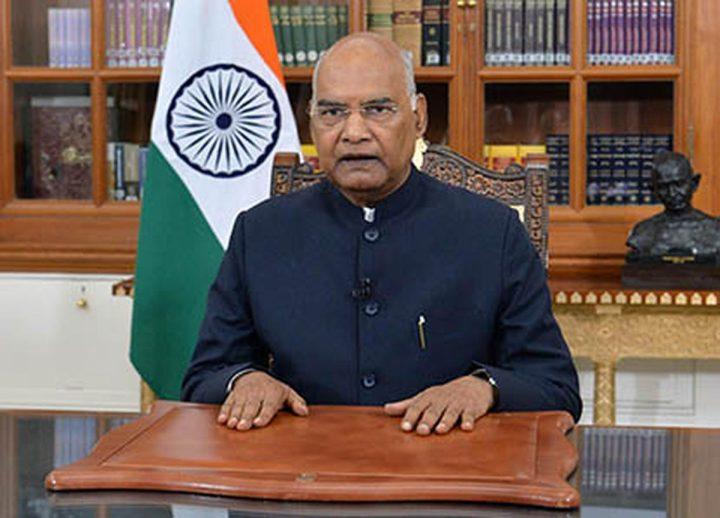 On 1st September, the Indian government announced the formation of a committee led by former President of India, Ram Nath Kovind, to delve into the feasibility of 'One Nation, One Election.'
'One Nation, One Election' is a concept aimed at synchronizing elections for the Lok Sabha (the lower house of India's Parliament) and all state assemblies. The central idea is to hold these elections simultaneously, either on a single day or within a specific time frame.
This proposal has garnered strong support from Prime Minister Narendra Modi, reflecting the government's seriousness as a series of elections loom on the horizon. Notably, assembly polls in five states are scheduled for November or December this year, followed by the expected Lok Sabha elections in May-June 2024.
Appointments News
13.Jaya Verma Sinha 1st Woman Chairperson to Head the Railway Board 
The government appointed Jaya Verma Sinha as the first woman Chairperson of the Railway Board, the top decision-making body for the Ministry of Railways. Ms. Sinha is the first ever woman to head the Board in its 118-year-old history. The Railway Board came into effect in 1905.
She will assume office on or after September 1, and before this she was the Member (Operations and Business Development). She was at the forefront while handling the aftermath of the tragic Balasore accident which killed 291 people. Her tenure will be till August 31, 2024.
14.Anand Mahindra welcomes MS Dhoni as Brand ambassador of Swaraj Tractors
Industrialist Anand Mahindra has welcomed Mahindra Singh Dhoni as the cricketer became a brand ambassador of his Swaraj Tractors.
Swaraj Tractors is an Indian tractor manufacturing company headquartered in Mohali, Punjab. It is a subsidiary of Mahindra & Mahindra. Swaraj Tractors was established in 1974 with a mission to be self-reliant and develop India's first Indigenous tractor. Today, it is one of the leading tractor manufacturers in India, with a market share of over 10%.
Award News
15.65th Ramon Magsaysay Awards 2023 Winners List
The Ramon Magsaysay Award, often called the 'Nobel Prize of Asia', is a notable accolade that represents exceptional spirit and influential leadership.
This year, in the ceremony's 65th edition, four Asians were given the Ramon Magsaysay Award, joining the ranks of Sir Fazle Hasan Abed, Mother Teresa, Dalai Lama, Satyajit Ray, and many others.
They are Korvi Rakshand from Bangladesh, Eugenio Lemos from Timor-Leste, Miriam Coronel-Ferrer from the Philippines, and Dr Ravi Kannan R. from India. The award carries a certificate, a medallion bearing the likeness of the late President, and a cash prize of USD 50,000.
Miscellaneous News
16.Bhaderwah Rajma & Ramban Sulai Honey Of Jammu And Kashmir Get GI Tag
Bhaderwah Rajmash and Sulai honey, both hailing from the picturesque districts of Doda and Ramban in Jammu and Kashmir, have been granted coveted Geographical Indication (GI) tags.
Bhaderwah Rajmash, often referred to as red beans holds a special place in the hearts and palates of those in the Chenab Valley. With its distinct flavor and texture, this legume is not only a staple food item but also a cultural symbol of the region.
The Sulai honey of Ramban district has gained recognition not only for its exquisite taste but also for its organic nature. In fact, in 2015, Prime Minister Narendra Modi presented organic Sulai honey to Queen Elizabeth during his visit to Britain, showcasing the region's natural bounty to the world.
Important Current Affairs of 1 September 2023
Get all the International, National, Sports, Economy, latest schemes and appointments and current affairs updates with Adda247 Headlines of the day. Adda247 headlines of the day brings you the best accumulation of the daily updates. Stay updated with us!